Video review – You Rock Guitar
Guitar Hero and Rock Band naysayers have been urging gamers to put down that plastic axe and pick up a real guitar from the moment they entered the ga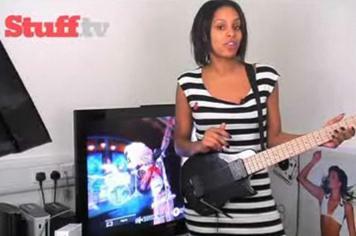 Guitar Hero and Rock Band naysayers have been urging gamers to put down that plastic axe and pick up a real guitar from the moment they entered the gaming arena. Well they're about to be silenced. Step forward the You Rock Guitar.
Want to see it in action? Take a look at paddy's awesome guitar strumming skills in our video review.
When you think You Rock Guitar, think gaming meets real guitar learning, meets real guitar playing. Yep, this digital axe is a videogame controller and a genuine guitar rolled into one.
While the plastic guitar shaped controller we've all come to know and love is great fun, now might be the time to throw it out (or perhaps not be so hasty and just put it away in a cupboard) and upgrade to something more versatile. The You Rock Guitar not only lets you play away to your favourite guitar strumming games (Guitar Hero and Rock Band) – and with two sets of more realistic looking colour coded fret buttons, it really replicates the standard gaming guitar – you can plug it into an amp and play it just like a real guitar too.
This is about as close as wannabe rock gods will get to the real thing right now… unless you actually go out and purchase a real guitar, of course. But if your skills don't stretch much further than 'novice', the You Rock guitar, with its six strings, whammy bar, 100 preset sounds and MP3 player compatibility, might be the sensible upgrade.
Make sure you check out our video review and as always have your say below.
More videos on Stuff.tv
– DJ Hero