Samsung Galaxy Tab 10.1 vs Motorola Xoom
Two heavyweight tablets square up in their stormy pre-fight weigh-in...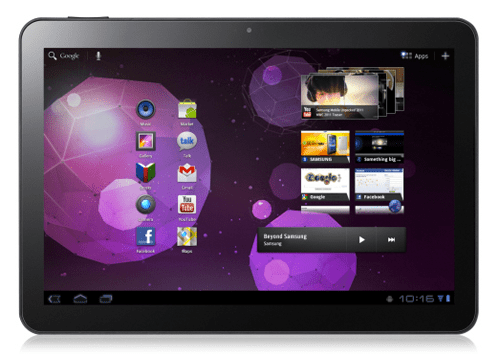 With just three days to go until Samsung's Galaxy Tab 10.1 is available nationwide (two days if you're a London-based Currys and PC World shopper), we thought we'd see how the "world's slimmest tablet" compares to Motorola's Honeycomb stalwart, the Xoom.
Build
While the Xoom comes in at a sturdy 730g, the waif-like Samsung Galaxy Tab 10.1 barely troubles the scales at just 565g, making it slightly lighter than the iPad 2. We know which one we'd rather hold on the train to and from Stuff HQ.
Looks and Screen
Looks-wise, there's not much in it. The Galaxy Tab 10.1 will be available in a charming white livery, though its thicker bezel makes it larger overall. Both screens also have identical 1280×800 resolutions. But if you can forgive the Galaxy Tab 10.1's lack of connections, we'll bet you'll prefer its minimialist design.
Power
The Xoom and the Galaxy Tab 10.1 both run on 1Ghz NVIDIA Tegra 2 dual-core processors, essential for running mutliple apps and games, but you will have to grin and bear some slowdown – there are lags between orientation rotations on the Galaxy Tab 10.1, and slightly irksome waiting times for browsing and booting up apps on the Xoom.
Camera
The Galaxy Tab 10.1's 3MP camera can't match the Xoom's – still fairly impressive – 5MP camera, while both settle for a 2MP front-facing camera for video calling. Whereas the Xoom can shoot and play 720p video, the Galaxy Tab 10.1 can cope with playing back up to 1080p.
OS
Both tablets are running Android 3.0 (Honeycomb) but the Samsung Galaxy Tab 10.1's TouchWiz interface will edge it for some, despite the Xoom's handy notifications function. The tablets share tabbed internet browsing and a multi-tasking column, helping to make sense of the seemingly limitlless number of apps and interactive widgets you can cram into the five personalised homescreens.
But the Galaxy Tab 10.1 feels more intuitive, with additions like Live Panel, a hub to showcase the latest social media news and weather, and a multi-media clipboard for copying and pasting videos, images and text.
Connections
The Xoom takes full advantage of Honeycomb's support for MP3 player and digital camera connectivity with a micro USB port, a mini HDMI and micro SD/ SIM slot. And the Galaxy Tab 10.1, well, doesn't. Just a headphone socket (annoyingly on the upper horizontal side, as with the Xoom) and a dock connector port on the lower side.
Verdict
It's a tough call in spats between similarly specced Android tablets. But thanks mainly to a whopping 165g difference in weight, plus the refreshing prospect of white versions, we'll hand this one to the Samsung Galaxy Tab 10.1.
Also
Samsung Galaxy Tab 10.1 launches a day early
Samsung Galaxy Tab 10.1 Review