Nokia Lumia 920 accessories
With wireless charging and NFC Nokia has gone to town on its add-ons for the new flagship handset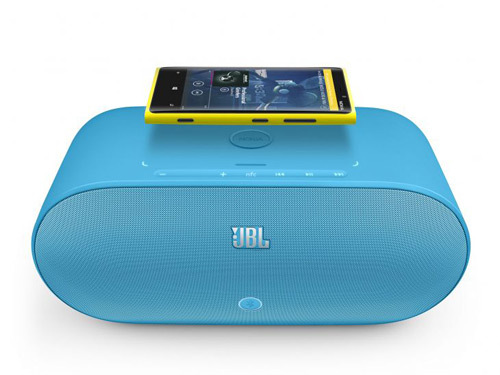 The Nokia Lumia 920 has launched bringing with it wireless charging and NFC as standard. Coupled with the funky colours it's opened the doors for a array of headphones, speakers, docks, and chargers for the new flagship smartphone.

The Nokia Lumia 920's big selling point is its wireless connectivity – and the JBL PowerUp Wireless Charging Speaker takes advantage of all that NFC and wireless charging tech. Simply chuck your Lumia 920 on its top and it will be instantly paired via NFC to transmit music over Bluetooth – all while charging your phone wirelessly. We shudder to think of the price though.
JBL PowerUp Wireless Charging Speaker
Yes Monster is everywhere. The Purity Pro Stereo Headset offers wireless playback using Bluetooth and can be paired with your Nokia Lumia 920 – or Lumia 820 – via NFC. Now to find a way of blending in while sporting an enormous pair of yellow cans.

Nokia has teamed up with Fatboy to offer the Rechargeable Pillow. Chuck your phone on the comfy pillow and you'll be able to repeat Nokia's joke about re-imagining the definition of a power nap, if you really can't do any better.
Nokia Purity Pro Stereo Headset by Monster

Tap to sync via NFC, transmit instantly via Bluetooth to enjoy your tunes – all on the go with this battery-powered JBL beauty. A dinky version of the PowerUp, for portable tuneage.

It's great to see Nokia is taking wireless charging seriously with a host of options – even Bluetooth headsets. Small, available a rainbow of different colours to match your Lumia 920, and charged wirelessly – now they just need a good price.
Fatboy Rechargeable Pillow DT-901
Elegant, functional, ergonomic – all those clichéd words actually do justice to the Nokia Wireless Charging Stand. Imagine docking your phone of an evening without having to flail around in the dark trying to marry up connector to port – you'll take casual cool to the next level. It's shown here with the Lumia 820, meaning you don't need to spend loads to get one.
Compared to everything else that Nokia's unveiled, the Wireless Charging Plate seems pretty meat and potatoes. But when it comes to wireless charging even that is exciting – here's hoping this ships with the Lumia 920.
You may also like
New video! Sphero is the most sophisticated spherical toy in town
JBL PlayUp Portable Wireless Speaker

Nokia Luna Bluetooth Headset with Wireless Charging


Nokia Wireless Charging Stand DT-901


Nokia Wireless Charging Plate DT-901