Nokia Lumia 800 unboxing
We went hands-on at Nokia World but now we've got a Lumia 800 to call our own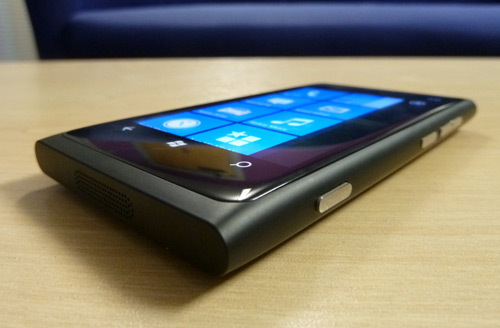 Look what's arrived at Stuff's secret lair – the Windows Phone Mango flavoured Nokia Lumia 800, fresh from our hands-on meeting at the Nokia World launch. Our lunch went flying in unsuspecting Stuff employees' faces as we rushed to discard the box and take a closer look.
The handset we played with at Nokia World was a baby blue, single piece of polycarbonate and this time Nokia's thrown us a model in a moody matte black. But we're impressed by the same compact, robust-looking build and 3.7in 800×480 Gorilla Glass AMOLED screen. Being skinny isn't everything and the Lumia 800 felt as sturdy as the iPhone 4 in our hands.
Colourful games, apps and menu tiles are all up in your face on the screen, thanks to Windows Phone Mango's gloriously zoomed-in interface, and on our first play, the 1.4Ghz single-core processor (with 512MB of RAM and 16GB of storage) handled our every whim.
The Lumia 800 comes bundled with a pair of Nokia in-ears – but you'll have to pay extra for the Monster Purity HD stereo earphones that were also launched at Nokia World.
Ports-wise, you'll find the micro SIM slot and micro USB port hidden away on the top side with a dedicated camera button, power and volume controls on the right hand side.
So, unboxing excitement satisfied, we're going to stuff Nokia's first Mango handset straight back in its box to send to our gadget torture – er, we mean testing – labs for a full review.
You may also like
Nokia launches 26 free Wi-Fi hotspots in London
LG to make all-glass Optimus with LED edges