Next Big Thing – eye-controlled games
Give video game enemies the evil eye with this new eye-tracking technology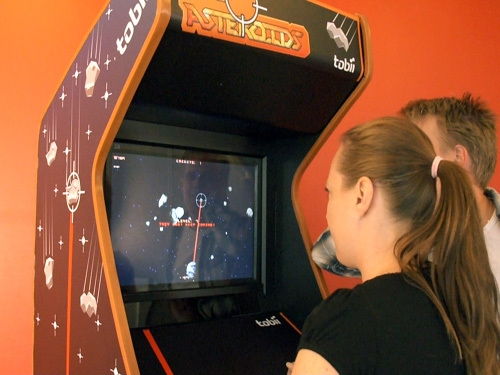 What's this? Kinect for the lazy?
Quite possibly. The Swedish eggheads at Tobii usually use their infra-red eyeball tracking tech to help the disabled communicate but now they want to bring it to gaming. To get the (eye) ball rolling they've made a coin-op game called EyeAsteroids, the world's first look 'em up.
People still make coin-op games? Wow. Tell me more.
You have to zap incoming asteroids that threaten the Earth by giving them the evils. It does track eye movements with impressive precision but it's got to be said the game's more likely to induce some shuteye. But Tobii see it as a proof of concept – with a £10k price tag – and are plotting to bring eye control gaming to the home.
So what can we look forward to if that happens?
We could get football games where you select who to pass to by looking at them before pressing the pass button. Games could also react to where you're looking, so in a future Red Dead Redemption staring at someone in a saloon might spark a fight.
The downside though is that the tracker in EyeAsteroids doesn't do TV-to-sofa so at present it's more suited for desktop or laptop computer games.
You may also like
Grand Theft Auto III lands on iOS and Android
The Sims Freeplay iPhone and iPad app hands-on
Flex Lighting unveils light film for ebook readers