Need To Know – Nintendo 3DS
Bad for your eyes? That's never stopped us before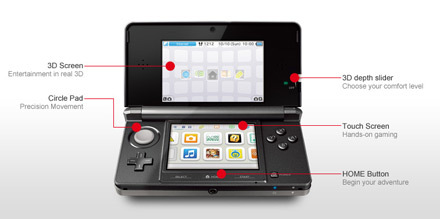 Nintendo, with all the surprise of a bull breaking a teapot on its way into the local china shop, has launched the 3DS – its portable 3D gaming console, and the evolution of its slightly-too-recent-to-be-legendary DS series. It's been teased forever, and come under fire for children's health scares, poor battery stamina and rumours of region-locked titles. All the makings of another ace launch, then. Here's what you need to know…
It's not just a gamer
You probably already knew that Ninty's 3D hero had a glasses-free screen and a depth slider. But as well as 3D games, the 3DS will blaze a third-dimension into your video and pics, too, and has three cams – two on the lid for 3D stills (and movies in future, perhaps) and one on the front for shooting yourself – and for auto-creating your Mii. Oh, yes.
It's social
The DS has always been the chatty one in the portable gaming crowd, but that's gone warp speed with StreetPass, which can trade data with other 3DSs, even in sleep mode. There's a new notification LED (think BlackBerry) to let you know when you've got something new. A Super Street Fighter IV 3D Edition challenge from a mate, for instance. Fight!
There's also SpotPass, a more conventional wireless LAN hookup that'll come in handy for updates, downloads and notifications. Nintendo's eShop will sell Game Boy and Game Boy Colour titles, plus DSiWare and exclusive 3DS software.
Box set
There's a charging dock included, which should help overcome woes about the battery life, and elsewhere in the box is a 2GB SD card (you can upgrade to a bigger one with what's left of your pocket money), a new telescopic stylus and half a dozen AR cards to introduce you to the next gaming craze.
Included in the device are software goodies including AR Games, the Mii Maker, 3DS Sound and the Activity Log, which'll award you points for walking and being active, tracking your movements throughout the day. Ninty says there'll be 30-plus titles by E3, most of them available at launch.
Range and price
The 3DS will come in two colours at launch – aqua blue and cosmos black. That's black and blue to regular humans. It'll cost US$250 (UK price tba) when it launches on March 25. The US launch will be two days later. Still, at least they know what they'll be paying, eh?