Mystery Nokia handset spotted – could it be N8 successor?
Has Nokia unwittingly revealed future-bound Nokia smartphone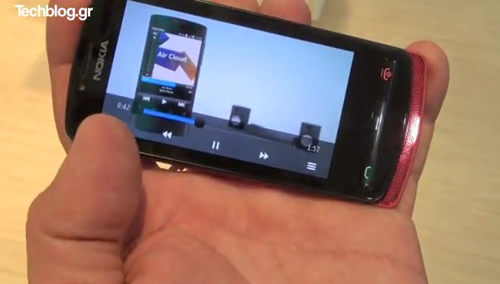 Nokia gets a lot of flack for its dwindling phone line-up, but the Finnish phone giant is actually responsible for creating some pretty attractive handsets, both back in its glory days and in current times. Testament to that, is the tantalisingly gorgeous handset spotted by Techblog, unwittingly revealed in a demo video on the Nokia 700 Belle (pictured). Sporting what looks like an edge-to-edge screen, complimented nicely by a sleek metal curved chassis, it kind of reminds us of the drool-inducing HTC 1 prototype.
Speculation points to an N8 successor, dubbed the 801, under Nokia's new naming strategy, which suggests we're staring at a premium goods. It's also thought it will be of the Symbian Belle variety, as opposed to joining the Windows Phone 7 parade, like the Sea Ray.
With no solid information to go on, we recommend not getting too excited about this one. For all we know, it could just be a concept, used for illustrative purposes only and may never see the light of day. But you can get a glimpse of what might be in the video below.
Also
Nokia N8 aerial photography video
Nokia Windows Sea Ray video leaked
Nokia announces bargain-busting 500 smartphone