MP3 inventor: high-def audio is "more than humans really need"
Want a better listening experience? Get a better car, says MP3 creator Professor Heinz Gerhauser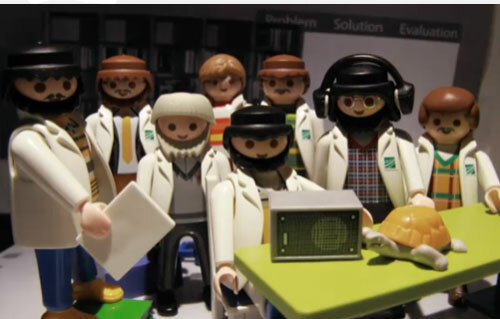 Professor Heinz Gerhauser – pictured above in Playmobil form with the rest of the Fraunhofer Institute team – was one of the boffins behind the creation and development of the MP3 file format in the 1980s and 90s. He's just accepted a Lifetime Achievement award at the Lovie Awards 2012 – so we thought we'd pick his brains about all things MPEG-1 Audio Layer 3.
Technically we can do much more than humans really need.
If we talk about sampling rates of 96khz or a 24 bit dynamic range, you cannot actually take advantage of it. You can do it technically and therefore it will be sold. Whether you need it or not, that's a different question.
A high end car can make a difference.
I think it makes a lot of sense to think about what is important in music: many people are listening to music in a car where there is very loud ambient noise so then it's not 24 bit you need. On the other hand a well designed listening environment, especially in a high end car, can make a difference.
Our listening studios in the Institute allow a quality which is absolutely unbelievable.
You can just sit in there and it's breath-taking. We use something like 50 speakers in a listening room and it costs the same as a small family home. It is also a room within a room, sitting on rubber cubes to isolate any sound coming from the outside.
You shouldn't be able to hear the difference between the unprocessed original and the coded one.
[At the Institute] this is always evaluated in double-blind tests where you do not know which you are listening to. If you cannot hear a statistically significant difference then it's transparent quality.
I always use headphones when listening to music on my own.
They can reproduce music in an excellent way. If you can make sure the earbuds [when using in-ears] don't fall out, it's a big achievement.
I go to concerts to feel the atmosphere.
I like to see people around me, getting excited. Sometimes the musicians make a little mistake – it's real life. It's wonderful.