Jetpack Joyride and Sonic coming to BlackBerry PlayBook and BB 10
BlackBerry's on-the-go gaming apps are catching up to iOS and Android – with big names like Lara Croft joining the fray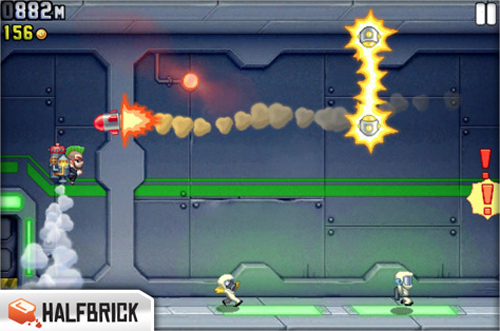 The BlackBerry PlayBook is a pretty tasty bargain 7in tablet right now and if you've snapped one up (for as little as £180), you can now get downloading Lara Croft and the Guardian of Light – or hold out for some more big name games announced at BlackBerry World in Orlando.
RIM's Head of Gaming Anders Jeppsson has been tweeting the most exciting titles including Galaxy on Fire 2 for the PlayBook. Five Halfbrick games are coming to BlackBerry 10, RIM's new OS, and the PlayBook – including the incredibly addictive iOS game Jetpack Joyride, featuring Barry Steakfries.
Sega's Sonic the Hedgehog 4: Episode 1 is headed for the PlayBook in May, and will be ready for BlackBerry 10's launch – with the first BBX devices set to drop this September if rumours are to be believed.
UPDATE: Gameloft are getting stuck in to developing games for BlackBerry 10 too – it's just announced 11 games for the future OS including Shark Dash, N.O.V.A 3, Ice Age Village and Oregon Trail: American Settler.
Just because they could – KegDroid serves your beer using Android and Arduino
BlackBerry Music Gateway adds NFC pairing to Bluetooth streaming
Viral of the week – The Dark Knight Rises trailer 3