HTC Titan hands-on review
The mighty Titan, HTC's Windows Phone Mango handset, has landed in our hands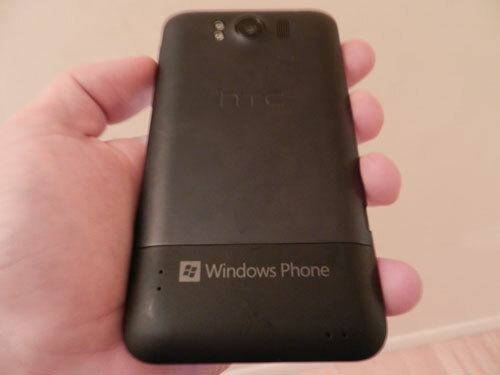 The clue's in the name – HTC Titan is the largest of the HTC handsets at 4.7in and the individuality doesn't stop there: this is HTC's first Windows Phone 7.5 Mango creation. As you can see, it's a sexy matt black with a more angular – and frankly more attractive – unibody than previous HTC models. The Titan's screen is near edge-to-edge with a rich colourful display that dances in front of your eyes. 
Like the HTC Sensation's screen? You'll love the Titan's. It's both more vibrant and bigger. Flip the handset over and you'll see the large lens, where size also apparently matters – the Titan's equipped with a sizeable 8MP snapper.
Local Scout, an assistant app, helps you find places to have your fill of dinner, see a film, shop, and generally live life outside of your handset – which is a good thing, because Windows Phone Mango – scored over 4.7 inches – is pretty addictive on the HTC Titan.
Multitasking works effortlessly on the Titan, with a prolonged touch of the 'back' button you're instantly transported to a clear and informative selection of screens – it also works seamlessly fast.
Here's the IE9 browser in action. That gadget site looks pretty good…
Locations works pinpoints your position, while allowing you to check out local landmarks or backtrack over where you've been – that'll come in handy when you've lost your keys.
And if you need to jot something down quickly, the Notes app is an attractive and easy way to do it. Talking of text, it's worth noting that the Titan's extra screen space makes the on-screen keyboard much more workable than the usual cramped touchscreen effort.
And here's HTC Watch on the Titan.
The Titan's improved camera even has a dedicated shoot button for quick opening and easy shooting – and it works well in low light conditions. If you're a Windows Phone fan, Mango and this handset are a marriage made in heaven. If you've got big enough pockets. The HTC Titan will be available from 7 October at £30 per month. 
Also
Should you upgrade to an iPhone 4S?
£23 Android tablet launches in India