How to get 3D TV
There's been a lot of chatter about 3D recently, but how can you get involved once the kit's available? We run you through every step you'll need to s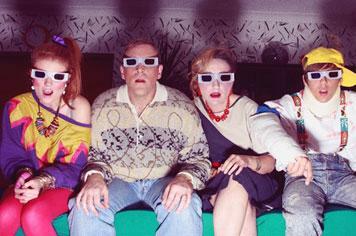 There's been a lot of chatter about 3D recently, but how can you get involved once the kit's available? We run you through every step you'll need to start watching an extra dimension in your living room once it all arrives in a matter of months.
Step 1: Get a 3D-ready TV
Although you may have been able to watch some 3D content through your regular TV with 3D specs and the likes of Channel 4's 3D week, you will need to upgrade to a fully 3D-capable TV to take advantage of the new 3D content in the making.
None have made it onto the shelves yet, but with Sky's 3D service launching in April, you can be sure this means we'll be seeing 3D tellies in the shops before then. All the big manufacturers – think Sony, Samsung, LG and Panasonic – will be getting on board but we wouldn't be surprised if some smaller brands hop on the bandwagon too.
We don't know what pricing will be like yet either – although we know there will be a premium, we're hoping it's not going to hurt too much.
Step 2: Pick up some 3D glasses
You might be used to the old school red and blue glasses that leave you looking a bit stupid, but the main 3D technologies we'll be seeing on new 3D TVs are called Active Shutter and Polarisation.
Active Shutter will see two separate 1080p images recorded for each eye, and played back alternately at high speed. It's the battery-powered Active Shutter glasses that will turn this in to a 3D image by working in sync with video, blocking the right and left eye views alternately and giving you an extra dimension.
You won't even know it's happening, and they're even able to detect the difference between 2D and 3D and adjust, so you won't need to be taking them on and off. Manufacturers like Panasonic, Sony and Samsung will be going down this route.
Polarisation on the other hand sees two images displayed at the same time, projected through filters that polarise each in its own direction. Polarised lenses in glasses will be able to translate that in to a 3D image by only picking up only the image that's meant for them. LG and Hyundai have announced they'll be opting for this method.
From what we know, it seems many manufacturers will be selling the 3D glasses separately from the TVs – reportedly to keep the cost of the TV down. This could mean we could be paying a pretty penny a pair, although we've no doubt we'll be getting bundle offers once they hit the shelves.
Step 3: Get Sky+HD
While you may not be able to buy a 3D TV, or the glasses just yet, you can do something now to make the first step towards your 3D living room.
Sky has announced that all of its Sky+HD customers will be able to get their mitts on Sky 3D automatically once it launches in April – no box upgrade will be required, and it'll work with all 3D TVs on the market.
Even better news is that if you're on Sky's top package, you'll be able to get Sky 3D for free – although Sky did say it would be "initially" free, so whether there will be a charge later, remains to be seen.
Step 4: For movies, get a 3D-capable Blu-ray player… or just use your PS3
It's not just TV is going 3D. As you'd imagine after all the 3D movies hitting the cinema, Hollywood is looking at cashing in with an extra dimension as well.
It's been confirmed that we'll be seeing 3D Blu-ray players this year, and as the first 3D Blu-ray movie is expected to hit shelves in the summer, it's a good bet we'll be seeing them then if not just before.
However, great news for PS3 users is that you won't need to go forking out for any new hardware. The PS3 will be completely forward compatible with 3D Blu-rays, so as long as you've got a 3D TV to hook it up to, you'll be ready to go once the discs hit the shops.
So there you have it – four easy steps to get involved with 3D in your living room. Now we just have to play the waiting game to see the kit on the shelves. The question is, will you be buying? Let us know below.