Digital Storm Bolt PC shows size doesn't matter
It's only small but the Digital Storm PC delivers serious gaming performance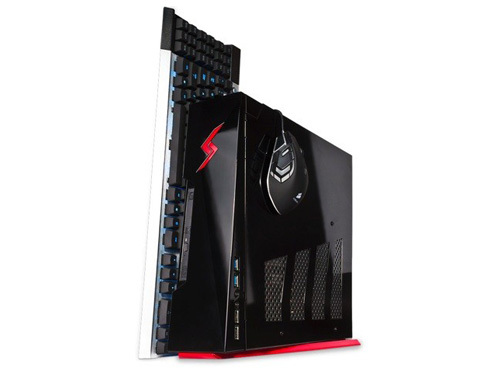 Just because you want a smaller PC doesn't mean you have to sacrifice performance or looks. The tiny Digital Storm Bolt tower looks like a Wii designed by Metallica – and it rocks as hard too.
At just 3.6in wide, 14in tall and 13.4in deep, you'd be excused for thinking corners have been cut – but the stonkingly good specs say otherwise. If you opt for the top-flight model, you get a 4.6GHz Core i7 processor, 16GB of RAM, a mixture of SSD and hard drive storage, plus the ability to play and burn DVDs. Oh and a whopping great GeForce GTX 680 for making Dishonored look impeccable.
If you don't have access to US$2000 (£1250), the Digital Storm Bolt comes in a more wallet-friendly form. Spend US$1000 (£630) and a 3.1GHz i3 processor, 8GB of RAM, 1TB of storage space and a slightly less impressive GeForce 650Ti can be yours. Hardly performance to be sniffed at.
[via Engadget]