Apple iPod Nano 2012 unboxing
Has the Nano found the perfect blend between form and functionality? Let's take a closer look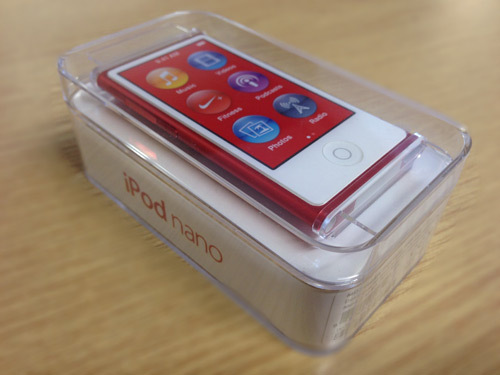 Apple iPod Nano 2012 – all boxed up
To think just five years ago all the tech in this Nano couldn't have even been crammed into the box it comes in. With that realisation tingling down to our twitchy fingers we're eager to split this box and get a closer look at the future realised. Join us?
Apple iPod Nano 2012 – free the fun
Next to the EarPods, instructions and Lightning cable the Nano looks positively incidental – even with that special edition red paint job. Not a bad haul for £130.
Apple iPod Nano 2012 – sound off
In spite of the low price tag you still get a 5.4mm thin, 31g running buddy that boasts 16GB storage. Plus it crams in an FM radio which sports a handy a 15-minute Live Pause feature.
Apple iPod Nano 2012 – pocket power
Remember when mobiles were fighting to fit in smaller and smaller shells only to bulk-up in today's race for the perfect form? The Nano has reached perfection already. The 2.5in (202ppi) screen is big enough to offer video while the body is slim, light and compact enough to leave room in your running shorts. Music, podcasts, pedometer and accelerometer sensors, plus a built-in Nike+ app make this the ideal running companion – and minimalist mobile media machine – straight out of the box.
You may also like
Microsoft Surface tablet pricing revealed
PiVOT display puts things into perspective