The Lenovo Yoga Book 9i is a dual OLED stunner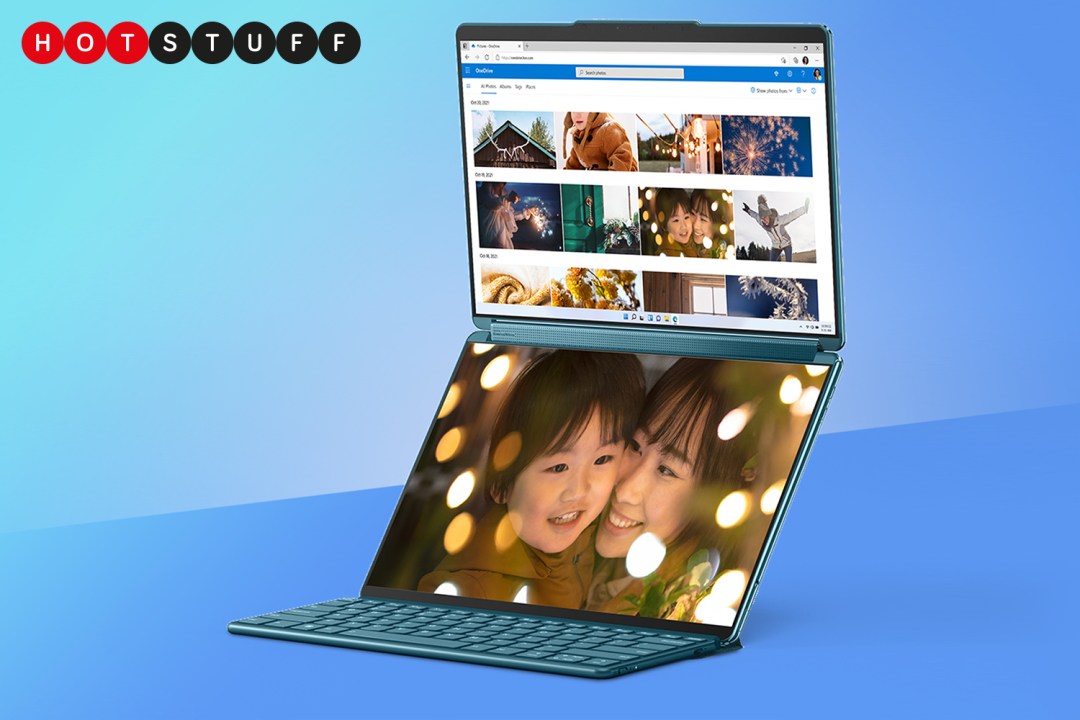 When it comes to luxury laptops, what's better than one with a gorgeous 13in OLED display? One with two gorgeous 13in OLED displays, of course. The Lenovo Yoga Book 9i is a distinctive spin on the traditional notebook, which jettisons its physical keyboard in lieu of a second screen. Think a Microsoft Surface Duo, only scaled up to laptop size.
You don't have to type on the touchscreen (though you can, bringing up an virtual keyboard with an eight-finger tap gesture) as the Yoga 9i comes bundled with a Bluetooth keyboard. It magnetically locks into place over the lower portion of the lower screen for a more traditional layout – or you can push it to cover the top half, freeing up the bottom to use as a touchpad.
There's also a folio stand that'll hold both screens either vertically or horizontally, letting you work on two documents side-by-side or one giant scrolling screen, and it's got stylus support for sketching and note-taking too.
On the hardware side, you're looking at twin 2.8k resolution OLEDs, each with 100% DCI-P3 colour coverage and Dolby Vision HDR support. A 360-degree rotating sound bar built into the hinge has been signed off by audio experts Bowers & Wilkins, and is Dolby Atmos-compatible.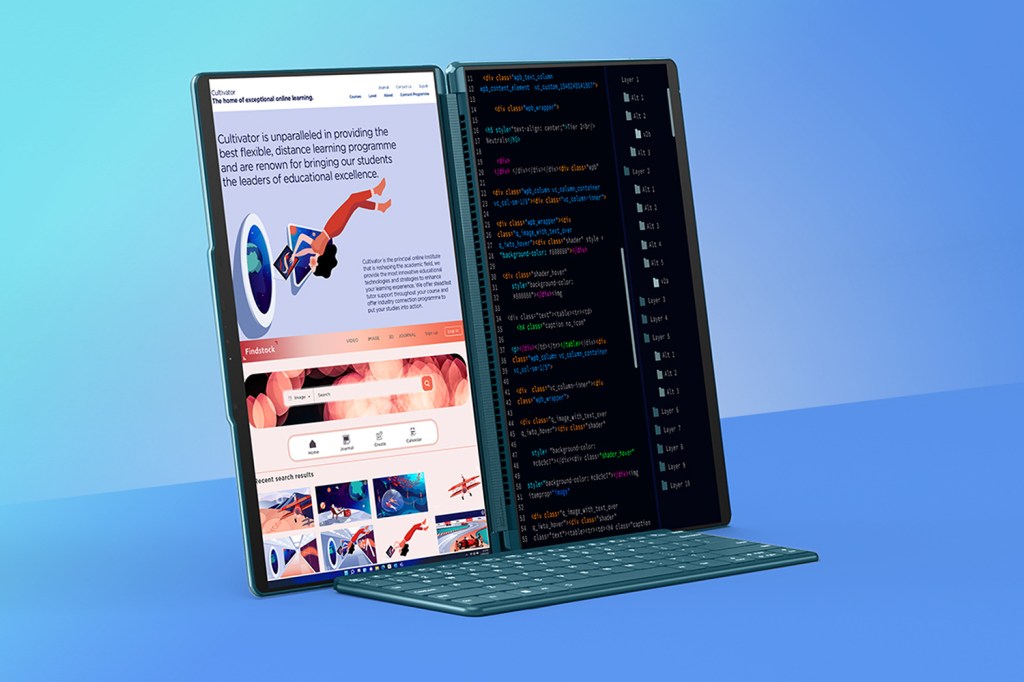 Performance comes courtesy of a 13th-gen Intel Core i7-U15 CPU, paired with 16GB of RAM and either 512GB or 1TB of PCIe SSD storage. The 13in thin-and-light isn't overflowing with connectivity, but you do get three USB-C/Thunderbolt 4 ports, along with Wi-Fi 6E and Bluetooth 5.1. An 80WHr battery promises 10 hours of dual-screen video playback, or 14 hours using a single screen.
The Lenovo Yoga Book 9i isn't set to go on sale until June at the earliest, and will likely land in the US first. Expect prices to start from $2100 (around £1700).
Arty all-in-one
Also on the horizon is the Yoga AIO 9i Desktop, a similarly stunning all-in-one PC – albeit with a single screen, rather than two. At 31.5in, it's packing a sizeable display, but dimensions are impressively tiny everywhere else. All the hardware has been stealthily hidden away in the stand, leaving the screen to float on a svelte metallic hinge.
Inside there's a mobile version of Intel's 13th-gen Core i9 CPU, along with RTX 4000-series Nvidia laptop graphics, so there's more than enough muscle for photo and video editing, graphic design, and even a spot of gaming. Four Harman Kardon speakers are shared between the stand and the screen, with Atmos spatial audio on-board.
The screen is borderless on three sides, with a 4K resolution IPS panel with 100% sRGB colour coverage. HDR600 certification isn't to be sniffed at, so streaming vids should look tip-top. There's also a 5MP webcam built into the bezel. Other neat additions include a Qi wireless charger integrated into the stand, for keeping your phone fuelled while you're working (or playing).
There's no firm release date as yet, with just a vague "Q3 2023" window to go on – but we do know the Yoga AIO 9i will set you back at least $1800 (£1500) when it does.