Arcade1Up's Infinity Game Table puts over 40 board games at your fingertips
Who needs a coffee table anyway?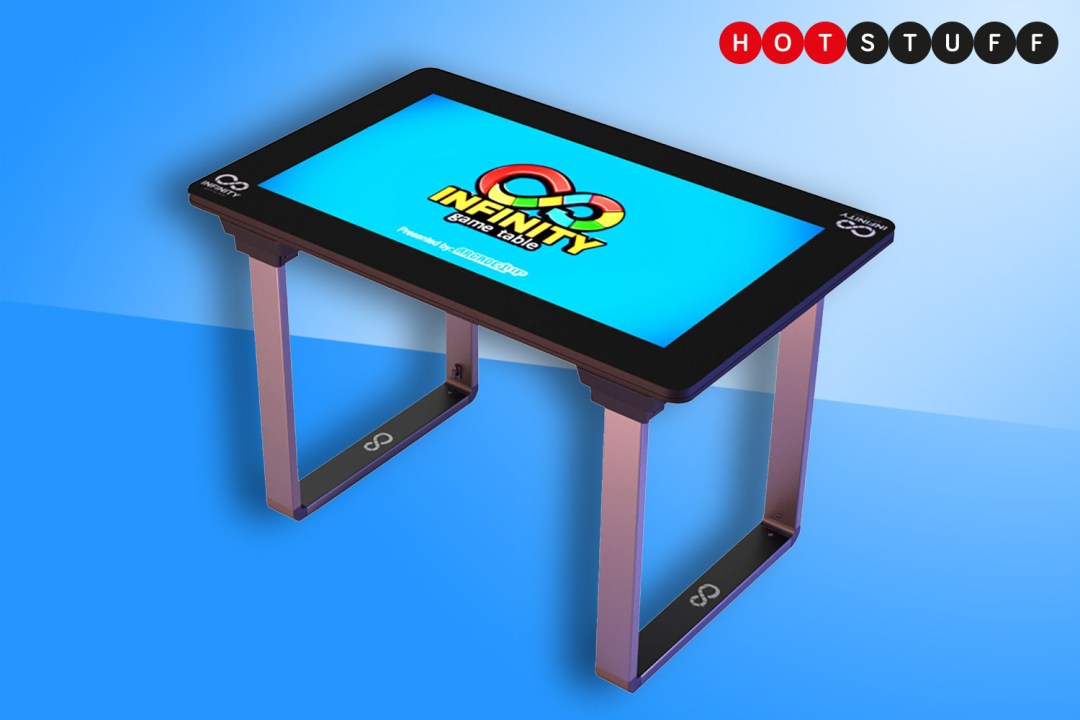 If you belong to the kind of family that spends half the evening squabbling about which board game to play then look away now, as Arcade1Up's Infinity Game Table packs around 40 of the things into one very slick-looking electronic table.
Digital versions of classics such as Monopoly, Trivial Pursuit, Battleship and Solitaire are just some of the games that come pre-loaded, and they're all playable on a high-res 32in touch display that features dynamic zoom and 'responsive tactile feedback'. Wi-Fi is built in too, allowing you to play with up to six people online, and your progress will be saved if you have to abandon a game halfway through.
The Infinity Game Table is water-resistant and has detachable legs, allowing you to easily put it away when not in use, or lay the table portion over a larger surface. You will always need to have it connected to power to use it, though.
As well as the 40 included Hasbro board games, loads more are available to purchase and download from an online store, with new games being added regularly.
Here's the included games list.
4 Pics 1 Word
9 Men Morris
Artists and Liars
Backgammon
Battleship
Candyland
Checkers
Chess
Chicken Wrangle
Chutes and Ladders
Cluedo
Color Create
Connect 4
Doodle Monster Mini-Golf
Dots and Boxes
Fling Hockey
Guess Who
Hungry Hungry Hippos
Infinity Dizzy Tanks
Infinity Raceway Grand Prix
Mahjong Deluxe
Mancala
Memory Matching Game
Mini Fini Foosball
Monopoly
Operation
Othello/Reversi
Puzzle Play
Simon
Soduku Ultimate
Solitaire
Sorry
Space Tennis
Spades
Spider Solitaire
Spot the Difference
Super Word Search
Swish
Tableclothes
The Game of Life
Tic Tac Toe
TriPeaks Solitaire
Trivial Pursuit
Trouble
Whack a Moles
Whats the Word
Yahtzee
Yokozuna
The following games are available to purchase on the online store.
8-Ball Pool
Batman Monopoly
Big Draw Poker
Blackjack Masters Party
Carrom
DC Puzzles
DC Table Cloths
Dominoes
Dominoes- Add Connected Play
Fourzy
Game of Thrones Puzzles
Gen Smack
Gen Smack Expansions
GT Draw
Harry Potter Puzzles
Harry Potter Trivial Pursuit
Harry Potters Wizard Chess
Infinity Ludo Adventure
Infinity Pirate Battle
Landing Zone/Flight Control
Match52
Minesweep
No Cops Just
No Cops Just Robber- Holiday theme
No Cops Just Robbers
Oh No!
Pandemic
Pixel Push Football
Speedy Service
Teen Titans Go- Beastboys Nightmare
Ticket to Ride
Tilez
Tower Strike Defense
TTR Maps IAP
The Arcade1Up Infinity Game Table is available to buy exclusively from Game, and costs £900.