The 13 best horror films on Disney+
The streaming platform is surprisingly well-stocked with spooky movies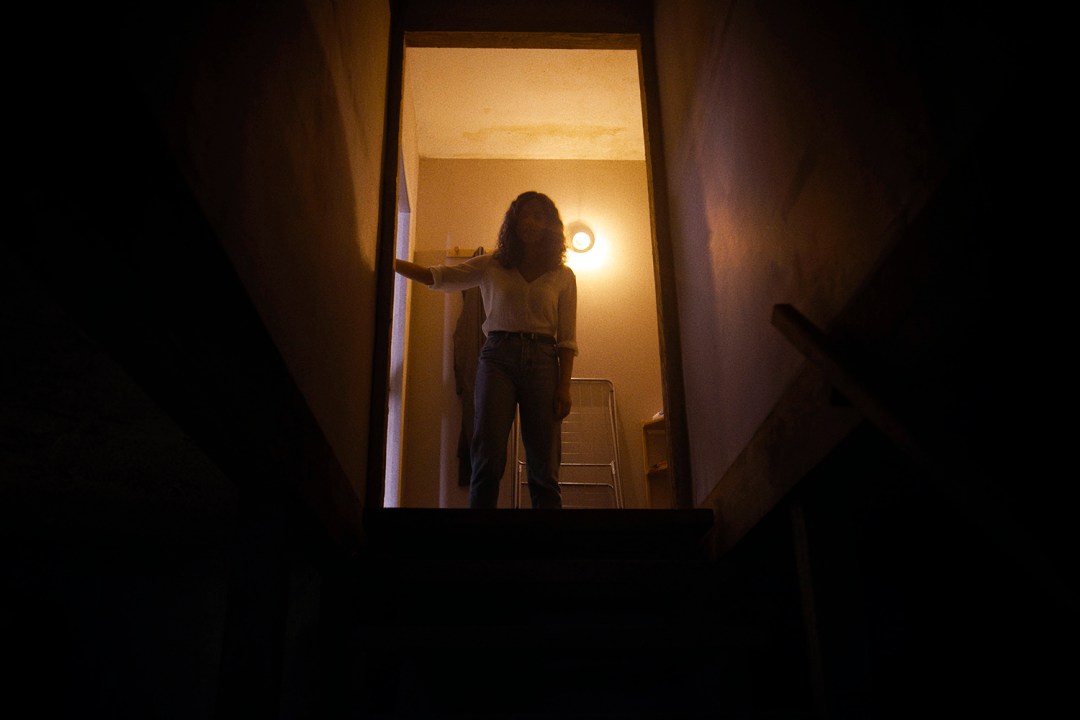 Disney+ might not be the obvious place to go for scary films, being unashamedly the most family-friendly of the major streaming services. But the platform's ownership of the Fox movie studio means you'll find significantly more creepy, adult-oriented movies on there than you might think.
We've now combed through the Disney+ catalogue to bring you the best horror movies in the (haunted) House of Mouse. It's not all spandex-clad superheroes, light sabres and squeaky-voiced rodents over here, so dive in and enjoy.
Barbarian
It's hard to discuss this hit indie horror movie without divulging its secrets and dampening its impact. But we can say that Barbarian begins with a young woman (Georgina Campbell) arriving at an Airbnb in a dark, desolate Detroit suburb – only to find the house already occupied by a man (played by It's Bill Skarsgård) who claims to have booked it through another short letting app. After some awkward conversation, he invites her in to sort things out.
Does she take up the stranger's offer or give up and look elsewhere for accommodation, with no guarantee that she'll find anywhere to stay at all? It's a situation it's easy to imagine finding yourself in, which makes what happens next all the more disturbing. We'll say no more, save to advise you to leave your expectations at the door (and make sure you have enough room behind the sofa to hide later on).
Fresh
Sick of dreary or downright disastrous Tinder dates, Noa (Daisy Edgar-Jones) decides to ditch the apps and meet a man the old-fashioned way. She then crosses paths with the charming, handsome and goofy Steve (Sebastian Stan), and the pair swiftly hit it off. Despite her friend's warnings, Noa takes up Steve's invitation for a weekend break away – and then finds out that not all is what it seems with this apparently perfect man.
In a brilliant rug-pull, Fresh quickly transforms from breezy rom-com to disturbing psychological thriller and, while it doesn't manage to sustain this air of creativity until the credits roll, it's a wild ride while it lasts.
Signs
Mel Gibson plays a priest turned farmer, having lost his faith following his wife's untimely death in a motor accident. He now lives in an old house with his two young children and younger brother (Joaquin Phoenix, back when he played "normal" people rather than just outcasts and villains), surrounded by seemingly endless fields of corn – corn which begins to display crop circle "signs" ­that some believe are left by visitors from space.
Following up a smash hit like The Sixth Sense couldn't have been easy, but while M. Night Shyamalan's Signs didn't have quite as much cultural (or box office) impact as its predecessor it's still a riveting suspense story with plenty of scares and a customary Shyamalan plot twist.
Alien
Alien is the best space-set horror movie ever made (not to mention one of the best horror movies full stop). It's the film that spawned a sprawling franchise based around its iconic titular 'xenomorph', and is a masterpiece of tension and visuals with director Ridley Scott at the very top of his game.
When the crew of commercial space hauler the Nostromo (a great cast of 'normal', highly relatable characters rather than exaggerated, OTT personalities) detect a transmission from a moon out in deep space, they land to investigate and discover a strange derelict craft full of large eggs. When one of these hatches, it sparks off a deadly sequence of events that we wouldn't dream of spoiling here. But, yes, it involves a murderous, predatory alien stalking its prey through the corridors and vents of the ship. It's fantastic cat-and-mouse sci-fi stuff and, courtesy of Scott's mastery of lighting and the stellar production design, looks so, so good for a movie now over 40 years old.
The Sixth Sense
If, by some miracle, you (a) haven't already seen The Sixth Sense and (b) haven't had the knockout ending spoiled for you, we urge you to spend an evening with Bruce Willis, Haley Joel Osment and a bunch of restless spirits. Willis plays child psychologist, Malcolm Crowe, handed his toughest case yet. That of a troubled boy who says he can see dead people. But even as Crowe becomes more and more convinced by the boy's claims, he finds himself drifting further and further away from his wife.
Time has perhaps been less kind to The Sixth Sense than it deserves, thanks mainly to that oft-spoiled ending. But it remains a powerful chiller that relies more on a steady build-up of creepiness than gore or jump scares.
Ready or Not
This riotous horror comedy stars Samara Weaving as a blushing young bride, freshly inducted into the wealthy clan of her new spouse. When she's cajoled into partaking in the family's traditional wedding night ritual, however, things take a turn for the bizarre and brutal. Suddenly, she's running around their palatial mansion in a lethal game of hide and seek.
Bristling with subversive humour, tension and gory violence, this is one of the more light-hearted horror flicks of recent years. A talented cast, acerbic script and crowd-pleasing action add up to a winning combination.
28 Days Later
Danny Boyle's lo-fi, low budget horror offers a novel twist on the zombie apocalypse by making the mindless shamblers speedy, hyper-aggressive mindless runners instead. When a nasty virus escapes from a biolab and swiftly spreads across the UK, society quickly descends into chaos. Anyone infected by a trace amount turns into a raging killer within seconds, driven by nothing more than a desire to kill. When Cillian Murphy's hospital patient awakens from a coma in a desolate, eerily quiet London, it's not long before he discovers the horrible truth for himself. Can he and a small group of uninfected people find sanctuary before it's too late?
The Fly
David Cronenberg's sci-fi horror classic stars Jeff Goldblum as a reclusive and socially awkward scientist who's spent years working on a device that will change the world. On the verge of success, he meets a journalist (Geena Davis) who offers to chronicle and document his process. Together, the two set about completing the final experiments – only for something to go terribly wrong. What follows is a horrifying transformation that cemented Cronenberg's reputation for disturbing body horror and incredible special effects.
Predator
If you reduced Arnold Schwarzenegger to a Platonian concept – a simple distillation of what constituted Peak Arnie – you'd get Predator. He chews on a big cigar; he kills people then makes corny wisecracks; he shoots guns; he has muscles; he gurns and grimaces and grunts; he acts like the goddamn American hero he is; he Arnies.
Predator's not just an Arnie film though. It's a suspenseful, occasionally quite creepy monster movie about an alien who stalks Arnold and his elite team of hyper-macho special forces operatives through the Central American jungle, picking them off one at a time in a twisted game of cat and mouse. It's not subtle and it's not that clever, but it's not like you watch an Arnie film expecting Cinema Paradiso. Accept it for what it is and enjoy it. You won't be disappointed.
The Night House
Having recently lost her husband Owen for reasons unclear, Rebecca Hall's Beth has taken to spending every night drinking herself into oblivion in their lakeside house. But when she starts experiencing unexplainable visions and finds a disturbing mirror-image floorplan for the house, apparently drawn up by Owen, she senses that the answer to the mystery of his death may be within reach.
Disney+ isn't particular well served with newer horror films, but this taut psychological thriller ticks all the boxes. It's clever, creepy and treats its viewers with a bit of respect.
The Woman in Black
Probably best known for its long-running stage play adaptation and 1989 TV movie, this classic British novel was brought to the screen for a second time in 2012. Daniel Radcliffe plays a young lawyer sent to a remote coastal town to settle the affairs of a deceased client. A client who lived in a creepy mansion surrounded by even creepier marshes.
With the locals and weather decidedly unfriendly, our hero decides to spend some time at the house – and discover a tragic story involving death, revenge and lots of strange noises. To reveal much more would risk spoiling the methodical build-up of this slow-burning shocker, which manages to make an old-fashioned spooky story feel pleasingly modern.
The Rocky Horror Picture Show
A star-studding musical that celebrates both vintage horror and sci-fi movies and drag, this camp cult classic isn't particularly scary or bloody – but it's a riot all the same. A critical and commercial flop upon its initial release in the 1970s, it gradually garnered cultural significance through late night screenings with audiences turning up in costume and participating in the on-screen action.
What Lies Beneath
A big budget haunted house movie starring A listers like Harrison Ford and Michelle Pfeiffer and directed by Robert Zemeckis would be basically unthinkable in today's franchise-fixated movie culture. While What Lies Beneath may be a solid rather than stellar ghost story we suggest you enjoy it for what it is: an enjoyable and occasionally brilliant Hitchcockian suspense thriller with two of the period's biggest stars doing their thing.