Stuff Gadget Awards 2014 winners announced: These are the 22 Best Gadgets of the Year
Meet the gadgets, apps, cars, services, events and people that defined 2014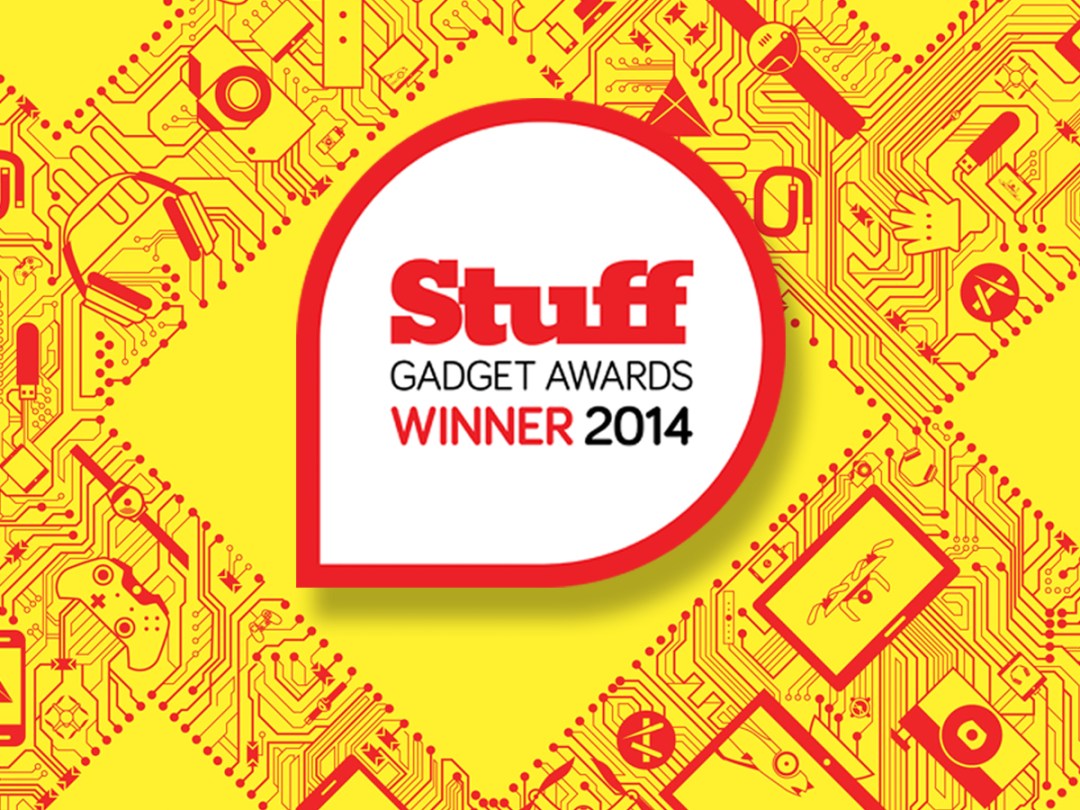 **CHECK OUT THE STUFF GADGET AWARDS 2015 HERE**
The past 12 months have been a whirlwind of impressive new gadgets and game-changing innovations.
The Stuff Gadget Awards recognises the gear that defined the year. It celebrates the best-performing, most desirable and most important product releases, covering gadgets, apps, web services, cars and more.
Awards winners aren't just the best products – they're the products that have had the greatest impact on the market, and the ones that are setting the agenda within their category for the year to come.
This is the seventh annual Stuff Gadget Awards and includes 22 categories, of which five were voted for by you, the readers.
But you don't care about all that. You care about what's won. Let's get on with the show.
TABLET OF THE YEAR: APPLE iPAD AIR 2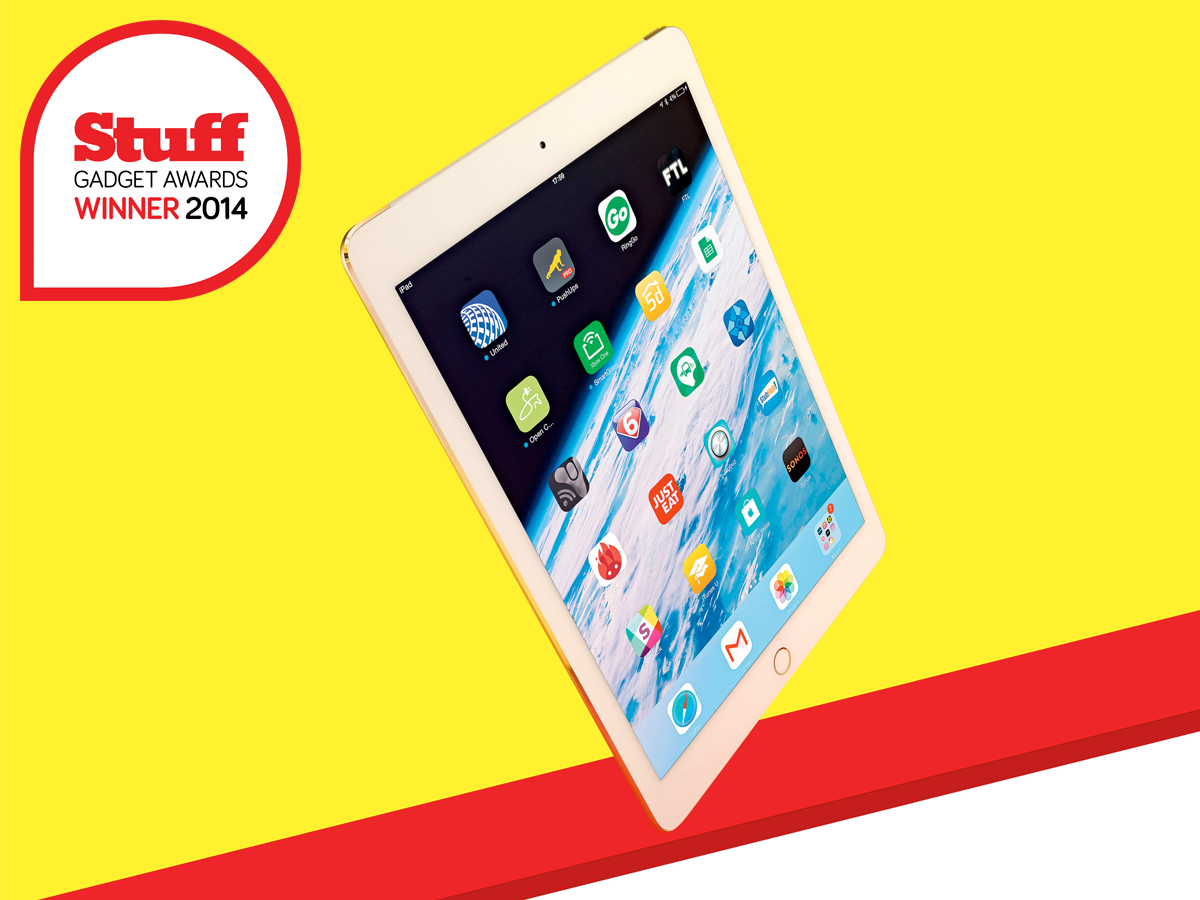 Having been left behind in the race for smartphone superiority, Apple is determined not to let its tablet crown topple – and the iPad Air 2 is a pretty good way of holding it up.
The adjectives are the same: slimmer, lighter and, er, screenier, but as usual, the Air 2 is greater than the sum of its extremely lightweight parts.
New screen tech means it's less reflective and easier to eyeball, making it better for everything from reading to movie-watching and editing, plus the addition of TouchID saves you seconds, which can be saved up over time and used to reply to Android fanboys on the internet. Here's a sample response: the best has just got better.
Headphones of the year: Sony MDR-EX650AP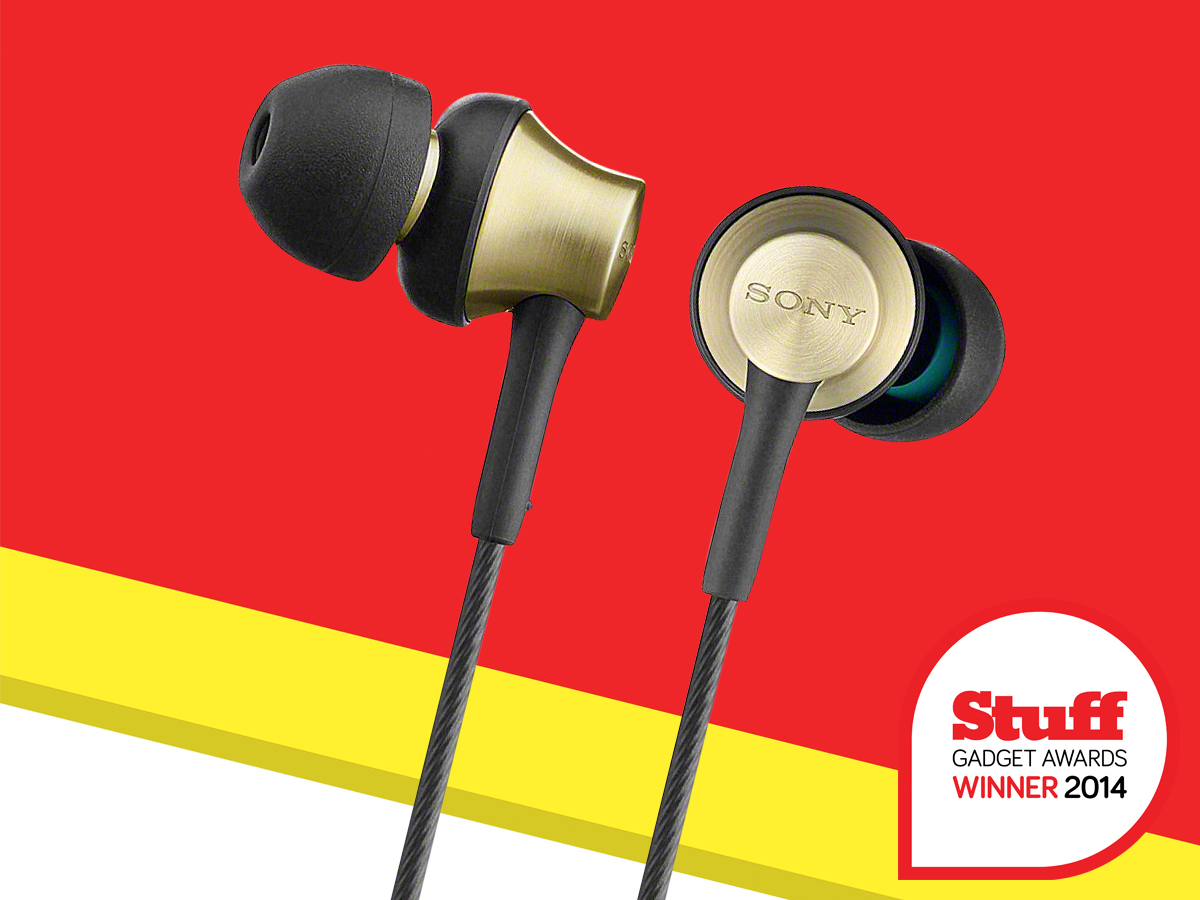 While they're technically made of brass, the goldish hue of Sony's EX650s is rather apt for the year's podium-topping headphones. Thankfully the brass construction doesn't restrict your choice of tunes to Now That's What I Call Trumpeting, but it does provide a weighty home for the 12mm drivers, which pump equally weighty sound into your ears.
A brilliant tonal balance, an expansive soundstage and a phone-friendly remote make these buds the ultimate upgrades, plus they're more comfortable than a litter of puppies in a onesie.
Car of the Year: BMW i8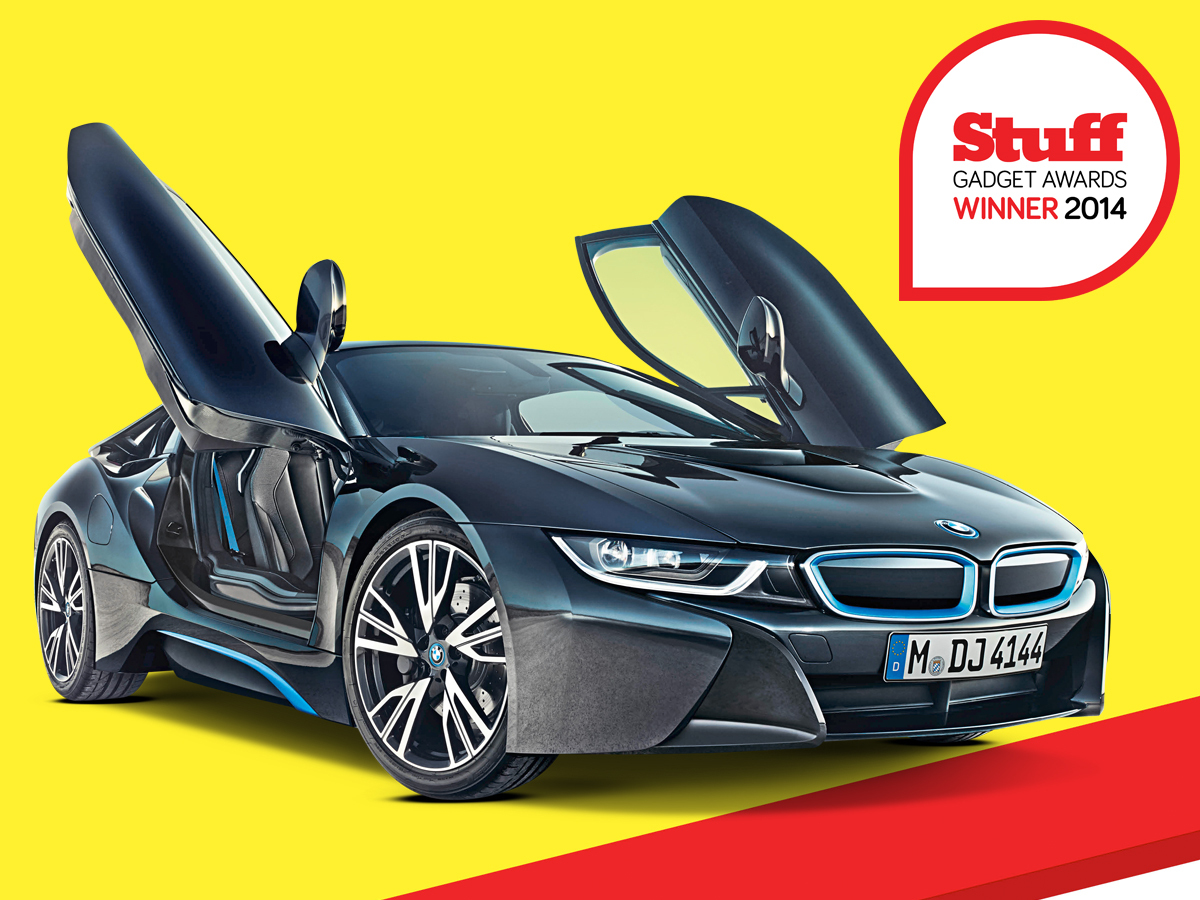 If Batman had been German, not only would he be called Fledermausmensch, he'd also drive a BMW i8 – not that gas-guzzling gun-tractor Bruce Wayne trundles around Gotham in.
Why? Well, just think of the national stereotype it fulfils. Thanks to its hybrid power, the i8 is ruthlessly efficient in propelling itself to a top speed of 160mph, plus it's exactly what an eco-friendly Dark Knight would buy.
There are certainly greener motors out there, but none combine the sheer driving thrill of a supercar with the appetite of a family saloon.
Compact camera of the year: Sony Cyber-shot RX100 III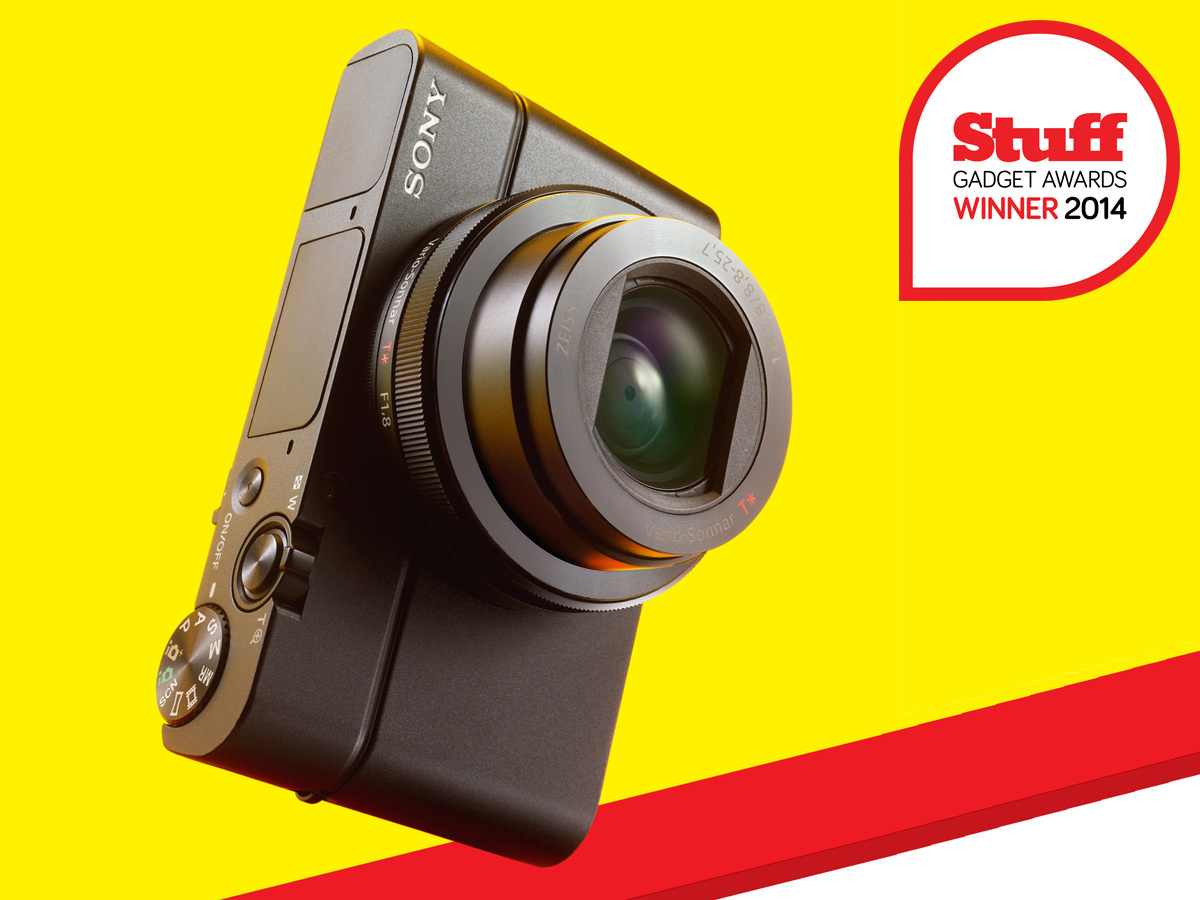 If smartphones killed the compact camera then Sony never got the memo, because the RX100 III is the finest pocketable snapper we've ever seen. It doesn't come cheap – but that's because the raw materials it's been built with aren't exactly from the bargain bin.
The lens is nice and wide, it feels sturdy and solid in the hand, and the 1in, 20MP sensor is big enough to handle low-light situations far more capably than any phone. And all in a package that actually takes up less pocket than some of the latest gigantaphones.
Health and fitness gadget of the year: Jawbone Up24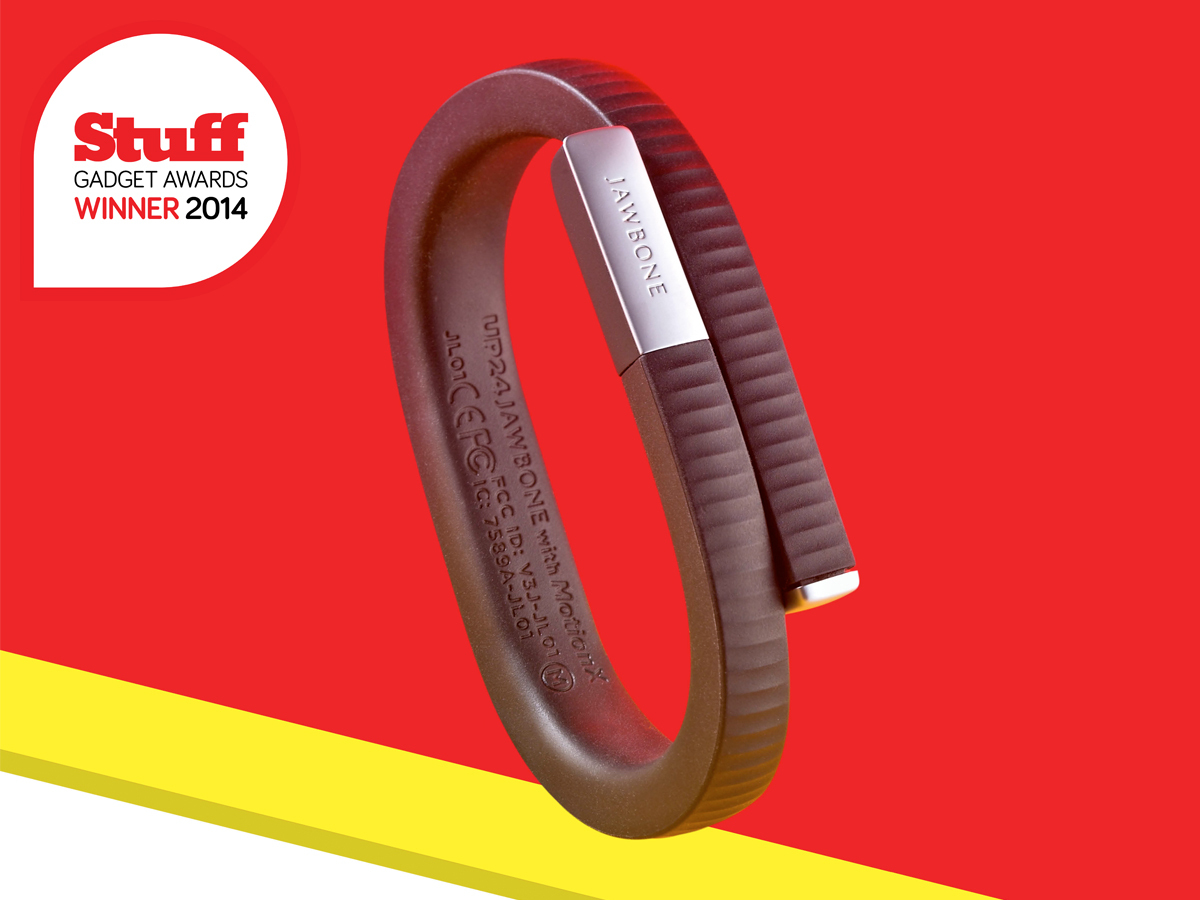 Without the willpower to use them, fitness gadgets are about as useful as those unworn running shoes hiding under the bed. The beauty of Jawbone's Bluetooth-equipped UP24 is that you don't really need any willpower to use it: you just put it on and it gradually makes you feel guilty about not doing enough exercise.
It's essentially a willpower generator. Seeing how lazy you are turned into numbers, graphs and cold, hard facts on your phone screen will do that. Fortunately, it alerts you to help you towards your daily goals, plus it'll work with apps such as MyFitnessPal, Runkeeper and Withings. Oh, and it's compatible with those trainers too. Just pair them with your legs.
Web and Cloud Service of the year: Slack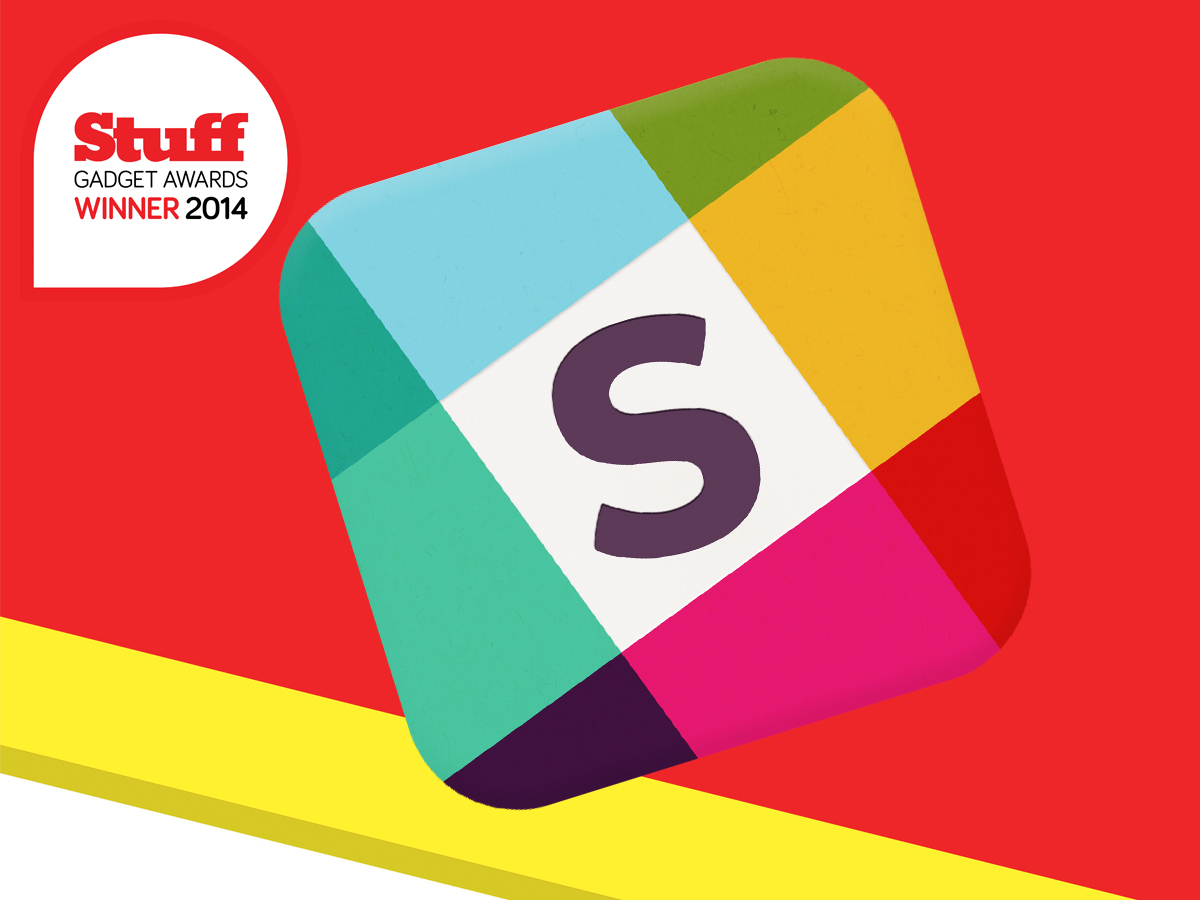 Email is so ancient your inbox is probably haunted: spooked by the ghosts of forgotten attachments and typos you only notice as you hit 'send'. So isn't it time we found something new? Well Stuff found Slack – a hybrid of email and IM – and we really rather like it. Set up a team, add your friends or colleagues and you've got your own online forum – one with its own cloud storage for uploading files for other users to access, plus it plays nicely with Dropbox, IFTTT and Google+ Hangouts. We never want to send another email again.
Innovation of the Year: Google Project Ara (reader-voted)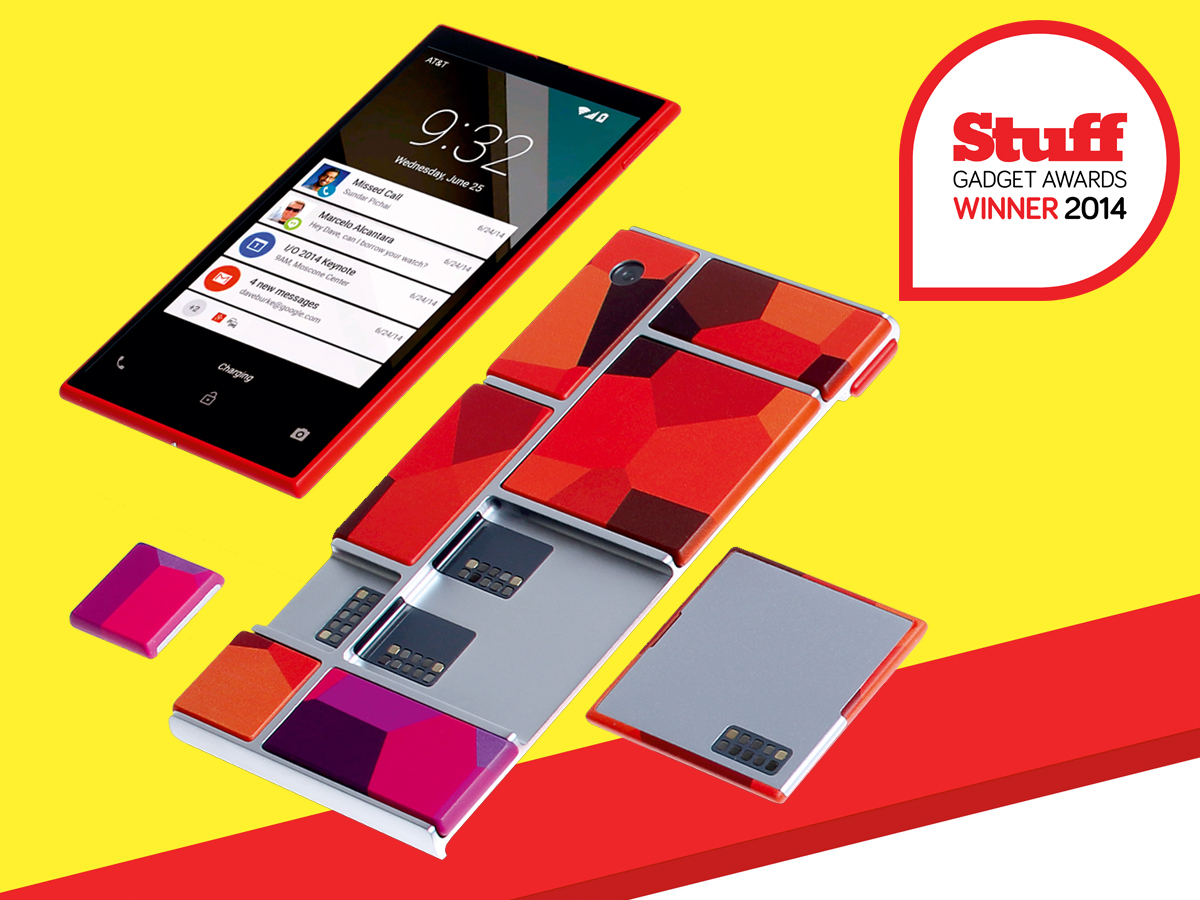 You might not be able to buy yourself one of Google's DIY mobiles just yet but that hasn't stopped you crowning it 
your favourite innovation of 2014. Using 3D-printed modular 
parts, Project Ara allows you to build the phone you want rather 
than the one the manufacturer wants you to have.
You pick the size of the chassis and then fill the slots on the back with your desired features. That could mean a 4K screen, a huge battery and even a blood sugar monitor – and, crucially, an end to the identikit black rectangles we choose from now.
Smartwatch of the year: Motorola Moto 360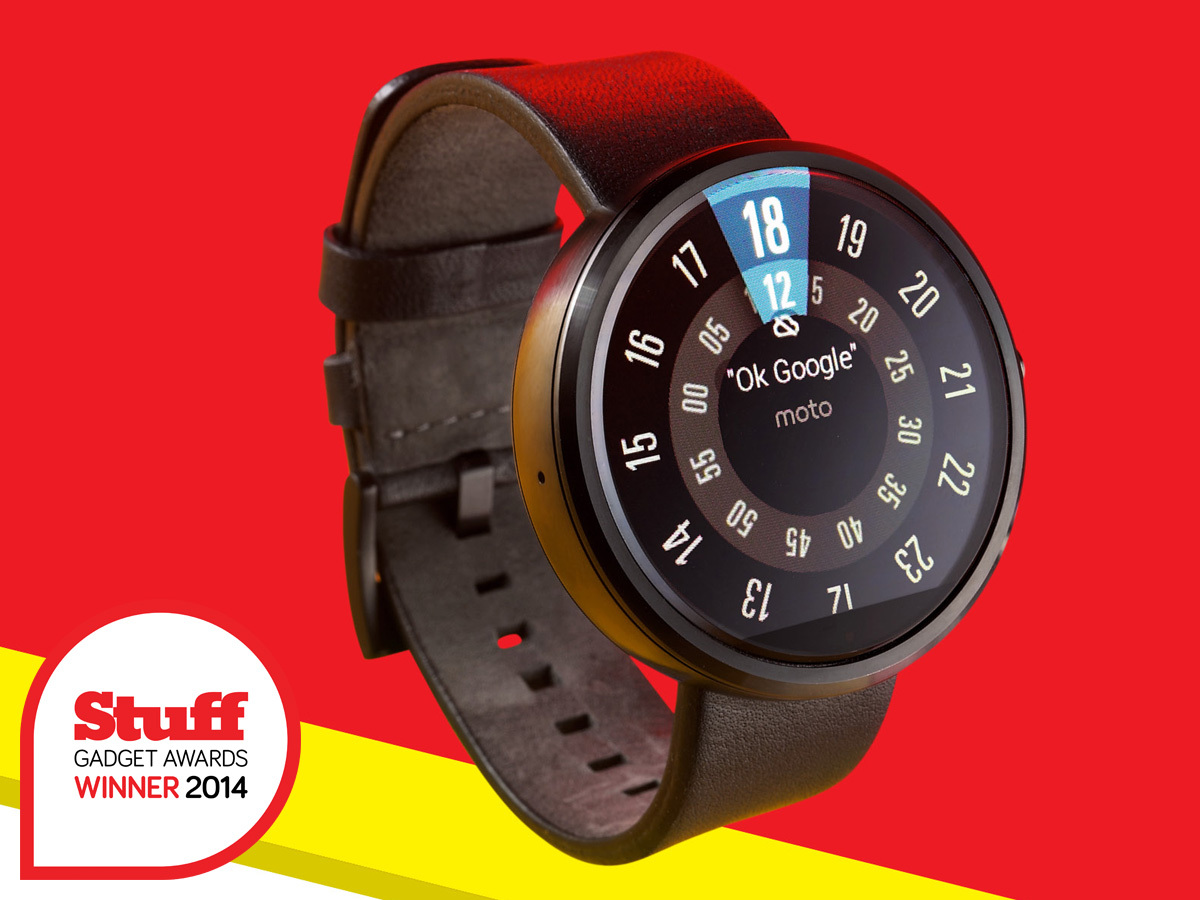 Ever since the Babylonians used the sundial to work out whether they were late for the afternoon battle with the Elamites, we've been using circles to tell the time. These days the only battles we face are against PPI calls and wasps in the pub garden but our favourite timekeepers are still the same shape (if a little easier to strap to your wrist). Oh, and they do a lot more too.
The Moto 360 was the first smartwatch to marry form with function, without looking like a prop from a '90s sci-fi movie. So it's a little chunky for some tastes and the battery life could be better, but the 360 was the first Android Wear smartwatch we didn't want to take off, like, ever.
Tech toy of the year: DJI Phantom 2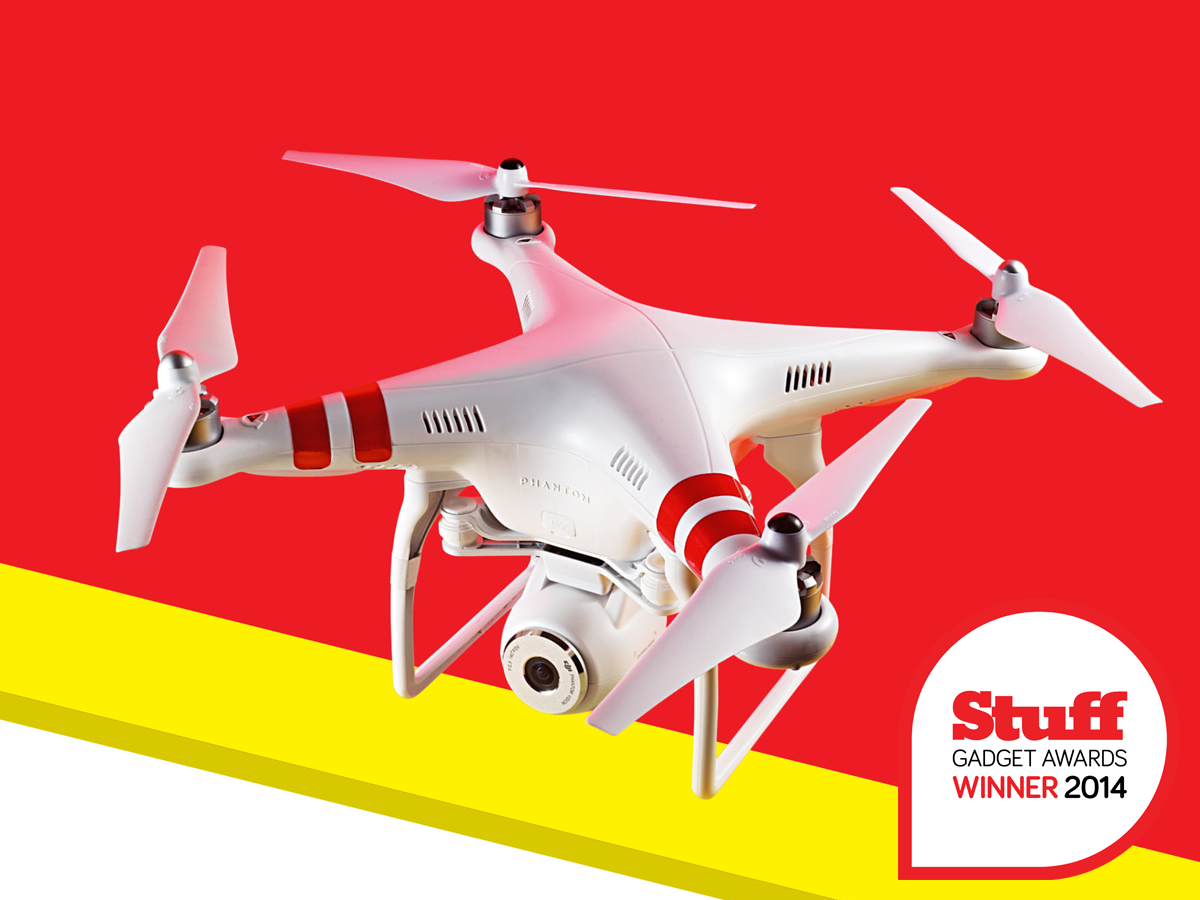 You used to need your own helicopter or a long ladder to have a go at aerial photography – but that was before quadcopters such as the Phantom came along. Available in drone-only, Vision or Vision+ flavours, what sets the Phantom apart is how simple it is to fly. It stabilises itself, hovers in place if you take your hands off the controls and can find its way back to where it took off using GPS. The standard drone can mount an action cam, while the Vision lets you use a phone to stream a drone's-eye view from the 14MP camera (and the Vision+ adds a stabilising gimbal). Whichever model you opt for, for an introduction to the joys of 300-feet-high photography (and something that turns more heads in the park than a kickabout with Messi), it can't be beaten.
Game of the year: Alien Isolation (reader-voted)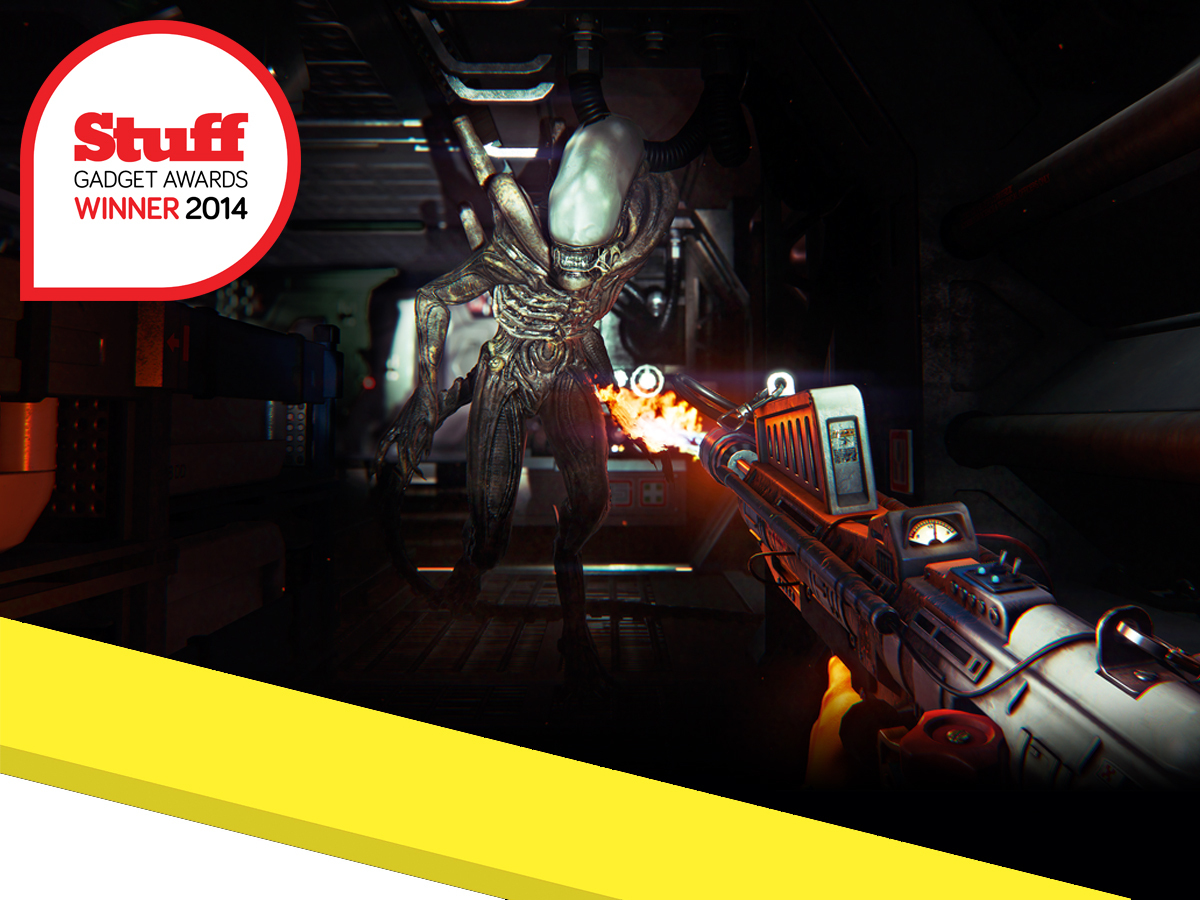 With many first-person shooters 
now little more than fish-in-a-barrel sims, it's refreshing to play a game 
with a much deeper barrel. Oh, and 
a xenomorphic fish that has a nasty habit of sneaking up on you and turning your internal organs into external ones.
Alien: Isolation is the gaming equivalent of walking blindfolded across a tightrope over a pool of gnashing piranhas – the danger might not always be visible, but you know it's just under the surface. Extra-terrestrial stand-offs and unforgiving gameplay mean it's not for everyone, but for its truly terrifying atmosphere, one of the greatest inventions of sci-fi cinema finally has a game worthy of the Alien name.
TV and home cinema gadget of the year: Google Chromecast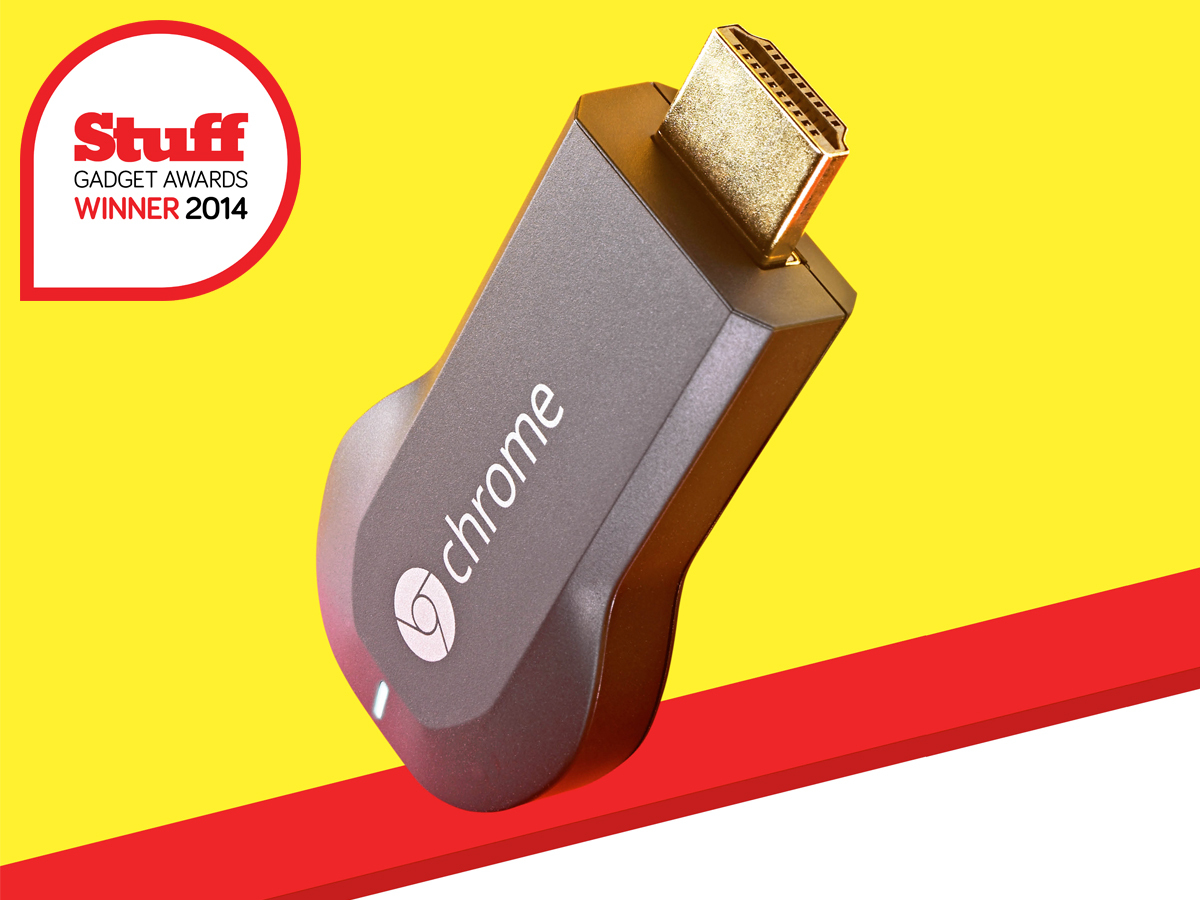 Google's Chromecast is to your telly what a banana is to Eric Wimp of 29 Acacia Road. Insert Google's streaming stick into your idiot lantern's HDMI hole and it'll be transformed into a televisual superhero, capable of tremendous feats such as receiving Netflix, BT Sport, Now TV and more from your phone, tablet or laptop so your favourite movies and TV shows can escape the evil clutches of Dr Squinty Screen.
It'll even let you send your current Chrome tab to the telly or mirror any Android's screen. With great power comes great responsibility – but this time not great cost. At £30, it's the kind of gadget you can almost pick up alongside your weekly groceries. Affordable, effective and essential.
READ MORE: Google Chromecast review
Kickstart of the year: Scio (reader-voted)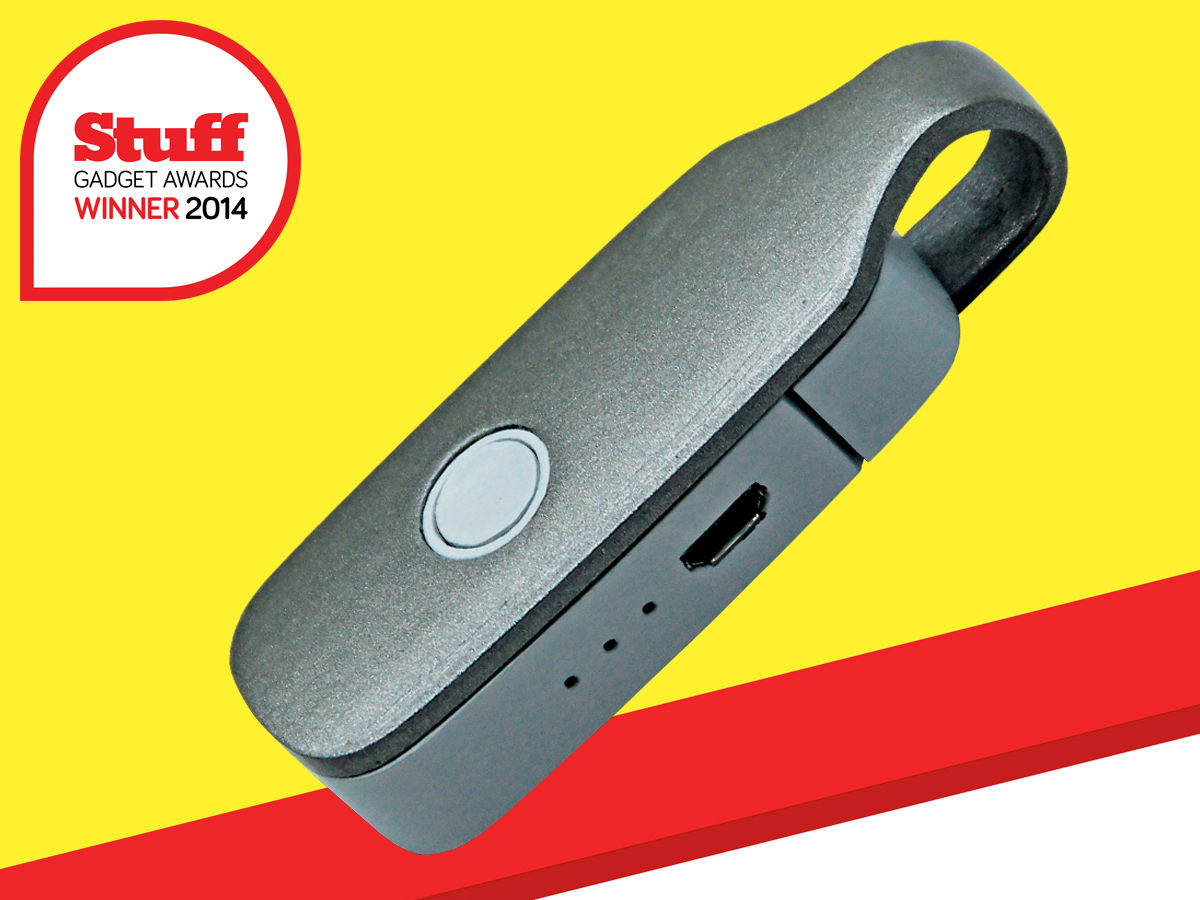 Ask a biologist what superpower they'd like and nine times 
out of ten they'll say they want to be able to see the chemical make-up of food, plants and all kinds of other stuff. The other time they'll say they want to shoot lasers out their eyes. Scio can help with the former.
Having sailed through its US$200,000 target on the way to raising US$2.7m, this keyring-sized spectrometer scans items and sends their vital stats to your smartphone wirelessly, so you'll never eat a sausage without knowing exactly what's in it again. Hmm, on second thoughts…
System camera of the year: Sony A7r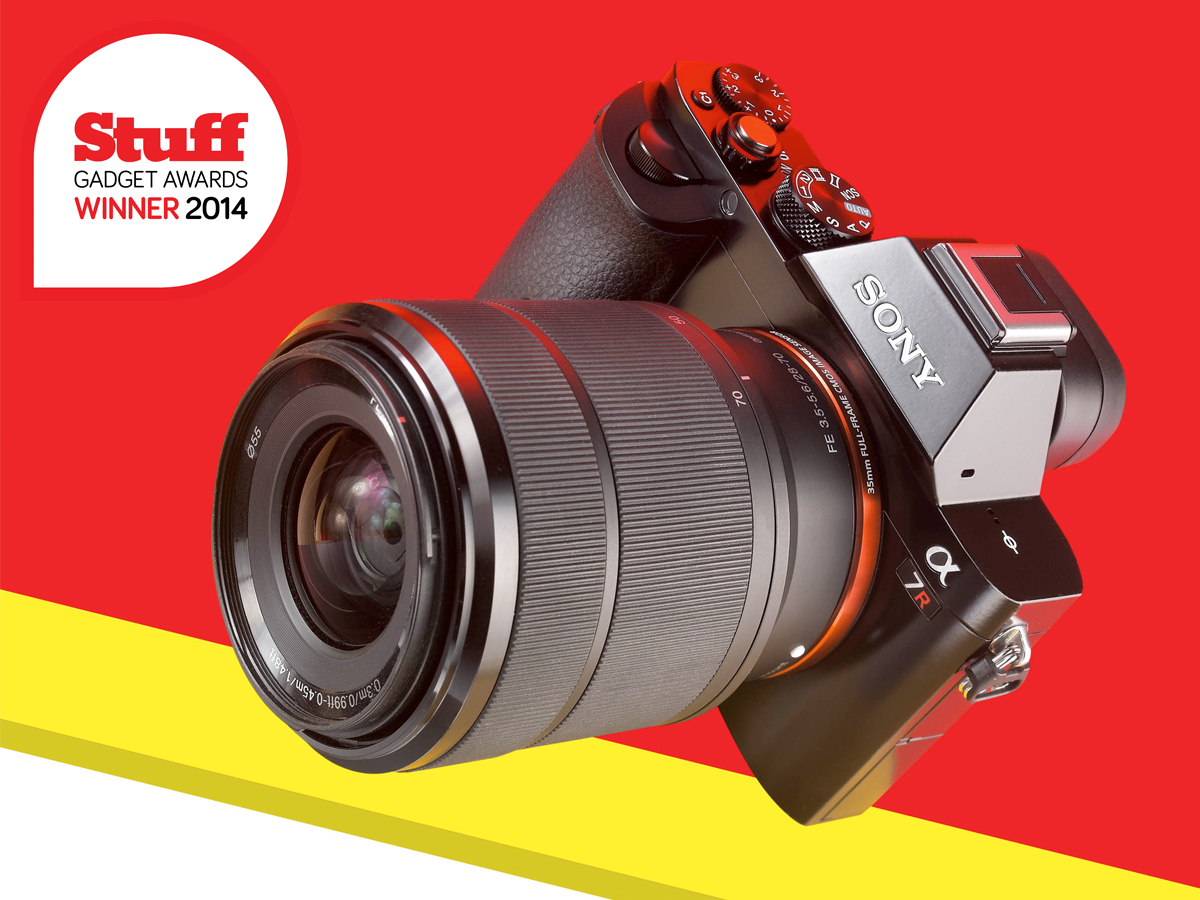 This year, Sony achieved what camerafacturers have been aiming at for over a decade: a compact system camera that's as good as a pro snapper. The A7R squeezes a full-frame, 36MP sensor into a palm-sized body, offering breathtaking image quality from something you can chuck (OK, place carefully) in a small bag.
With a superb electronic viewfinder and autofocus as quick on the draw as a hyperactive cowboy, it's a joy to shoot with, and that massive sensor also turns light into silky-smooth 60fps 1080p movies. And if you'd rather keep it safely on a tripod, on-board Wi-Fi means it'll pair with your phone to act as a remote viewfinder and shutter release.
READ MORE: Sony A7R review
Design of the year: BMW i8 (reader-voted)
It's very rare for a concept car to make it to production without all the interesting bits getting hacked off, but BMW's designers were obviously so taken by their efforts that the differences between 2009's Vision EfficientDynamics prototype and the 
i8 are remarkably hard to spot. And who can blame them?
Whether it's the scissor doors, the rear cutaways or the way its instruments turn red when you put it into sport mode, the i8 is a car designed for the future that exists today. And all with the (almost) guilt-free emissions of a boring five-seater.
TV of the year: Samsung UE55HU7500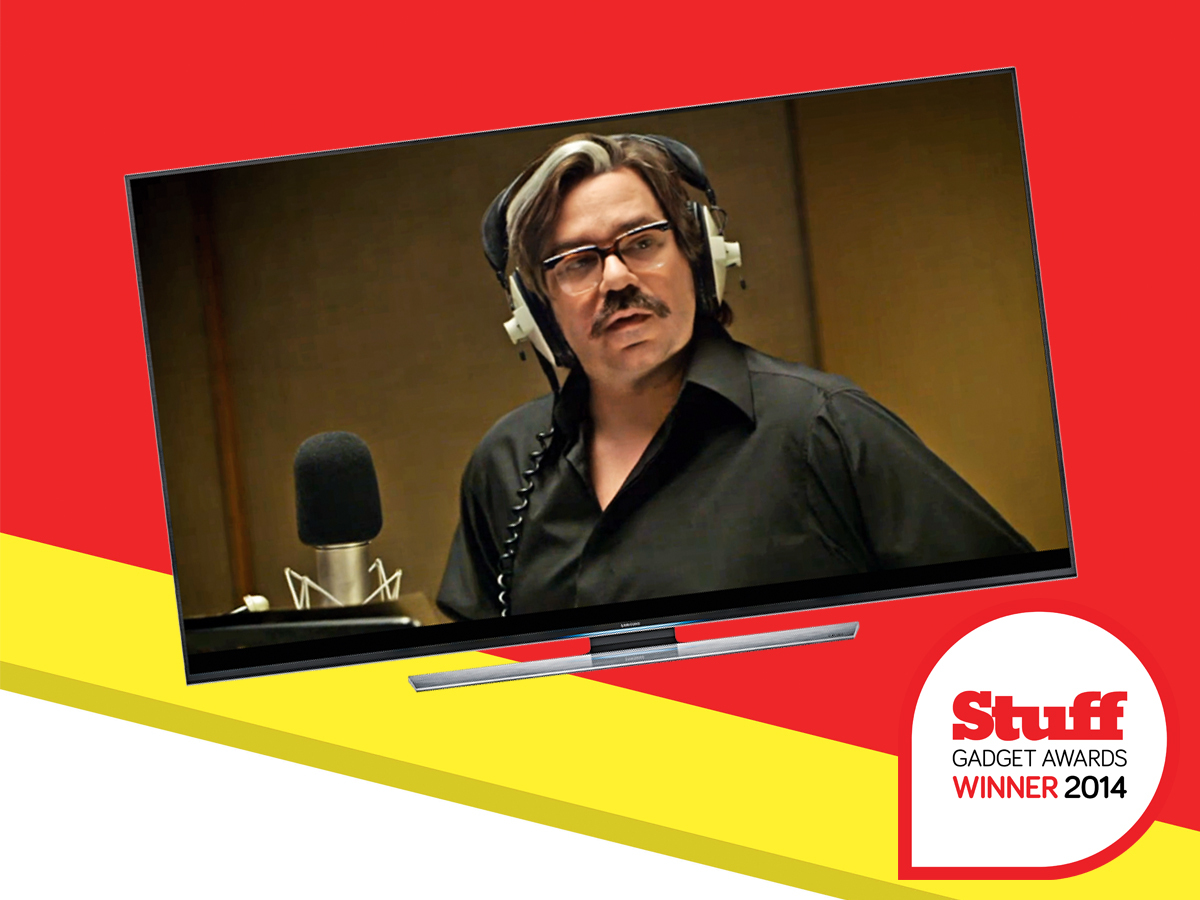 While our phones have been Mensa-bothering Mastermind champs for years, it's taken our TVs some time to wise up. 
But hung on the wall reciting Shakespeare soliloquies and 
doing some really hard sums is Samsung's UE55HU7500: 
a handsome, high-performance 4K flatscreen that learns 
what you like to watch, so there's no hiding your penchant 
for Lizard Lick Towing.
Sporting more holes than a golf course with a mole problem, this telly offers affordable 4K plus plenty of stuff to watch until the catalogue catches up.
App of the year: Uber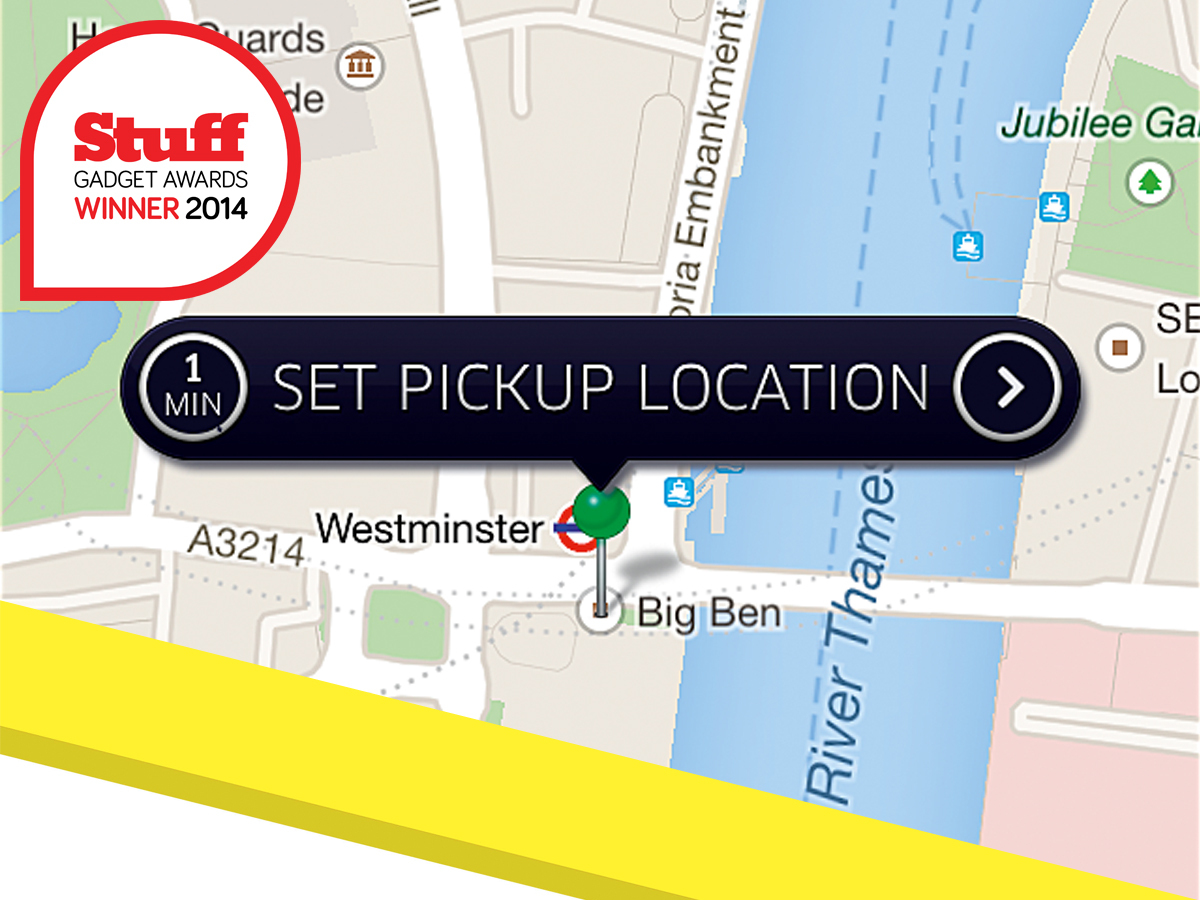 Uber's been in the news lately for a number of reasons – not all of them positive. But we're not here to judge them on their corporate ethos; just on the product they've produced.
The fact is, as apps go Uber is excellent. Just open it up and it'll use GPS to find you. Not long after that, there'll be a driver along to pick you up. It's cheap too. And with more places being added all the time, it means an end to aimless wandering of foreign streets looking for a taxi rank, or getting ripped off by 'tourist tax'. If only they could launch an Uber for bacon baps, we'd be at peak humanity.
Computer of the year: Microsoft Surface Pro 3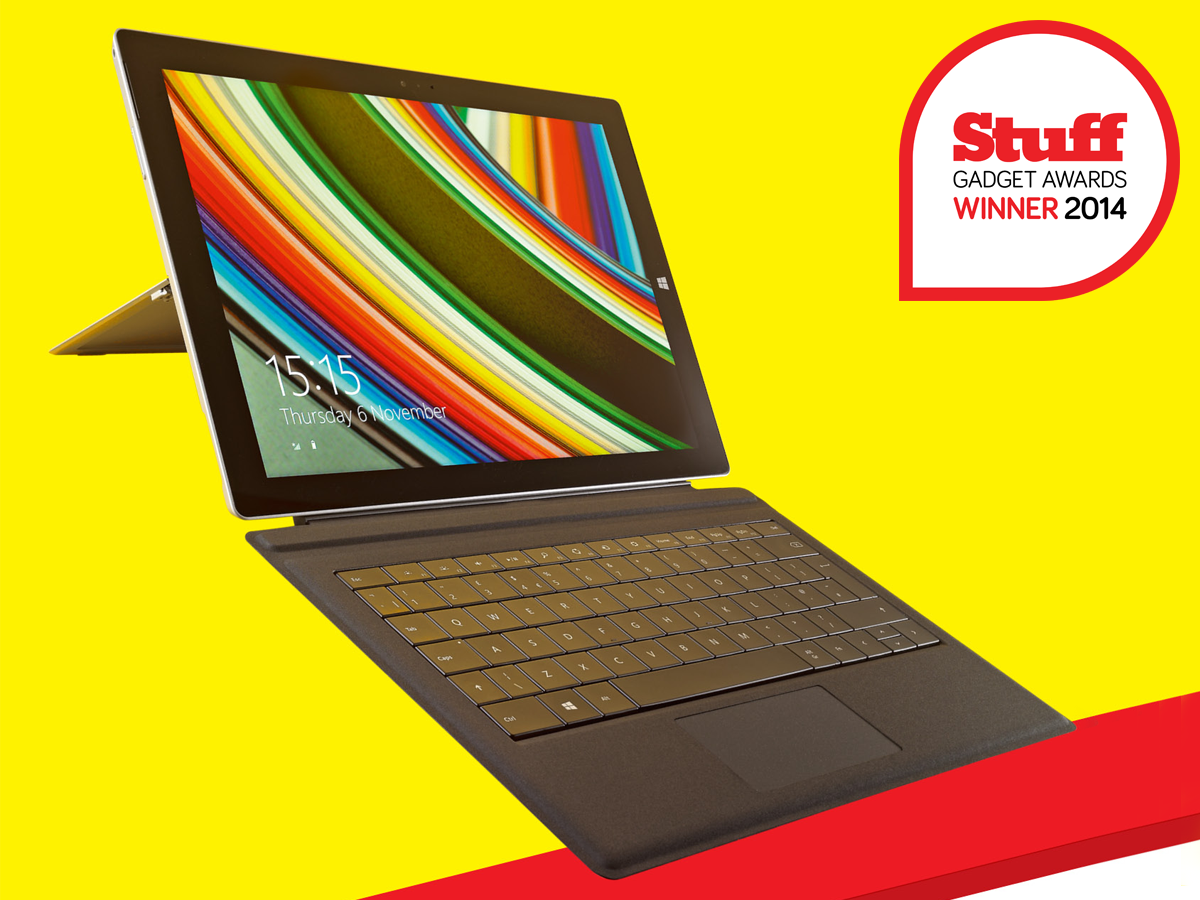 Is it a bird? Is it a plane? No! It's a tablet! Or it's a laptop. 
What is it? We're still not sure but it's called a Surface Pro 3.

The first proper hybrid of its kind, it's got all the good bits of a laptop (power, keys and bigness) plus the best bits of a tablet (a decent touchscreen, portability and fun), and with hardly any of the bad bits of either (except perhaps the price).
Microsoft might not be able to decide whether the Surface Pro 3 is a laptop or a tablet, but there's one thing we can all agree that it definitely is – and that's totally brilliant.
Hi-fi gadget of the year: Naim Mu-so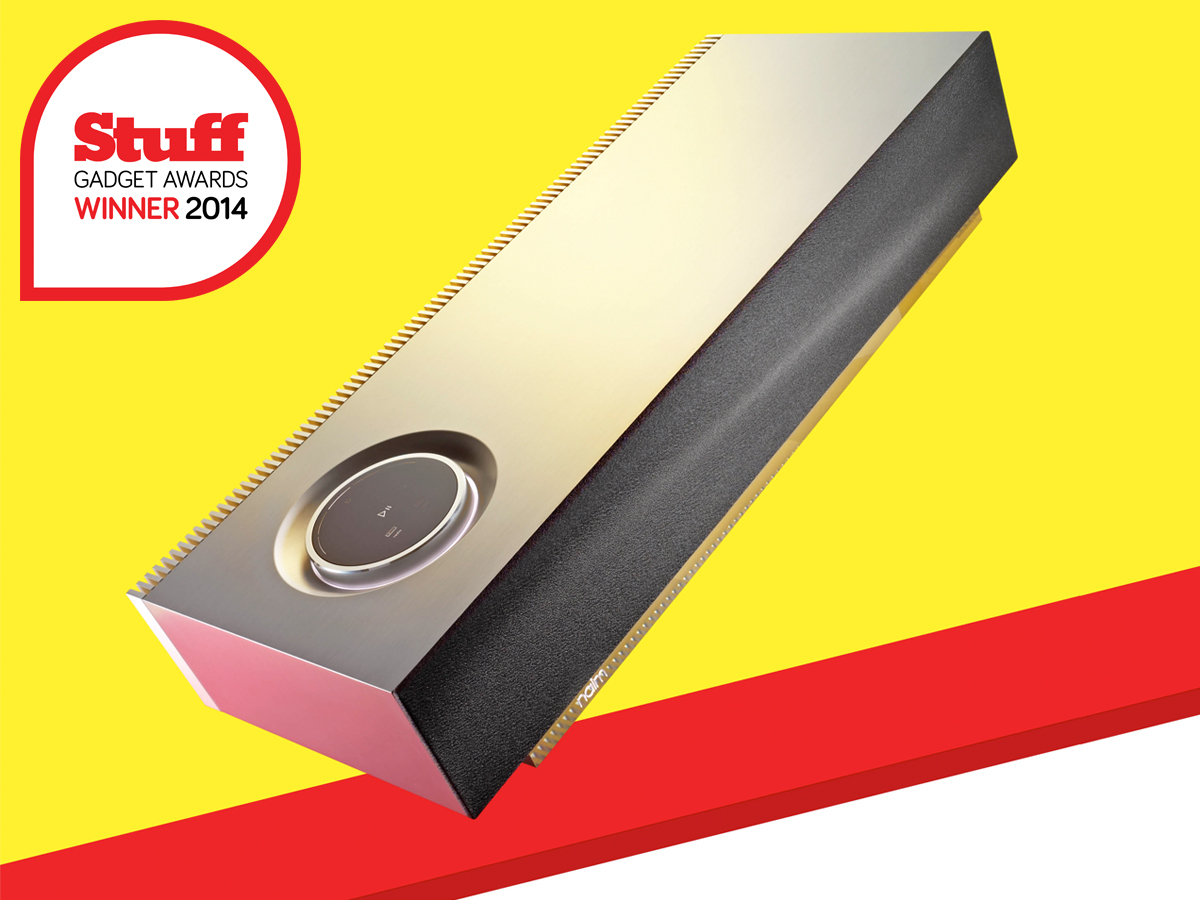 It might look a bit like somebody 
pushed over a robot's gravestone 
but Naim's Mu-so does anything but mark the death of hi-fi. Fundamentally it's a wireless speaker, but it's one with 
its sights set on audiophile excellence packed into one box.
The Mu-so can stream anything over Bluetooth, AirPlay, Spotify Connect, or from a NAS or computer via UPnP, plus there's hi-res audio support if you go wired.
It sounds incredible and, with its heavy-duty heat sink and sci-fi-inspired control dial, looks like it was made in the same astral forge as the monolith in Kubrick's 2001. It might not change the trajectory of the human race, but it's changed how we feel about one-box hi-fi, and that'll do.
Mobile game of the year: Monument Valley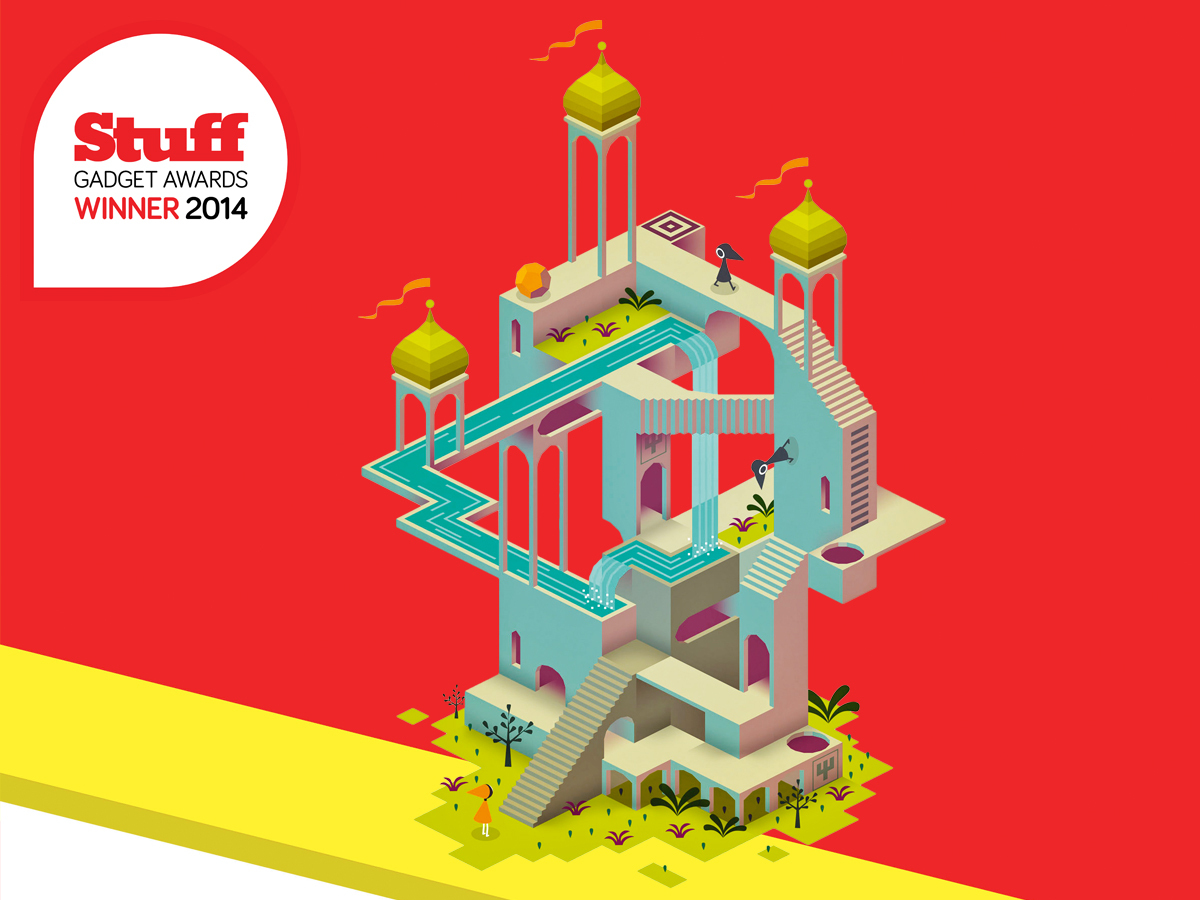 If you like aimlessly moving coloured blobs around your screen it's unlikely the brief but brilliant experience of Monument Valley will interest you, but in a world that's normally about little more than tapping players for cash, this Escher-esque puzzler stands out like a perspective-warped thumb.
Conquer its optical illusions and guide the princess to the end of each level for one of the most memorable mobile gaming experiences in years. It's not exactly difficult but sometimes it's the journey rather than the destination that makes a trip worthwhile.
Smartphone of the year: Motorola Moto X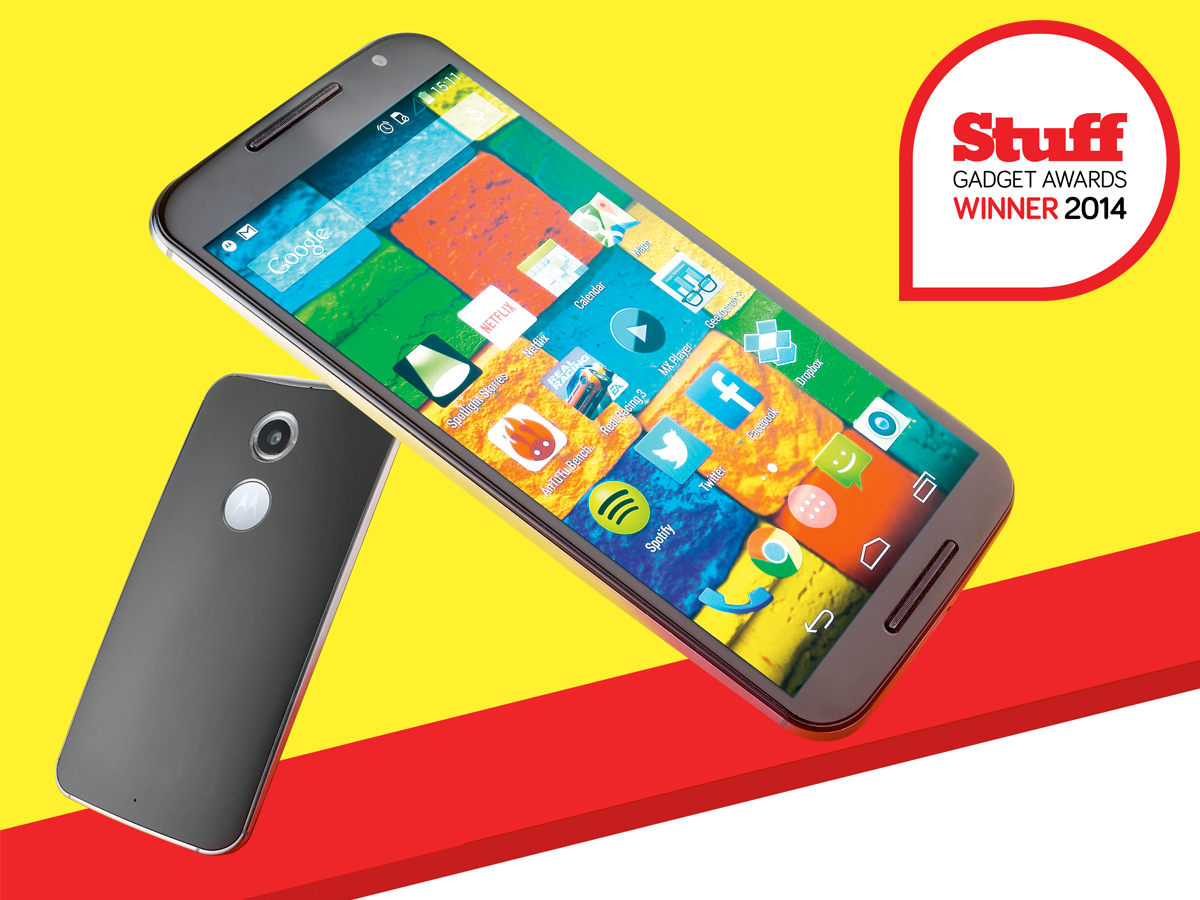 For so long it looked as if LG's G3 had this one sewn up. But much like the G2 last year, Moto came out of nowhere with the rip-snorting 5.2in Moto X and blew everything else away. 

After an under-the-radar stonker (the budget Moto G), Motorola ventured further down the alphabet and turned everything up to 10. A brilliant 1080p screen, overnight battery life, always-on voice control that actually works and some seriously nifty notification tricks make the Moto X stand out – and that's before you customise your own on the Moto Maker website.
Some people think all Android phones are created equal, but the Moto X is proof that that's far from the truth.
READERS' GADGET OF THE YEAR: ONEPLUS ONE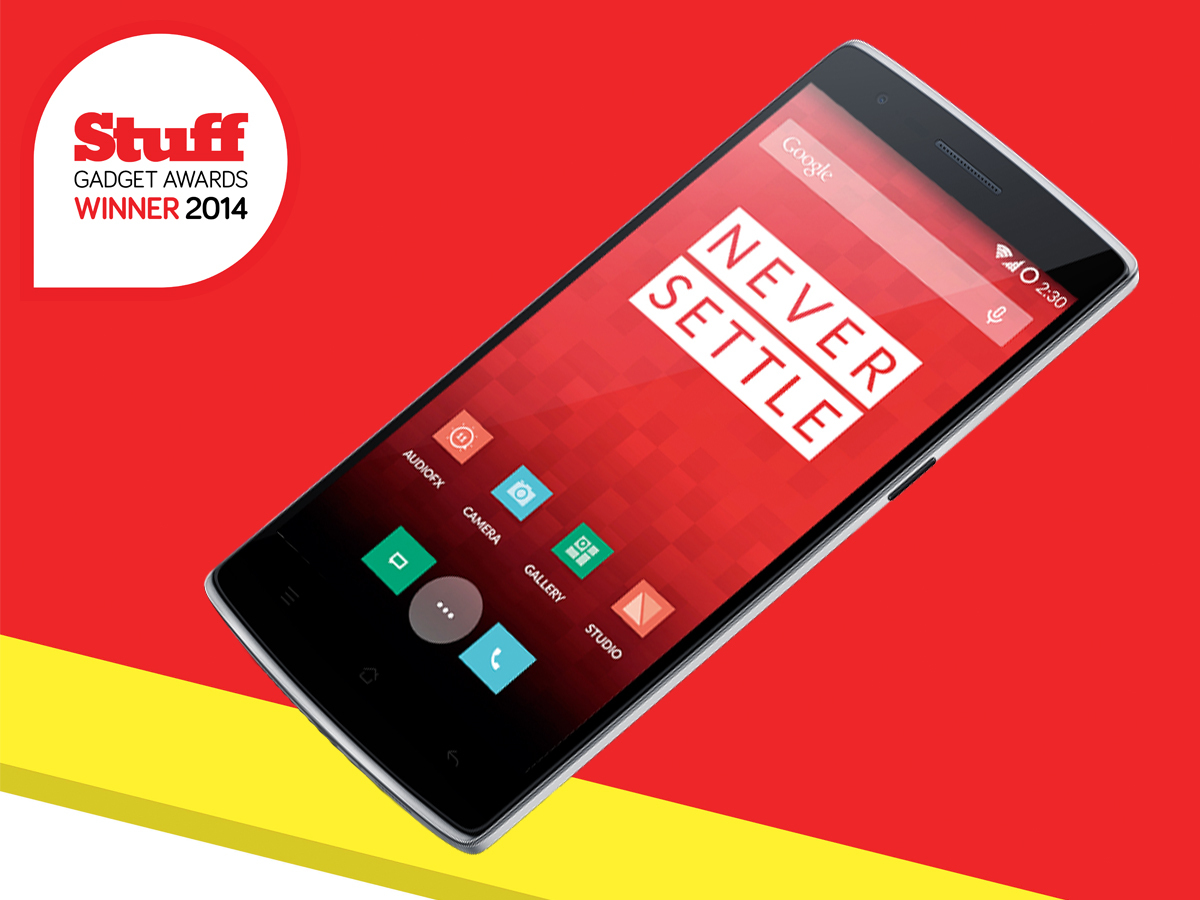 From encouraging people to smash up their phones to 
requiring an invitation to buy one, OnePlus grabbed plenty of headlines in 2014. But by undercutting its more established competitors by around 50% and still producing one of the best phones of the year, this Chinese upstart is nailing the important stuff too.
When the pre-orders opened, the servers melted like a snowman eating jalapeños, and in a world where Google's own phones are no longer the wallet-watcher's choice, the OnePlus One can stake a decent claim as the new Nexus.
OnePlus' success is a warning shot across other smartphone makers' bows
Gadget of the year 2014: Microsoft Surface Pro 3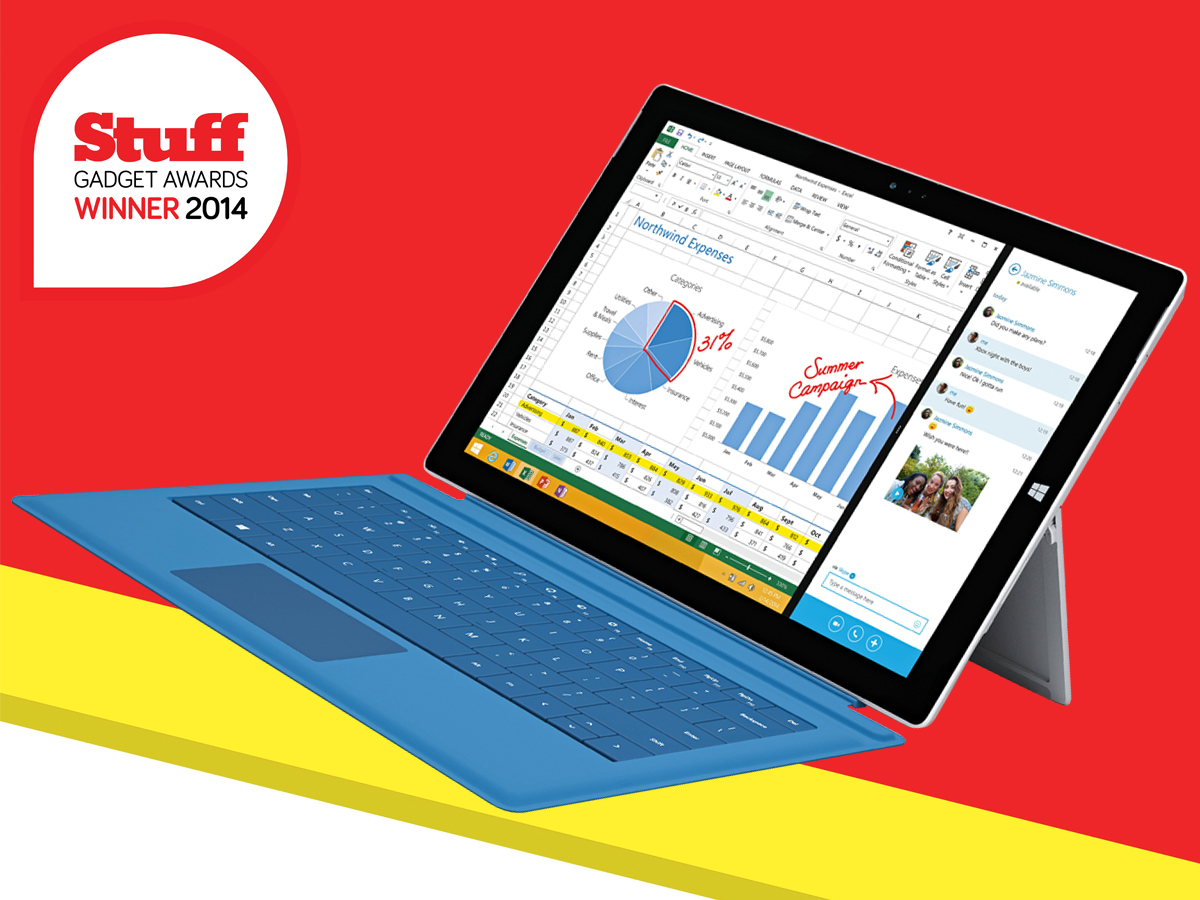 In a year of five-star phone after five-star phone, we found ourselves looking elsewhere for 2014's most important gadget. Sure, the Moto X and LG G3 are incredible, do-everything-but-make-your-bed mobiles, but they didn't break as much new ground as the Pro 3 – a tablet that could make your laptop extinct.
Its powerful Intel Haswell chip offers more power than any tablet while doubling its battery life, its form is (quite literally) more flexible than a MacBook Air and it has a keyboard cover that's actually a pleasure to use.
With Google and Apple working to catch up on 'tablets for work', the Pro 3's combo of innovation and practicality make it a worthy Gadget of the Year.
In 2014, Microsoft cracked the hybrid conundrum and set a new trend