Samsung Galaxy S4 Active hands-on review
We take the plunge and go diving in the deep end with Samsung's flagship toughphone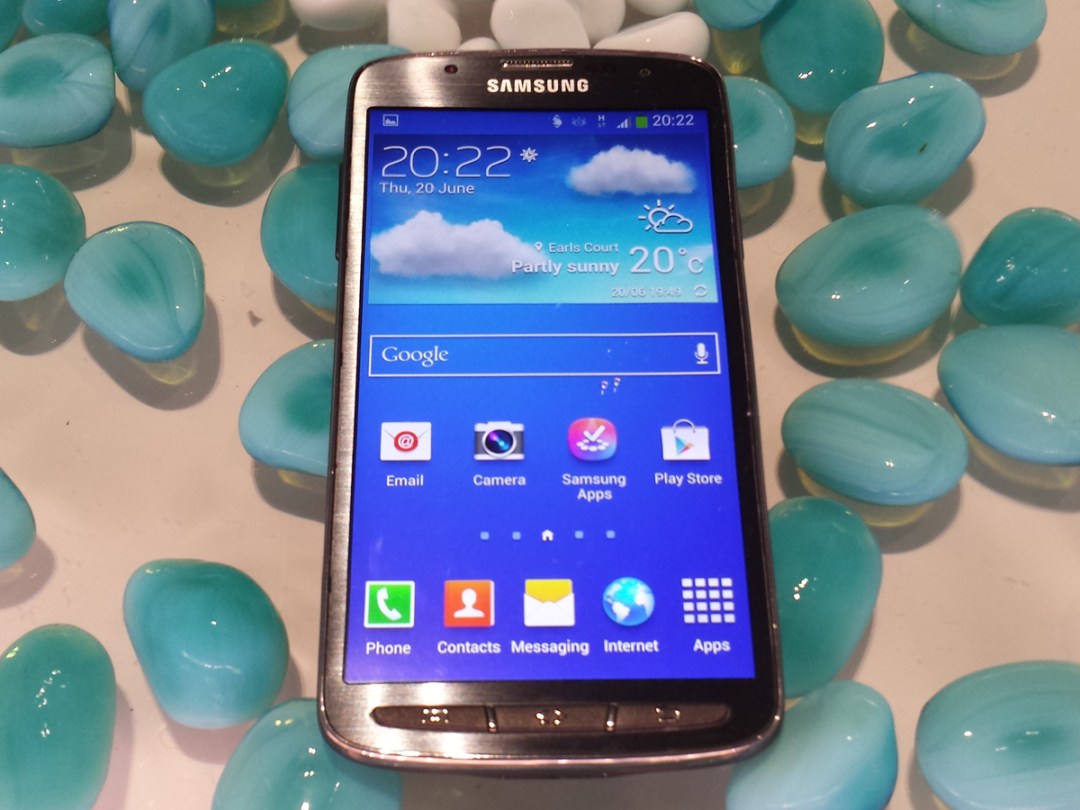 Samsung has not only made a toughphone, it's made a smart toughphone that manages to pack in nearly all the power of the S4 with the protective shell that'd feel at home under a tank.
So how does the Galaxy S4's burly brother fare? We get our hands dirty and find out…
Water resistance
This bad boy feels pretty similar to the Galaxy S4 at just 9.1mm thick (1.2mm more than the S4). Despite that, it's IP67 rated – meaning it can handle a bit of rough and tumble. Dust? The Active laughs in its granular face. Water? It can hold its robo-breath for half an hour at up to one metre of the briny deep.
And yes – it'll take a knock or two without any bother. Not that we smashed it into those pebbles too hard. We didn't want to get our shirt wet.
Camera
Not only is the hardware of the S4 Active built for aquatic adventures, its 8MP camera is too. A new shooting option called Aqua Mode adapts the camera to work underwater both for snapping pics and shooting video.
We were impressed at how well it cut down on water warp even in this turbulent tank. And the ability to select which button you want as your shutter is a thoughtful option. Thanks Sammy, you sub-aquatic sweetie you.
Smooth operator
As noted above, unlike other phones bearing the Galaxy S4 moniker, the Active has all the grunt of the standard Galaxy S4. That means you get a 1080p 5in (441ppi) screen, a 1.9GHz Snapdragon 600 quad-core processor and 2GB RAM.
We glided through the OS without so much as a hiccup. Glided virtually, in case you thought we were talking about slippery fingers. Which was an issue – if the screen's wet, the touch sensitivity is a little hit-and-miss – but usually you'd wipe it first, or be underwater.
Build
The weight, at 151g, is just 21g more than the S4 – but the Active simply feels more solid, rather than being cumbersome. There are three physical buttons that make controls in extreme conditions more precise than touch sensitive ones might.
The microUSB cover seems the weakest point, flipping open once before we submerged.
Verdict
If you're in the market for a top end smartphone, and don't want to spend extra on a case, you can't go far wrong with the S4 Active. You sacrifice a few megapixels on the camera versus the S4, but being able to shoot underwater makes up for that in our opinion – pixels aren't everything. You could, if you're feeling risky, even save a few pennies on smartphone insurance – after all, the Active shrugs off knocks and bumps that would shatter a lesser smartphone.
We just need to see the price, but so far it's looking like a strong contender for the flagship spot at Samsung.