Promoted: One year of Amazon Prime
It's time to revolutionise your viewing with one year of Amazon Prime Instant Video, free with every Amazon Fire phone purchased until 31 December 2014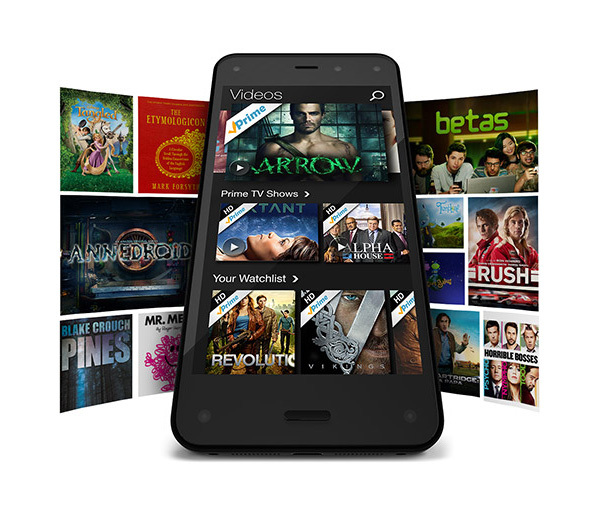 Never again utter the phrase "there's nothing on". Amazon Prime Instant Video is yours for a whole year when you snag an Amazon Fire phone, since a Prime membership is included with every purchase of an Fire phone until the end of the year.
Prime Instant Video gives you access to over 15,000 titles whenever you want. With such an embarrassment of riches laid out, it could be tricky to know where to start. That's where we can help. In fact, we've taken the liberty of suggesting a whole 365 days of viewing. Are you slumping comfortably? Then we'll begin.
Right here, right now
Some TV just can't wait – Amazon's Original Series concept, for example. Currently you can watch and rate pilot episodes of new shows and have your say as to which of them are made into full shows in future. If you want to exert your influence you'll need to get in quick, so why not download them all and run your critical eye over them on your morning commute, starting this week.
Tonight, tonight, tonight
Three nights was enough to make it right for Phil Collins, but we reckon you'll need to block out the next 11 to watch the entire first season of Betas, a smart comedy about a bunch of Silicon Valley app developers. In fact, Betas started out as one of those pilots last year.
What's got a bottom at the top?
Your leg. Also, our list of anarchic TV comedies. Bottom stretches its three jokes (frying pan over head, toilet functions and social ineptitude) over 18 episodes. Only the unique comedy pairing of Rik Mayall and Ade Edmondson could pull that off. Slot this into your Sunday night schedule to fend off the looming cloud of Monday morning.
READ MORE: Stop this blind fanboyism. Can't we all just be friends?
Midweek main attraction
Produced by Steven Spielberg, starring Halle Berry, Extant has just rolled out its first season, and what a cracker it is. On returning from a 13-month solo stint in space, Berry finds she's pregnant. Oh, and her robotics engineer husband has created an android son for them too. You'll need to concentrate for this but not too hard. It's got Wednesday nights written all over it.
Saturday night at the movies
Staying in just got exciting. Amazon Prime does films too, so now you can pick a blockbuster Saturday night movie every week. Surely Alan Partridge: Alpha Papa has to be the first vol-au-vent off the buffet. Maybe the audio-visual onslaught of Tron Legacy is more your thing, or Vin Diesel being Riddick, in Riddick. Whatever, be sure to make a date with the brilliantly funny Ted at some point.
Bedroom wallpaper
Luther is one of those rare shows that you can enjoy just by looking it at – not watching, not listening or figuring out who did what and why. The cinematography in this cat-and-mouse crime saga is stunning, rendering incredible images of London onto the screen at every turn. With Amazon Prime you can nod off to the whole 15 hours of seasons 1-3.
Wet weekend
Let it rain. So much the better if it's your day off. Now you've got the perfect excuse to snuggle up on the sofa and watch An American Werewolf in London (again). Maybe they'll stick to the road this time.
Flights of fancy
Going on holiday? Lucky you. Now is the time to open your mind, and because you can download videos for offline viewing, you'll be able to entertain yourself on the plane, train or autobahn. One-shot documentaries and biogs are just the ticket here, like The Pixar Story, Marley, and A Talk With Hitchcock.
Heavyweight boxsets
It's great to have a seriously meaty box-set to fall back on and Vikings is exactly that. There are two seasons of shouting, chopping and pillaging to get through, and at 45 minutes a slice, that's not going to be over any time soon. When it is, shift your focus to a six-season feast of Lost, five seasons of the US college comedy Community, the whole Life on Mars saga and Fawlty Towers in its entirety.
On the back burner
While you're at it you might want to have a squint at Twin Peaks. Not only was it arguably the most influential TV drama ever, but it can still hold its own nearly 25 years after it first aired. With Amazon Prime you've got a whole year to let its first two seasons bubble away on your Fire phone.
And there you have it: 365 days of viewing pleasure. Of course, you're in control here and that's the beauty of Amazon Prime Instant Video. Click here to check out what's on offer and start planning your own year of on-demand viewing.