New iPads! New Macs! No U2… What to expect from Apple's 16 October event
Updated 16/10/14: We'll be live blogging from Apple's launch event tonight from 6pm
Less than four hours from now Apple will pull the covers off a heap of new gear. New iPads, new iMacs, new MacBooks, new software, new breeds of rhinoceros and buffalo. Anything is possible. But the latter two probably less so.
Apple's Cupertino 'Town Hall' is the venue, and 6pm is the time. You can watch Apple's own live stream here. "It's been way too long," says the invite itself, causing the entire internet to read far too much into a few words and Apple's marketing team to burst blood vessels through belly laughing at the various interpretations.
Directly below you'll find our live blog for tonight's launch event, where we'll be bringing you all the news as it happens.
And beneath that, we've channelled our psychic energies to predict what's in store in Apple's future (bar, we assume, a live feed that doesn't explode and/or offer a Chinese voiceover. Or a rhinoceros).
Anyway, on with the live blog…
Here's everything we predict that Apple will reveal:
Disclaimer: Please don't shout at us if we're wrong. We're very sensitive.
1. iPad Air 2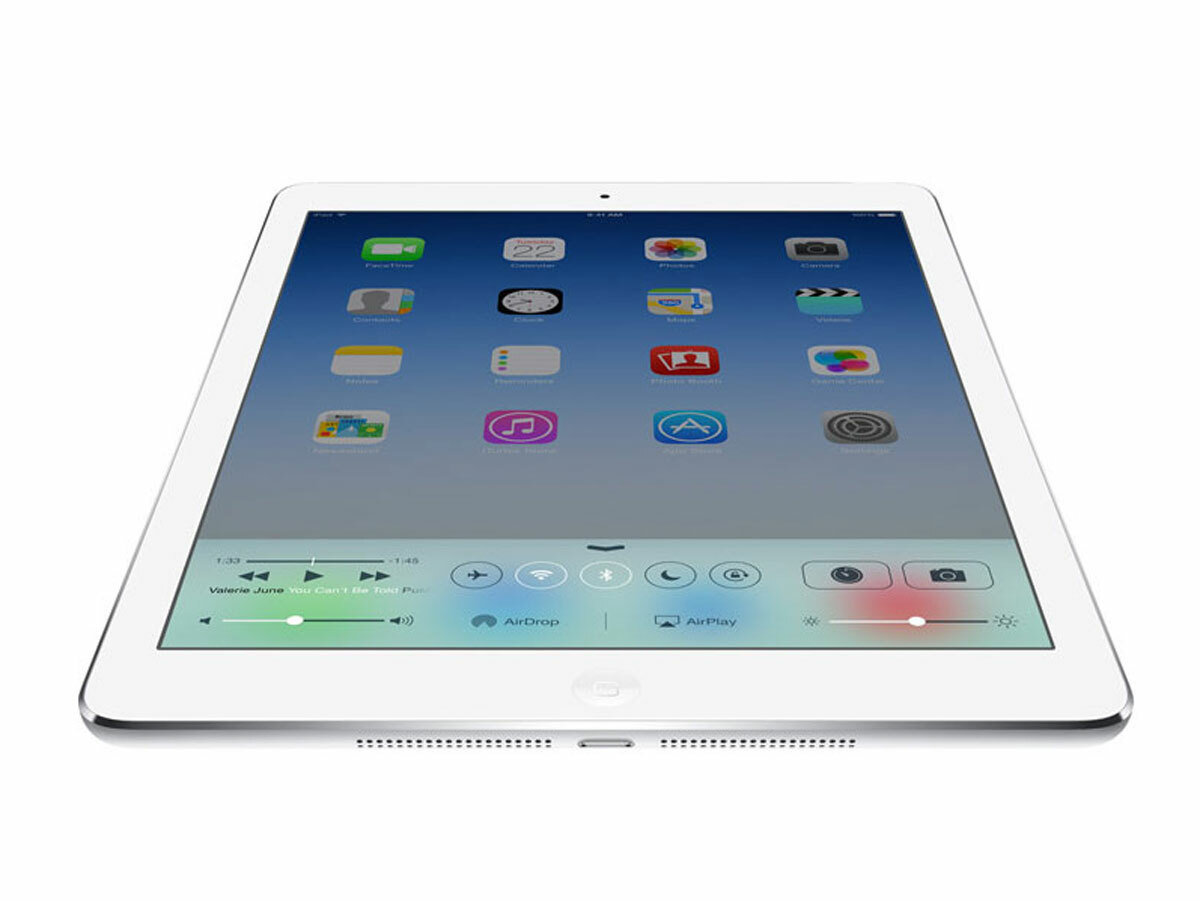 A new iPad. The iPad's updated at least annually, and the iPad Air arrived last November. On that basis, the iPad Air 2 is pretty much a dead cert. Leaks suggest it'll be a bit thinner than the current model, boast TouchID, have some internal incremental upgrades, and might come in 'space grey', 'silver' and 'bling' colours.
Likelihood: 100%
We've already had the iPhone event, and October's always about the iPad, unless Tim Cook's gone mad, cancelled the line and will instead read poetry for 40 minutes.
READ MORE: Apple iPad Air 2 preview – specs, price, release date: everything we think we know
2. New iPad mini
A new iPad that's slightly smaller. Less is known about whether we're going to see an iPad mini revision, and there are questions regarding whether the iPhone 6 Plus will eat the mini's lunch, making Apple less likely to keep it current with the iPad Air. Still, last time round the Air and mini were almost identical, bar size and the mini's slightly inferior screen, and so it's perfectly reasonable to expect the same this year.
Likelihood: 90%
It'll probably happen. If it doesn't, Apple will be splitting the line in a manner that will make devs scream, baffle users, and anger tech pundits. Not that those things are any barrier to Apple, mind.
READ MORE: Apple iPad Mini 2 with Retina Display review
3. Ginormous new 12.9-inch iPad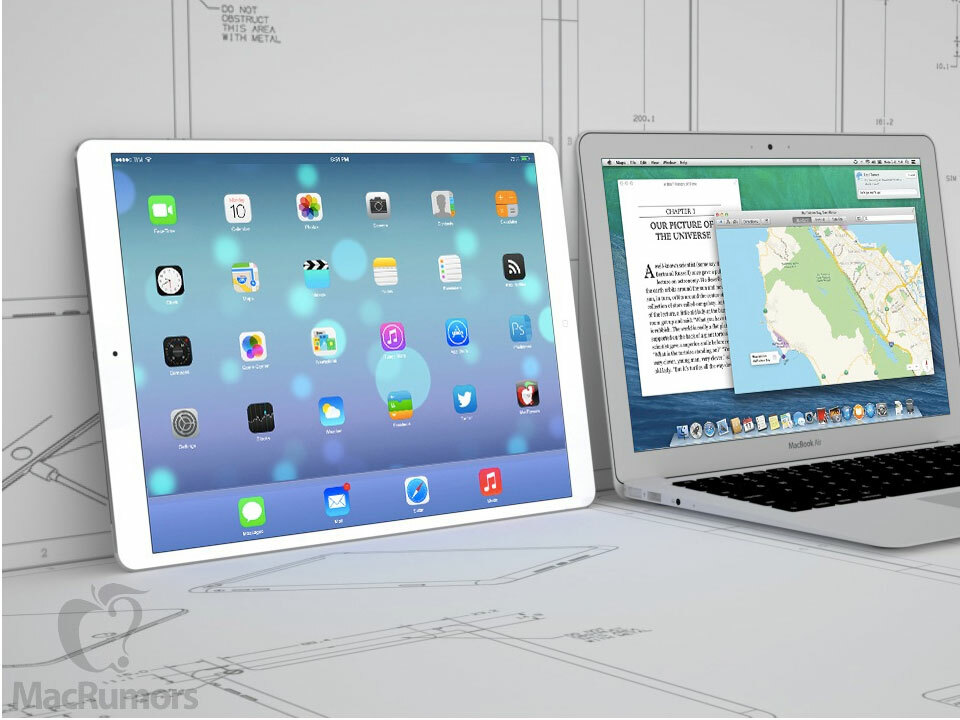 A new iPad that's really big. As per our report, not a great deal's known about this possibly non-existent Apple product, but it makes sense — Apple wants to keep up interest and demand regarding tablets, and a larger display would enhance the device's capabilities in certain scenarios, not least rumoured split-screen multitasking.
Likelihood: 80%
We still wonder whether this device will arrive this side of the holiday season, but if it will, now's the time to announce it, and split-screen code has been found to be lurking in iOS 8.
[image source: Mac Rumours]
4. A Retina iMac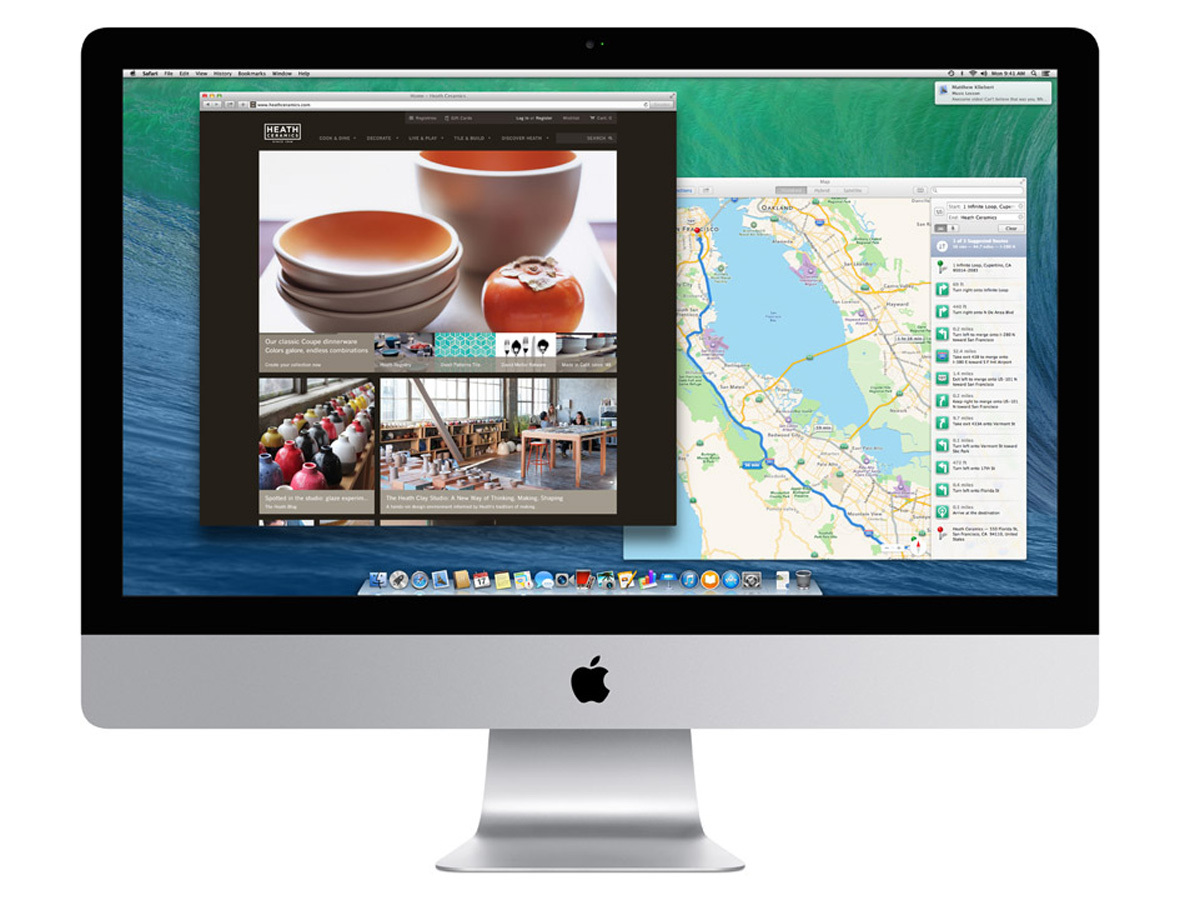 A new iMac that has a pin-sharp Retina display. We're not sure whether this one falls into 'fairly likely to happen' or just 'wishful thinking'. The rumour mill has of course been frothing about such a machine for some time, but it's a big ask, and would have an insane number of pixels in the display — doubling the current 27-inch iMac would get you 5120 x 2880; elsewhere, OS X Yosemite has referenced the likes of 6400 x 3600, 5760 x 3240 and 4096 x 2304.
Likelihood: 85%
We're crossing our fingers really hard for this, along with preparing a stiff drink for our wallet, because one thing's for sure: these iMacs won't come cheap. However, they're a good bet, and with Apple's invite riffing off the Mac 30th anniversary artwork, that tantalising strapline could conceivably be all about a revamp of the now two-year-old slim unibody iMac.
5. Revamped MacBook Pro/MacBook Air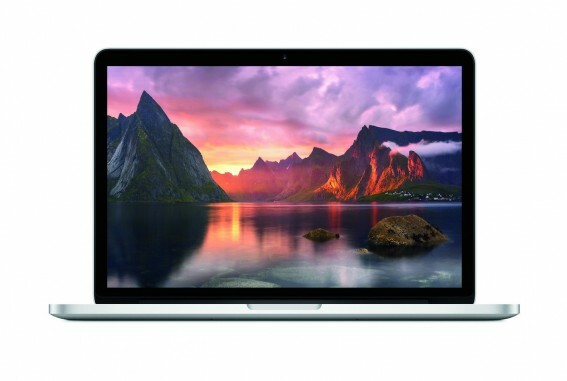 There are rumours kicking around about new MacBook Pro and MacBook Air models, with the latter currently still lacking a Retina display. One suggestion has been that we'll get a kind of in-betweeny 12-inch MacBook Pro, but it's hard to see the need for 12-inch, 13-inch and 15-inch models in the line-up, unless Apple's about to rebrand itself Applesung.
Likelihood: 75%
We reckon we will see new notebooks sooner or later, although quite how prominent they'll be in this event is anyone's guess.
READ MORE: MacBook Pro Retina 13in (2014) review
6. A new Mac mini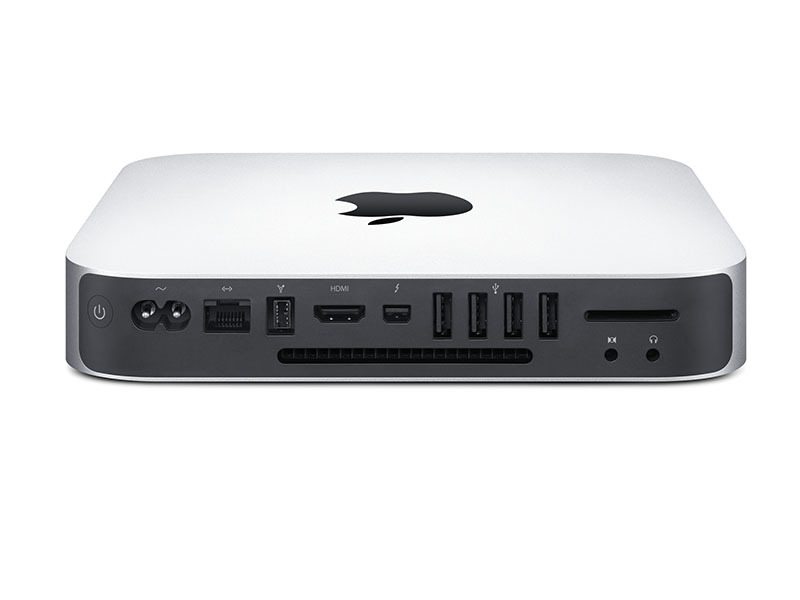 Apple's mini desktop hasn't had a great deal of love for some time. The enclosure dates from 2010 and the specs from 2012. We could see a basic bump in specs, upgrading processors, graphics and Wi-Fi capabilities, but there's scope here for an entirely new type of Mac, if Apple hasn't lost interest in its tiniest computer.
Likelihood: 30%
It wouldn't be a huge shock for the mini to get a spec bump, but if that's the case, it'll probably happen at a press release and not at the event itself. A redesign seems unlikely, given that the mini's a niche concern within a niche concern (desktops) within a niche concern (Macs) at Apple these days.
7. OS X Yosemite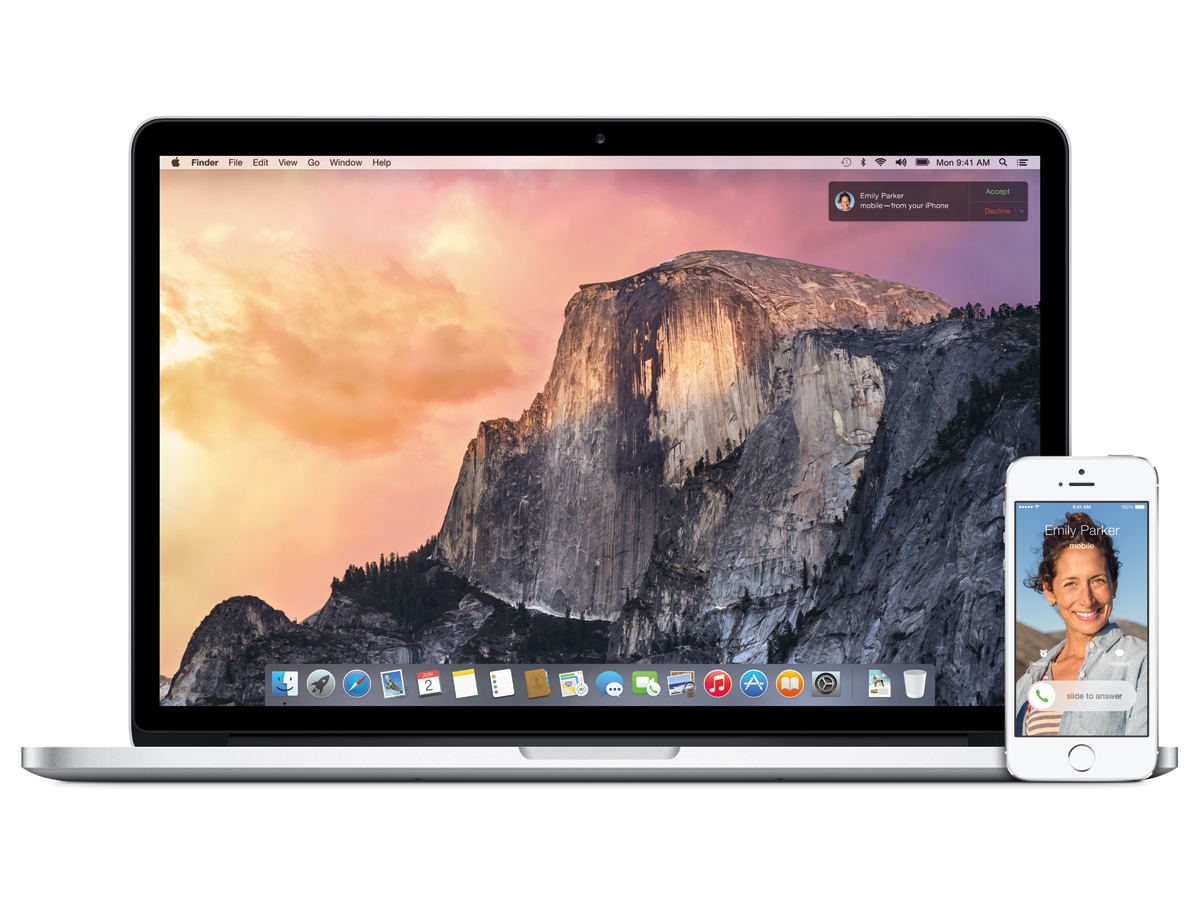 The latest version of OS X. Apple's revamp for OS X is sort-of set to do what iOS 7 did for the iPhone and iPad. The system gets a visual overhaul that's flatter and simpler, but there are also architectural changes (Continuity) and improved features (a revamped Spotlight; an enhanced Notification Center with widgets). We've already written about this in depth, so we'll heroically avoid copying and pasting that entire article here. Because we care.
Likelihood: 100%
The dev build's ramped up to GM status, and so if Yosemite isn't unveiled and given a release date, we'll eat our hat. (And if it's not available right after the keynote, we'll at least consider eating our hat.)
8. A fourth-gen Apple TV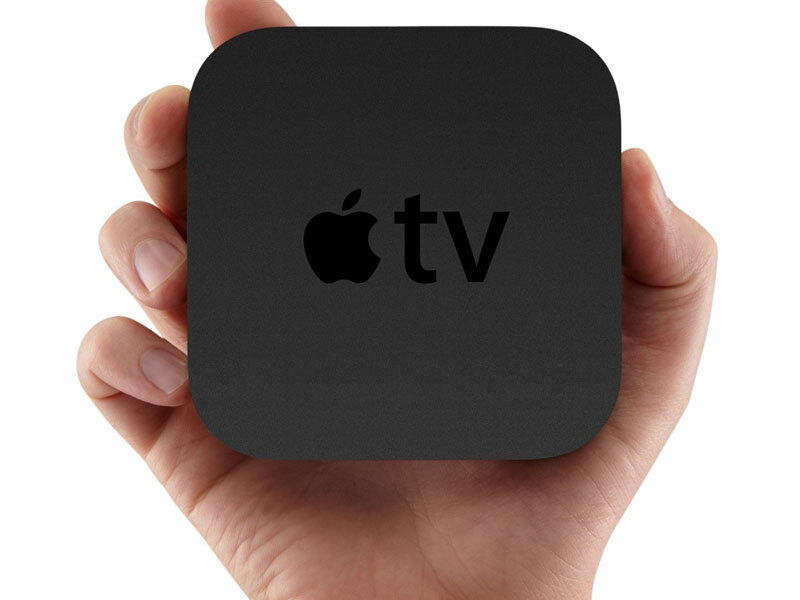 A revamp of Apple's 'might be a hobby, although Tim Cook argues it's possibly no longer a hobby' black box. There's so much potential to unlock in the Apple TV, which is effectively a headless iPod touch, but Apple's merely coasted along for some time now with this device, adding a few new apps and occasionally updating the hardware. There's more speculation than rumour, with some expecting some kind of radical overhaul. But a streaming stick would remove the likes of optical audio and compromise the hardware, and third-party apps/games would need Apple to open up a bit and actually care about games controllers.
Likelihood: 25%
We'd love to see it. We just don't think it's going to happen, beyond a spec bump that might not even warrant a mention on the 16th. We'd be very happy to be proven wrong though…
9. An actual Apple television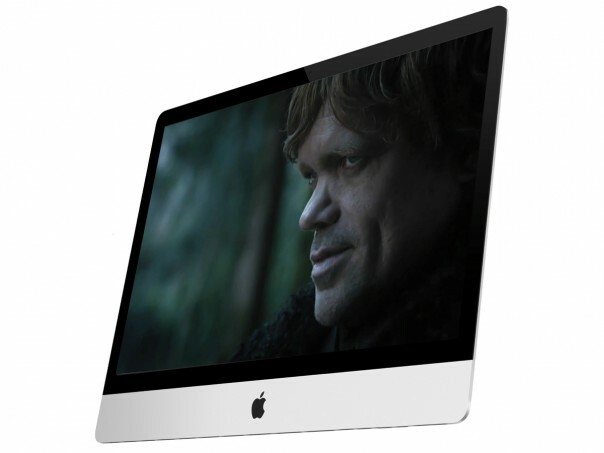 An Apple television.
Likelihood: 0%
Sorry, Apple analyst Gene Munster, but it still ain't gonna happen, unless Tim Cook's some kind of wizard.
10. Craig Federighi's hair to be revealed as the source of all of Apple's Liquidmetal R&D and materials over these past few years.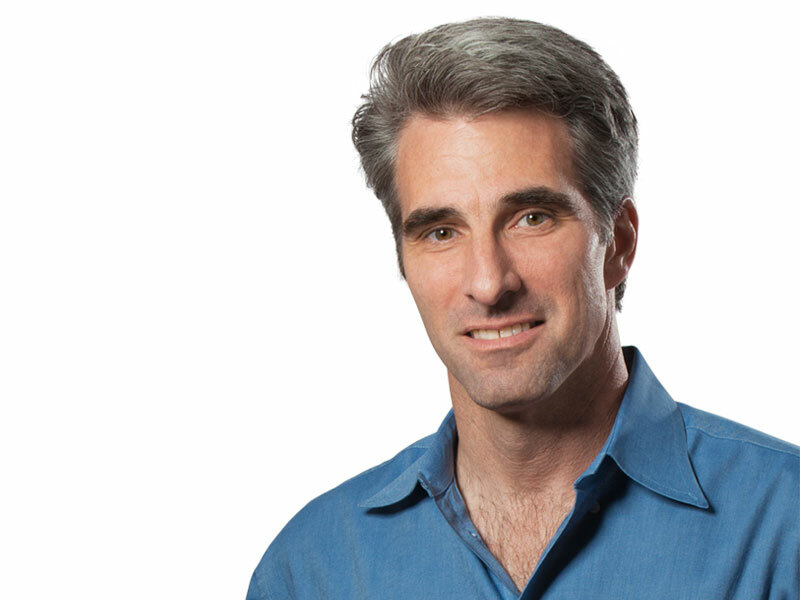 Don't mess with the 'do, man.
Likelihood: 100%
Although we're outta here if Jony Ive then has to sit locked in his white room and bang on about an iComb.
READ MORE: Apple iPhone 6 review