Google Nexus 5 vs Motorola Moto X
Android's standard-bearer steps into the ring against its half-brother, the Moto X. This should be interesting...
Google might own Motorola, but that doesn't mean we can't pit its Nexus 5 Android poster boy against its sibling rival the Motorola Moto X.
Which one deserves your money? It's time to find out…
Thin slab vs colourful curves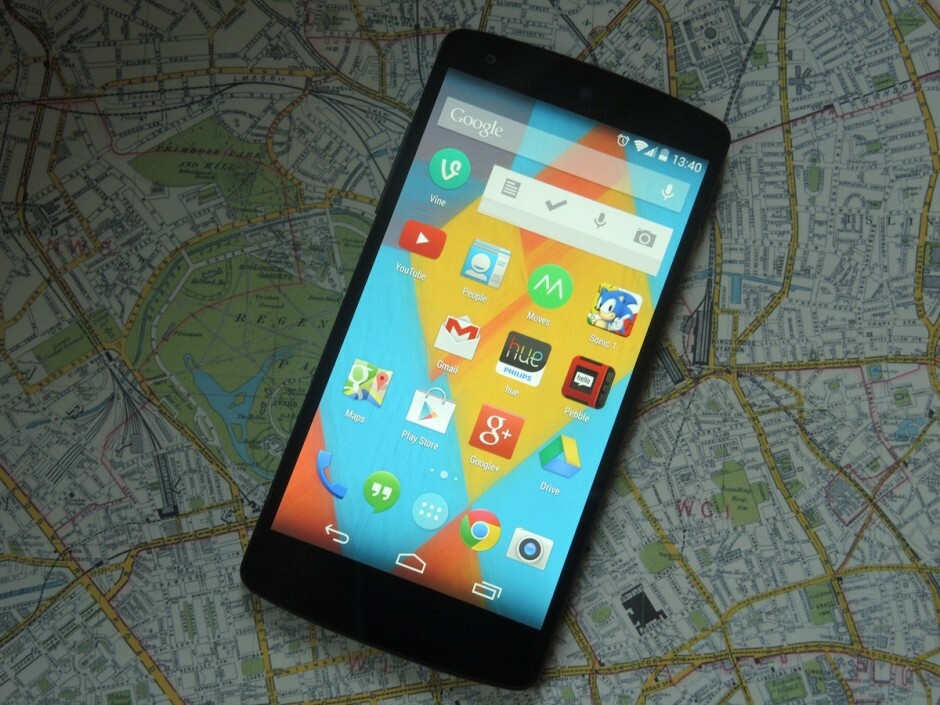 Both the LG-made Nexus 5 and Moto X are clad in similar soft-touch matte plastic, which feels a lot nicer than the slippery glossy plastic found on devices like the Samsung Galaxy S4.
While the Nexus 5 is larger then the Moto X thanks to its bigger screen, it's only 8.6mm thin. The 10.4mm Moto X sounds chunkier in comparison.
The Moto X hides its thickness well though, thanks to its curved back which also makes it a little more comfortable to hold in the hands.
While we think the more angular design of the Nexus 5 lends it a classier look, the Moto X can be customised to your heart's content with tonnes of different colour combinations available for you to play around with on Moto Maker.
You can even choose to ditch the plastic for a real-wood back, and it makes the Moto X the clear winner for gadgeteers who'd like to make their tech their own.
Sadly there's no news of a UK launch date for the Moto Maker service, so UK buyers are stuck with vanilla black and white colours for the time being.
When it does land though, it'll give the Moto X the edge, which is why it wins this round.
Winner: Moto X

Screen: size matters
While both screens are slathered in scratch resistant Gorilla Glass, the similarities end there.
The Nexus 5 has a 5in 1080p LCD screen, while the Moto X has a smaller 4.7in 720p OLED display.
While you won't notice the Moto X's lower pixel density unless you press your eyeballs up against its screen, the larger size, whiter whites and superior brightness of the Nexus 5 give it the upper hand.
If you like the over-saturated colours and deep blacks offered by the Moto X's AMOLED display (or if 5 inches is a tad too big for your hands) you'll prefer the Moto X.
Winner: Nexus 5
Under the hood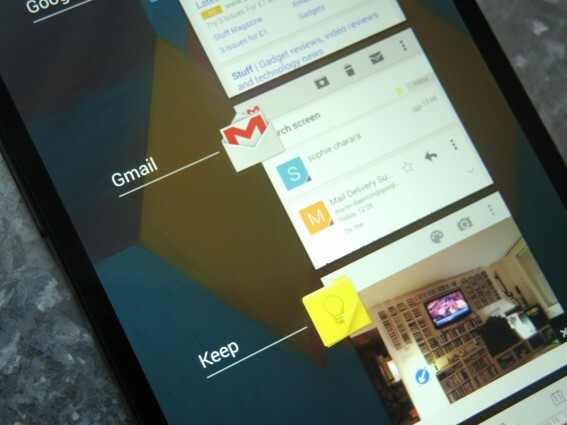 On paper, the Nexus 5 is unquestionably the more powerful device thanks to its quad-core Snapdragon 800 processor.
The Moto X on the other hand rocks a dual-core Snapdragon S4 processor. Both devices have 2GB of RAM.
While the Nexus 5 leaves the Moto X well behind in benchmark tests however, you'd be hard pressed to spot the difference in every day use – apps and gamings flow along smoothly on both devices.
For the extra future-proofing it offers (for even less money), the Nexus 5 takes this round too.
Winner: Nexus 5
Tweaked vs vanilla Android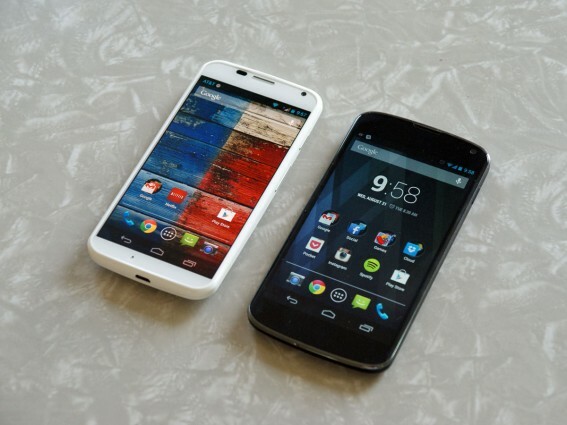 The Nexus 5, like every Nexus device before it, runs the very latest stock version of Google's latest mobile OS. Currently that's Android 4.4 KitKat, and we reckon it's the world's best smartphone operating system. Thankfully the Moto X also has it loaded up, straight out of the box.
READ MORE: Android 4.4 KitKat review
Unlike other manufacturers like Samsung and HTC, Motorola has left vanilla Andorid alone for the most part, mercifully saving us from bloatware and cartoony icons.
There are still a few tweaks though, and they're all actually pretty useful.
The Moto X's most impressive party trick is its always-on voice recognition. Saying "Ok Google Now" fires up Google Now, which you can then use to search your device, the web, open apps and much more, all without having to lift a single finger to touch the screen. Impressive stuff.
The Moto X also features Active Notifications which automatically flash up on your screen after it cleverly works out you're looking at it. Sliding it out for your pocket or giving it a nudge on a table will automatically show you your notifications for example, but there's more to it than that.
Tapping on a notification will show you more details about it, like the subject line and sender of an email and it's a lot handier than guessing whether or not a flashing LED is a text from your mum or if it's just another Nigerian Prince asking for your bank account details.
The Nexus 5's stock Android 4.4 KitKat OS is of course fantastic in its own right, and we like the fact that it has Google Now as one if its home screens, just one finger-flick away.
The Nexus 5 will also be one of the first devices to get Google's OS updates, which is something for impatient Android fanatics to consider.
Still, for the genuinely useful additions that the Moto X brings to the table (without messing around with the clean stock Android look too much), we're giving this to the Moto X.
Winner: Moto X
Oh snap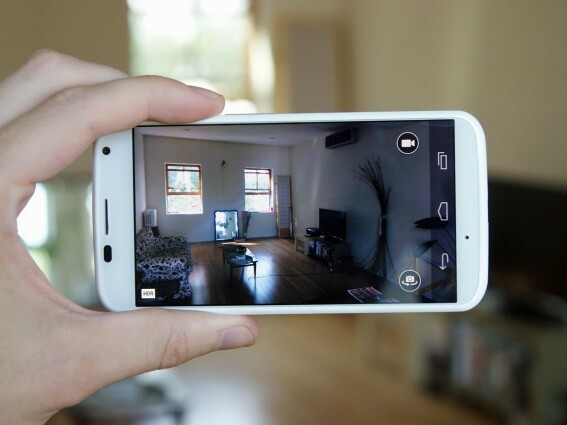 Neither the Nexus 5 or Moto X takes photos that will blow you away (look to the iPhone 5s, LG G2 and Nokia Lumia 1020 if you want really impressive smartphone snaps), but they both take decent shots all the same.
The Moto X has a 10MP camera, but those extra megapixels don't offer much improvement when comparing shots taken with the Nexus 5's 8MP offering. If anything, the Nexus 5 produces more details even in well-lit conditions.
You can however fire up the Moto X's camera in seconds – all it takes is a quick double-flick of your wrist – which is a handy way to take spontaneous shots regardless of what app you're in.
Its camera app is also easy to use, and you can drag your finger to manually select your focus and metering point.
The Nexus 5 is better in low-light conditions as well though, thanks to its built-in optical image stabilisation (OIS), and its frustrating auto-focus problems have thankfully been sorted with an update.
While neither phone excels in the camera department, the Nexus 5 wins this round, thanks to its OIS smarts and more detailed shots.
Winner: Nexus 5
X 'gon give it to ya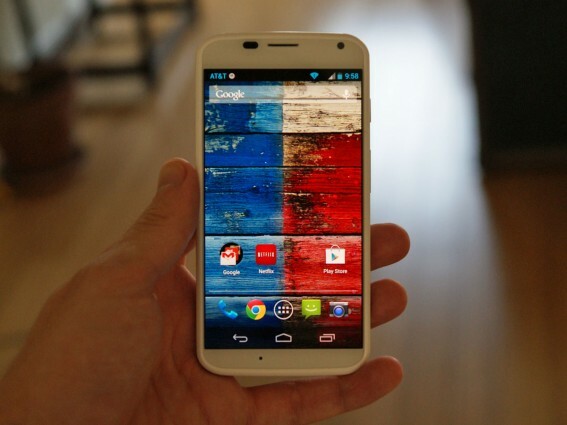 The Moto X serves up some of the best battery life we've seen from a modern smartphone to date, and lasts a day with heavy use. The same can't be said for the Nexus 5, which you'll need to top up at work if you're a heavy user.
Winner: Moto X
Verdict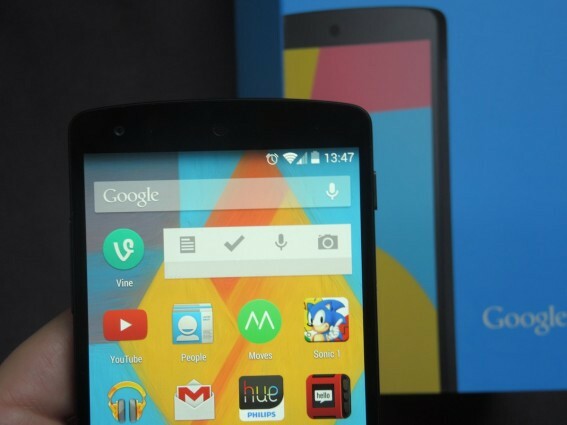 The Nexus 5 wins this fight for us. You can pick up the 16GB model for the bargain price of £300, which is a steal for the high-end specs that it offers.
With a crisp display, and the promise of regular, early Android updates, the Nexus 5 is the Android fan's dream phone, offered at a price that's very hard to resist.
In contrast, the Moto X will set you back £380, meaning you're getting a smaller, lower-resolution screen and less powerful innards for nearly £100 more.
It's a real shame, too, because there's a lot about the Moto X that we love. Moto Maker's customisation options are a revolution waiting to happen, and we can't wait for the service to hit the UK, allowing people to stand out among the flock of black and white Android devices.
Innovations such as Active Notifications and always-on voice control are something we'd like to see in every smartphone, and the X's battery life is a massive bonus for those who are always reaching for a charger.
If the Moto X was cheaper then the result could be different, but the Nexus 5 wins on bang-for-buck points alone.