The 60 best things to watch in 4K on Sky Q
Stuff's pick of Sky's best Ultra HD bits, updated for September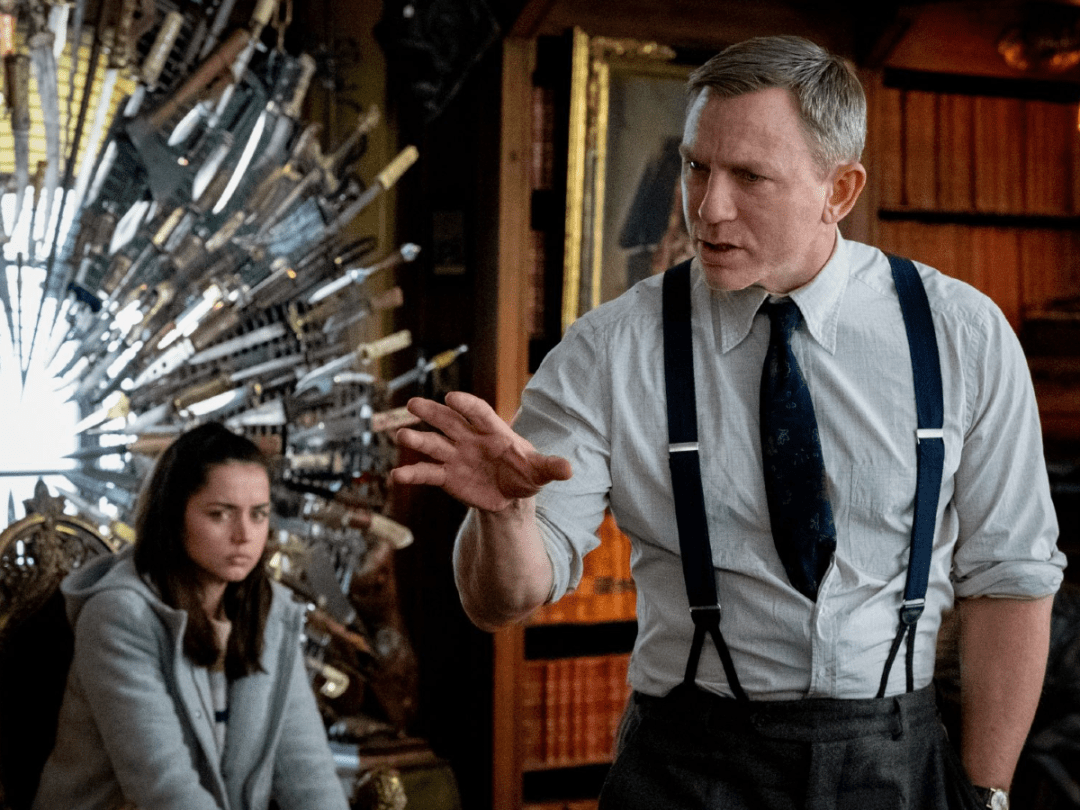 Got Sky Q but no 4K telly to plug your box into? Have you any idea how many pixels you're missing out on?
Ultra HD comes as standard with your Sky Q multiroom subscription and while it doesn't extend to everything available, the catalogue is steadily growing all the time. Here's Stuff's pick of Sky's 4K menu…
Knives Out
With more twists than Chubby Checker soundtracking the Olympic gymnastics, Rian Johnson's slick whodunit is a very modern take on the classic murder mystery, with Daniel Craig's Benoit Blanc investigating the death of crime writer Harlan Thrombey the morning after his 85th birthday party.
Set in a creaky old Massachusetts mansion, Knives Out has all the ingredients of an old-fashioned Agatha Christie-style manhunt but manages to feel both timeless and timely at the same time. Come for Daniel Craig's mad accent, stay for a story that'll keep you guessing right til the end.
Bill & Ted Face the Music
Two decades after the titular dudes last entered a time-travelling phone box, this threequel finds them stuck in a musical rut – and with time running out before the world ends they must save it by writing the ultimate bodacious banger.
It's rare that you'll encounter a cover version that's better than the original song – and while Bill & Ted Face the Music can't buck that trend, for those with a penchant for the pair's original '90s adventures it'll still feel like pulling on a poncho of warm nostalgia.
The Climb
Bored of buddy comedies that rely too much on nob jokes and gross set pieces? The Climb takes an all-too-familiar trope – what happens when a woman comes between two life-long pals – and puts a fresh spin on it, full of authenticity and heart.
The friends are Mike and Kyle, the former a successful high-school football player, the latter his nerdier, chunkier mate, and The Climb's multiple chapters each focus on a different rite of passage in their lives and their relationship. It's witty, believable, well-written, and you don't even have to be into cycling to enjoy it.
Tenet
"Don't try to understand it. Feel it," a white-coated scientist tells John David Washington's anonymous protagonist near the beginning of Tenet. She's talking about the film's central conceit, that people and objects can be 'inverted' to travel backwards through time, but she might as well be talking about the movie itself.
Stop and think too hard about Christopher Nolan's latest mind-mashing blockbuster and you'll end up giving yourself a headache, but from a technical perspective it's astonishing – and we don't just mean they've used a very powerful graphics card for the special effects. Prop your eyelids open and just let it all flood in.
There hasn't been a movie this profoundly silly that takes itself so seriously since, well, the last Christopher Nolan film – but if you don't enjoy it you can always invert your decision to watch it in the first place.
Promising Young Woman
With its bubblegum colour palette and pop soundtrack, Promising Young Woman might look like a happy-go-lucky rom-com, but just like its lead character it has a hidden agenda. Carey Mulligan plays a 30-year-old medical school dropout called Cassandra, who pretends to be drunk on nights out in order to teach the self-confessed 'nice guys' who try to take advantage of her a thing or two about consent.
It's this ambiguity that makes Promising Young Woman so watchable, especially when Cassie bumps into a former classmate and her unusual hobby escalates to something more personally vengeful. Of course, there are more wide-reaching, societal targets being skewered here too, not least the tendency to value a man's career over a woman's safety, but unfortunately it's going to take more than one promising young woman to change that.
Catch-22
There are many who consider Catch-22, Joseph Heller's absurd, ironic, and contradictory anti-war novel of 1961, to be unfilmable. It's somewhat appropriate, then, that this mini-series is the second time it's been done (even if the 1970 film did turn out to be pretty ropey).
Originally screened in the UK on Channel 4 but now available on Sky in 4K, this highly polished six-part adaptation follows John 'Yo-Yo' Yossarian's attempts to remove himself from the theatre of war – a quest that's thwarted by an ever-increasing quota of bombing missions and the inescapable clause of the title.
There's no denying that this Catch-22 can't capture all of the subtleties, nuances and complexities of Heller's book, but taken on its own it still manages to be both horrific and hilarious in almost equal measure.
This Is England 86-90
Vicky McLure might be back on our screens hunting bent coppers in Line of Duty, but for a lot of people she will always be Lol in Shane Meadows' brilliant and bruising This Is England. First introduced in the 2007 film, Meadows went on to make three subsequent TV series of the same name, all set two years apart, and all now available in Ultra HD on Sky.
Those extra pixels don't make any of them easier to watch, with more than their fair share of bleakness and brutal violence, but there's almost always a much-needed injection of laugh-out-loud comic relief just around the corner.
With multiple series-stealing performances across all three eras and a slightly lighter tone in TIE '90 (rave culture will do that for you), bingeing this lot will give you a real craving for the much-discussed final feature-length installment, which is likely to be set a decade later. We can't wait.
ZeroZeroZero
Drug cartels and the Mafia are hardly underrepresented when it comes to movies and TV, but both together in one? Now we're talking. ZeroZeroZero links the two groups together via a multimillion-dollar transatlantic drug deal, with a family of American brokers caught up in the middle – and the result is one of the best new series in years.
From the mountains of Calabria to the sprawling slums of Moterrey, via the oceans and deserts in between, this globe-trotting, time-hopping eight-parter is bleak but often breathtaking. Among the Heat-esque gunfights and deadly power struggles there's also a surprisingly human touch, largely thanks to the excellent Andrea Risborough, with a pulsing soundtrack by Mogwai to top things off.
Bad Boys for Life
Considering Will Smith and Martin Lawrence are both now in their fifties, the title of this third instalment in the wise-cracking, trigger-happy action series might seem disingenuous, but its stars don't deny the truth – from dyed goatees to failing eyesight there are plenty of references to the duo's advancing age.
Besides, it's hardly Last of the Summer Wine: Miami Edition. A brush with death and a blast from the past force both to turn back the years in a war against a deadly Mexican drug cartel – except this time it's particularly personal.
Of course, it's not a patch on the original, and you'll probably have a serious urge to watch that by the time the credits roll, so it's a good job the first two are available on Sky in Ultra HD too.
A Beautiful Day in the Neighbourhood
It's fairly easy to imagine Tom Hanks as the nicest man in the world, but if you've ever had any doubts and suspect him of harbouring a hatred for baby animals, just watching A Beautiful Day in the Neighbourhood should be enough to set that straight.
Hanks plays Mister Rogers, a children's television star who nobody this side of the pond has heard of, but is so famous in the US that whole train carriages of people break out into the theme tune from his much-loved show.
One person who still has his doubts is troubled journalist and professional cynic Lloyd Vogel, who is sent to profile Rogers for Esquire magazine. It's pretty obvious where the film is going right from the start, but what could have been trite and unbearably twee is pleasingly warm and wholesome. And that's largely thanks to lovely old Hanks.
It's a Wonderful Life
The story of a man driven to the brink of suicide by financial pressures might not sound like the kind of film to get you in the Christmas spirit, but Frank Capra's It's a Wonderful Life has been a festive fixture since it was rediscovered in the '70s – and it looks surprisingly good in 4K.
Nearly 75 years after it was first released, the themes at the centre of It's a Wonderful Life feel more relevant than ever, particularly corporate greed and men's mental health. With many of us unable to see our families this Christmas, it's a timely reminder about the impact we can all have on the world around us and how powerful basic human kindness can be.
The Hunt
2020 has been a good year for conspiracy theorists, but none of them have managed to come up with anything as outrageous as The Hunt (yet).
Like a cross between Battle Royale and Saw with more gags, it all starts when 12 strangers wake up in the middle of the countryside with nothing but a crate full of weapons and a pig for company. Singled out for their views concerning the so-called 'liberal elite', the deplorable dozen are soon being picked off in increasingly gruesome ways by a bunch of billionaires.
The Hunt doesn't pick sides and no target is off limits. And while the points it makes aren't especially thought-provoking, it's got a bit more about it than you might expect from the outset. Just don't get too attached to any of the characters.
Jojo Rabbit
Making fun of Nazis is nothing new but few have done it with as much silliness as Jojo Rabbit. The titular 10-year-old is an enthusiastically useless Hitler Youth member and Adolf superfan – so much so that der Führer has appeared as his imaginary friend, played with aforementioned glee by the film's Jewish-Māori director Taika Waititi.
But the fledgling fascist's swastika-addled melon gets seriously twisted when he discovers his mother has been hiding a young Jewish girl in their house. While the film's tone can also be a bit unsure of itself, there are moments of genuine emotional power and some gloriously goofy gags – plus it's almost worth watching for Stephen Merchant's hilariously evil Gestapo officer alone.
Doctor Sleep
Most fans of The Shining would've been quite happy for Doctor Sleep not to exist – but this spiritual sequel to the 1980 adaptation is anything but a simple return to the Overlook hotel.
Doctor Sleep is a more supernatural story than Kubrick's 40-year-old classic, focusing squarely on the telepathic abilities of those like the now grown-up Dan Torrance (Ewan McGregor), who finds himself tangled up with a murderous cult that preys on children that remind him of his younger self.
In fact, Doctor Sleep is different enough that it almost feels like fan fiction – but with Mike Flanagan (of Gerald's Game fame) at the helm, and an engrossing performance from Rebecca Ferguson as cult leader Rose the Hat, it's a solid companion piece to one of the finest horror films of all time.
The Invisible Man
No, not another superhero movie, but a smart, sci-fi reimagining of HG Wells' 1897 novel of the same name. Mad Men's Elisabeth Moss stars as Cecilia, the estranged girlfriend of a controlling and abusive tech guru – but her problems don't end when he dies of an apparent suicide.
Cecilia's increasingly desperate pleas that she's being stalked from beyond the grave by an invisible force only make her look unhinged to those around her, and while the film plays with ideas such as gaslighting and domestic abuse it does so without actually saying all that much.
There are moments of genuine shock though, and some brilliant solo scenes of Moss battling with her unseen tormenter. It just feels like something's missing…
Apollo 11
Released to mark the 50th anniversary of the human race's grandest day out, Apollo 11 doesn't need any talking heads or a grand voiceover to make the events of July 1969 feel significant, just the occasional graphic among the never-before-seen footage to keep you abreast of the main stages of the astronauts' journey to the moon.
From the pre-launch preparations and crowds of people watching from the Florida shores, to a bustling mission control and the wild post-landing celebrations, some of the 4K film looks like it was shot yesterday, which sometimes makes you feel like you're watching an incredibly well-conceived dramatisation. But the otherworldly pictures shot from onboard the spacecraft will always be mesmerising, no matter the number of pixels.
The Third Day
From Summerisle to Royston Vasey, there are some places where it's just not worth booking an Airbnb – and after watching The Third Day you'll want to add Osea Island to the list. Jude Law's Sam stumbles upon this seemingly idyllic community by accident, but the evasive residents, dismembered animals, and bright orange insects soon suggest all is not as it seems.
Unsurprisingly, The Third Day owes a significant debt to The Wicker Man (the original, not Nic Cage's comedy remake) but the involvement of immersive theatre company Punchdrunk makes this six-parter a real assault on the senses. That's particularly true of the first three episodes, which veer from dreamlike to nightmarish as Sam gradually loses his grip on reality.
Unfortunately, the 12-hour, single-take episode that was live-streamed at the start of October and sits between the two halves isn't available on-demand, although based on what went before it, watching that might be enough to tip anyone over the edge into madness.
Le Mans '66
Imagine if straight-talking, sideburn-sporting petrolhead Guy Martin had been given a part in Mad Men and you've pretty much got Christian Bale's portrayal of hotshot racing driver Ken Miles in Le Mans '66 (minus the mutton chops).
Focusing on Ford's battle to beat Ferrari at France's world-famous endurance race, just watching a GT40 do laps for 2.5 hours would be entertainment enough for some. For everyone else, Le Mans '66 has a cast of very watchable characters, although they do occasionally border on cartoonish. Even an overly Hollywoodised ending doesn't spoil the oil-stained fun.
Terminator: Dark Fate
With every new Terminator film the killer robots that arrive from the future just keep getting better. Unfortunately, that's not been the case for the movies themselves, but Dark Fate finally bucks the trend.
The key reason for that is the return of Linda Hamilton as Sarah Connor. Here the grizzled veteran of T2 teams up with a hybrid soldier to protect factory worker Dani from a brand new cyborg that's so deadly even a whole transit van to the face can't kill it.
Dark Fate makes plenty of references to the first two movies and even brazenly rips some bits off. But it's the larger-than-life fight scenes, including one that starts in the sky and ends underwater, plus an offbeat appearance from Arnie, that set Dark Fate apart from its less ruthlessly efficient predecessors.
L'Immortale
For fans of Neapolitan gangster series Gomorrah, anti-hero Ciro Di Marzio always felt like the main man – and not just because he's never encountered a situation too gloomy to wear sunglasses. It's no great surprise, then, that he's the subject of this feature-length spin-off.
While not quite a straight origin story, L'Immortale shows how Ciro went from an orphan stealing car stereos on the streets of Naples to fighting for control of the Latvian drug scene. While it won't make total sense unless you've seen up to the end of season three of Gomorrah, which is also available in 4K on Sky, L'Immortale very much shares the show's DNA.
Joker
Download Joker expecting to see spandex-clad beefcakes knocking seven CGI bells out of each other and you're going to be disappointed. This isn't a superhero movie. It's not really a supervillain movie either, although it does have its fair share of silly outfits.
Joaquin Phoenix plays Arthur Fleck – a wannabe stand-up comic in 1980s Gotham who's sick of being the butt of everyone's jokes. Of course, we already know what becomes of him, but that doesn't make watching Arthur's tortured transformation any less mesmerising.
Ad Astra
Apocalypse Now in space. That's pretty much what Ad Astra wants to be. And while it doesn't reach the highs of Coppolla's fevered masterpiece – what film does? – there are far worse things to aim for.
Brad Pitt plays astronaut Roy McBride, whose father disappeared 30 years earlier on a mission to Neptune. When devastating electrical surges start to wreak havoc on earth and NASA suspects they may be coming from the far side of the solar system, who do you think they send up there to investigate?
It'll burn too slowly for some, but you could almost ignore the plot and just admire Ad Astra's incredible scenery, which makes it a particularly fine choice for 4K.
Wu-Tang Clan: Of Mics and Men
If the Wu-Tang Clan's live shows are anything to go by, just getting all of them in one room is a significant achievement in itself – but there's a lot more to Of Mics and Men than just a nostalgic get-together.
With archive footage of the group's raucous early shows, a visit to Method Man's former workplace on Liberty Island, and talking heads from Jim Jarmusch, Ta-Nehisi Coates, and each surviving member and their entourage, this four-part documentary examines how the punk ethos that made the Clan such a formidable force in the early '90s gradually weakened under the strain of their individual egos. If anything, it's amazing they managed to squeeze it all into four hours.
Gangs of London
Eastenders meets The Raid. That's how we imagine Gareth Evans pitched this more-than-a-little-bit-ludicrous nine-parter to the big cheeses at Sky. Of course, comparisons to the latter should come as no surprise – Evans is the man behind that adrenaline-pumping bulletstorm too – but Albert Square has never seen a fight as brutal as anything in Gangs of London.
It's a bit 'Guy Ritchie by Waitrose' at times, and it's needlessly complicated at others, but when things kick off there's not a hint of mercy. Bones are split, skulls are cracked and blood is spilled. A lot of it. Could've put a bit more effort into the name though.
Once Upon a Time in Hollywood
At a whopping 161 minutes long, Once Upon a Time in Hollywood tends to elicit one of two reactions: unadulterated Tarantino worship or extreme boredom. As usual, a more considered response probably resides somewhere in the middle.
Yes, there are looooong scenes of seemingly inconsequential dialogue that feel needlessly indulgent, QT's weird obsession with women's feet is more in-your-face than ever, and you'll need a strong constitution to stomach the violence when it comes, but when have any of these things put people off his films before?
Captain Phillips
If Tom Hanks can fight off COVID-19, do you think a bunch of Somali pirates are going to cause him any problems? To answer that would obviously spoil Captain Phillips, but when you get a film named after you it's a good sign you're going to be the hero – despite what the crew might say about you afterwards.
Directed by Paul Greengrass – he's the geezer that made the good Bourne films – it's no surprise that Captain Phillips is a genuinely nail-biting account of the hijacking of a US container ship in 2009, but it also manages to avoid the 'America, eff yeah!' vibe that so many of Hollywood's tales of heroism often fall into.
The Trip to Greece
It's been nearly 10 years since Steve Coogan and Rob Brydon first toured the Lake District in a Chelsea tractor, eating in fancy restaurants, doing impressions and trying to have the last word. Surely the format can't still work for a fourth series?
This time the duo are retracing the steps of Odysseus, which means they start in Turkey, where Coogan sets the tone with a Partridge-style 'A-ha!' from within a Trojan horse. They spend the rest of this very British comedy odyssey comparing Greek relics to Legoland, espousing the advances in modern dentistry as Don Corleone, and considering a cockney Henry VIII.
You'd think the appeal would've worn off by now, but with its breathtaking scenery and the pair's often quite revealing banter, there remains something quite compelling about eavesdropping on their working holidays. Series 3, The Trip to Spain, is also now available in Ultra HD.
Blade Runner: The Final Cut
If you've not seen Blade Runner it can be difficult to know which of its many versions to watch. Do you go for the original theatrical release with the voiceover? The so-called director's cut from 1982? If you want the maximum number of pixels, though, 2007's Final Cut is your only option.
It's also closer to director Ridley Scott's original vision, telling the story of downtrodden cop Rick Deckard's hunt for a group of killer humanoid robots on the rain-soaked, neon-lit streets of dystopian LA. Widely considered as one of the best movies ever made (no matter which version you watch) Blade Runner's grimey take on the future changed sci-fi forever.
Avenue 5
Imagine writing a sitcom about an interplanetary cruise that goes wrong and discovering that, according to experts from NASA, SpaceX and Virgin Galactic, one of the best things for protecting a spaceship against galactic radiation is human plops. With gags like that being dropped into your lap, who needs to write any others?
Fortunately, series creator Armando Iannucci isn't that lazy, so Avenue 5 is full of the typically inventive dialogue, memorable characters and couldn't-make-it-up scrapes familiar from his previous work on The Thick of It and Veep. The first episode isn't the strongest but once it gets into its stride Avenue 5 is much more than just Red Dwarf for the Tesla generation.
Inglourious Basterds
Quentin Tarantino's films are famous for their scenes of tense verbal sparring, with the threat of bloody violence always just around the corner – but perhaps the finest example of it is the beer cellar confrontation from Inglourious Basterds.
The deliberately misspelled Nazi western is worth watching for that scene alone, but it's also packed with loads of other zingers, Brad Pitt's hilarious attempt to speak Italian, and a healthy dollop of fascist-bashing.
Us
There are approximately a million films about people being stalked in their own homes but normally the baddies doing the terrorising don't look exactly look those being stalked. Jordan Peele's follow-up to Get Out looks and sounds like a horror film but there's so much more going on here than in your standard slasher fare.
Dishing up scares and symbolism in equal measure – you only have to Google the film to see just how much debate there is online around what every little bit of it means – pretty much everything in Us has a double meaning: the hall of mirrors, the use of 90s hip-hop classic I Got 5 On It, even the title…
Can You Ever Forgive Me?
Lee Israel isn't your usual anti-hero. A cantankerous, out-of-work author who lives in an apartment infested with flies, she props herself up with booze, vengeful prank calls and an unshakeable love for her sick cat. But when she starts selling fake celebrity correspondence for cash things start looking up – at least until the FBI catches wind of her scam.
As Jesse Armstrong's Succession has shown, with sharp writing and the darkest of humour, even the least likeable characters can come to life, especially with performances as good as Melissa McCarthy's is here. Based on a true story, Can You Ever Forgive Me? is an unconventional biopic but one that, somewhat ironically, feels more honest than most.
Vertigo
Alfred Hitchcock's Vertigo has been featured at the sharp end of 'best movies ever made' lists since long before 4K became a thing, but any excuse to watch this masterpiece again shouldn't be shunned.
Starring Hitchcock favourite James Stewart as a private investigator who suffers from the titular condition, and Kim Novak as the focus of his latest case, Vertigo is a tale of obsession and identity that, much like 2001: A Space Odyssey and Apocalypse Now, grew into its status as an all-time classic.
The Mule
Most pensioners fill their spare time with rounds of golf, weekly bingo, or a part-time job in the local garden centre. In The Mule, Clint Eastwood's smooth-talking Earl Stone, a divorced horticulturist and Korean War veteran whose livelihood was ruined by online flower delivery companies, earns his extra pocket money doing something a lot less legal.
The octogenarian's appearance and clean driving licence make him the ideal candidate for a job ferrying product across Illinois for a Mexican drug cartel – and after an unsure start Earl quickly gets used to a smuggler's lifestyle. While his outdated attitudes and treatment of his estranged family mean he's never totally likeable, his fish-out-of-water manner makes it difficult not to root for this unlikely criminal. But how long can he keep it up after the DEA start sniffing around?
Zombieland
When Jesse Eisenberg's Columbus meets Woody Harrelson's Twinkie-munching Tallahassee during a zombie outbreak, the unlikely pair begin a cross-country mission to find out if the former's parents have survived, encountering various survivors and victims, including an undead Bill Murray, on the way.
Zombieland is silly, outrageously violent and easily rewatchable, a bit like an American Shaun of the Dead, plus it has what is probably the best opening sequence of any film released in the past 10 years – and not just because it's soundtracked by Metallica's For Whom the Bell Tolls.
The Old Man & The Gun
Imagine if Compo, Foggy and Clegg from Last of the Summer Wine spent their time robbing banks instead of rolling down hills in old bathtubs and you'd have something close to The Old Man & The Gun – it even has that evocative retro look.
It stars Robert Redford as Forrest Tucker – the charming ringleader of an ageing trio of real-life thieves who pull off each job as politely as possible. With Casey Affleck as the weary detective on Tucker's tail, and Sissy Spacek as his Nora Batty, this old-fashioned tale of an unlikely geriatric crimewave is a suitable way for Redford to bow out on a 58-year big-screen career.
Widows
You could plan the perfect robbery in the time it took for Steve McQueen to make Widows, which is ironic considering that's pretty much what it's all about.
When a group of thieves are killed in a heist gone awry, it's left to their grieving wives to repay the debts of the dead – and what better way to do that than pulling off a job their other halves never got a chance to?
Widows is much more than just a grittier version of Oceans 8 though. While it's still very much a blockbuster, it all plays out with a backdrop of inequality and corruption. If you liked The Wire, you'll be happy McQueen spent so long perfecting this.
Bad Times at the El Royale
When an ageing priest, a struggling singer and a talkative vacuum-cleaner salesman meet in the lobby of the seemingly deserted El Royale hotel, it's pretty obvious there's more coming their way than just slow room service – and not just because we've already seen a mysterious bag being buried beneath the floorboards of one of the suites.
Dakota Johnson's no-nonsense Emily soon joins them and before long the various characters' true motives and identities start to be revealed. Bad Times… is a Tarantino-esque late '60s noir with some genuinely standout scenes and its fair share of gut-punching violence – it's just a shame that the thing it has most in common with QT's recent work is that it's just that little bit too long.
Pacific Rim
Michael Bay's Transformers series somehow managed to give the 'big robots smashing seven bells out of stuff' genre a bad name, but 2013's Pacific Rim managed to claw back a bit of respectability.
Pitting gigantic, mind-controlled mechs called Jaegers against even bigger sea monsters from another dimension, Pacific Rim isn't exactly a masterclass in emotional subtlety. Unsurprisingly the tiny humans are overshadowed by their vessels and scaly foes, but there aren't many things that look better on a big telly than robots and monsters having a ruck in 4K.
Spider-Man: Into the Spider-Verse
Essentially the movie version of that Spider-Man doppelganger meme, Into the Spider-Verse is quite possibly the freshest superhero film in years.
After notorious Brooklyn gangster Kingpin – portrayed here as a giant, evil thumb – opens up a portal to multiple other dimensions, recently bitten teenager Miles Morales finds himself getting to grips with his new superpowers while trying to help a motley crew of arachno-heroes return to their rightful dimensional homes.
It sounds like pretty run-of-the-mill superhero stuff, but with plenty of genuinely good gags, a script that's almost painfully meta, and a 4K-friendly art style that feels both eye-poppingly modern and faithful to Spidey's comic book roots, here's hoping Into the Spider-Verse is just the first strand of a brand new web.
Shutter Island
Martin Scorsese's bromance with Leonardo DiCaprio continued for a fourth straight film when the Oscar-dodging actor appeared as US Marshal Teddy Daniels in 2010's nouveau Hitchcockian Shutter Island.
Having arrived to investigate the disappearance of a patient from the island's secure psychiatric facility, Daniels and his partner are soon trapped there by a huge storm. With the hospital's staff oddly uncooperative and various parts of the island off limits, including the mysterious lighthouse, things soon take a turn for the strange. Shutter Island is far from Scorsese's finest work, but even that puts it among the best of most other directors.
First Man
When telling stories the whole world already knows there's a danger that they just don't offer enough jeopardy. So while we know that Ryan Gosling's Neil Armstrong will take mankind's pioneering steps on the moon at the end of First Man, what makes the film so compelling is the journey he went on while Apollo 11 was still just a twinkle in NASA's eye.
From his days flying experimental high-altitude jets and puking his guts up on a G-force simulator, to the parade of funerals he has to attend for colleagues, First Man reveals the myriad human costs of the space program, both large and small. If you're a moron, it also proves how easy the whole thing would've been to fake.
Edge of Tomorrow
If hostile aliens had invaded Earth during the filming of Groundhog Day, and Tom Cruise had been cast as the lead instead of Bill Murray, the result might've looked a bit like Edge of Tomorrow.
Cruise stars as Major William Cage, a combat novice who gets thrown in at the deep end in the fight against the invading hoard. But when he clocks that every time he dies he wakes up back where he started, Cage uses his unlimited lives to perfect his fighting skills and gradually gain the upper hand. Edge of Tomorrow is a lean, nimble blockbuster that doesn't even have to rely on repeatedly killing Tom Cruise to keep things entertaining.
E.T.
When a small, wrinkly telecommunications expert with a glowing finger is discovered living in a wood shed in a Californian suburb, he enlists a school boy named Elliott to help him get in touch with his estranged family. Oh, did we mention he's an alien from outer space?
Spielberg's sci-fi classic doesn't need 4K to shine, but it certainly gives you another reason to watch a film you've almost certainly seen more often than you visit some members of your extended family.
Bonus fact: the girl Elliott kisses in biology class went on to play the stripper in Under Siege a decade later. How about that for an unconventional double-bill for your next movie night?
Gomorrah
With its unpredictable plot, unfiltered violence and intoxicating setting, Sky Italia's Gomorrah has quietly become one of the most critically acclaimed shows on TV – and this long-awaited fourth series of the brutal mafia drama shows no signs of changing that.
With Ciro out of the picture and Patrizia handed more power in Naples, Gennaro has entered something of a Stringer Bell phase – doing his best to go legit but occasionally lapsing into old habits when things don't quite go to plan. With his extended family now on the scene, both Enzo's young team and the Capaccios agitating for more influence, and Patri's lack of experience often apparent, how long can the uneasy truce really last?
Chernobyl
Unless you work for The Sun, you're probably well aware that Chernobyl is based on a true story. Unlike a lot of other major tragedies, though, the events of 26 April 1986 have largely avoided dramatisation – and with this five-part series HBO has absolutely nailed it.
Depicting a paranoid and secretive state in a crisis like nothing seen before or since, Chernobyl reconstructs the disaster with exquisite attention to detail. From the accident at the power plant itself to its devastating and far-reaching consequences, this is masterfully made TV. You'll never look at a cement mixer in the same way again.
Mission Impossible: Fallout
On paper, Mission Impossible: Fallout is a checklist of seen-it-all-before action movie cliches: shadowy terrorist organisations, stolen plutonium, rogue agents and more guns than a surprise birthday party at Rambo's house. On your telly, though, it's an edge-of-your-sofa stonker.
With a film like this it's all about the execution, and while there are plot points that are unnecessarily convoluted, the whole thing is propelled by some of the most nerve-shredding action sequences ever seen. From a skydive through a lightning storm to a helicopter chase amid the mountains of Kashmir that really gives your telly a chance to show off its 4K skills, Fallout is far better than any film starring a 56-year-old Tom Cruise has any right to be.
BlacKKKlansman
For an African-American man to go undercover in the Ku Klux Klan, he's going to need more than just a white hood for a disguise. So when Colorado Springs' first black cop spontaneously puts a call in to the Klan and arranges a face-to-face meeting with the local branch, he sends one of his white colleagues instead.
Set in the 1970s and based on the true story of Ron Stallworth, Spike Jonze's heavily embellished version might sound like heavy going but the sharp script, and gradual build up of tension as the pair get more and more involved, stops the potential reality of the situation becoming too much. That's not to say it doesn't pack a powerful punch, though, particularly when Jonze draws unignorable parallels with modern-day America.
The Meg
When you settle in for a movie night you're not always in the mood for a multi-layered, thought-provoking drama. Sometimes you just want to watch Jason Statham have a fight with a fish the size of an Isle of Wight ferry.
It's a good job, then, that The Meg exists. Having disturbed a prehistoric megalodon at the bottom of the sea, a marine research team calls upon diver Jonas (Statham and his globe-trotting accent) to return to the depths that haunt him after a previous rescue mission ended badly.
Obviously it's no Citizen Kane, and there's a suspicion that it only exists to facilitate the pun just before the end credits roll, but who doesn't want to watch a boat drag Jason Statham along, like a bit of big, angry, bald bait, all in 4K?
Jaws
There's a danger when remastering classic films in 4K that all those extra pixels will make the special effects look ropey. And while the shark in Jaws certainly doesn't look any more realistic in Ultra HD, it was hardly the most convincing man-eater in the first place.
That's not to say the rest of the film suffers as a result. The increased resolution makes Amity Island look even more idyllic (as long as you ignore what's in the water) and Steven Spielberg's direction is still a masterclass in tension that's arguably never been beaten.
Terminator 2: Judgement Day
The greatest action movie ever made? Possibly. One of the best sequels ever? Definitely. The last good Terminator film? Abso-bloody-lutely.
In 1995, John Connor is just a normal teenager, but in the future he's an important figure in the fight against Skynet – the AI that'll trigger a nuclear holocaust a few years later – so he sends a terminator back in time to protect his younger self. If that sounds complicated, it's not. Just sit back and enjoy Arnie battling it out with a liquid metal foe for two hours.
Bad Boys II
However you feel about a third installment of Bad Boys being made, the first one was a bonafide '90s classic. And while its sequel has its fair share of issues, it also has a few moments of exhilarating brilliance, not least the bit when the bad guys launch cars from the back of a transporter at Will Smith's pursuing Ferrari.
Sure, the script is massively cliched but the chemistry between Smith and Martin Lawrence still fizzes and it arguably captures Michael Bay at his brainless peak, blowing stuff up just because he can. In a time when everyone seems obsessed with superheroes and CGI, this guilty pleasure almost feels nostalgic.
2001: A Space Odyssey
Despite being 50 years old, Kubrick's sci-fi classic might just be the ideal film for 4K, offering beautifully shot images of everything from prehistoric desert plains to psychedelic alternate dimensions via some beautifully choreographed spaceship ballet.
But this isn't some brainless, CGI-riddled space opera. Inspired by an Arthur C Clarke short story called The Sentinel, 2001 is packed with themes that were way ahead of its time, from artificial intelligence to the search for alien life. It's slow going (not a word is said for the first 20 minutes) but there's a reason it consistently bothers the business end of best film lists.
Saving Private Ryan
Has there been a more viscerally overwhelming 25 minutes of cinema than the Normandy landings sequence at the start of Saving Private Ryan? Even 20 years after its release, Spielberg's World War 2 epic hasn't lost a thing, particularly in Ultra HD.
Even though it views events through star-spangled specs, it does a fine job of capturing the fear, bravery and despair of Tom Hanks's young platoon as they attempt to rescue the last remaining Ryan son from occupied France. A true modern classic.
The Bourne Trilogy
Is a Bourne film really a Bourne film without Matt Damon? While 2012's Damon-free The Bourne Legacy is also part of Sky's Ultra HD offering, we'd recommended ignoring all but the original trilogy of films that had Paul Greengrass at the helm.
Paired with a 007-shaming Damon, Identity, Supremacy and Ultimatum have a grit and brutality that was in stark contrast to the invisible cars and absurd levels of product placement that Bond was dabbling in at the time – and they're all the better for it.
Close Encounters of the Third Kind: Collector's Edition
Proof that not all alien invasions are about enslaving the human race and turning every city back into building materials, Spielberg's sci-fi classic tells the story of a group of people who start to experience unexplained visions after odd encounters with unidentified forces.
A bit like E.T. for hipsters, its pace feels particularly slow compared to modern blockbusters, but it has a sense of curiosity and wide-eyed wonder that's often lacking in the apocalypse-obsessed movies of today. If you liked Arrival, Close Encounters is its spiritual ancestor.
The Godfather
Here's an offer you can't refuse: the greatest film of all time in 4K. Only the first part of Francis Ford Coppola's mafia trilogy is available on Sky Q, but don't listen to the people who say Part II is better: they're wrong. Despite being the best part of 50 years old, the Ultra HD version of The Godfather practically looks like it was shot yesterday, with post-war New York and Sicily really brought to life. Life, of course, is not something that every character in The Godfather gets to enjoy, but you can make the most of this bona fide classic from the safety of your sofa.
Patrick Melrose
Patrick Melrose sounds like the name of the guy who's in charge of accounts at your office but even Benedict Cumberbatch would probably struggle to make his life interesting.
Each of the five episodes is based on a different book from Edward St Aubyn's series of semi-autobiographical novels, in which the titular character battles grief, abuse and various addictions across cities and eras. It's superbly written, masterfully acted and brilliantly directed, with the various settings making it an excellent work out for your telly.
Lawrence of Arabia
At 7GB and three-and-a-half hours long, give your Wi-Fi a workout by downloading Lawrence of Arabia to your Sky Q box.
David Lean's biopic, which tells the story of T.E. Lawrence's role in the Arab Revolt during World War I, is a genuine epic. With a truly iconic soundtrack and some excellent supporting roles from the camels, its shimmering desert scenes look so good in 4K you'll be worried about scorching the sofa.
Billions
Now into its third series (with all three available in Ultra HD), Billions is about a grumpy US Attorney (Paul Giamatti's Chuck) and his nemesis: a charitable-but-devious hedge fund manager called Axe, played by Homeland's Damian Lewis. But wait! Come back! It's not all spreadsheets and interest rates. Yes, there's a fair amount of baffling finance talk but it's much funnier than you'd imagine, with the drama coming from the power struggle between these two big-bucks heavyweights. It's classic cat 'n' mouse stuff, but on this occasion both animals are so rich they're almost untouchable. Almost…
How to get Sky Q
You can purchase a Sky Q package directly from Sky, from just an extra £12 p/m on top of your current TV plan.