These Apple Music widgets will improve your listening experience
Don't just listen to your (Apple) music. Experience it like never before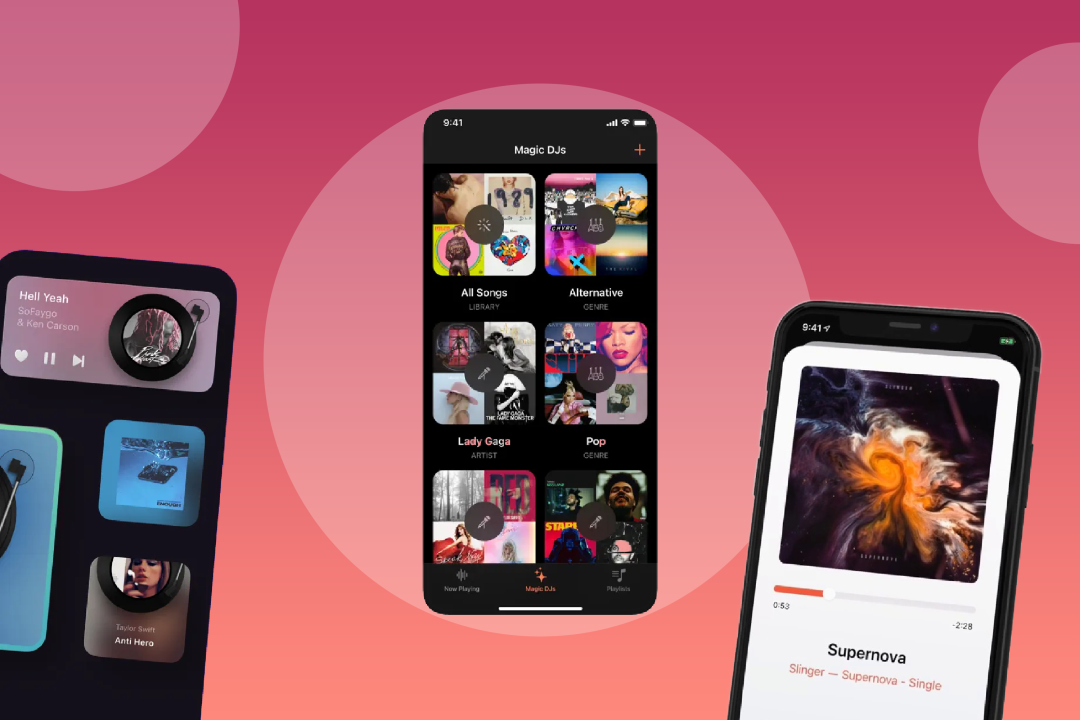 If you're an Apple Music listener and want to amp up your listening experience on your iPhone you can do just that – whether you listen through speakers, on your computer or through the latest noise-cancelling headphones.
Have you ever considered expanding your widget options beyond what Apple provides? Some third-party alternatives out there offer unique and impressive features that Apple lacks. Plus, some of them are even free! Others may require payment, but it's definitely worth checking out the options available.
---
Apple Music widgets: Apple's own
Currently, Apple Music offers three 'Listening Activity' widgets. These widgets let you see current and recently played music. When you tap on any o these, you'll be redirected to the Apple Music app.
The upcoming iOS 17 update, set to be released for supported iPhones this fall, adds five new widgets. These fall under two new categories, 'Recommendations' and 'Top Charts'.
Under the former tab, you will find a curated selection of stations, mixes, and albums that Apple has recommended based on your listening history. Within this tab, y you can select from four subcategories: 'Top Picks', 'New Releases', 'Stations For You', and 'Friends Are Listening To'. The latter tab displays popular songs in a specific city or country.
With the introduction of interactive widgets in Apple's iOS 17, you can soon perform various actions with just a single tap. This includes playing, pausing, or skipping music without opening the Apple Music app. Pretty neat, right? Third parties will also be able to use the new interactive features.
---
Apple Music widgets: third-party solutions
There's a whole world of third-party apps out there that can take your Apple Music experience to the next level. The possibilities are pretty much endless, from Soor, which wants to completely replace the official Apple Music app on your iPhone Home Screen, to MD Vinyl, which enhances your listening experience with excellent cool features. And if you're looking for something truly unique, check out Musixmatch or MusicHarbor – they offer something extra for Apple Music users.
Longplay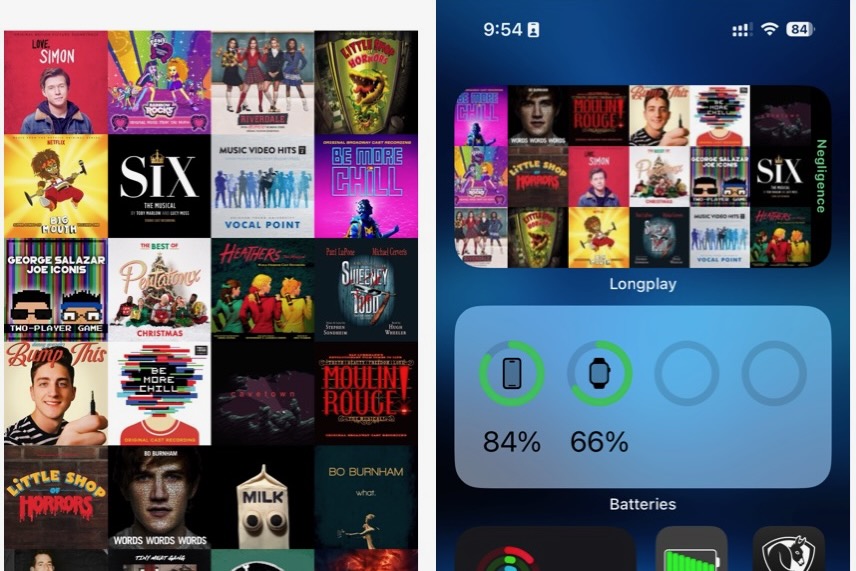 The LongPlay app ($3.99/£3.99) for iPhone and iPad ditches words and only shows music links and the artwork associated with every album on your Apple Music account. You can choose how those albums are arranged from seven sorting options.
There are a bunch of different ways to organize your music collection. You can go with the traditional method of sorting by artist and album, or you could try something new, like sorting by how often you listen to each album (aka 'Addiction') or even by the primary color on the album cover (aka 'Brightness'). And if you want to focus on the stuff you haven't listened to in a while, you can try 'Negligence'.
If you wanna see the newest ones first, choose 'Recency', and to see your faves, go with 'Stars'. And if you're feeling adventurous, try 'Random' for a surprise order every time!
The Longplay widget, like the app, takes a minimalist approach. You can choose from two sizes of a so-called 'mini album wall', which features the top albums of your selected sort. Once chosen, you'll only see album covers sitting beautifully on your iPhone Home Screen.
---
MD Vinyl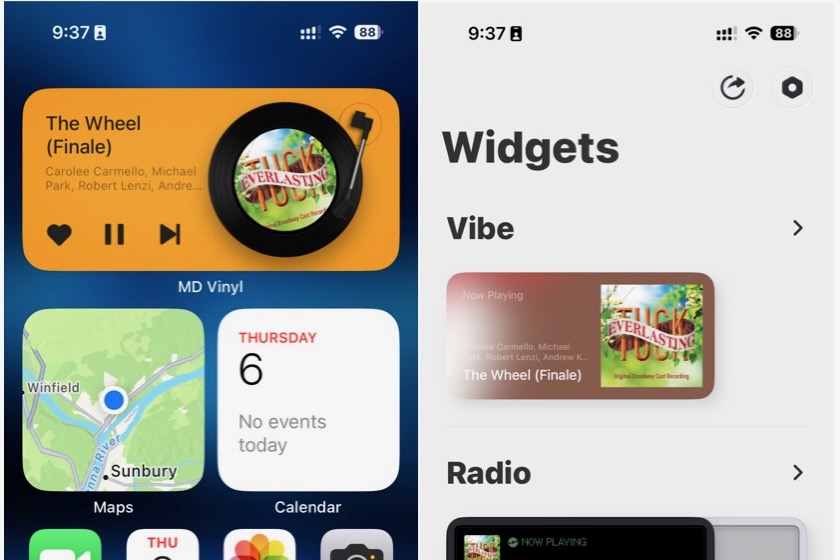 For many, vinyl remains the best way to listen to music. For those times when you can't be near your turntable, there's MD Vinyl (free w/in-app purchases). The freemium widget app lets you listen to your favorite music while watching a digital copy of the album cover spin on your iPhone Home Screen.
MD Vinyl offers additional options such as the 'Vibe' and 'Radio' themes. The 'Vibe' theme displays the album cover with a background that matches its colour palette. The 'Radio' theme shows buttons digitally recreated from an old-school music box. You can also choose the 'Controls' theme, which shows buttons you can tap to play or reverse/advance the song. There's also a love button.
Each MD Vinyl theme is available in various sizes, and you can add extra controls when applicable.
---
Marvis Pro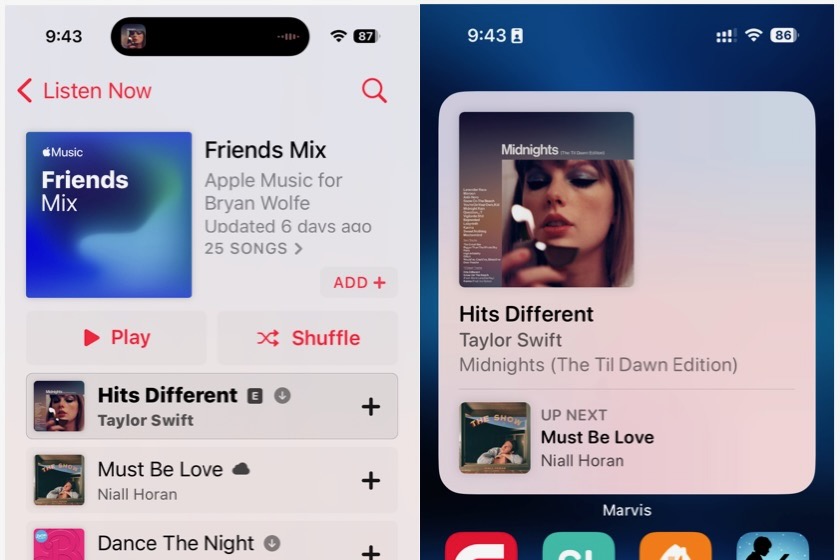 A few apps listed here are designed to replace the standard Apple Music app completely. The first of these, Marvis Pro ($9.99/£9.99, with in-app purchases), is a brilliantly designed masterpiece worth its price.
Marvis Pro looks strikingly similar to the Apple Music app — until you begin making tweaks. For example, in just a few taps, you can change the main screen, sidebar, and mini-player to match your vibe better.
The app is perhaps less creative when it comes to widgets. Besides various 'Now Playing' widgets, you can create ones highlighting different sections. When doing so, you can assign an action to play or shuttle the music when tapped. There are also Quick Action widgets you can use for further customization.
The Marvis Pro app works on iPhone and iPad. It's frequently updated, so there's always something new to try, especially after new iOS/iPadOS updates launch each fall.
---
MusicHarbor – Track New Music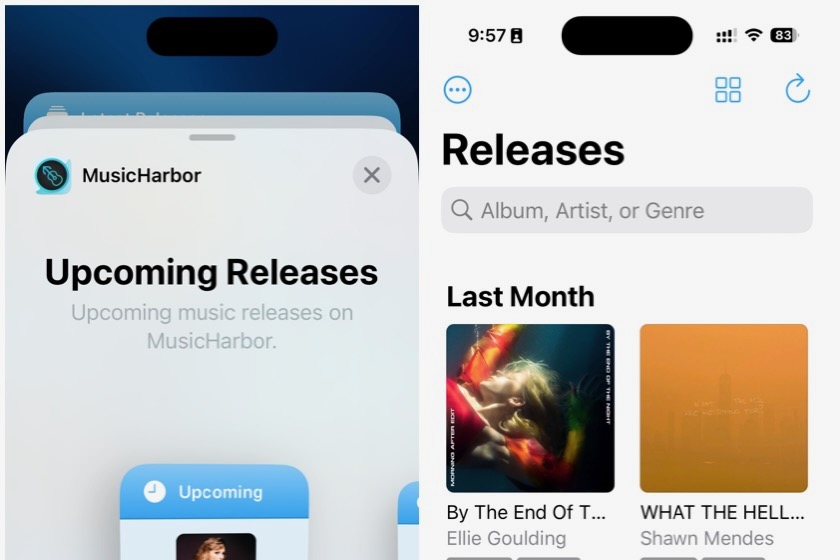 Many third-party apps for Apple Music tend to concentrate on songs already in your iTunes or Apple Music library. However, this is not the case with the freemium MusicHarbor app. This lets you track upcoming releases from your favorite artists. As soon as those singles or albums become available on Apple Music, you can manage them via the MusicHarbor app.
The app's many widgets make it easier to keep track of that content or see the latest album releases overall. You can even use widgets to post stats on the latest releases and create bookmarks for your favorite albums and music videos.
---
Musixmatch Lyrics Finder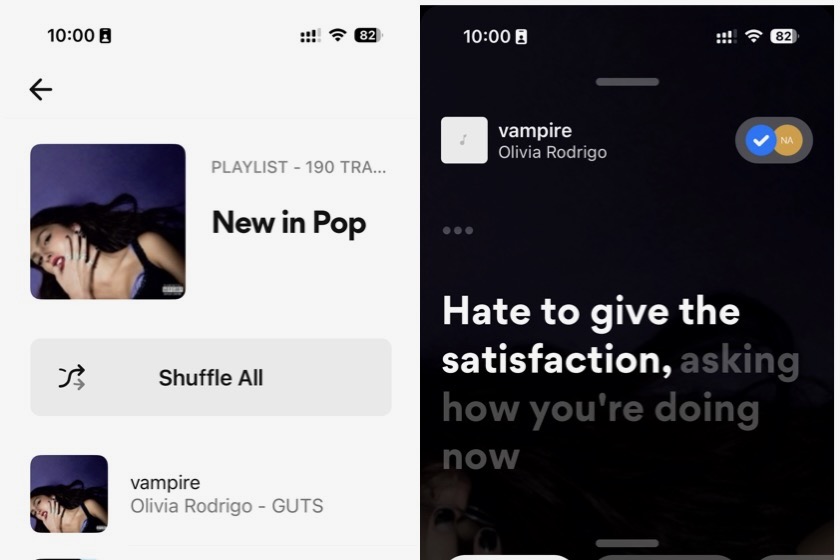 Musixmatch (free w/in-app purchases) is one of the most extensive lyrics catalogs out there. With seamless synchronization, it can add lyrics to every song in your Apple Music or Spotify library. You can even display lyrics on your iPhone Lockscreen with Musixmatch. A Musixmatch Premium membership provides additional features like a party mode, offline lyrics, zero ads, and more.
The Musixmatch Apple Music widgets provide quotes of recently played songs or trending tracks near you. These aren't for everyone; regardless, they add something extra to your iPhone Home Screen.
---
SongCapsule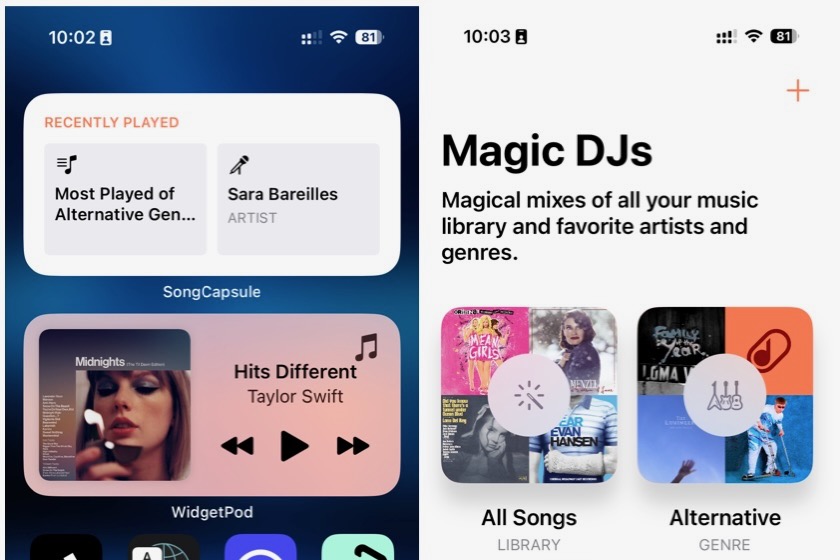 SongCapsule ($4.99/£4.99) is an app that was initially known as Next. It is available for iPhone, iPad, and Mac devices, and is designed to assist you in rediscovering your music library.
By syncing with your Apple Music library, the app's Magic DJ feature creates mixes based on your preferred artists and genres. Automatic playlists are also created, such as 'Forgotten Songs', 'Most Played', and 'Recently Added'.
Do you want to see something striking? Look at the 'Never Played' playlist and discover songs you've added to Apple Music but never got around to actually listening to them.
---
Soor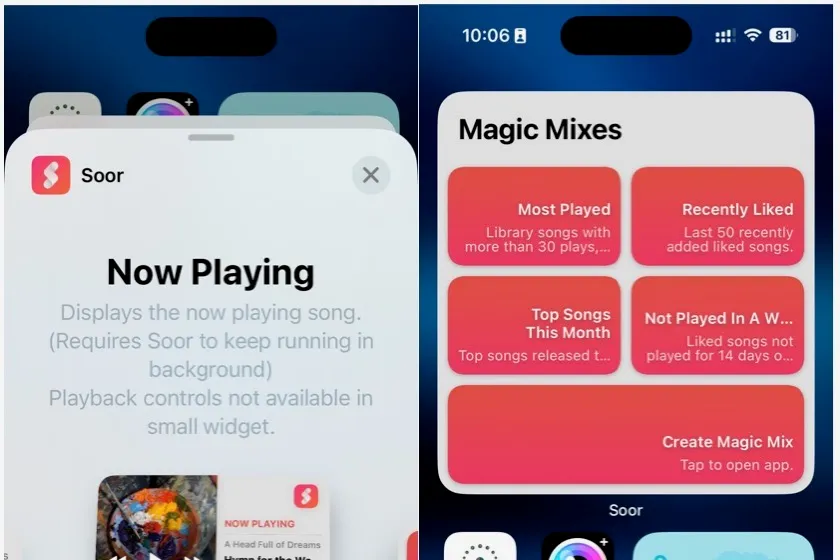 Soor ($6.99/£6.99) aims to replace your iPhone and iPad's official Apple Music app, similar to Marvis Pro. This amazing app offers great features, such as drag-drop gestures and pull-to-reach options.
This app offers an impressive range of widgets. The 'Now Playing' widgets have a stunning design and make it easy to manage the current track. The 'Magic Mix' widgets provide access to various playlists, including 'Top Songs of the Month' and 'Recently Liked'. Additionally, the versatile 'Music Collection' widgets allow you to add quick links to your favorite songs, playlists, alerts for new releases, and more.
---
WidgeTunes – Music Widgets
WidgeTunes ($1.99/£1.99) is a great Apple Music widget app that is very user-friendly. You can easily create widget profiles within the app and add unlimited music widgets to your iPhone Home Screen. You can add playlists, albums, or single tracks to the widgets. Once you're there, you have the option to select either a grid or list layout, modify the background, and perform other actions.
You can choose between two sizes of WidgeTunes widgets. The larger one can hold up to 16 albums, playlists, or songs, while the medium size can accommodate eight items.
---
So much variety!
As you can see, Apple Music widgets come in various forms, and many of the best ones come from third-party developers. Though some of these will cost you extra, others are completely free and worth your time. Better still, each one should get even better this fall once interactive widgets become a thing with iOS 17.