Apple iPad Pro vs Microsoft Surface Pro 3: the weigh-in
The beautiful, giant iPad against the hybrid wonder: which wins on specs and features?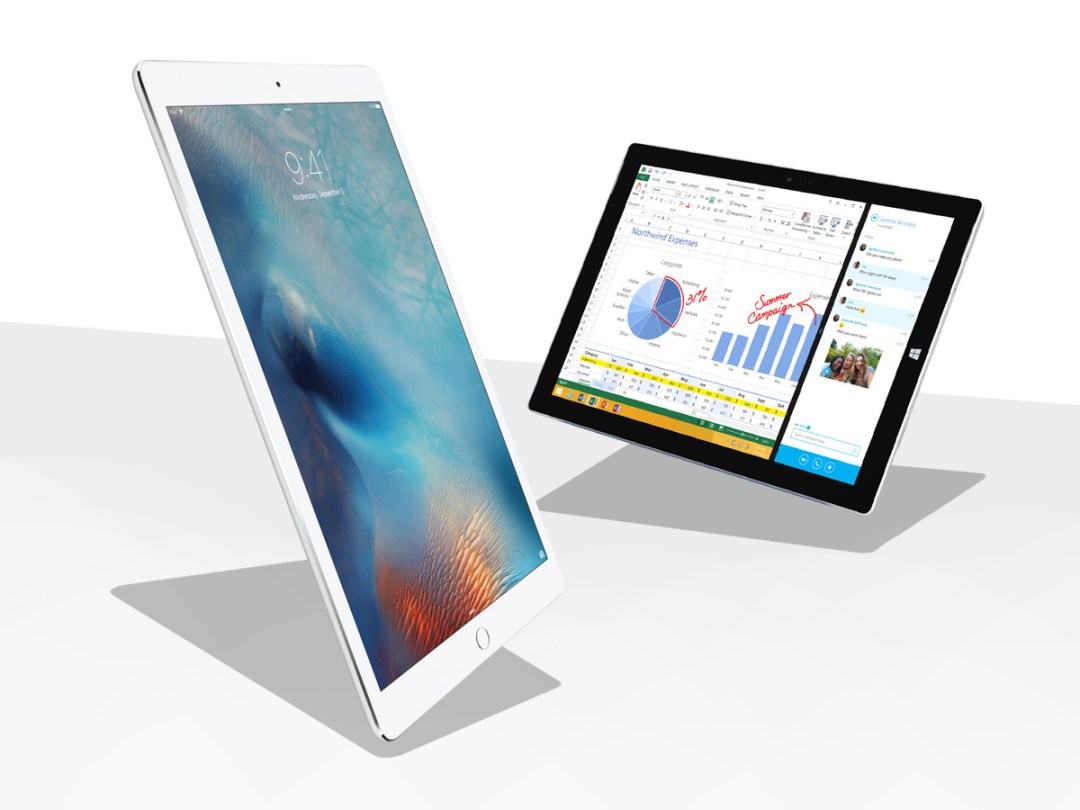 After years of rumours, Apple has finally unveiled the iPad Pro. It's real. And it's coming. But Microsoft totally beat it to the punch last year with the Surface Pro 3.
It took a couple of solid attempts, but the third Surface Pro expanded the size and delivered the first hybrid device that works very well as both a tablet and a fully functional PC. Given some of the similarities (particularly with peripherals), it doesn't seem like a stretch to presume that Apple took a little inspiration from Microsoft on this front.
Then again, the iPad Pro has different aims. It's not, for example, trying to be both a tablet and a Mac; there's no USB port to be found, nor is there a touchpad for moving a pointer around. It's an iPad made larger, but also made more productive thanks to 3D Touch and the optional Apple Pencil and Smart Keyboard.
Still, the comparison is being made, so we'll join the fray with our own weigh-in: a look at how the specs and features match up before Apple's tablet actually ships in November. And check back then for a thorough review of the iPad Pro – and a full verdict of how they stack up.
Large and in charge
We called the Surface Pro 3's built-in kickstand a "minor engineering marvel" for its various, well-designed convertible states, and that's something the iPad Pro simply can't touch on its own. Otherwise, the overall design is solid, but not remarkable: the sloping sides are a little awkward, but overall it's a pretty sleek package for such a powerful, flexible device.
Yet we're initially wowed by the industrial design of the iPad Pro. Sure, it's by and large a super-sized iPad Air, but the fact that it's just 6.9mm thick and 1.57 pounds is remarkable. It has a larger screen, yet is thinner and lighter than the Surface Pro 3.
We're calling this one a draw for now: we like the overall design of the iPad Pro more, but the benefits of the Surface Pro 3's kickstand could well decide this one.
Winner: Draw
Big and beautiful
We praised the Surface Pro 3's screen for being "stunning" despite lower pixel density than the iPad Air (the Pro 3 is rated at 216ppi). At 2160×1440 for the 12in display, nearly everything looks super crisp, and the display is bright enough to stay useful in the glow of the outdoor sun. That 3:2 aspect ratio is perfect, too, and may be preferable to the iPad Pro's 4:3 for working.
Still, we don't have any difficulty giving the nod to the iPad Pro here. It's a larger screen, at 12.9in, but also sharper: at a resolution of 2732×2048 (264ppi), it ought to be absolutely gorgeous – especially given the consistently strong quality of Apple's displays. Barring any real surprises, this will be a phenomenal screen to stare at while watching movies and playing games… err, working hard. Productivity!
Winner: iPad Pro
Speed demons?
A really powerful tablet typically isn't as strong as a solidly capable PC; so when Apple says the iPad Pro's A9X system-on-a-chip is "desktop class," we wonder if that assessment is a bit generous. It might be – we honestly won't know for sure until we have ample time with the tablet later this autumn.
Still, Apple's Phil Schiller claims that it's "faster than 80% of the portable PCs that shipped in the last 12 months," which is promising, and that it's a huge advance over the last-gen A8 chips. And the apps and games found on the App Store are sure to be optimised specifically for it, which isn't necessarily the case with PC programs and the Surface Pro 3.
But the Surface Pro 3 has actual desktop-class processors, and it has options too: i3, i5, and i7 processors, along with additional RAM, which means you can pay more to get more. It's not necessarily a fair fight, but if you're looking for raw power, we have a hunch that a maxed-out Surface Pro 3 can handily top the iPad Pro. At a price, of course.
(Also, on battery life: the Surface Pro 3 claims nine hours, while the iPad Pro claims 10. Close enough to not be a huge sway in either direction.)
Winner: Surface Pro 3
OS showdown
Here's where the aforementioned varying aims might really matter. If you've got a Surface Pro 3, you'll surely be running Windows 10 right now, which is an excellent operating system – and a big step ahead from Windows 8. More than that, it's a fully-fledged PC experience that's also designed to allow comfortable tablet experiences. Computers are built for productivity, and Windows 10 exemplifies that.
On the other hand, the iPad Pro will run iOS 9 – it's a mobile operating system, and that means a world of difference. Apple has worked to make iOS 9 better suited for productivity, whether it's split-screen app support or holding two fingers down on the software keyboard to turn it into a trackpad. But it's still very simplified compared to, say, a Mac, and power users might be frustrated at the streamlined nature.
Here's what could change the equation a bit: 3D Touch, the newly-enhanced version of Force Touch. The pressure-sensitive inputs let you press harder on the screen to access deeper options, such as menus, and it all looks and sounds extremely intuitive. That might be enough of a difference-maker to turn the iPad Pro into a productivity powerhouse.
This isn't a simple question, to be honest. For creative types, especially artists, the iPad Pro seems like a lock. For the business professional, a Surface Pro 3 might better suit his or her needs. They're very different operating systems that can enable very different kinds of experiences, so for now, we're not picking a side until we see how iOS 9 can work on a very large iPad.
Winner: Draw
Essential kit
This is one very clear case where Apple is clearly a follower. But when Apple isn't first, it often is best, using its latecomer position to create a better-designed, more capable device. That might be true with the both the stylus and keyboard cover, but you'll pay a pretty penny for both.
The Apple Pencil looks great, what with its impressive pressure sensitivity, plus you can get a 30-minute charge in just 15 seconds by plugging it into the iPad Pro's Lightning port. But it costs US$99, whereas the pen is bundled with the Surface Pro 3. Hey, all those batteries you'll buy for Microsoft's stylus will add up in cost eventually, right?
And Apple's Smart Keyboard looks pretty slick in build and design, although it doesn't seem terribly different in functionality than Microsoft's; it's a tablet cover and it's also a convertible keyboard. It's just more expensive: US$169 compared to Microsoft's US$129 Type Cover. Ah, the good ol' Apple Tax.
All told, Apple's peripherals could have an edge in everyday use, but at notable cost. Give and take.
Winner: Draw
Initial verdict
There's already a lot to like about the iPad Pro, and potentially plenty to love. But the Surface Pro 3 is more than just a tablet: it's a fully-functional PC in a way that a streamlined iOS-based device simply can't be.
That makes the comparison a bit unfair, to be honest, but each person's experience will vary based on their needs and expectations. We wouldn't be surprised at all if the iPad Pro ends up being a better pure tablet experience than the Surface Pro 3.
But let's be clear: by the time the iPad Pro ships in November, the Surface Pro 3 will have already been on the market for about a year and a half. And there are rumblings of a Surface Pro 4 being announced next month. So Microsoft may have some tricks up its sleeve, making this an even tougher decision for large-tablet buyers this holiday season.