6 of the best iPhone camera accessories
Fancy super-charging your Instagram? We test six add-ons that will re-awesomise your iPhone's camera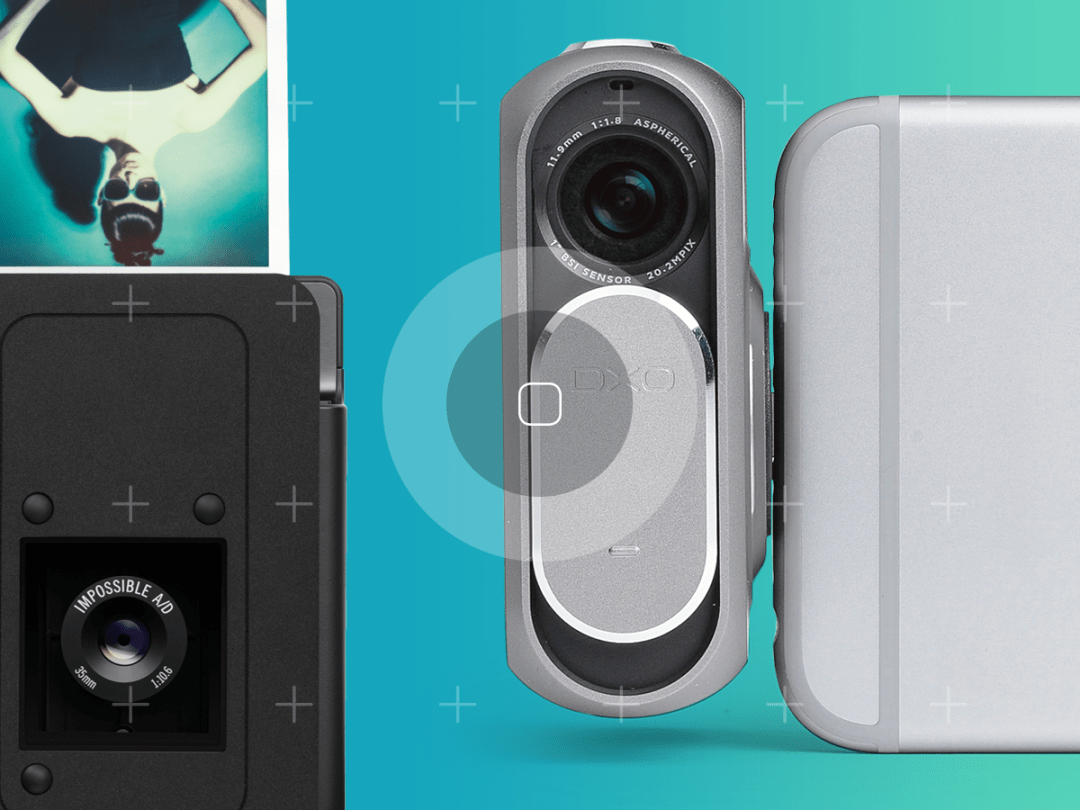 The iPhone 6s already has a brilliant camera, but there's still a fair bit of room for improvement if you want to take the best pictures possible.
Being the lovely people we are, we've put together a list of accessories that will upgrade your iPhone's camera, making it ready for any situation, from sparkling up your Instagram collection to becoming the next big movie director.
By the time you're kitted out you'll be able to shoot Hollywood-style wide shots, print polaroid pictures directly from your phone, or simply improve the flexibility and quality of your shots in general.
They won't burn a massive hole in your pocket either, all while achieving similar effects as equipment that may cost thousands more. Time to banish your DSLR…
Impossible Instant Lab Universal (£110)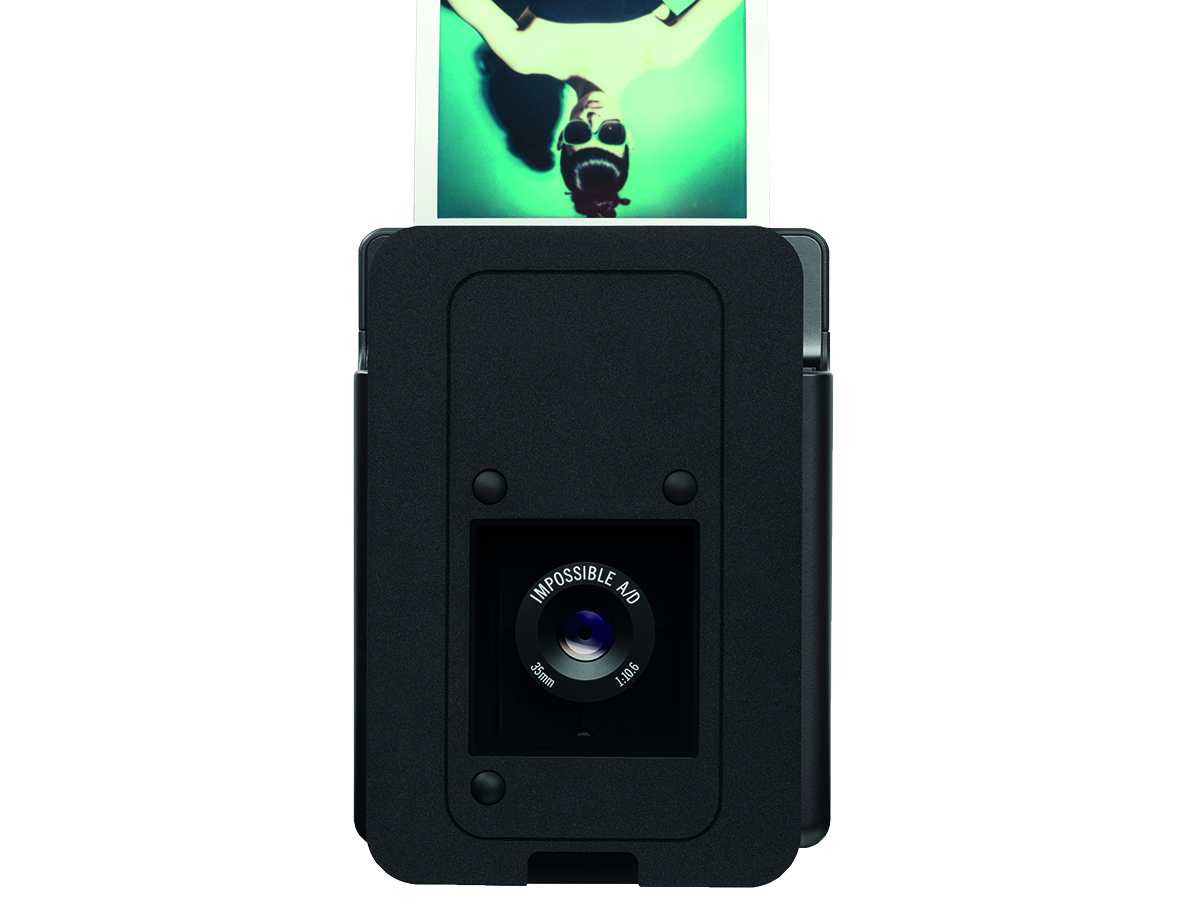 Picture this
If adding retro-style filters to your digital snaps isn't enough to satisfy your vintage cravings, the Instant Lab Universal might do the trick.
Made by Polaroid revivalists The Impossible Project (currently the only company producing new film for Polaroid instant cameras), it's essentially an analogue instant camera with an iPhone adapter bolted on. Used in conjunction with Impossible's mobile app, it takes a photo of the image on the phone's screen and spits out a Polaroid print that develops a few minutes later.
Any good?
It's a little more elegant than it sounds on paper – there's some clever tech to ensure that the photos are framed and exposed correctly – but the prints it creates are to all intents and purposes Polaroids, with the same prized vintage look. They don't always come out wonderfully exposed, however, and when you're paying £17 for 10 that's no joke. We'd recommend using the default settings rather than monkeying about too much if you want to avoid wastaging film.
The Instant Lab certainly isn't for everyone, but it's not designed to be. It's aimed at a specific niche market – if you want to make Polaroids of your iPhone pics then this is really the only way to get them.
Tech Specs
Impossible Instant Lab Universal in figures Compatability: iPhone 4s and later, iPad Mini 2, iPad Air, Android 4.03 and later • Film types: Polaroid 600 and SX-70 • Dimensions: 150x111x71mm,650g
Veho Muvi X-Lapse (£25)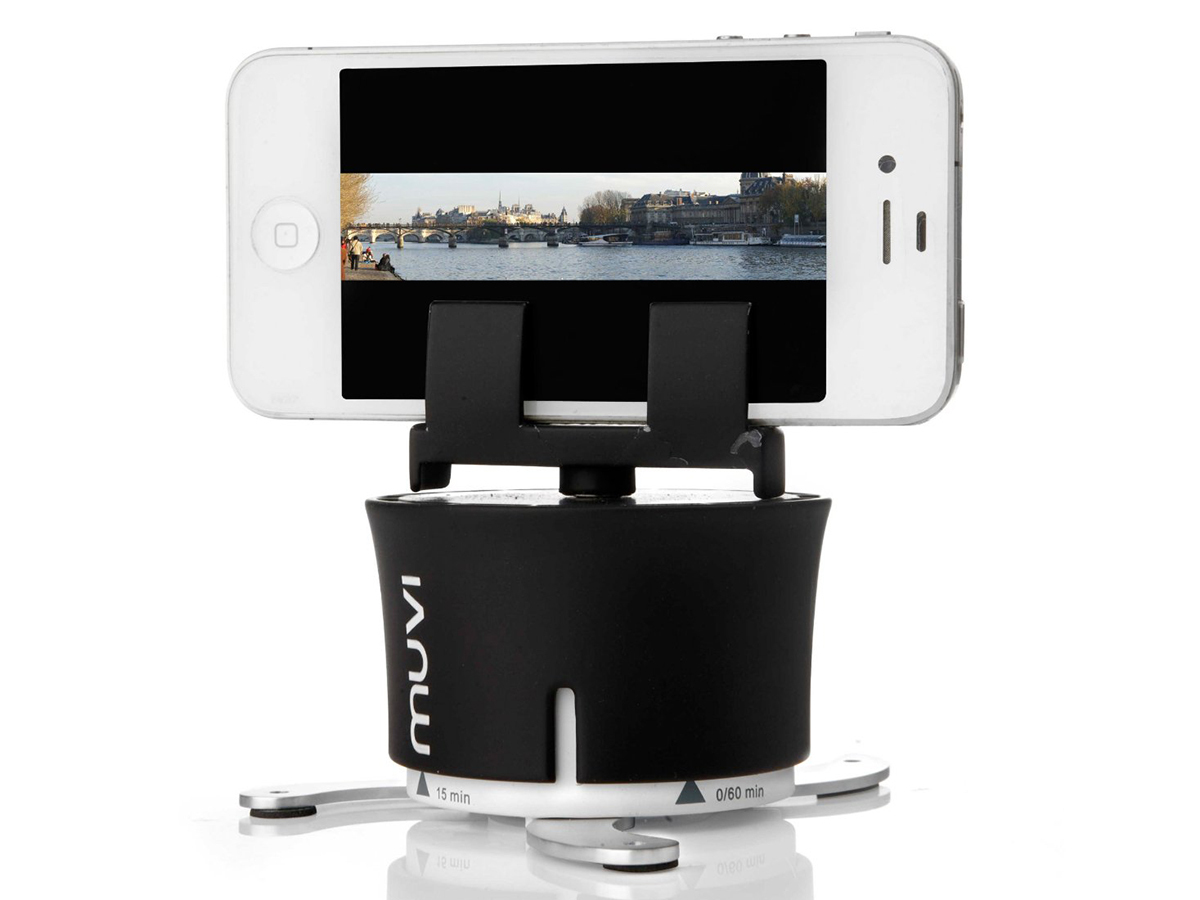 Picture this
One of the iPhone camera's most intriguing features is arguably also one of its least used. Timelapse mode stitches together hundreds (or even thousands) of shots taken over a long period of time into a fast-moving video. You can fix your phone to a tripod (or simply prop it up somewhere) and have it watch the world go by for a few minutes from a fixed position, but a way to make timelapses even more striking is to have the camera slowly move… step forward the Veho Muvi X-Lapse.
Any good?
This is a lightweight cylinder with a tripod mount on top enabling you to screw in a compact camera (anything up to 750g) or the phone-gripping mount that comes with it. There are three extending feet for stability, and the mount allows you to tilt the iPhone a few degrees back or forward. There's also a tripod mount.
Wind it up and it will turn steadily anti-clockwise for anything up to an hour, rotating at a rate of 90° every 15 minutes. It's a simple device but does wonders for jazzing up timelapses, and we recommend it to anybody looking for a cheap way to create videos with impact.
Tech Specs
Veho Muvi X – Lapse in figures Maximum turn time: 1 hour • Maximum turn angle: 360° • Compatability: All smartphone types and cameras up to 750g • Dimensions: 73x73x48mm, 99g
Olloclip 4-in-1 (£70)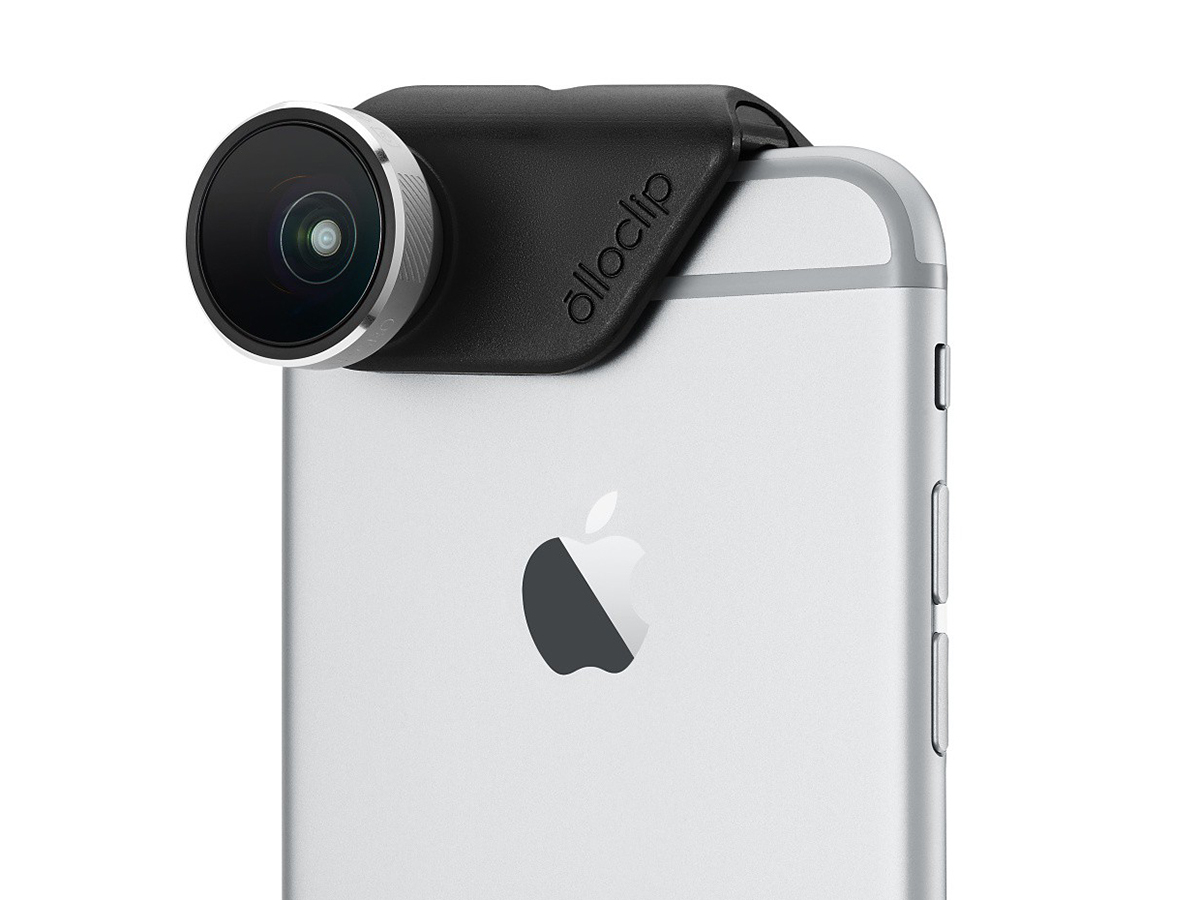 Picture this
The iPhone's camera, like almost all phone cameras, has a lens with fixed focal length. That means the angle can't be widened, which can be limiting when you're shooting landscapes or group portraits, and time you want to cram in as much as possible of what's in front of you.
The Olloclip changes that. It clips onto the iPhone and fits an extra lens over the rear-facing camera – either a wide-angle or an ultra-wide-angle fisheye. These lenses can be unscrewed, leaving each as a macro lens (10x and 15x) for snapping objects very close to the camera. So, four options, hence the name.
Any good?
There are other clip-on lenses available, but none we've used come close to the quality of the Olloclip's glass elements. The fisheye is the most interesting thanks to its nutty distortion and ultra-wide angle (you can see your fingers in the frame), but the wide-angle and macro lenses are also surprisingly sharp. The fact that all four are squeezed into a tiny, pocketable product means you can take the Olloclip absolutely anywhere.
The only downside is that it won't fit over most cases – Olloclip's Studio being an exception.
Tech Specs
Olloclip 4-in-1 in figures Lenses: Fisheye, wide-angle, 10x macro, 15x macro • Compatability: iPhone 4 up to iPhone 6s/6s Plus, iPod touch 5th/6th gen • Dimensions: 54x26x38mm, 26g
Olloclip Studio (£80)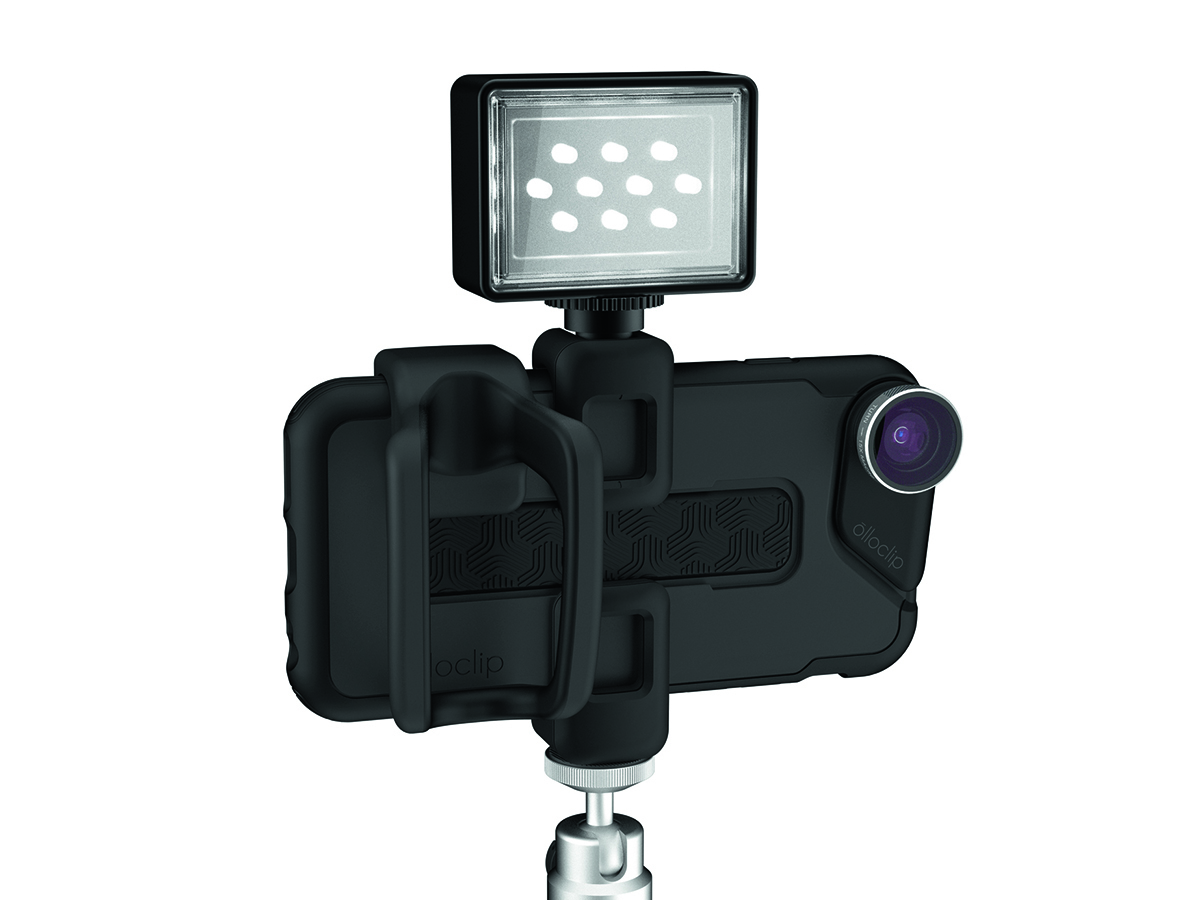 Picture this
You might baulk at the thought of paying £80 for a plastic iPhone case, but the Olloclip Studio isn't just a shell to protect your handset from harm – it is, according to its makers, an 'integrated mobile photography solution'.
Any good?
Lofty words, but the Studio is a superb addition to expand your iPhone's capabilities. Its design allows you to securely rail-mount a number of accessories – there are tripod mounts for both landscape and portrait orientation, two cold shoe adapters (allowing you to attach a mic or video light), a finger grip and a kickstand. The latter is merely to prop your phone up on a tabletop to watch a movie or photo slideshow (or browse the web), but the finger grip proves an artful bonus, as it allows you to one-handedly hold your iPhone in landscape mode and still have your thumb free to hit the shutter button.
The case itself should offer a good amount of protection should you drop the phone. Its design means you can also fit the Olloclip 4-in-1 lens without removing it.
We still feel it's pricey, but the Studio certainly makes your iPhone much more camera-like.
Tech Specs
Olloclip Studio in figures Compatability: iPhone 6/6s and iPhone 6 Plus/6s Plus • Dimensions: 144x73x12.7mm (6/6s), 163x83x12.7mm (6 Plus/6s Plus)
DxO One (£400)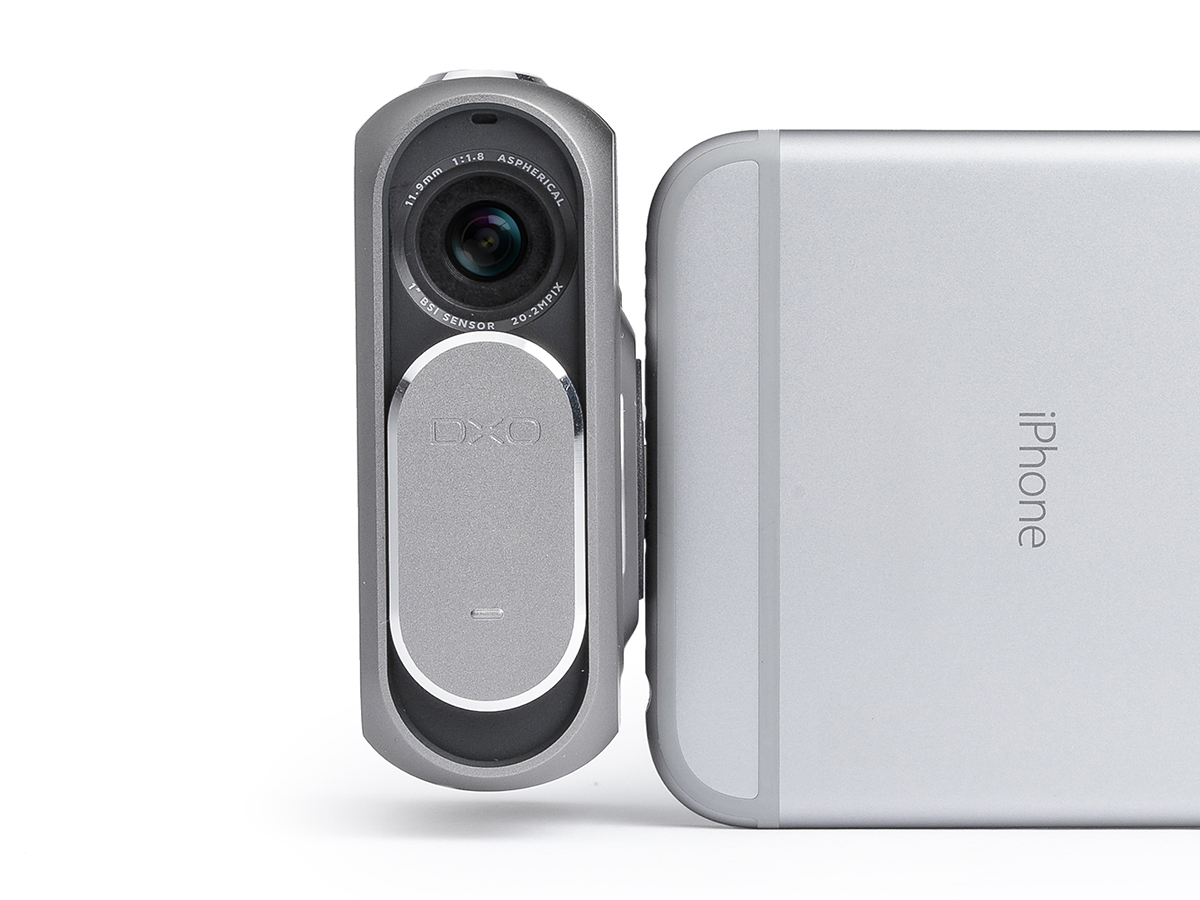 Picture this
Less a camera add-on than an add-on camera, the DxO One connects directly to any recent iDevice via the Lightning port and, working in conjunction with its app, turns it into a powerful compact camera.
Any good?
While the One doesn't add optical zoom, the module features a much better lens and sensor than you'd find on any smartphone. The aperture is adjustable, which gives you greater control over depth of field (how much of the photo is in sharp focus), and you can shoot in RAW, processing images on your computer using the DxO OpticsPro software.
Image quality is truly excellent compared to any smartphone around. Colours are pure and vivid, detail is sharp and there's barely any noise, even in lighting conditions that would leave most phone cameras stumped. It won't necessarily beat a mid-range DSLR for versatility or pure detail, but this is something you can carry around in your jeans, so it's not really fair to compare.
Our main gripe is its battery, which barely lasts an hour – and it hammers your iPhone battery while you're using it too. Not ideal for carrying around all day.
Tech Specs
DXO One in figures Sensor: 20.2MP 1in • Lens: 32mm equivalent, f/1.8 • ISO: 100 to 51,200 • Compatability: iPhone 5 and later • Dimensions: 68x49x26.3mm, 108g
Moondog Labs 1.33X Anamorphic Adapter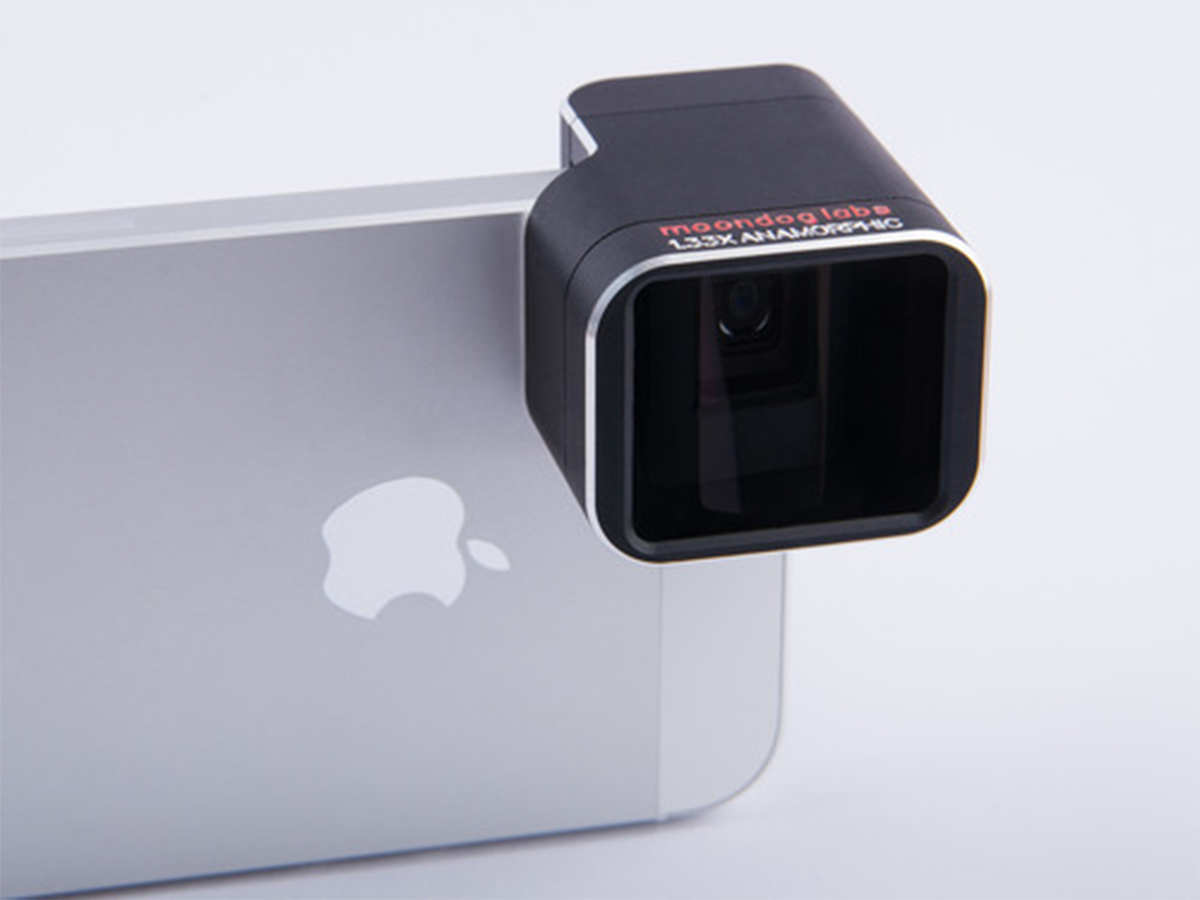 Picture this
The anamorphic look is normally the preserve of big-budget Hollywood films – but Moondog Labs' clip-on iPhone lens delivers a wallet-friendly alternative.
It's a full-fledged 1.33x anamorphic lens – it squeezes a 33% wider scene onto your iPhone's 16:9 camera sensor, letting you shoot 2.4:1 video (or widening 4:3 still photos to 16:9). You'll need to desqueeze the image in a photo or video editing program, though apps like Filmic Pro and Filmmakr can do it on the fly.
Any good?
The resulting images are startlingly cinematic. Budding iPhone film-makers have previously tried to replicate the 2.4:1 look by letterboxing the 16:9 image with black bars – but this digital cropping results in a loss of resolution. The Moondog Labs lens' optical distortion means that you get a sharper image – and many of the subtle effects, such as horizontal lens flares, that are characteristic of the anamorphic look.
It's a hefty, solidly-made piece of kit, a world away from the majority of flimsy clip-on iPhone lenses. On the down side, each lens is designed for a specific iPhone model – so think carefully if you're planning to upgrade in the near future. A 37mm threaded version plays nice with lens case systems such as CinemaMount and offers some future-proofing – it's also the only option for Android users.
TECH SPECS
Moondog Labs 1.33X Anamorphic Adapter in figures Compatability: iPhone 5s and later, iPro lens system cases, 37mm threaded lens system cases • Dimensions: 32x26x38.5mm, 49g