11 of the best apps for the Samsung Galaxy Note 7
Install these digital delights to get the most out of your new mobile mammoth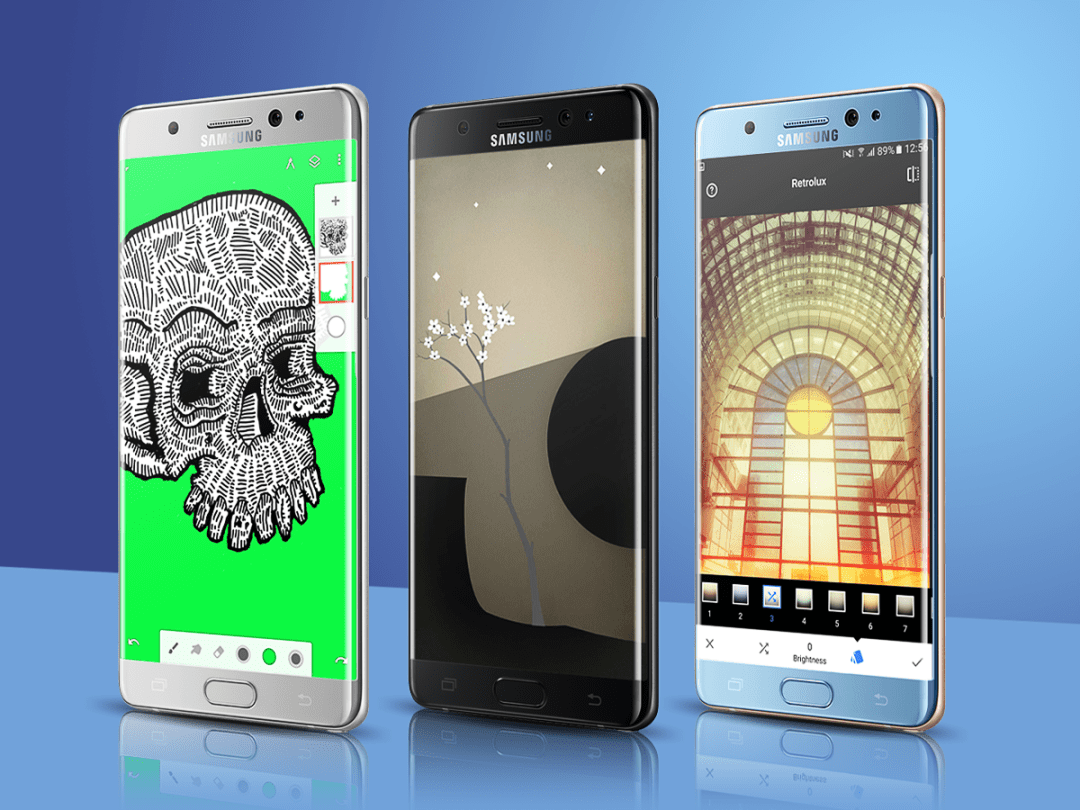 After a year long truancy, the Note is back baby.
It's bigger, it's faster, and it's better than ever, and if you've read our full in-depth Galaxy Note 7 review, it's very likely you're planning to snap one up for yourself.
With an amorous HDR-ready curved screen, a 12MP camera and the most accurate S Pen yet, you'll need some worthy apps to take advantage of everything on offer.
Oh look, here they are:
Camera FV-5 (£2.49)
The Note 7's camera is identical to the 12MP one found in the Galaxy S7, which means Dual Pixel focus, an F1.7 lens, larger 1.4 µm pixels, and Optical Image Stabilisation (OIS).
Combined, they result in one of the best smartphone cameras we've ever seen, and the S7 takes advantage of all of its imaging toys with a Pro mode, which lets you control the shutter speed, white balance and more.
Camera FV-5 is an app which pushes things a little further, for true smartphone photography enthusiasts. Its features include a live RGB histogram, full fledged exposure bracketing, locking, and more, throwing even more imaging superpowers straight into your hands.
Amazon Prime Instant Video
The Note 7's screen is HDR-capable, which means it's one of the first martphones to take advantages of services like Amazon Prime Instant Video's HDR content.
Feel free to swot up on HDR here, but in brief, it lets you view both light and dark portions of video simultaneously, producing more detail.
Amazon has confirmed that its HDR content will be available on the Note 7, but downloading it is a little trickier than just hitting up the Play Store, because Amazon's being all difficult.
Snapseed (£free)
The story doesn't end once you've snapped shots with the Note 7's camera. Good as they are, they can still be improved.
This image editing app has been top of its class for a long time, and its interface is fluid and intuitive, with its standout feature being the Stacks function, which allows you to pile up any selected tools or filters and return to them if they need adjusting.
Non-destructive editing is another noteworthy feature, offering a lifeline to those of us who throw effects at a wall to see what sticks. There are other image editing apps out there worth trying too of course, but with over 50 million downloads, this is a good place to start.
Infinite Painter (£free)
Infinite Painter claims to have the most advanced painting engine on a mobile device, which makes it a tasty pairing to the Note 7's S Pen stylus.
There are over 80 brush presets, with the ability to create new ones yourself. Once you've used these to make a masterpiece (or just a weird attempt at expressing yourself with abstract cat portraits), you can then edit your work in a variety of ways.
You can abort an artistic abomination in a couple of taps, so whether you're the next Van Gogh, or you're just waiting in A&E with a bit of your ear missing, it's worth a shot.
Evernote (£free)
Evernote is a digital notebook on a cocktail of steroids, letting you store web clippings, photos and voice-memos, scan documents and sketches and then access them on any of your logged in devices.
You can search within your notes and images and then scribble all over them with the Note 7's S Pen, and even share your files with friends or coworkers in a chat function similar to Whatsapp (with less memes and banter, of course).
Scribble Racer (£free)
Unless you've got fingers like Lord Voldemort, the trickiest thing about Scribble Racer is seeing your own scribble, which is used to guide you through tumultuous side-scrolling levels. Fortunately, the S Pen makes it far easier to focus on manoeuvring through the ever changing courses.
Each day serves up a new level, and although it looks like you're moving through the imagination of a 10 year old, the funky backing music and gradual speed increase makes the challenge an entertaining one to try if you've got a couple of minutes spare.
Bushido Bear (£free)
A mix of cute and cut-throat, Bushido Bear is a game that involves a bunch of different ninja bears with gigantic swords, flitting around dicing up evil demons. Amazing, the type of things developers will come up with to fit with the simple swiping motion selling-point.
That being said, the wave level structure and the fact that you get more lives (in the form of unlocked bears) as the levels get harder makes this game one you can quickly lose hours in. If you're a fan of Fruit Ninja, this is a similar swiper with a little more strategy.
Prune (£2.99)
Now if you like fast-paced action with minimal time thinking and maximum time shooting, this game probably isn't for you. However, you don't have to be an elderly retiree obsessed with their garden to get into Prune.
One of the best looking apps on the Play store, it has a soothing soundtrack and a simple goal: carefully coerce your growing tree into the light, where it will blossom in a sprinkling of tinkling noises. All it takes is a swipe to cut away the branches growing in the dark and you give your tree more of a chance to find the light. Zen, dude.
PowerDirector (£free)
The Note7 is a decent 4K video camera but you might want an app to tweak your clips and do them justice.
While Android obviously lacks iMovie, its answer to it is a good one. PowerDirector,as it's called, is as professional as it is powerful. Clips are laid out in an easy to access format with plenty of transitions to try out, with a voiceover function for aspiring Attenboroughs.
With no end of effects and editing tools for both video and audio, this is one of the most capable mobile video editors you can get.
VLC (£free)
We're not entirely sure who to blame (Steve), but video formats have got ridiculously out of hand.
It can be tough enough to work out which ones to download (from legal sources, mind), but it's then another thing entirely to find a player that will tolerate them.
Thankfully VLC can handle almost any format you care to throw at it, letting you take full advantage if the Note 7's superb display.
OpenTable (£free)
OpenTable is a one-stop-shop for managing your restaurant bookings. It lets you view menus, reviews and photos, and it takes on an extra function when combined with the S Pen.
Using the Glance function by hovering the pen over the app, you can swap between it and another open app in an instant. This makes it really easy to plan on the move; you could look at a restaurant, check the directions and book it almost all in an instant.
* Buy the Note 7 SIM free here from Samsung – or see our best contract deals here