Zotac ZBOX Sphere OI520 review
Is Zotac's distinctive Zbox Sphere mini-PC a well-rounded computing experience or just a load of old balls?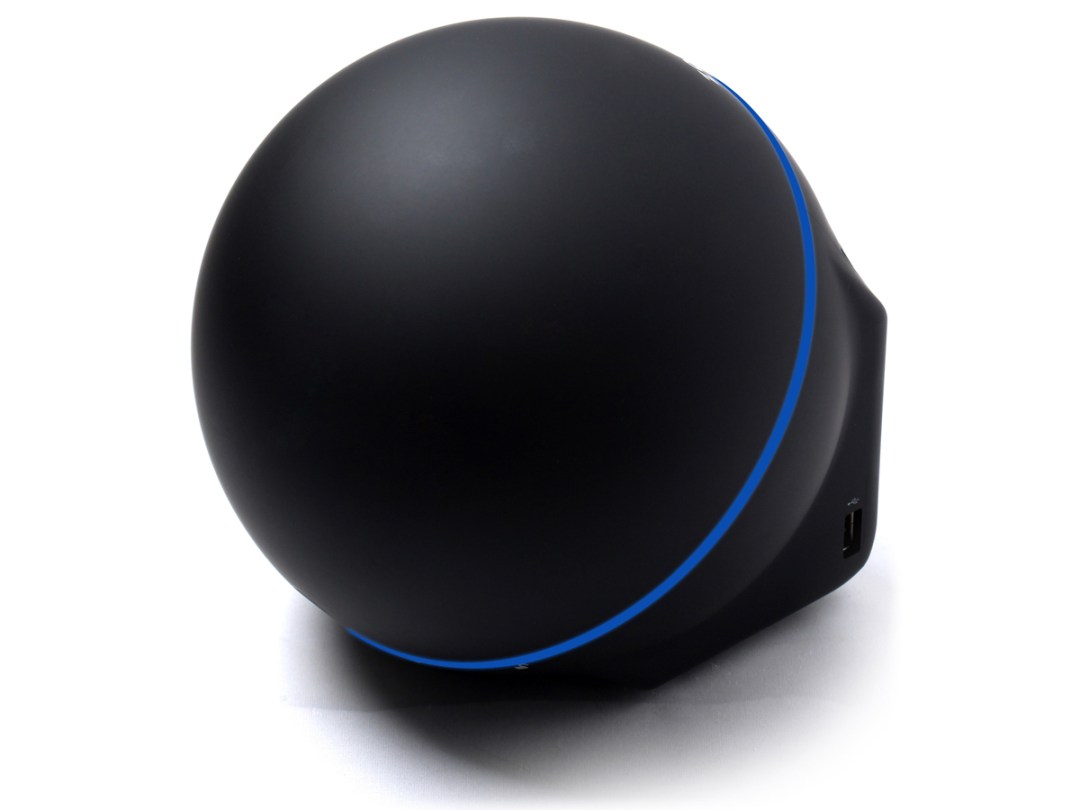 A typical mini-PC combines subtlety and dinkiness so that it blends into your living room or can be entirely hidden our of sight – perhaps even mounted onto the back of your telly.
Not so the Zotac Zbox Sphere, which packs small laptop-style components into an ominous black orb that brings to mind the equally striking and ultimately ill-fated Google Nexus Q of 2012 fame.
Is the Zbox sphere a similar balls-up? Heck no. But its novelty could still be just skin-deep.
Full Circle
You'll immediately know whether the Sphere's aesthetics work for you or not. It's about the size and shape of your average cannonball or cantaloupe, naval warfare and melon fans, but it's not actually perfectly round: a square bit at the back props it up and hosts the various ports.
There's no option to VESA mount it on the back of your telly, of course, but if you wanted a computer you could hide away why the heck did you buy one so extroverted?
Overall we're rather fond of the design, and it's nice to see Zotac moving out of the square school of thought.
Cracking the nut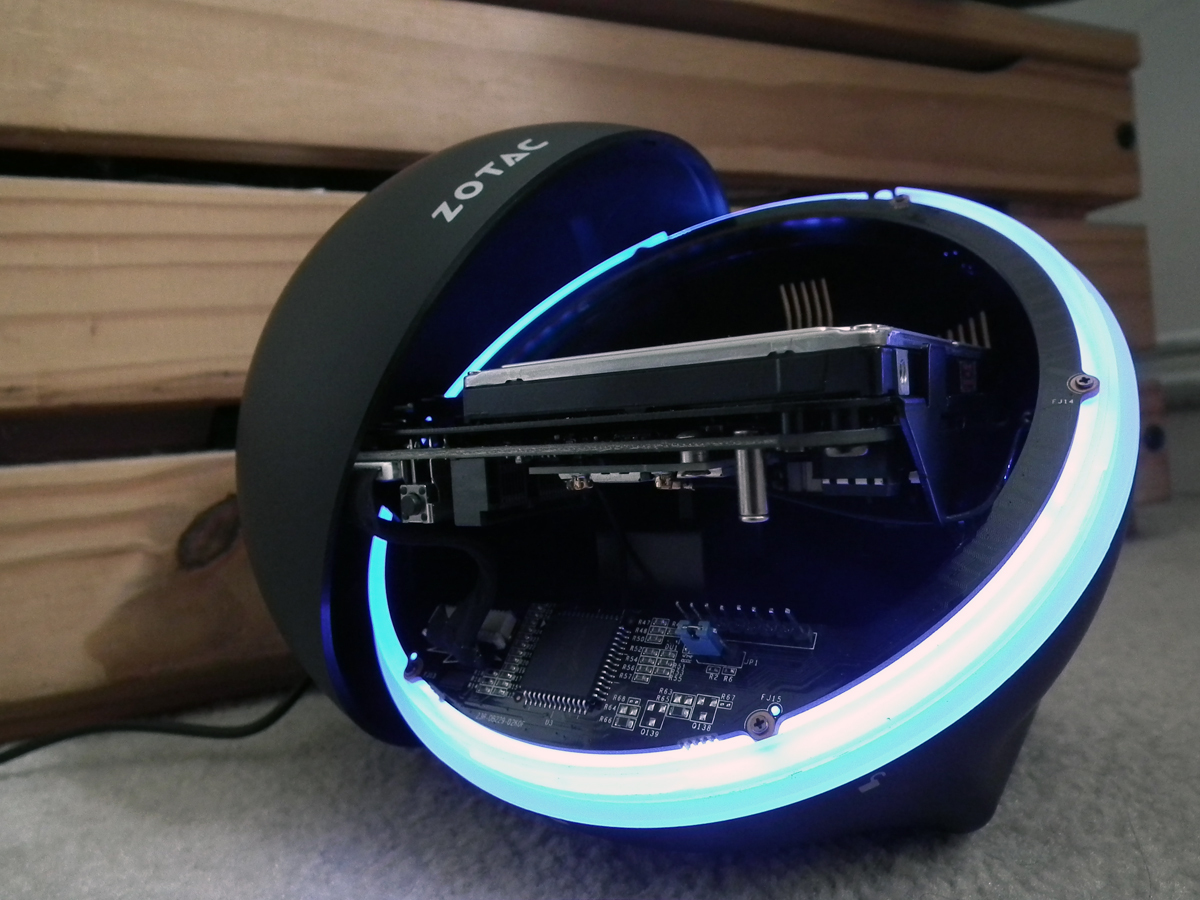 Power it up and the cannonball becomes a cyber-cannonball, with a glowing blue light bisecting it. If that's all a bit too Tron for you ("too Tron" isn't really a thing, is it?) the light can be switched off from within the system BIOS.
You can easily access the components by twisting the top of the sphere off, which is a little like that scene at the end of Hannibal, but far less uncomfortable. Zotac has built the Sphere with upgrades in mind, and it's really easy to take it to bits and add memory or a hard drive.
The round of silence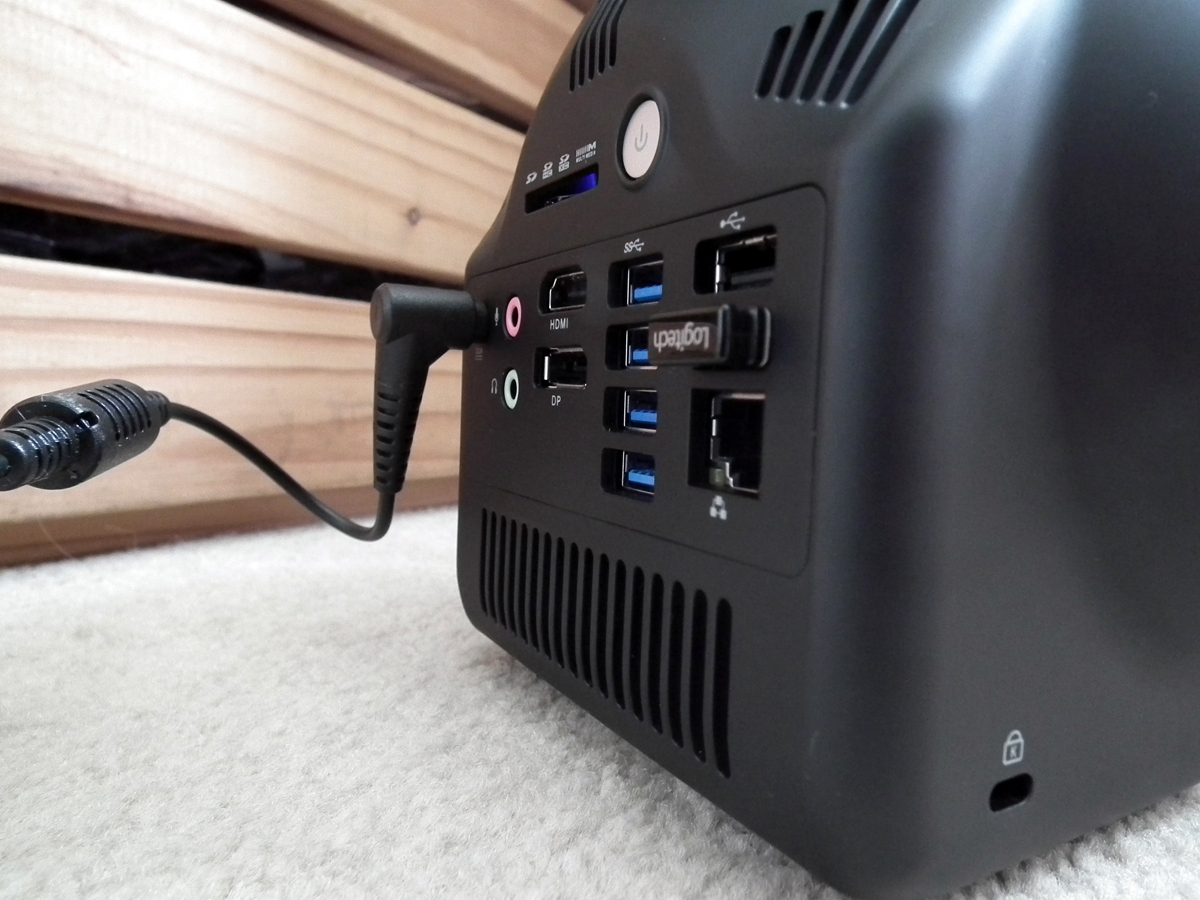 According to Zotac the spherical shape serves no real purpose other than looking ballier, but there's surely some thermodynamic advantage to having a cavernous space in which air can circulate.
A single fan at the bottom of the unit provides the requisite input of air, and even when it's in full swing it barely raises a decibel. We've certainly never tested a quieter PC.
Game Globe?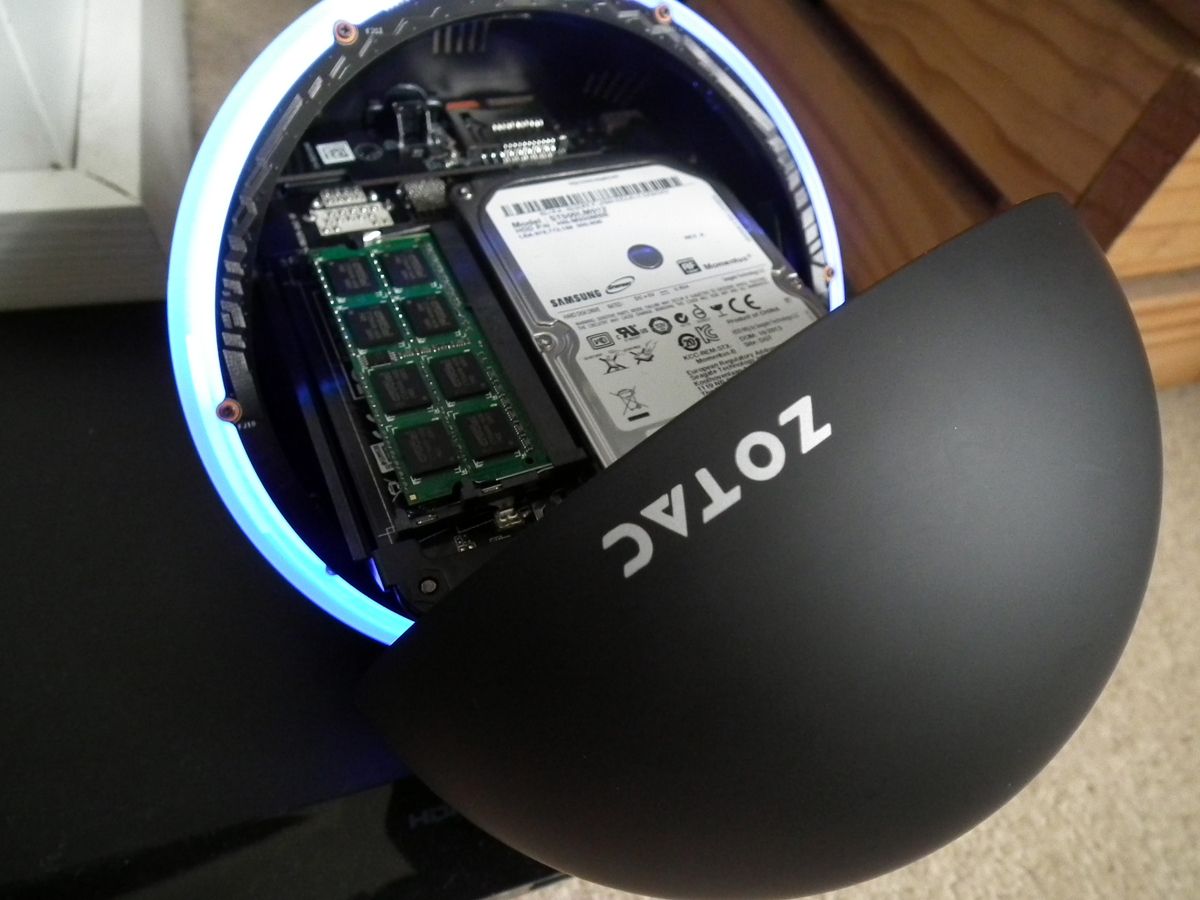 Like most mini PCs, the Sphere includes laptop parts for their small size and low power draw – a mobile Core i5 processor is paired with 4GB of memory and a 500GB conventional hard drive in the Plus version, which is what we're testing here.
While this helps keep size and noise down, the downside is that high-end gaming is rendered impossible by low frame rates, so there'll be none of your fancy Watch Dogs or Wolfensteins. For undemanding indie games and some older titles it's fine, though, and it makes a mighty fine client for Steam In-Home Streaming, too, which could put those fancy games back on the menu if you've also got a hefty Windows PC lurking elsewhere in the house.
READ MORE: Steam In-Home Streaming Review
Media machine
For media playback it's perfect, and a DisplayPort output and 4K capabilities future proof it – well, as much as such a thing is possible. While it feels aimed at the living room, its distinctive design could work equally well in an office. If we went into an estate agent and saw loads of these our respect levels would certainly rise a little.
The skin and bones alternative
The version we were sent is the £350 Plus (also known as the OI520-P), which includes the aforementioned hard drive and memory. For £70 less there's a barebones version so you can add your own components, which is perfect if you've got an out-of-service laptop floating around. There's even the option to combine an mSATA SSD with a traditional HDD for a heady blend of OS speed and capacious storage.
Speaking of OS, whichever option you go for comes without a pre-installed OS. You can go for Windows if you don't mind adding to the overall cost, but toour mind the Sphere is better suited to a free Linux installation or even SteamOS, which is available in beta form right now.
READ MORE: Hands-on review: SteamOS
Zotac Zbox Sphere OI520 tech specs
Operating system: optional
CPU: Intel Core i5-4200U (dual-core, 1.6 GHz, 3MB L2)
GPU: Intel HD Graphics 4400
RAM: 2 x DDR3L slots for 16GB maximum (Plus version comes with 4GB)
Storage: Supports 2.5-inch HDD/SSD and mSATA SSD (Plus version comes with 500GB HDD)
Optical drive: n/a
Connectivity: 802.11ac, Bluetooth 4.0, HDMI, DisplayPort, USB 3.0 (x4), USB 2.0 (x3), SD card, gigabit ethernet, analogue audio
Dimensions: 154 x 154 x 161mm
The battle for your living room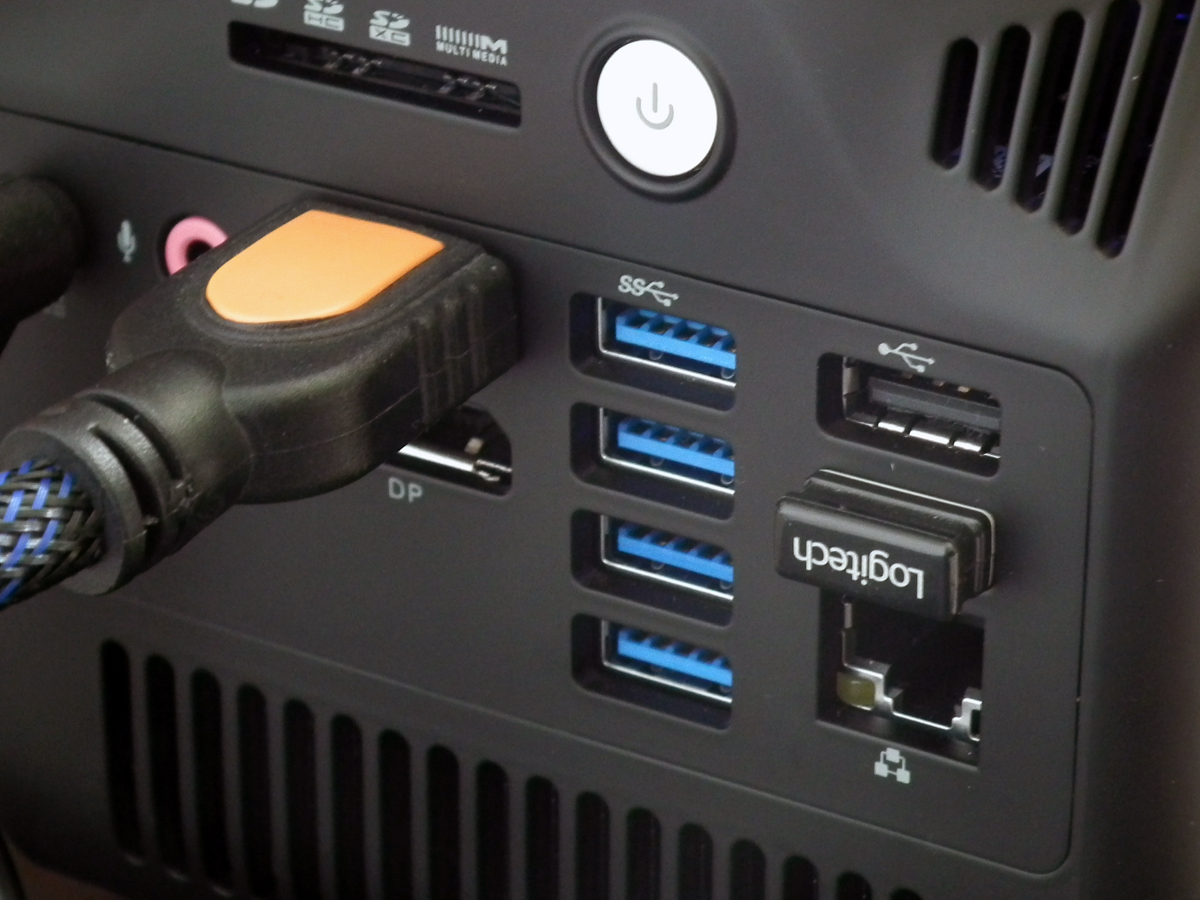 With Amazon's Fire TV and Google's Chromecast getting all the buzz lately, the living room is going to become a new battleground for dinky streaming devices, and in some ways this is the arena in which the Sphere is competing – it's certainly closer to that ballpark than that of the next-gen consoles, anyway.
As it can run proper desktop operating systems and therefore just about any piece of software out there it's obviously more of an all-rounder than the more dedicated streaming boxes and dongles, but it's also way more complicated and way more expensive.
It's also about £100 more than other similarly-specced mini-PCs, and while we love the shape we're not sure it's worth that much more.
READ MORE: Amazon's Fire TV box is a movie streamer, games console, babysitter and more
Zotac Zbox Sphere IO520 verdict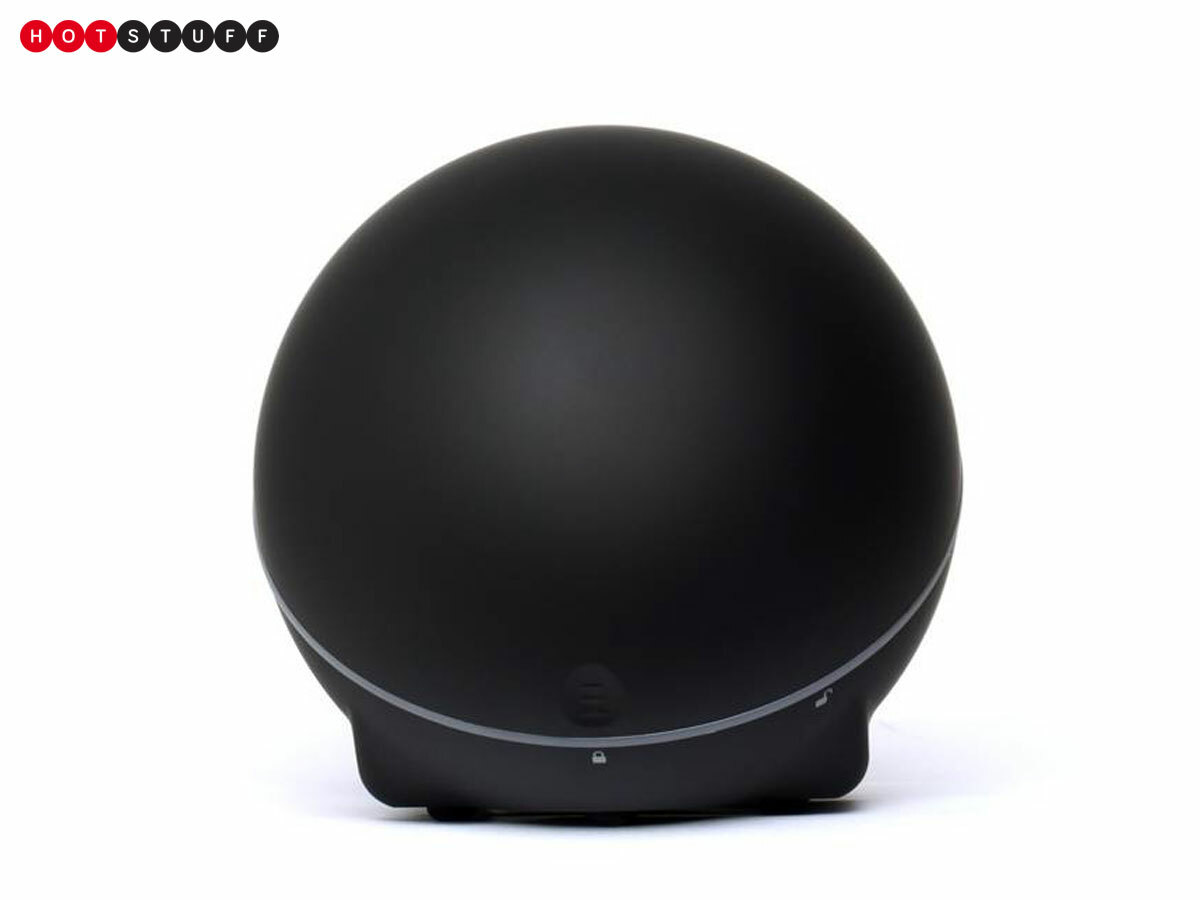 If you're holding out for a powerhouse PC in a little, lounge-friendly shell, the Zbox Sphere isn't it. But it is a really striking computer that can turn its hand to media playback or more mundane desktop activities with equal aplomb.
There are just a couple of drawbacks, though – the lack of a pre-installed operating system makes it a bit of an enthusiast's device, and it's an expensive one at that.
Still, if you are a bit of an enthusiast and you're enthusiastic about the spherical styling, we certainly wouldn't talk you out of rolling with Zotac's rounded mini-PC.
Stuff Says…
The performance isn't out of this world, but Zotac's globular take on the mini PC is still a spherical spectacle
Good Stuff
Unique design
Whisper quiet
Easy to upgrade
Bad Stuff
Not very gamey
Pricey compared to other options