Volvo XC90 T8 review
It's got more horses than a Wild West pony ranch, but Volvo's tech-filled new SUV is a green machine at heart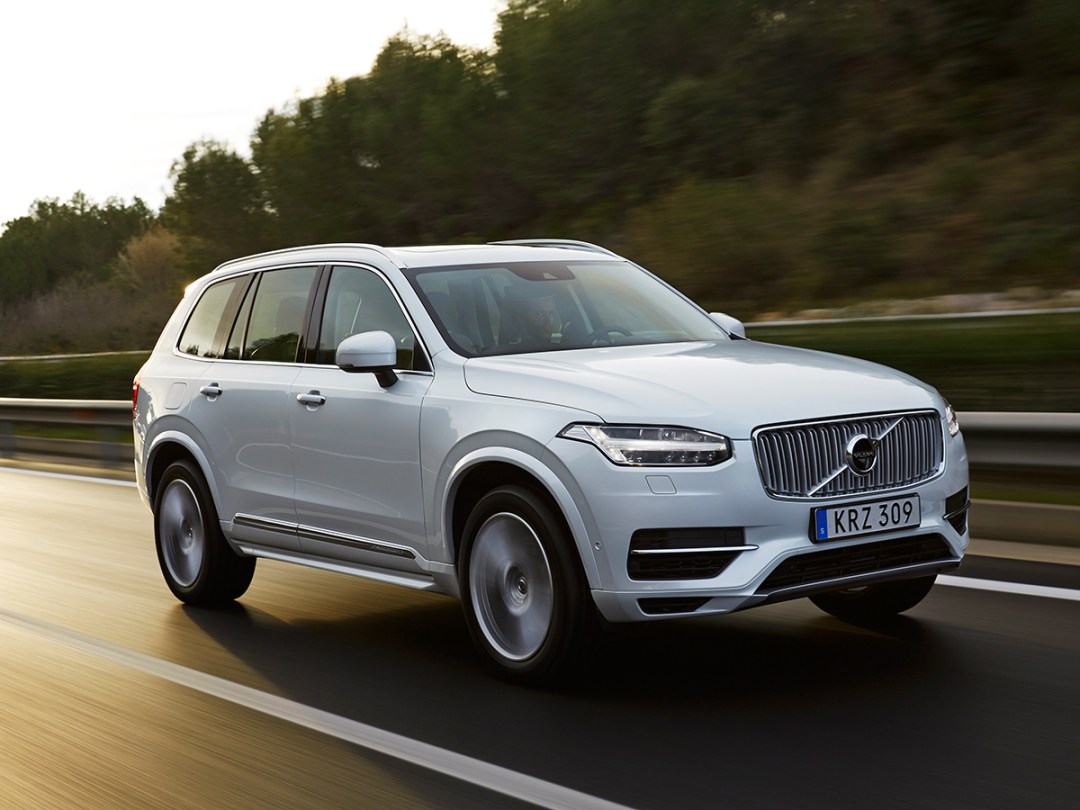 There are certain sections of the car-buying public that wouldn't be seen dead in anything but a posh SUV, and there are others that wouldn't touch one with their sustainably sourced eco-bargepole.
Volvo wants to satisfy both the Chelsea set and the badger set with the XC90 T8 – a full-blooded SUV with more tech toys than the top floor of Harrods, but a hybrid engine that keeps refueling prices low and polar bear numbers high. It could just be the coolest, most crowd pleasing-est 4×4 there's ever been.
Too much style for the school run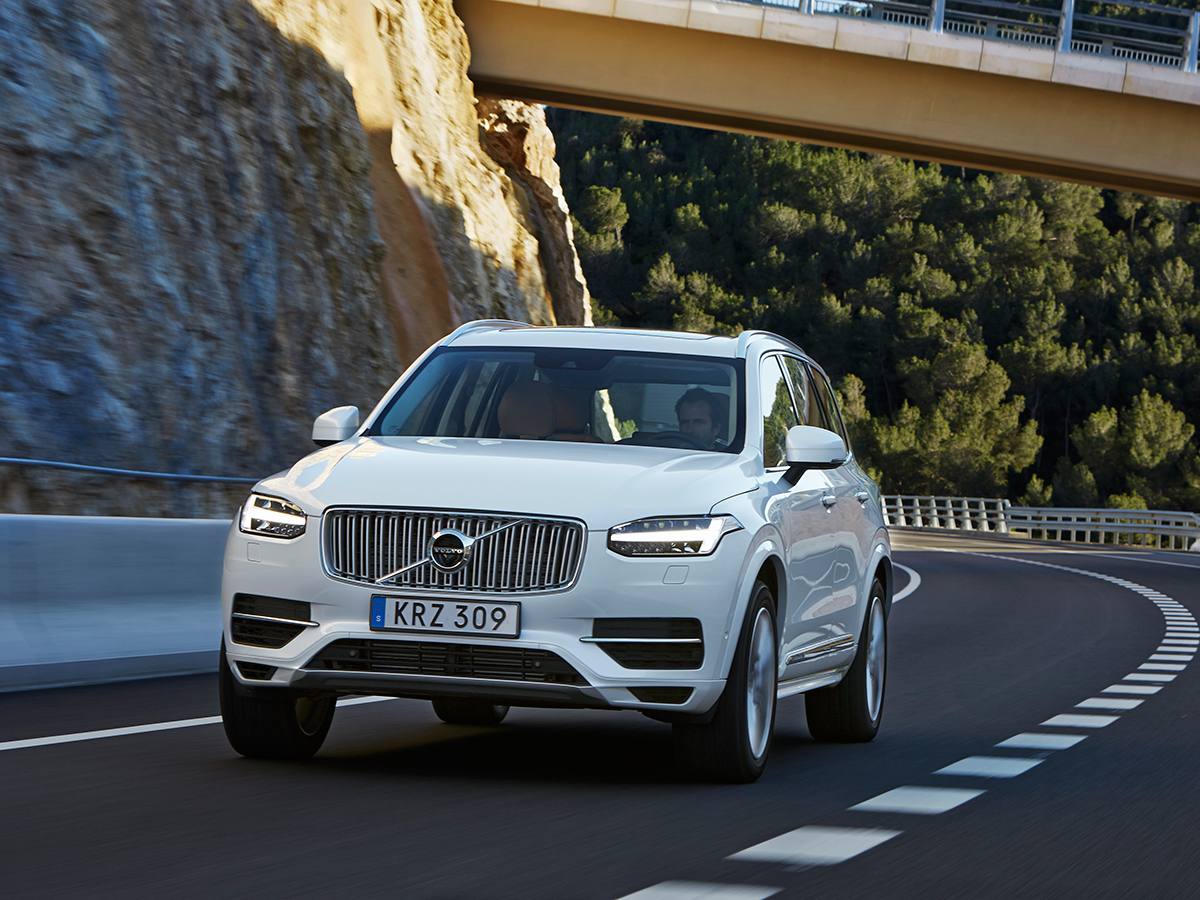 There's no getting away from the fact that the XC90 is designed to transport well-heeled families to and from polo practice but the latest version appears to be aimed at residents of Silicon Valley rather than Sloane Square.
A thorough exterior makeover includes' Thor's Hammer' daytime running lights at the front, sharper flanks and a re-designed badge for the front grille.
But the techy tweaks inside are even more extreme, with a fresh touch-screen infotainment system nestling in the centre of a dashboard that takes Swedish design to the next level.
Power to the people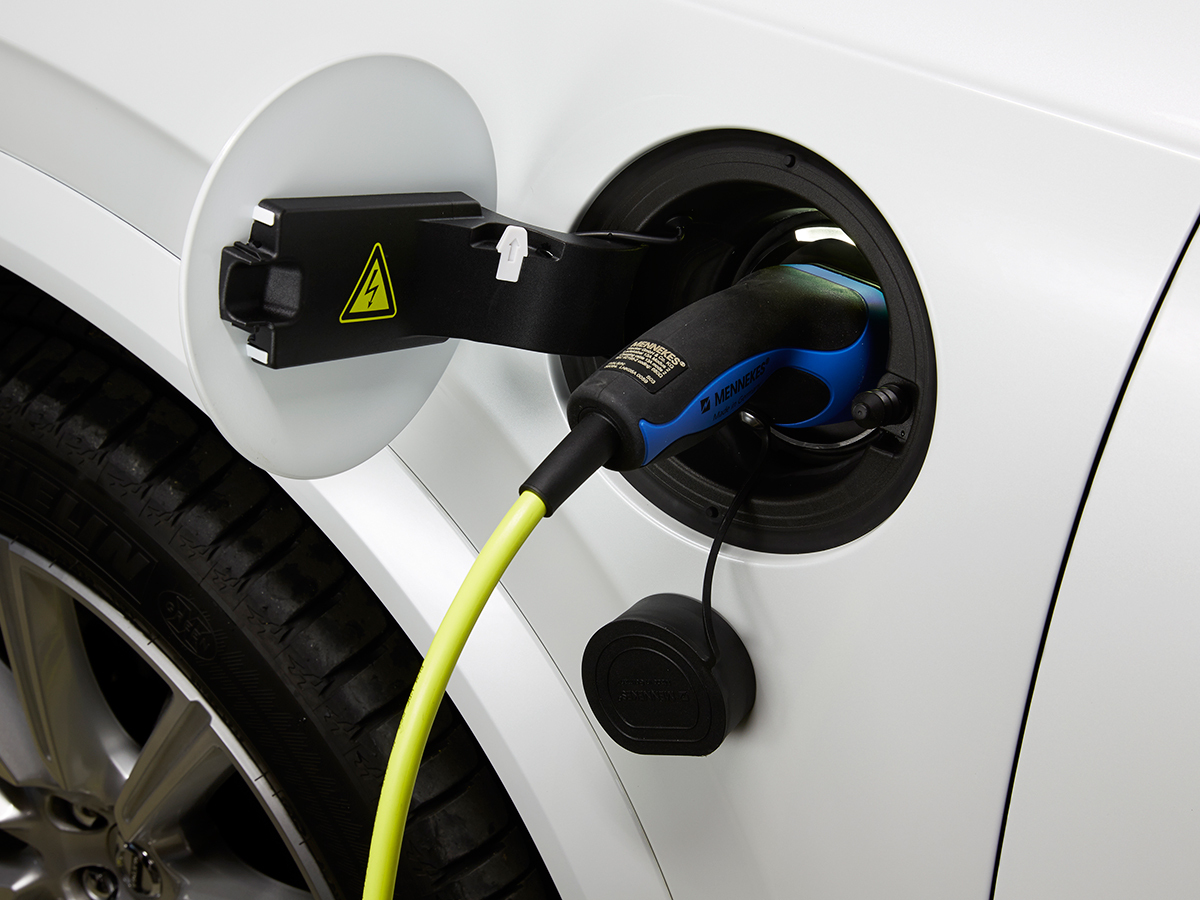 Average XC90 buyers will no doubt gravitate towards the more affordable 2.0-litre petrol and diesel offerings, which start at £45,550 and offer impressive performance and fuel consumption figures. But the most exciting of all is the T8 model, which is what I'm testing here.
The same 2.0-litre petrol engine found in the T6 model combines with a powerful electric motor to produce just shy of 400bhp and an impressive 0-62mph sprint of 5.9 seconds. It's expensive at £59,990, but customers won't have to pay road tax, can drive for around 20 miles on battery power alone and experience a warm, environmentally friendly glow due to the fact it produces just 59g/km of CO2.
Tactile tablet tech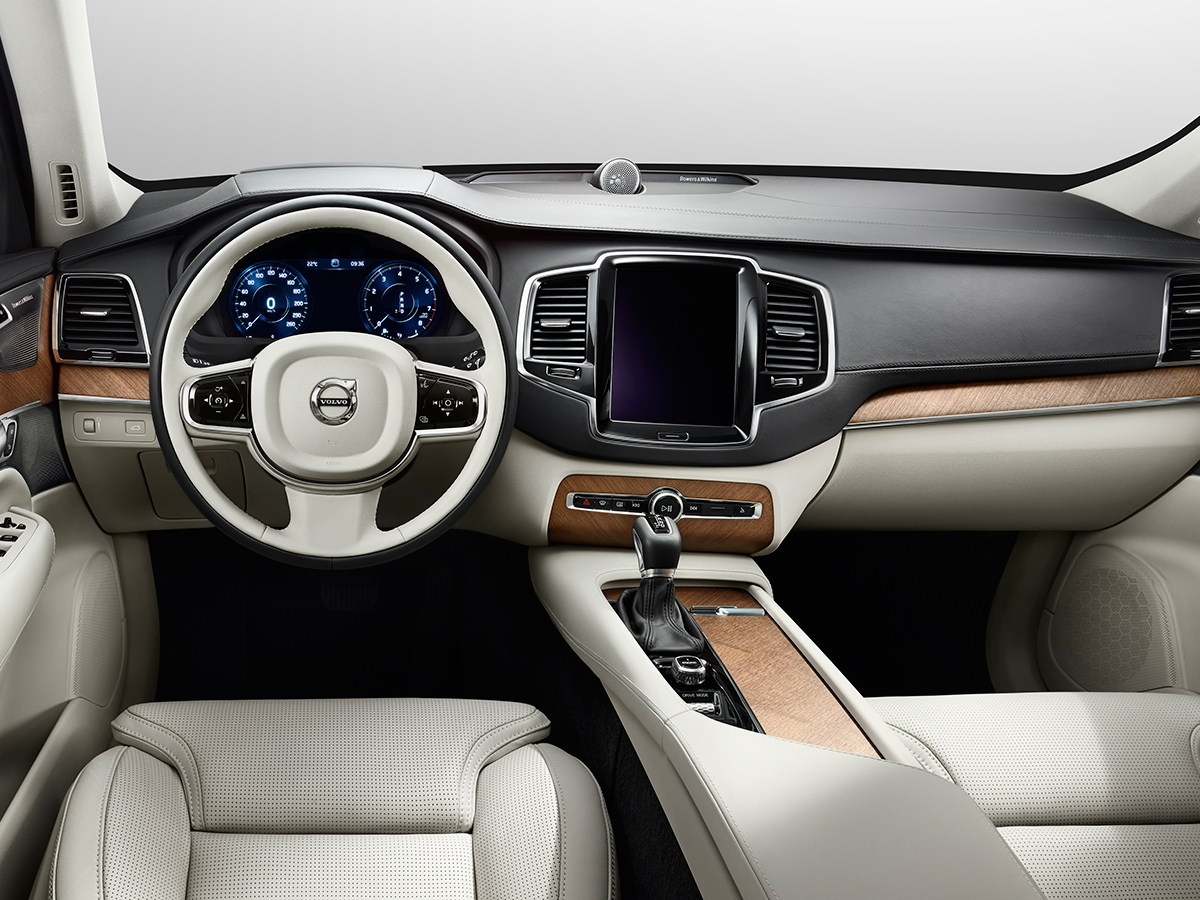 The new XC90's interior is an extremely stylish and comfortable place to be, with plenty of leather and deep carpets adding to the opulent aura.
The brain of the operation is in a new Sensus Connect infotainment system that replaces the old buttons and dials with a large 12.3-inch touch-screen display. Mounted vertically, the Sensus system is navigated much like an iPad in so much as you pinch, swipe and touch to access menus.
The main screen features a tile menu system that drops down to expand information and allows the user to jump backwards and forwards without having to wade through menu after menu. It takes a few minutes to get used to but is extremely easy to use once fathomed and can be operated via voice command so eyes never have to leave the road.
Constantly connected
Smartphones can be tethered to this new system via USB, Wi-Fi or Bluetooth, which means all manner of online functionality can be accessed on the move. Sensus Connect will also run Apple CarPlay and Android Auto, although both require a software update – the Apple one will come in "late 2015", while the Android Auto tweak hasn't yet been dated.
I did manage to get a look at Volvo's CarPlay integration, though. It appears as one of the Sensus home tiles – simply tap it and CarPlay drops down, allowing access to online radio, Apple Maps and the still-limited number of CarPlay-specific apps. You get access to Siri through CarPlay, too, but Volvo's own voice command system is also there to help you make phone calls, read messages aloud and reply to emails.
The Sensus Connect system looks great and is very slick when up and running, but the initial load time is slow. It takes around 10-seconds for everything to boot up but the navigation system can take twice that long. It's nothing to worry about but trying to adjust the climate control via the touch screen in a hurry during this boot up process can make everything grind to a halt.
Swedish details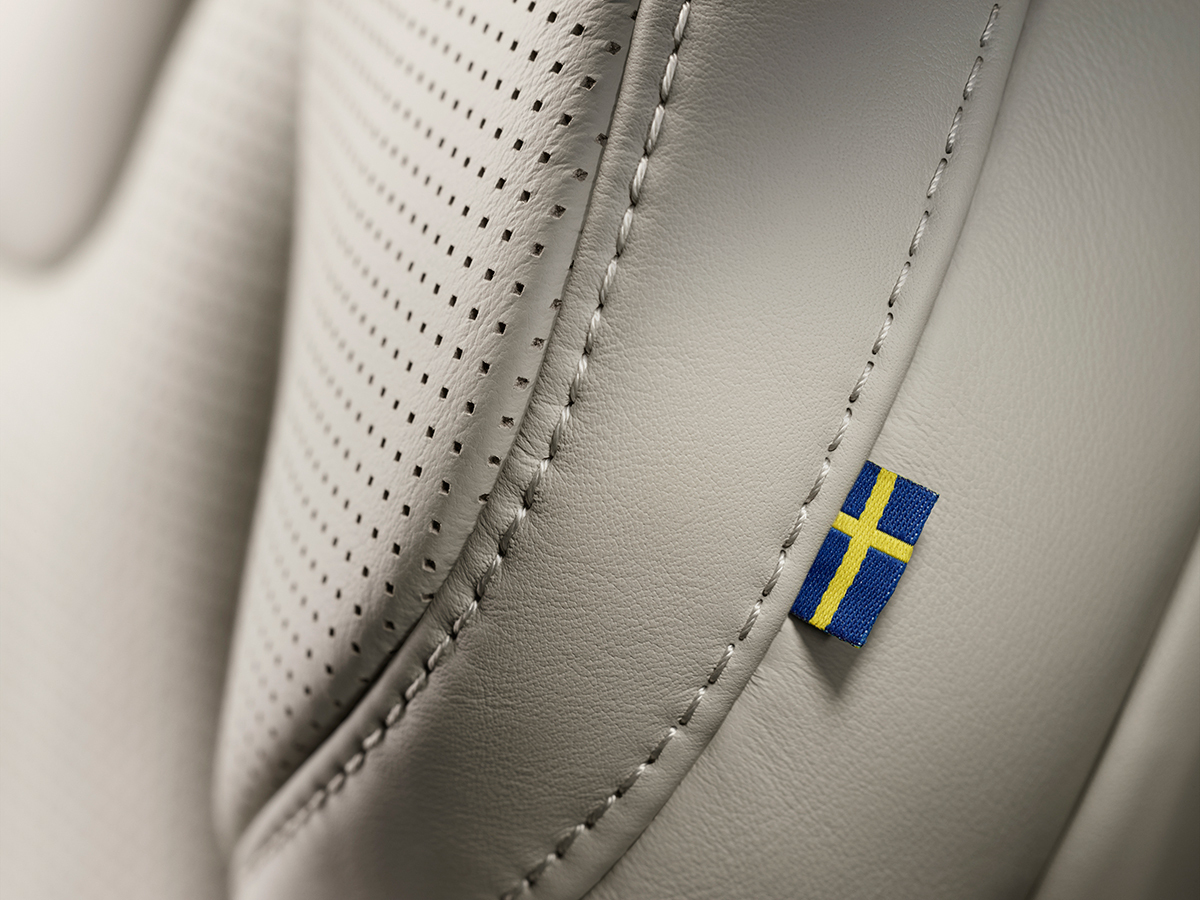 There are loads of hidden touches in the new XC90 that catapult the interior from 'quite nice' to 'really stunning'. The Swedish flag labels stitched into the leather seats, for example, or the gear shifter that's made from handmade Swedish crystal.
There are also seven seats, with the final row large enough to fit small adults or children comfortably, and loads of room in the boot for dogs and shopping. In fact, all rear seats can be folded individually, which transforms the XC90 from stylish family cruiser into a luxurious Transit van in which to transport even the largest items.
Drives like a dream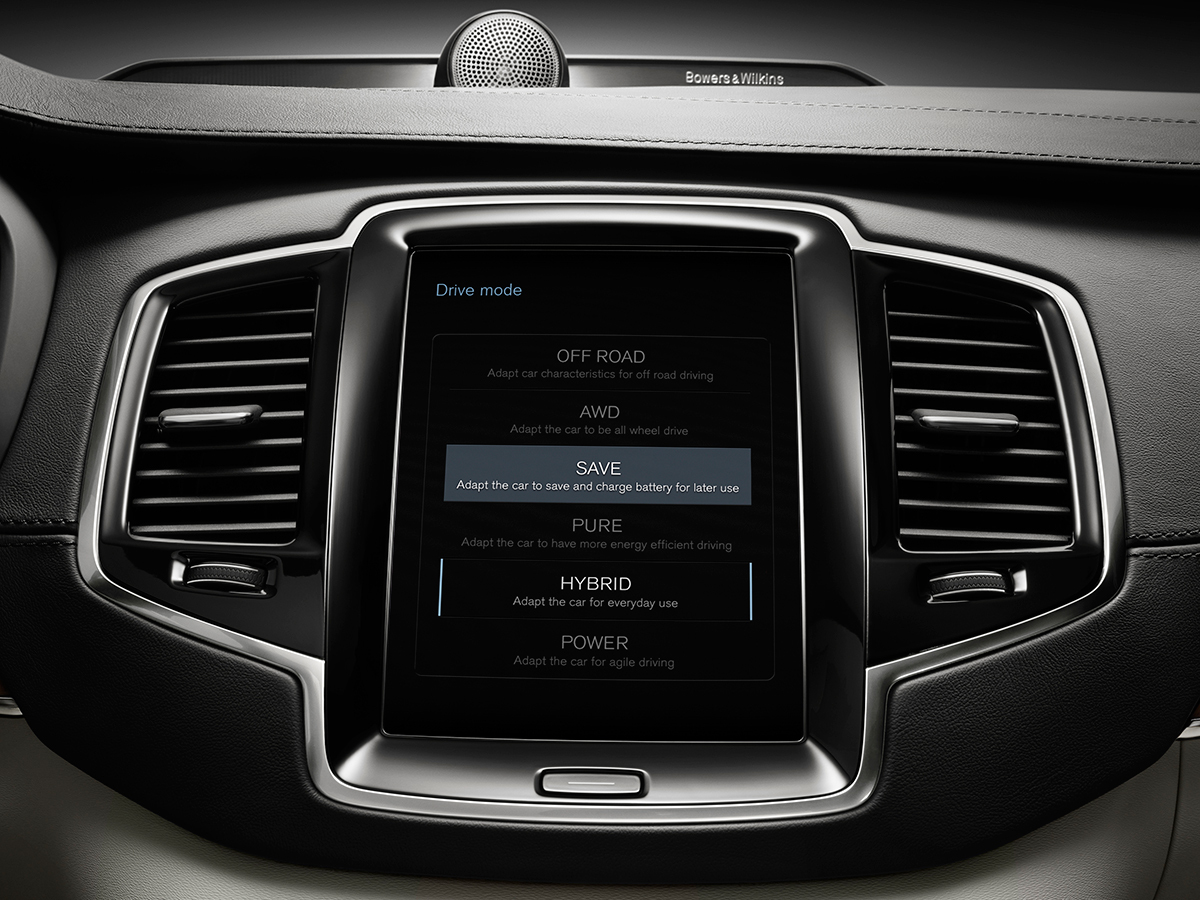 The plug-in hybrid T8 model I've been driving is a pre-production version – and it isn't without a few minor niggles. The brake pedal feels a bit nervous and 'grabby', while the gearbox gets a little muddled when rushed. These issues will quite possibly have been ironed out by the time the first XC90s hit showrooms, though, and elsewhere there's nothing to complain about.
The ride is extremely comfortable, especially with the optional air suspension added, and the XC90 eats miles with little fuss or noise. The T8 hybrid also features various driving modes, which are toggled via a stylish switch on the centre console, to cope with every situation.
Hybrid cleverly switches between all-electric and internal combustion power for the most comfortable ride, Pure Electric allows for emissions-free motoring for around 20-miles and Power Mode pumps all horses to all wheels for a sporty drive.
Drivers can also hit the AWD mode, which raises the suspension and readies the traction control for slippery off-road driving, while a Save mode charges the battery and preserves juice levels for later in the journey.
Volvo XC90 T8 verdict
The new XC90 is a vast improvement on its ageing predecessor and features some of the most impressive interior tech seen on any car today.
It also looks great, rides beautifully and can tackle the twistiest routes with little complaint; particularly impressive considering it weighs over two tonnes.
Volvo also remains the safest marque on sale, with the latest XC90 boasting pedestrian and cyclist detection tech, front collision and lane departure warning systems and a radar-based cruise control system that is one step away from full autonomous driving.
Tech specs
| | |
| --- | --- |
| Engine | 2.0-litre petrol + electric motor |
| Transmission | 8-speed automatic |
| Power | 393bhp |
| Torque | 400Nm |
| 0-60mph | 5.9 seconds |
| Top speed | 140mph |
| Economy | 112mpg (combined) |
| CO2 | 59 g/km |
| Weight | 2350kg |
Stuff Says…
Safe, stylish and a dream to drive; the new XC90 is a massive improvement over its predecessor and one of the smartest cars on the road
Good Stuff
Styling slicker than a greased gibbon
Hybrid powerplant packs a real punch
More gadgets than you can shake a selfie-stick at
Bad Stuff
Hybrid T8 is expensive
Fast, but this is no sports car