Volkswagen ID 3 review: refreshed in most of the right places
Updated EV hatchback looks slicker and still goes the distance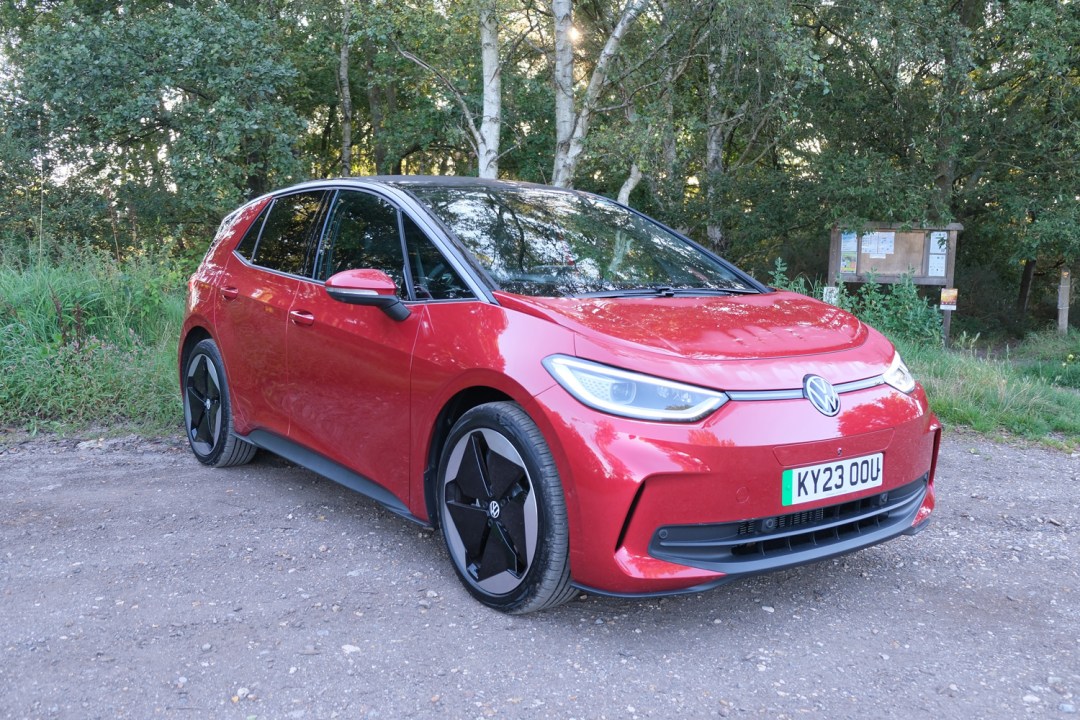 Stuff Verdict
As well-rounded as electric hatchbacks get, the ID 3 is comfortable and has excellent range in top-spec trim. Some infotainment irks remain, though.
Pros
Sprightly performance and plenty of range
Expansive, well-appointed cabin
Charging speeds faster than ever
Cons
Infotainment still bettered by rivals
Expensive versus the competition
Introduction
First there was the Beetle. Then came the Golf. The ID 3 was supposed to be Volkswagen's third era family hatchback, one that would catapult the brand into the electric age. Only software gremlins and an increasingly strong set of rivals meant it hasn't been the success its maker was perhaps hoping for.
In order to better defend against surprise hits such as the MG4 EV and BYD Dolphin, VW has overhauled its mainstream EV with subtle but welcome upgrades where they matter most. Styling has been tweaked, interior materials changed, and the infotainment system triaged.
Battery, range and performance largely stays the same, meaning the ID 3 Pro S tested here is still the pick of the bunch: it'll do almost 350 miles on a charge, is nippy enough for a family car, and has plenty of interior space. But with prices climbing ever higher, is there enough here to bring shoppers back into the fold?
The styling: made with purpose
The ID 3 was a striking thing when it first went on sale, evolving the family car concept embodied by the Golf with taller proportions and shorter overhangs. The abundance of black trim wasn't to all tastes, though – and neither was the busy front end an unkind person would say was styled like a grinning clown.
Both points have been addressed for the refresh, which adds a more traditional, colour-matched bonnet and a more purposeful front bumper. There are also a handful of new paint choices to set it further apart from the pre-facelift model. It looks a lot sharper as a result, especially in the Kings Red metallic paint and contrasting black roof seen here.
LED lights, an optional illuminated front grille and a subtle boot spoiler complete the look, though if it were us ticking the options boxes we're not sure the aero-style wheels would make the cut. The 19in alloys it rides on by default are easier on the eye.
Things have been upgraded inside too, with more soft-touch materials on the surfaces in close reach of driver and passenger. It looks the part, but there are still plenty of scratchy plastics elsewhere. That wouldn't surprise on a family car a decade or two ago, but irks today when you're spending £50,000 or more on one.
This is still a very practical family car, with wide rear doors, plenty of legroom and 385 litres of seats-up boot space for comfortably swallowing a pushchair or the weekly family food shop. Just keep in mind the Pro S only has two rear seats, rather than the three you'll get in versions with the smaller battery.
The drive: adept all 'round
The ID 3's lounge-like front seats don't exactly pin you in place, and with reasonably stiff suspension needed to support the hefty battery, there's a fair bit of jostling on rougher roads. You couldn't call it uncomfortable, though, and on smoother surfaces it feels very well composed.
Light steering and a super-tight turning circle make this a car that's very happy in towns and cities. Even on its highest setting the regenerative braking still can't quite pull off one-pedal driving, but it's sufficiently smooth when slowing you down.
There's not an awful lot of driver feedback, but it grips well in most conditions and turns in with a good deal of precision. You can feel its weight through corners, and there's not quite the fun factor of a petrol hatchback, but there's more entertainment to be had here than crossover EVs including the DS 3.
VW reckons the 77kW battery inside the ID 3 Pro S is good for 347 miles between charges. We didn't see quite that much in real-world driving, but in the summer months it should manage about 300 miles in a single journey. The optional heat pump will hopefully keep that figure fairly high in the winter, too, though we didn't get the chance to test it. Even at motorway speeds, the range estimate was always on the money. The Pro S also gets faster 170kW charging, up from 120kW in the base car. That's handy if you're regularly driving long distances via a rapid charger, but not so much quicker you won't have time to buy a coffee and take a toilet break.
You pay a weight penalty for the bigger battery, but it never felt slow under foot, with 201bhp proving more than sufficient for getting the near-two tonne car up to speed. We're not talking hot hatch performance any more, but a 60mph sprint that just dips under eight seconds is still sprightly for a family runabout. If you want more power, there's likely to be an ID 3 GTX variant arriving at some point in the future – or there's the 429bhp MG4 EV XPower in the meantime.
The technology: finally faster
The biggest black mark on the outgoing car's record was its sluggish, crash-prone infotainment system. Volkswagen has addressed that for the facelifted ID 3, with new software and faster internals that makes the interface a lot more responsive to your various taps and prods. UK cars stick with a 10in touchscreen, rather than the larger 12in one now offered on left-hand drive models, but it still looks plenty sharp and detailed. The UI is easy enough to get around, and plays nicely with both Android Auto and Apple CarPlay.
We'd say it was worth sticking with the on-board navigation purely for the optional augmented reality heads up display, which shows driving instructions in real-time; huge arrows appear in your line of vision as you approach junctions and driver alert warnings are impossible to miss. It's the first time this sort of tech has filtered down from more high-end models, and is the biggest part of the £770 Interior Pack, which also adds colour-changing ambient lighting and a sound-insulating windscreen.
The instrument cluster sticks with the same compact, 5.3in digital display as before, displaying nothing but the essentials. It's easy to read at a glance and was never obscured by the steering wheel, which is a common complaint with Peugeot's i-cockpit dashboard.
Frustratingly, illuminated volume and temperature sliders still don't make the grade. Adjusting either while driving at night is still a literal stab in the dark, and it'll apparently be 2024 before that finally changes. Most settings are still controlled through the touchscreen, which is less convenient than physical knobs and dials in our book.
Volkswagen ID 3 verdict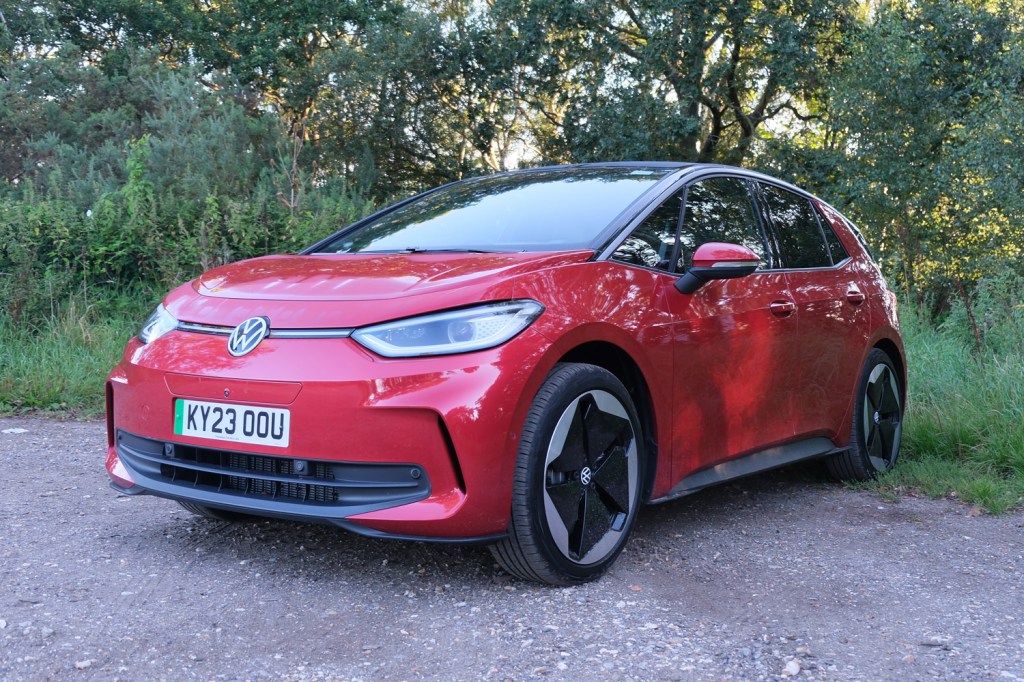 VW would maybe say otherwise, but it always felt the ID 3 was meant to replace the Golf as the defining family hatchback – yet the original version didn't quite nail it. This refreshed model gets a lot closer, thanks to its streamlined looks and improved interior. The top-spec ID 3 Pro S has just the right amount of pep for spirited-yet-legal driving, doesn't skimp on range, and can still entertain on the right road in ways electric crossovers and SUVs can't quite match.
The infotainment upgrades arguably don't quite go far enough to make this a slam-dunk, though, even with some welcome OTA upgrades and a more responsive interface. You can't really consider it a "car of the people" when it'll set you back north of £51,000 after options, either. That puts it at a premium compared to the current crop of electric family cars, which are quickly catching up on range, ride comfort and in-car tech.
Even so, we can't ignore the badge appeal Volkswagen rightly carries. If you care what you're seen behind the wheel of, there's plenty here to keep you happy.
Stuff Says…
As well-rounded as electric hatchbacks get, the ID 3 is comfortable and has excellent range in top-spec trim. Some infotainment irks remain, though.
Pros
Sprightly performance and plenty of range
Expansive, well-appointed cabin
Charging speeds faster than ever
Cons
Infotainment still bettered by rivals
Expensive versus the competition
VW ID 3 Pro S technical specifications
| | |
| --- | --- |
| Powertrain | Single motor, rear-wheel drive |
| Battery | 77kW |
| Power | 201bhp |
| Torque | 228lb ft |
| 0-60mph | 7.9sec |
| Top speed | 99mph |
| Range | 347 miles |
| Charge rate | 170kWh |
| Cargo volume | 385 litres |