The Division review
It's big, it's beautiful and it's the best game we've played in ages
Hello. My name is Tom Parsons and I am a Division addict.
I could see it coming, too: The Division combines Destiny's super-addictive gameplay loops, levelling and looting with a grittier, more beautiful, more realistic setting, edgier, more strategic combat, and a story that tugs at modern-day fears of killer viruses and subsequent societal collapse.
It's the kind of tantalising recipe that Mary Berry herself would be proud of. Like the infection that has ravaged New York in the game's backstory, The Division has been engineered to get right under the skin of us susceptible gamers, and in my case it's worked incredibly efficiently. 
In fact, judging by what I've seen in the support groups – by which I mean Reddit – it's had the same effect on many, many others too. But that's OK, because this is one addiction that's exceptionally good fun. 
An irresistible recipe
When Destiny launched back in 2014, it created a new gaming genre known as the shared-world shooter. It's a genre that's designed to combine the best parts of single-player gaming with the best parts of massively multiplayer online RPGs. In other words, to create a game in which you feel like a hero and aren't constantly surrounded by other players breaking your fourth wall (phrasing), but one that also makes you feel as though you're part of something bigger and more dynamic by seamlessly connecting you to other players for specific activities.
It's a template that The Division has followed as if it's a Lego instruction manual. So you can tackle the entire game on your own, if you like. You still need to be connected to the internet and you'll occasionally encounter other players in the game's Safe Zones and Dark Zone (should you dare venture into the latter), but you'll essentially be playing a single-player game, tackling missions, killing computer-controlled bad guys, hunting down collectibles and upgrading your character and gear.
Looked at entirely in that narrow light, The Division is a fine game, but it's far better when you engage with others. The first 45mins or so aside, the entire game can be played with up to three buddies as your squad mates. You're not tied to each other, though: you can be on the other side of the city to the rest of your team if you want, although obviously that won't make you a particularly effective combat unit.
Most players, of course, will want to mix things up, and The Division supports that admirably. Wandering around on the hunt for the game's collectibles (phones, dossiers, missing agents, etc) is the game's most mundane activity and is best tackled on your tod, but the main missions are best approached with companions. These can be done at any time or in any order, although there is a recommended minimum level.
None of your Division-playing mates available? Matchmaking is super fast and fluid, and can be activated at the starting point of any mission or in any of the safe houses. You can go from lone wolf to part of a four-man killing machine in a matter of moments.
What's my motivation?
But let's go back a step: why are you shooting your way through New York? And why's it so darn messy everywhere?
The inspiration for The Division is Dark Winter, a real-life US government simulation that tested the impact a smallpox outbreak would have on an American city. Its terrifying conclusion was that the entire country would be in meltdown within five days as food, water and electricity ran out and everyone started shooting each other for tins of beans.
Given how quickly things break down in the UK every time there's a light dusting of snow, that sounds pretty accurate. In The Division's world, that's exactly what's happened to New York. Millions have died, law and order has completely broken down, and those that didn't get out before the lockdown are stuck inside fighting starvation and trying to avoid the looters and gangs that are rife in this now-lawless land.
You're a sleeper agent of The Division, intended to operate autonomously in the event of a government-crippling disaster. Your job is to enter New York and start clearing the place up. At the centre of things is your Base of Operations, which has been set-up in the famous James A. Farley Post Office building in Manhattan. It's seen better days, though, and your overriding mission is to put it back in order, first by completing three missions that open all three of the BoO's wings (medical, tech and security), and then completing further missions for each wing to unlock more facilities until the base is operating at 100%.
The real motivation is more selfish: you really want to complete missions and hunt collectibles for the delicious rewards, which come in the form of weapons and 'gear' (essentially armour), and the experience points that push you up the character levels and unlock yet better stuff.
The never-ending quest for loot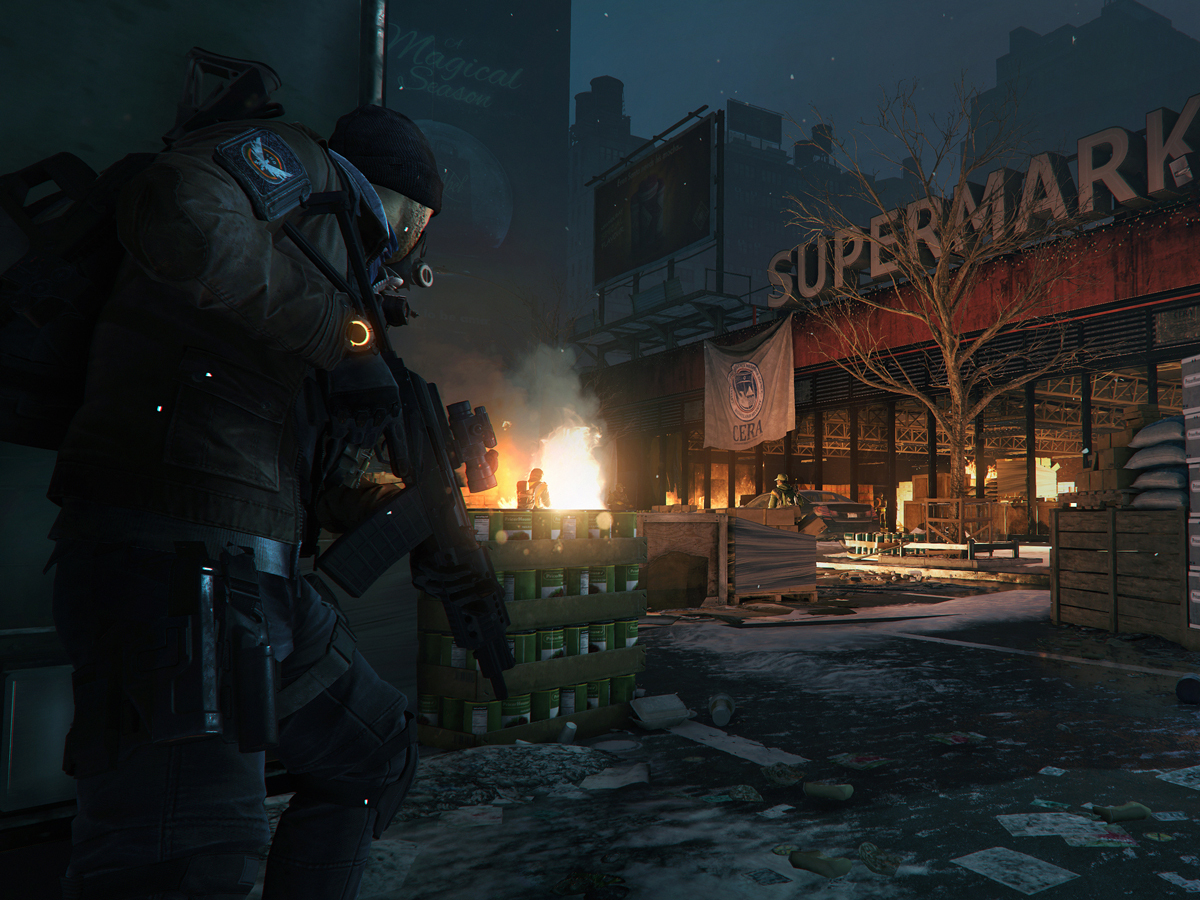 Yep, it's a good ol' loot grind. Look at it on the page and it sounds a ridiculously boring reason to play, but in reality it's an irresistible compulsion in many games, and even more so here thanks to the quality of The Division's weapons and modification systems.
As with many of the game's systems, the weapons (and general inventory) can be pretty overwhelming at first. You carry a primary, secondary and sidearm, with the first two categories entirely interchangeable so an assault rifle, LMG, SMG, marksman rifle or shotgun can fill either slot – or both, although that wouldn't make you a very flexible soldier.
Each weapon has its own DPS stat (damage per second), and many players will use only that when deciding which firearm to carry, but there are many other stats that the dedicated Division agent will want to take into consideration, such as range, reload speed and accuracy.
On top of that, each gun can be modified by changing up to four parts: the scope, magazine, underbarrel and muzzle (plus the paint job). It's a huge amount to take in at first, but RPG fans will be delighted at the amount of tinkering available, while those who pay attention to only the DPS stat will still be just fine right up to the very end of the game.
Whichever sort of player you are, finding a new mod can be just as exciting as finding a new gun.
Meaningful mods
The Division's weapon upgrade feature offers far greater freedom than the one found in Destiny. While in the latter your modification options are limited to locked-in presets, in the former you can change scopes, grips, and add gun barrel customisations, while letting you see just how much they'll improve weapon performance in cold, hard numbers.
Of one scope in Destiny, for example, you're told that it "improves target acquisition" (thanks for the in-depth info guys); swapping to a scope in The Division shows that it'll increase critical damage deal by 17% – far more useful, I think you'll agree.
Oh, and you can spray paint your gun really horrible, garish colours too, which is nice if you're into that sort of thing.