Sony XR-55A90J review
One of the best OLED TVs around... at a price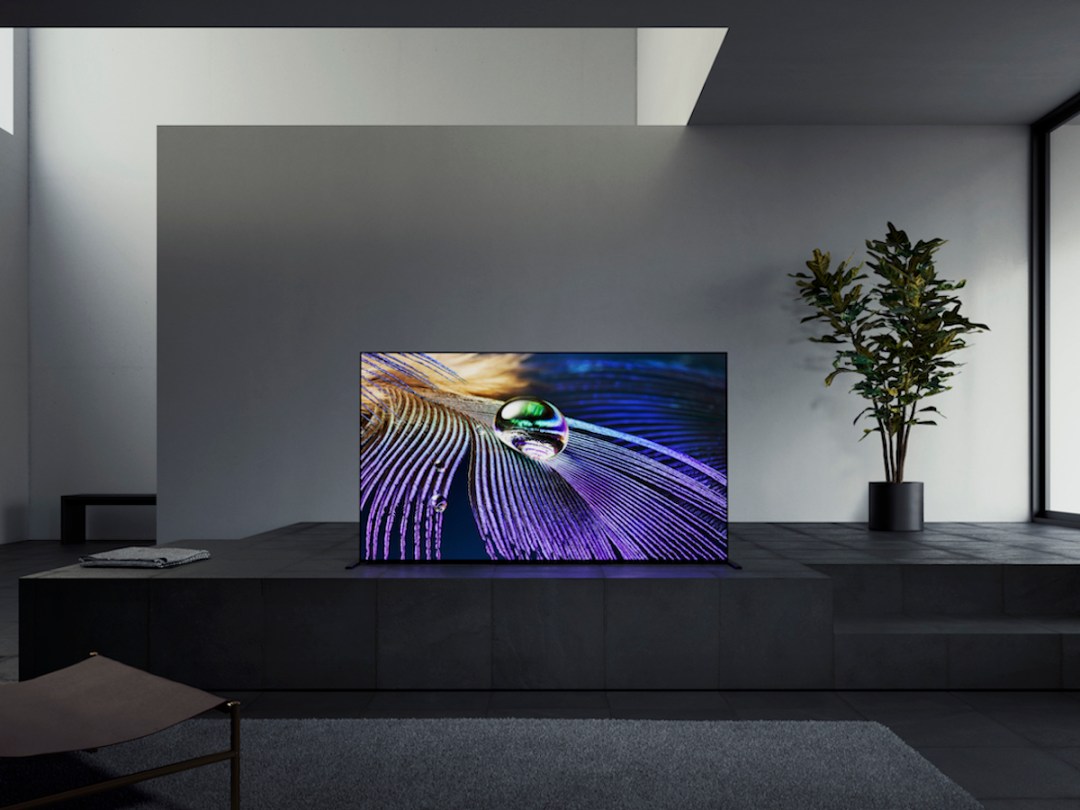 There's nothing novel or ground-breaking about what Sony's trying to do with its new XR-A90J range of 4K HDR OLED TVs. The XR-55A90J is the sweet spot size-wise, sure. But just like every other manufacturer that takes things seriously, Sony is shooting for great picture quality, a brilliant smart TV portal, sound quality that's the right side of 'ugly' and, of course, a good-looking and well-made product.
Looks simple when it's written down, doesn't it? This is a competitive market, though, and getting more cut-throat all the time. So can Sony possibly meet all those criteria to the point that the XR-55A90J can justify its hefty asking price?
Sony XR-55A90J: Price
The Sony XR-A90J range is on sale now, and this 55in version we're testing can be yours for a not-inconsiderable £2699. If you need something a bit bigger, there's a 65in variant going for £3499, and if you need something a lot bigger you could always consider the 83in range-topper.
We understand there's no official price as yet, but given that it costs $7999 in America it's pretty safe to say it's going to be properly expensive. Mind you, £2699 is fairly expensive for a 55in TV these days, even a posh Sony OLED.
Very worthwhile screens from the likes of LG (with its excellent C1) and Philips (the USP-heavy OLED+935) cost less at this size – and if you can stomach the idea of sniffing out an outgoing 2020 model, then you can make even more of a saving over the Sony XR055A90J.
It's not as if the company has just slapped a price-tag on this television and hoped for the best, though. From the OLED panel itself, via the picture processing engine and the new smart TV interface, to the multi-position feet which it stands on, the Sony XR-55A90J is quite obviously the result of some rigorous thinking and equally rigorous engineering.
Sony XR-55A90J: Features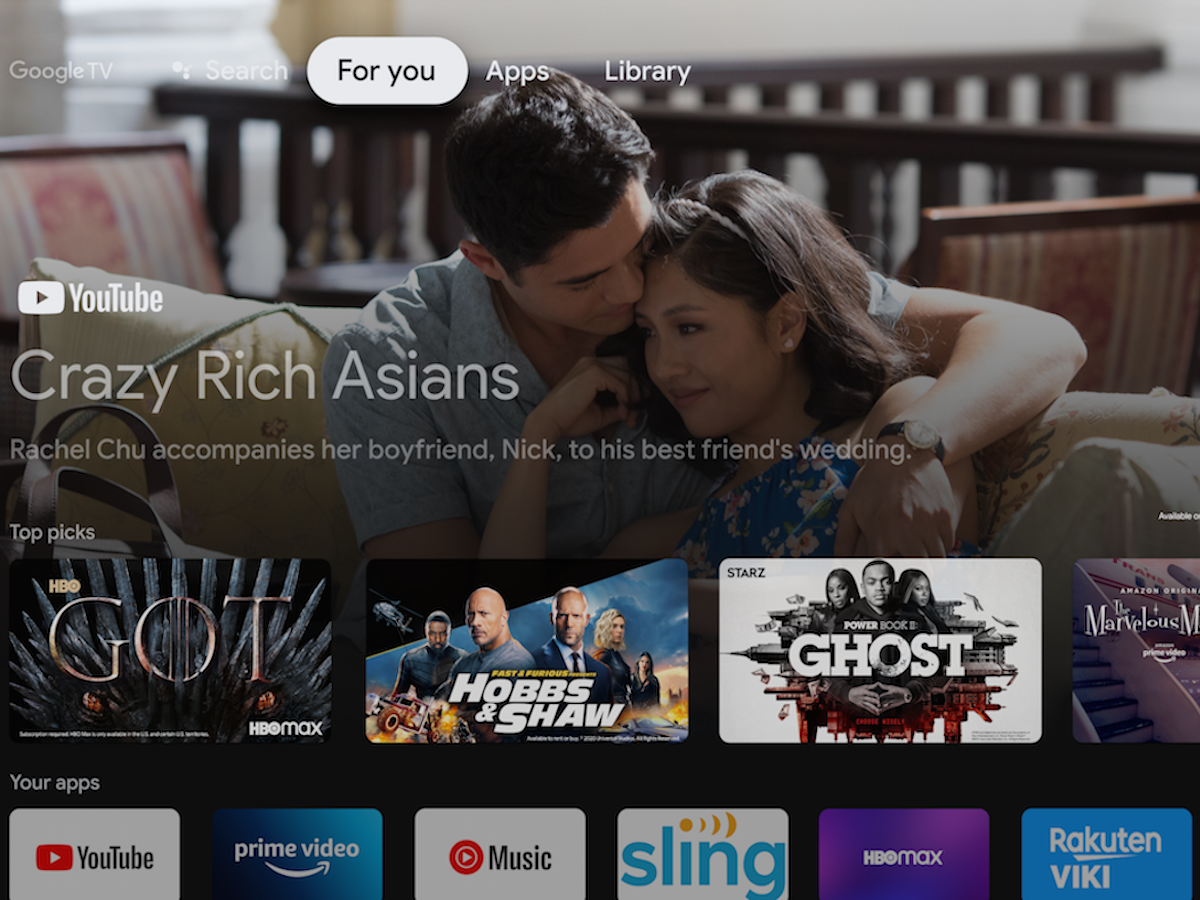 Take a deep breath, then, because the Sony XR-55A90J has quite a few features worth discussing.
Physically, it's one of those 'slim-yet-not-slim' OLED screens we still find ourselves a little disappointed by. There's a brief portion at the top of the chassis that's just 6mm deep, which is one of the things that's so compelling about OLED technology. But below there, the majority of the chassis is a much less exciting 41mm deep, because an OLED has to keep its electronics, its collection of inputs and outputs, and (in the case of the A90J) its couple of rear-firing low-frequency speaker drivers somewhere, right?
Still, if the depth of the Sony deters you from hanging it on the wall at least its feet are earning their keep. In their first position, the bottom of the screen is mere nanometres from the surface it's standing on, while in position two they raise the screen high enough to accommodate a soundbar beneath it.
Sony has gone to some lengths to make sure you don't need a soundbar, though. Its rear-firing drivers support its Acoustic Surface Audio+ technology, which basically turns the entire surface of the screen into a speaker. Sony likes it so much it's included speaker connections at the back of the A90J, so it can be used as the centre channel of a surround-sound system.
There are plenty of connections available: four HDMI sockets, three USBs, an Ethernet input (plus wi-fi too, naturally), aerial posts for the twin TV tuners, even composite video inputs for those who simply will not give up their VCR. Two of the HDMI sockets have some HDMI 2.1 compatibility, with 4K @ 120Hz, ALLM and 48gbps all supported. And one of those two is eARC-enabled too.
The XR-A90J features Sony's latest picture-processing engine – it's called XR. In simple terms, it takes all the good AI machine-learning capabilities of the old X1 processor and adds 'cognitive intelligence' too. The idea is to combine the AI analysis of picture performance and supplement it with more in-depth scenes analysis across multiple zones. So the XR processor examines depth of field, detail levels, colour, contrast and all the other elements that constitute a picture and attempts to make them as lifelike and believable as possible.
What the XR processor won't have to trouble itself with, though, is HDR10+ dynamic metadata. Sony's left it off the spec-list – although it does have the Dolby Vision alternative. One day, all TV companies will be as pragmatic (and grown-up) as Panasonic and Philips.
Sony has ditched Android TV as its smart TV interface, and we can't believe anyone will be too upset when they see the Google TV interface that has replaced it. It's clean, logical and much less pushy than Android TV – and while its recommendation algorithms need some finessing, it's a more usable interface overall.
It has somehow, however, contrived to omit every UK TV catch-up service, though, which is a faux pas of considerable proportions. A fix is promised for 'later' in 2021 – we shall see.
Google TV features Sony's exclusive 'Bravia Core' streaming service here, too, which is a genuine and unambiguous positive. The selection of content is extensive, you get super-high quality streams if your broadband is up to it, and there's even some stuff on there with IMAX Enhanced certification.
Navigation of the interface, set-up menus and what-have-you is done using a new, redesigned remote control. It looks and feels quite stylish, doesn't have too many buttons but does have some backlighting. So that's good news all around.
Sony XR-55A90J: Comparisons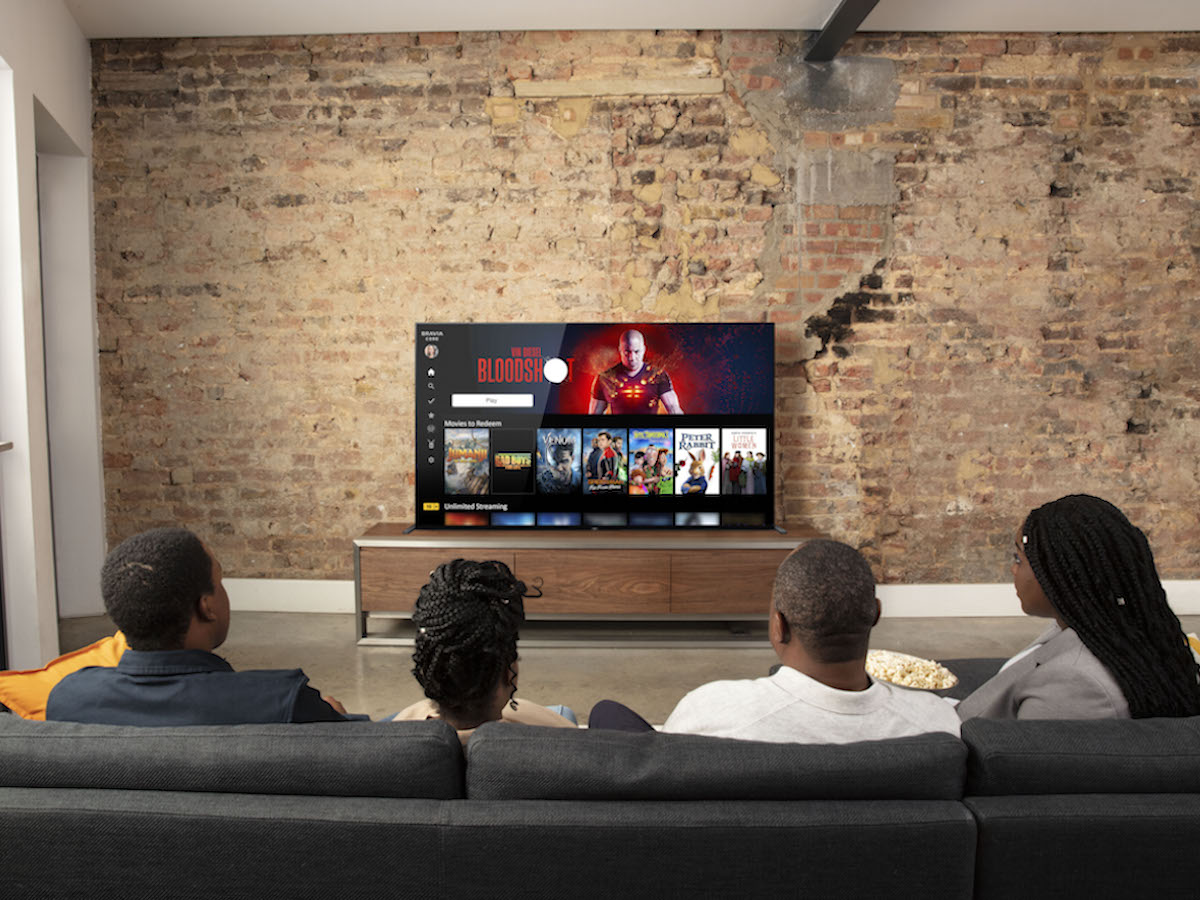 The Sony XR-55A90J is not short of competition – just have a look at the model line-ups from LG, Panasonic and Philips (to name but three) and it's obvious. If you want a 55in OLED screen and you're not shopping at the budget end of the market, you're spoiled for choice.
LG can offer both value for money (a 55in model from its 'C1′ range is a full £1K less expensive than the A90J) and full-on performance (its 'evo' OLED panel is as bright as you'll see, and the 'Gallery' range to which its fitted is a much slimmer and more decorative proposition than the A90J).
And in addition, LG has been making every one of its screens' HDMI inputs fully 2.1-compliant for quite a while now, which should put it ahead where next-gen gamers are concerned.
Philips has not one but two unique selling points on some of its premium OLED TVs: Ambilight (which makes for a more immersive, bigger-seeming and more restful viewing experience) and sound by Bowers & Wilkins (which is an external sound solution similar to a soundbar). Philips also gives you every HDR standard.
Panasonic does that too, and its OLED TVs also have the cachet of being used in some of Hollywood's most prestigious mastering studios and are available with external sound solutions from sister company Technics. And, of course, it's not just OLED TVs that are lining up to take the A90J down.
Samsung has recently introduced its range of Mini LED screens (they're called 'neoQLED') and the results are impressive so far. Plus they're about as slim as an LG G1 'Gallery' screen, which is quite a lot slimmer than an A90J. It almost goes without saying that each of these alternative screens has its strengths where picture performance is concerned. So the take-aways are these: we (as consumers) are spoiled for choice, and the Sony XR-55A90J has its work cut out.
Sony XR-55A90J: Verdict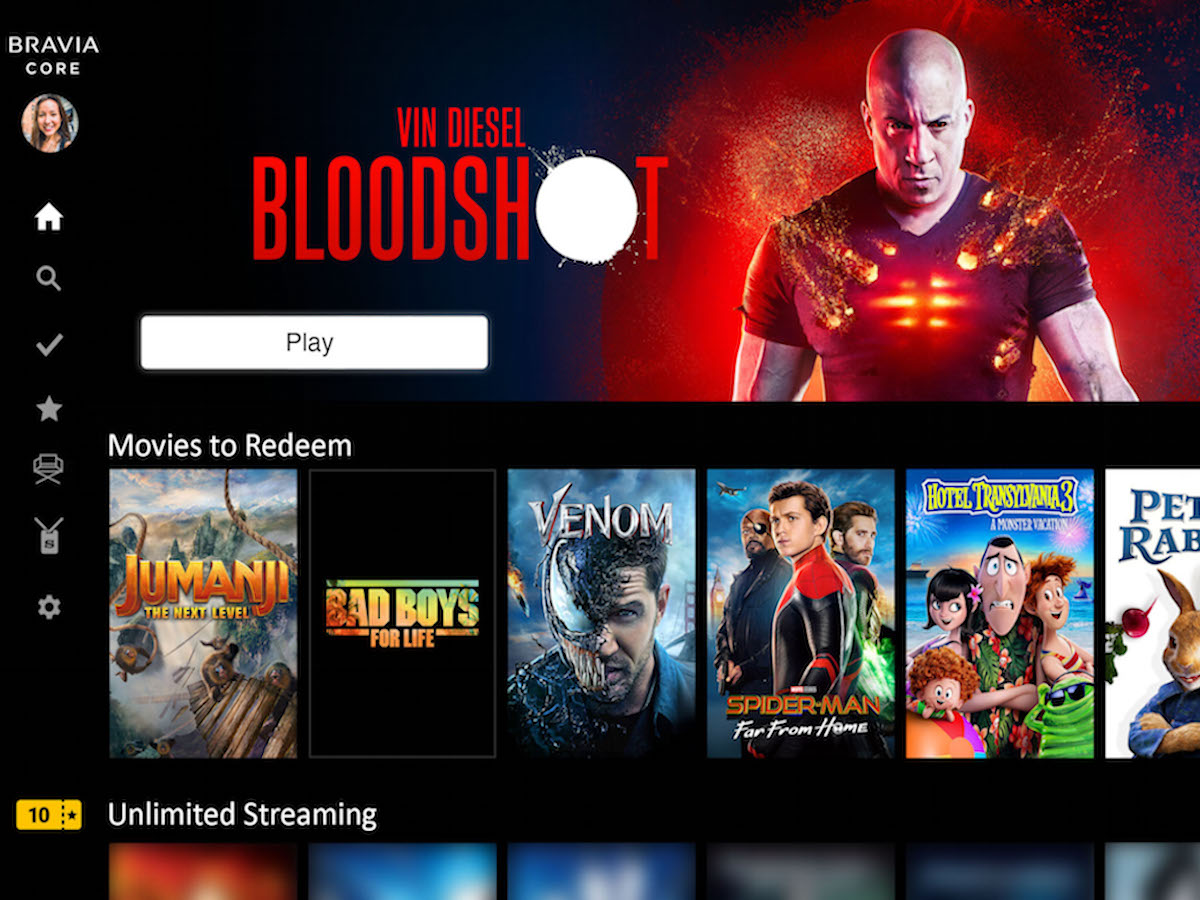 Let's cut to the chase, shall we? The Sony XR-55A90J is a brilliantly accomplished television, one that delivers utterly absorbing and completely believable images from pretty much any source.
Native 4K content looks deeply impressive. In every major area, the Sony scores highly: its black levels are classic OLED in their depth, but they're also very detailed. White tones pop from the screen in a most unOLED fashion, and they're equally loaded with information.
The colour palette is extensive, nuanced and believable. Edge-definition is assured. And where motion is concerned, the Sony just doesn't put a foot wrong: slow or rapid, horizontal or vertical, simple or complex, it doesn't make any difference. The Sony describes it with real solidity. It's a very accomplished upscaler of lower-resolution content, too. Picture noise is kept to a minimum, edges don't soften too badly, detail levels stay high and movement is (again) kept completely under control.
And the sound the Sony makes is equally accomplished. There's proper depth and body to low frequencies, and the sort of direct and unequivocal delivery of the midrange that comes from using the whole screen to make sound. Images and audio are in close alignment, and it makes for a more enjoyable and compelling sonic performance than most other screens are capable of (unless they have an off-board big-brand solution as part of their package, of course).
The Competition
There are mild downsides to the OLED+935, but none of them involve the pictures it delivers or the sound it makes
Tech specs
| | |
| --- | --- |
| Screen | 55in 3840 x 2160 OLED |
| OS | Google TV |
| Connectivity | Wi-fi, Bluetooth 4.2, Apple AirPlay, 4 x HDMI, 2 x USB, optical |
| HDR formats | HLG, HDR10, Dolby Vision |
| Dimensions | 1220 x 709 x 41mm |
| Weight | 19kg |
Stuff Says…
At a glance, that price might seem optimistic – but everything the Sony does, it does to a dizzily high standard, and in the end the price seems absolutely fair enough.
Pros
Outstanding picture quality in every respect
Unusual and effective sound system
Nice new Google TV interface
Cons
No UK TV catch-up services (yet)
Not the wall-hangiest TV you can buy
Not cheap