Sony NAS-50HDE review
Sony's prouder than a new dad of its new 'GigaJuke' hi-fi and rightly so: it's a stellar little network hi-fi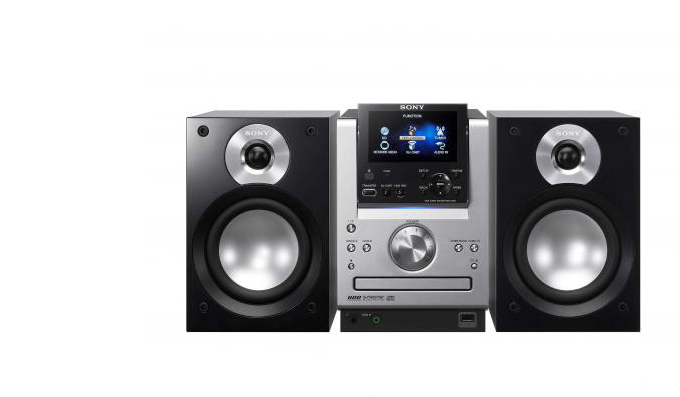 Buying a micro system seems like a backwards step in today's brave new world of digital streaming. Not all hi-fis are archaic traditionalists though – this Sony squeezes in an 80GB hard-disk and network functionality next to CD and DAB radio playback.   
Visual appeal
There's no doubting that the NAS-50HDE has got the on-shelf desirability thing licked here: the full-colour screen is a thing of beauty.
It's way classier than the prosaic text-based devices found on rivals (it's backed by Gracenote's CDDB, displaying sleeve art for maximum visual appeal), and every button operates with a typically assured Sony slickness.
But it's the NAS-50HDE's spec that really sets it apart. Aside from its CD drive and DAB/FM tuner, it's equipped with that 80GB hard-disk, meaning it can store music in MP3, Atrac3 or uncompressed formats, to be replayed as and when the mood takes you.
Plug me in
A wealth of socketry, including front and rear USB inputs, means you can also transfer your ripped music to a Sony Atrac Walkman, mobile phone, PSP or even a USB stick.                 
And if all that wasn't enough, you can even set your NAS-50HDE to join your home network and start streaming music from your PC: both Ethernet and USB sockets are provided, and Sony recommends a specific Buffalo USB adaptor to provide wireless connectivity.
Once connected to a network, the Giga Juke can also automatically search for data on any new discs. Neat.
Stingy storage
But the Sony doesn't have it all its own way. Our main gripe was the mere 80GB of hard-disk space. Given how fabulous its user interface and general functionality is, it seems insufferably mean.
Another black mark that really stands out is the Giga Juke's lazy way with a tune, despite the weight and scale afforded by the digital amplification and beefy speakers.
It doesn't quite sound rhythmic enough, sluggish bass being the chief culprit. With a shade more spring in its step, things might have been different.