Sky NowTV Smart Stick review
Streaming doesn't get much cheaper than this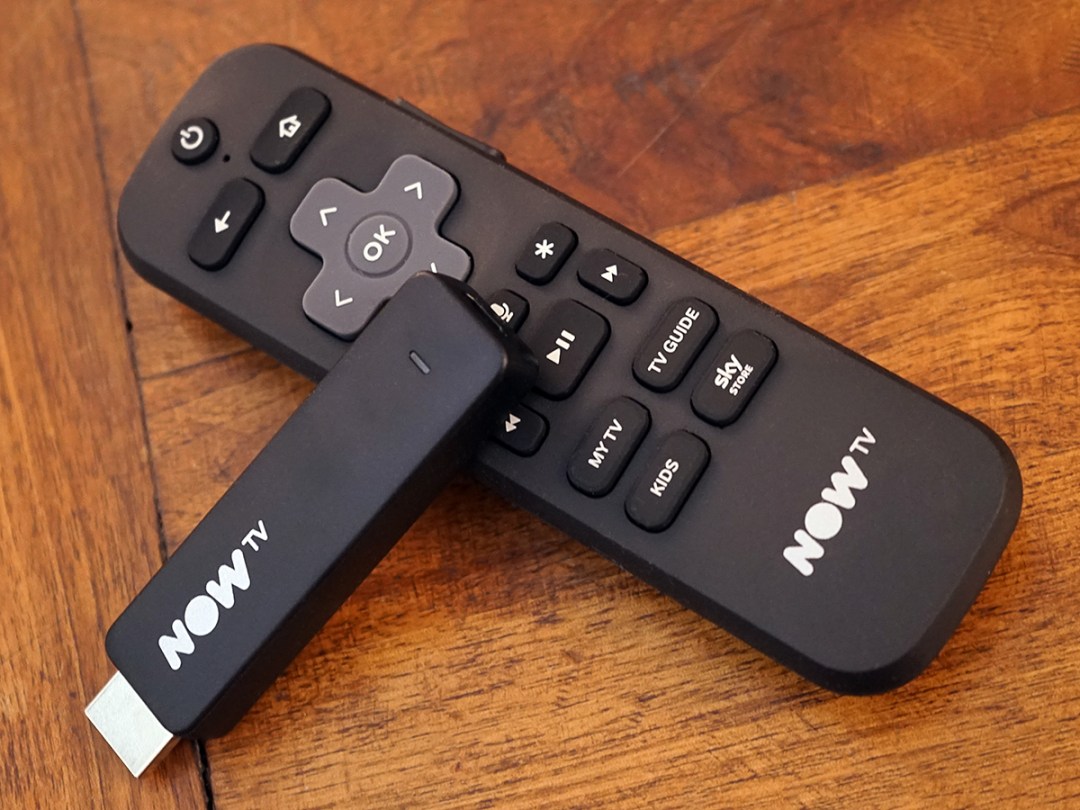 Not fussed about 4K, but have a sports itch that free-to-air telly just won't scratch? The NowTV Smart Stick is the TV-toting sharp stick guaranteed to reach the places Freeview can't.
Sky and hardware partner Roku have combined forces for a diminutive £15 dongle – the cheapest streaming stick in the UK right now, and an excellent alternative to a satellite dish.
Some big-name omissions mean it's not quite a one-stop shop for all your TV wants and needs, but if you've been eyeing up some Sky-exclusive shows or sport for a while, this looks like the cheapest, easiest way to watch it all.
Design & setup
The stick itself is no bigger than a USB flash drive, and is dwarfed by its remote, so should have no trouble squeezing into one of your TV's HDMI ports. Unless you're hooking it into a small bedroom or kitchen telly, it'll be invisible once installed.
There's a microUSB port on the end for power, which you'll need to connect to your TV, or the wall using the bundled adapter. You'll need Wi-Fi to get connected, too, as there's no wired option.
The streamlined remote control is a step up from the basic one bundled with the NowTV Smart Box – it gains volume controls and a power button that can control your TV, as well as the stick itself.
A few extra shortcuts let you jump directly to the live TV guide and Kids sections now, as well as the returning My TV and Sky Store keys. You'll still need to keep some batteries in a drawer, though, as USB recharging is asking just a bit too much from a £15 device.
Once you're plugged in, setup is as easy as turning on your TV, tapping in your Wi-Fi password, and logging in to a NowTV account. It takes two minutes, and then you're good to start binge-watching.
voice search
Finding a particular TV show or movie is so much easier now, thanks to voice search. Hold a button down on the remote, speak into it, and have your results instantly revealed on screen.
Actors, directors, genres, years of release – the search categories are pretty comprehensive, and the detection seems spot on, too. It's a whole lot more convenient than tapping in searches with an onscreen keyboard, and the faster UI means you're not waiting around for your results, either.
Voice search has its limitations, though. It can't work out what's currently showing on live TV, so asking for "NFL" brought up no results, despite an NFL game playing on one of the Sky Sports channels. You'll have to stick to the TV Guide for that.
live TV
The redesigned UI will still feel familiar to anyone that's used NowTV before – or a Roku box, for that matter.
Easy-to-follow menus let you jump between live TV, catch-up, apps and a new Home screen that pulls highlights, things you might have missed, and shows you only got half-way through into one easy-to-find location.
Adding Search to the homescreen makes things much easier to find now, if you'd rather not bark orders at a remote control. The whole thing feels that much more responsive than the old Smart Box, with barely any waiting between opening apps or streaming a particular show. Live TV has its own entry on the menu, with an EPG that lets you scroll through what's on and channel logos to make it obvious what you're about to flick over to. Pausing and rewinding TV is being added at launch, too, so you can pop the kettle on without missing a crucial moment.
Unlike the NowTV Smart Box, though, which comes with its own aerial hookup for free-to-air channels, you're limited to Sky's own offerings here.
That means 11 varied entertainment channels, 10 sports channels, 11 movie channels, and 6 kids channels – but only if you pay for their respective NowTV passes.
The entertainment pass will set you back £7.99 a month, the Cinema pass £9.99, and kids pass £2.99. Sports is a little more complicated, with one day access for £6.99, a week for £10.99 or a whole month for £33.99. You didn't think the £15 entry fee was going to let you ride the rollercoaster all day, did you?
On-demand and Apps
There's a little more to it than that, of course: the entertainment and movies passes come with a whole load of on-demand video to spend your lazy weekends in front of.
Sky box sets have all the TV shows you missed the first time around, like The Sopranos, The Wire or Sex and the City. Sky's got over 300 to choose from now, so you won't be short on things to watch.
The only downside is that Sky still restricts streaming quality to 720p. It doesn't look amazing on a Full HD TV, so anyone with a 4K telly is going to really notice the drop in quality. The good news is that 1080p streaming is on the way – it just won't be here before the tail end of the year.
It's not just Sky content on offer, either. There are around 50 downloadable apps, curated down from Roku's frankly unmanageable 4000+. Big hitters like YouTube and Vevo are there, along with BBC Sport, but there's no Netflix or Amazon.
That's not exactly a surprise – Amazon would prefer you bought a Fire TV, and Sky wants you to stay glued to its own channels instead of sending more cash to Netflix.
Then again, there's plenty of alternatives, with catch-up from BBC iPlayer, ITV Player, All 4 and My5. Only BBC lets you watch live, though – the rest are strictly on-demand only. But on the plus side, any 1080p content will actually be streamed at that resolution – unlike Sky's selection.
Kids
Whether you'll get much use out of the dedicated kids section depends entirely on whether you have sprogs to keep entertained or not. If you do, though, it's well worth the £3 a month.
With all the hoo-ha about YouTube's decidedly kid-unfriendly content recently, Sky's curated kids channels are a lot safer to pop your tots down in front of. There's a huge selection, and you can dial it down to specific shows if your kids love Peppa Pig, but are done with Dora the Explorer.
You can even hand them the remote and let them choose their own entertainment: if you try to back out of the Kids screen, a warning message pops up asking if you actually meant to leave – Sky reckons that'll stop most toddlers from accidentally heading back to the main menu. And even if they get that far, all the age-rated on-demand content is PIN-protected, anyway.
Sky NowTV Smart Stick Verdict
By ditching free-to-air TV for online streaming, Sky has managed to strip its NowTV hardware down to the bare essentials, and the price along with it.
The Smart Stick looks like an absolute bargain for telly addicts, and only stands to get better once 1080p streaming comes into effect later in the year.
OK, you don't get on-demand content from Netflix or Amazon, so if you're still holding onto a TV with no smarts whatsoever, the Smart Stick might seem a little restrictive.
If you've bought a TV in the past few years, though, those services should really come built-in anyway. Sky's integrated apps aren't nearly as common, so £15 isn't asking a lot to add a huge amount of extra content to an already smart TV.
You're still paying every month to keep that content flowing, of course, but this lets you narrow your viewing down to the things you'll actually watch, instead of a full Sky sub filled with channels you've never tuned in to.
Even factoring in the extra cost of NowTV passes, it's still something of a bargain. Any time there's a bit of sport on, you can just break out the credit card and activate a weekend of access, no satellite dish required.
Tech specs
| | |
| --- | --- |
| VIDEO MODES | 1080p (NowTV content streams at 720p) |
| CONNECTIVITY | HDMI, microUSB (power only) |
Stuff Says…
The simplest and cheapest way to start streaming Sky, without needing a satellite dish. It's missing a few extras that would make it an essential buy, but sport, movie and box-set addicts will find plenty here to like
Good Stuff
All the Sky content you could possibly want
Catch-up from all four major UK broadcasters
Amazing value for money
Bad Stuff
Sky content still stuck at 720p for now
No Netflix, Amazon or BT Sport