Samsung Galaxy S9 review
The best Android phone in the world just got (slightly) better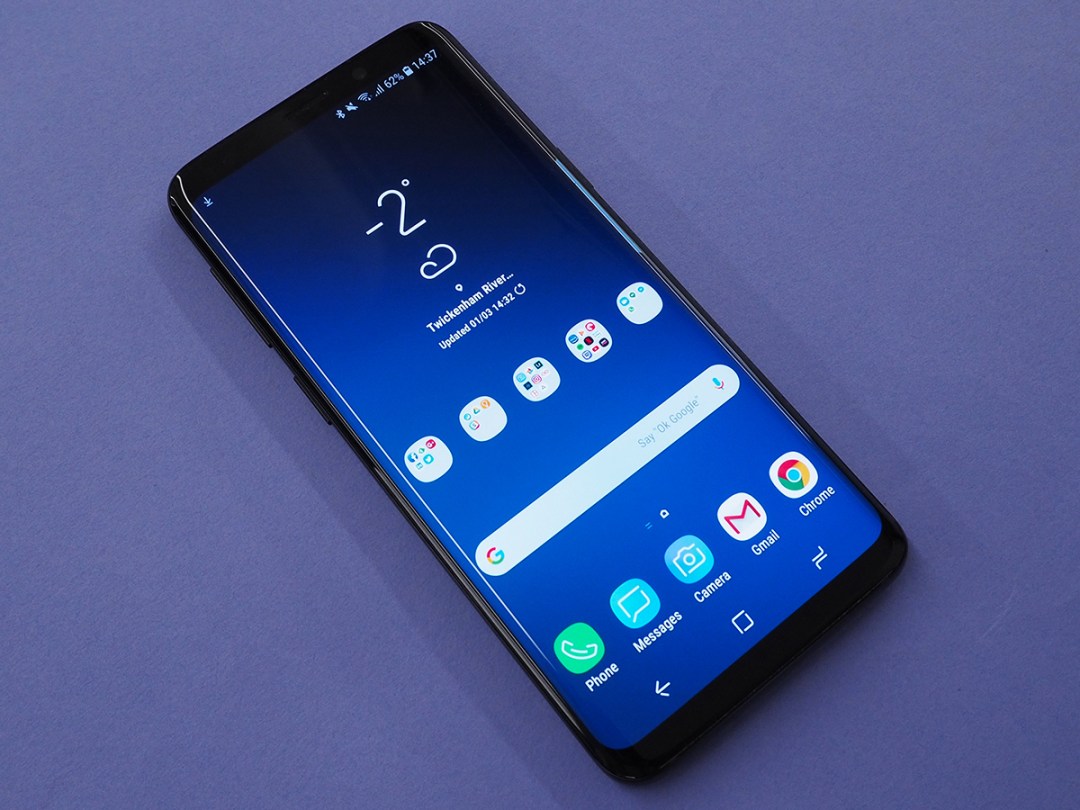 Sometimes, less is more. You don't need to obliterate the competition every year just to keep hold of the top spot – and that's exactly what Samsung has done with the Galaxy S9.
It isn't a huge leap forward from its predecessor. In fact, it looks pretty much identical to the S8. But when was there anything wrong with more of a good thing?
The S9 simply fixes the few things we didn't like about the Galaxy S8, gives things a general spring clean, and upgrades the camera to ensure Samsung remains on tech's cutting edge.
Already own our favourite phone from last year? Then the Galaxy S9 isn't for you. It's for people who didn't make the same upgrade – and judged purely on that basis, it's a truly brilliant blower.
Samsung Galaxy S9 Cameras
The S9's biggest upgrade for 2018 is to the rear camera. It might have the same 12MP pixel count, dual-pixel autofocus and optical image stabilisation as last year's model, but now adds a variable aperture lens into the mix.
The camera can switch between f/1.5 and f/2.4 on the fly, cranking open the aperture fully for low-light shooting, then closing it back up again when the sun comes out.
Samsung is the first company to make it to f/1.5 in a phone. It's such a wide aperture, in fact, that it gets tricky to keep your entire shot looking crisp and in focus. Just look at any DSLR – y'know, the ones with the massive lenses and chunky buttons: most have a sweet spot where focus is razor-sharp, but appear softer at the edges of the shot.
By stepping down to f/2.4 when there's enough light, the S9's photos should look that little bit cleaner than the competition, particularly at the edges of the frame. Head inside, or try to snap something at night, and the f/1.5 aperture kicks in to get as much light onto the sensor as possible.
Samsung reckons the variable aperture can stop overexposure in brighter scenes, too, but that seems like marketing tosh – the electronic shutters on phone cameras fire so quickly that too much light should never be an issue. Most of the benefits should come from low-light shooting.
If you stick to the Auto mode, the phone handles the aperture switching for you – there's not even an onscreen icon to let you know it's working. Move into Pro mode and you can force one or the other, along with shutter speed, ISO and white balance.
Does it make a difference? Absolutely. Low light shots are markedly clearer and sharper than the Galaxy S8 and its fixed aperture. Use f/1.5 in brighter conditions, though, and it isn't hard to spot the fringing and lack of sharpness at the edge of the frame – particularly with macro shots and close-ups.
In good light, the Galaxy S9 takes great photos, with well-judged exposure and plenty of detail. You have to zoom right into the pixels to spot any limitations. HDR is incredibly fast, with live view showing what your shot will look like before you even hit the shutter button.
Samsung has stepped up its image processing this year, with multi-frame noise reduction that stacks multiple frames on top of each other – stripping out imperfections by as much as a third. The Google Pixel 2 uses the same trick, and it's one of the reasons why its camera is so brilliant.
Which is better? From our testing, we still have to give the edge to Google's algorithmically excellent Pixel 2. The Galaxy S9 takes very good pictures, but it doesn't take the best: definition and clarity has a slight edge on Google's hardware. Short of putting both phones side by side, though, you won't be disappointed with the S9's snaps.
Samsung Galaxy S9: VIDEO RECORDING, SELFIES & AR EMOJI
Dual aperture isn't the S9's only camera trick. Video recording has also been improved with 4K shooting at 60fps, along with super slow-mo footage for the first time – and Samsung has even taken inspiration from arch-enemy Apple.
You can now shoot at a frankly ridiculous 960 frames per second. Better yet, you don't need to have the reflexes of a gazelle to when you want to capture something action-replay style. Draw a box anywhere onscreen and the phone will start recording as soon as it detects any movement.
It's crucial to feed the sensor plenty of light, and you're limited to six-second clips at 720p, but the effects can be seriously impressive. Sony's Xperia XZ2 can manage higher resolution recording, but Samsung's software just makes it easier to get good-looking shots.
Up front, the S9's selfie camera is unchanged from the Galaxy S8, with an 8MP sensor and f/1.7 aperture. It was plenty good a year ago, and still takes clear, detailed photos now – but has also learned how to turn you into an emoji.
Instead of animating existing emoji, a la the iPhone X, the S9's AR Emoji capture your likeness and map your features onto a cartoon character, Nintendo Mii-style. It then creates a selection of animated GIFs that can be shared in any app (not just one of Samsung's), lets you pose for photos and record video messages as your new avatar.
Is it as slick as Apple's animoji? No, the facial mapping is a little erratic and the integration with messaging apps isn't quite as slick as on iOS. Still, it's a neat little extra that is sure to find its fans. If you're not one of 'em, you can simply hide the option in the camera app and forget it's there.
Samsung Galaxy S9 software
Cutesy animated faces aside, the S9 doesn't do anything drastically different on the software front. But seeing how last year's S8 was the best ever iteration of Samsung's TouchWiz UI, there's nothing to complain about.
It runs on top of Android 8.0 Oreo, with all the juicy extras that brings like improved notifications, adaptive icons with notification badges, and under-the-hood battery optimisations that should help the S9 squeeze more out of every charge.
Samsung's extras stick around, too, with picture-in-picture for video, frame rate-boosting Game Launcher and Edge Panel shortcuts to make the most of that curved screen. Most of these are hidden in the background until you enable them, though, so generally speaking there aren't any software quirks that get in the way of your using the phone.
That's true of the improved biometric unlocking, which now uses a combination of face and iris tracking. It's faster at recognising you than the Galaxy S8, but FaceID on Apple's iPhone X still feels more streamlined. So if you don't fancy using it, you can just stick to fingerprint unlock.
Bixby, Samsung's AI assistant, also makes an appearance. It still lets you shoot selfies, toggle settings and jump into apps using your voice, but has now gotten a little smarter. Point the camera app at some foreign text and it'll translate it in real-time.
Samsung Galaxy S9 performance and battery life
Those extras don't slow the S9 down one bit, with Samsung's Exynos 9810 octa-core CPU absolutely flying through any app or game we threw at it.
Everything felt quick and responsive, with no waiting around for things to load. Only benchmark geeks will spot any difference between this and an iPhone X, or a phone with Qualcomm's Snapdragon 845 inside.
You still get 4GB of RAM, which is more than enough for multitasking. Stepping up to the Galaxy S9+ might earn you an extra 2GB, but that honestly feels like overkill – you're never left waiting for apps to open here, even when using Split View to run two things at once.
That power can be put to good use with Samsung's DeX Pad, an upgraded version of last year's DeX Station that turned your phone into a basic desktop PC. The Pad now holds your phone flat, so you can use it as a touchpad instead of plugging in a mouse. We'll be testing it out fully soon, so if you're looking to lose the laptop and use a phone for work instead, make sure to check back.
The CPU is ever-so-slightly faster and a little more efficient than last year, so the extra performance doesn't come at the expense of battery life. The S9's 3000mAh cell is more of a middle-distance runner than marathon machine, though, managing to get through a day of heavy video streaming, game playing and photo snapping before running out of juice.
It'll easily see you through a day of YouTube, WhatsApp and Instagramming, but anything more and you might drop into the red before bedtime. On the plus side, wireless charging makes cable-free top-ups a breeze, and wired fast charging can get you back up to full in around an hour.
64GB of on-board storage is par for the course in a flagship phone, with plenty of space for apps, games and photos – but you can always add a microSD card if you want to keep an expansive music collection with you while you're on the move.
Samsung Galaxy S9 Design and build
The S9 might have undergone a fair amount of internal tinkering, then, but you're not going to notice any of that at first glance. Why? Because the S9 is a near-total doppelganger for the S8.
It's not quite the same repeat scenario as Apple's iPhone 5S and 6S: Samsung has given us some new colour options, and fixed that awkward fingerprint scanner.
The S8's scanner was sat to the right of its camera – an arrangement that meant you'd smudge its lens on the regular. Here, the sensor sits underneath the camera instead. You know, like almost every other smartphone in existence. Unsurprisingly, this arrangement works a whole lot better, even if it's still very close to the lens.
Of course, being a near-carbon copy of the Galaxy S8 means the S9 is a very pleasant phone to behold in general.
The softly curved edges tuck snugly in your grip, it keeps the IP68 water-resistant rating, and even retains the good old fashioned headphone jack.
There's plenty to be said for the S9's bright, bold aesthetic: that glass back is a perfect foil for the phone's classy colours of midnight black, coral blue and lilac purple. That extra button for waking Bixby won't be for everyone, but you can disable it if you don't like it.
Is this the best looking phone out there? That's really down to personal preference. The S9 has its fans here at Stuff, while others prefer Apple's iPhone X. There's even one sorry individual who thinks the Pixel 2 has the aesthetic edge. It might not be your favourite, but there's no denying the S9 is one of the most striking smartphones in existence.
Samsung Galaxy S9 screen and sound
More importantly to anyone who hasn't yet had their hands around a Galaxy S8, the S9 retains that same 5.8in, QHD AMOLED screen, complete with 18.5:9 aspect ratio and curved sides for those gloriously skinny bezels.
Whatever you're watching, the Galaxy S9 delivers vibrant colours, with exceptional contrast and such high brightness that you'll be able to keep track of things even on a ludicrously sunny day. Since it also has an HDR Mobile Premium certification, you'll be able to bask in the luxury of high-dynamic range content from Netflix and Amazon.
The AMOLED panel can display perfect black by switching off individual pixels, something that comes in handy for the Always-on Display. Just like before, this puts the time, date and any incoming notifications on the standby screen, without hammering battery life.
This is easily the best smartphone screen around, with only the iPhone X coming close to matching it for clarity and colour reproduction.
Samsung has added the speakers to match the display this year, with an AKG-tuned stereo setup that's a whole lot louder than the S8. They can genuinely make a racket, letting you listen to YouTube videos or podcasts perfectly clearly from the other side of a room.
If you'd rather listen in isolation, the bundled AKG earphones are some of the best free in-ears we've ever tried, especially if you take the time to tweak the output with the Adapt Sound customisation.
There's ample bass, but it doesn't overwhelm the mix, and the mid-range has plenty of weight. The braided cable is a nice touch, too. Dolby Atmos virtualisation can make the soundstage even wider, but everything sounds airier as a result – it might work well for certain videos, but it's best left switched off for music.
Still, this is an excellent phone to pull double duty as a portable music player. Only the iPhone X and LG V30 come close to matching it for clarity.
The competition
The follow-up to last year's most popular Android phone was always going to have a target painted on its back, so the S9 has plenty of competition.
The obvious front runner is Apple's iPhone X. It has an equally front-filling screen, superb dual cameras and Face ID tech that enables fingerprint-free unlocking and those all-important animojis. That notch isn't for everyone, though, and it of course means tying yourself to iOS. Then there's the eye-watering $1000 price tag.
If camera quality is your main concern, both the Google Pixel 2 and HTC U11+ still have a slight edge, thanks to Google's algorithms and HTC's cleaner image processing. The S9 takes a great photo, but Samsung's noise reduction and colour balance won't be for everyone.
There's a chance the S9's biggest rival will be its predecessor. With only minor upgrades, you'll seriously struggle to tell whether someone's holding a brand new S9, or a year-old S8. The outgoing phone has dropped to less than $500 SIM-free, too – for a lot of people, the step up to the S9 just isn't going to be worth the extra cash.
Struggling to get excited about the Galaxy S9? There's a solution: the Galaxy S9+, which blends its smaller brother's best bits with a bigger 6.2in screen and dual rear cameras. But for non-geeks and normal folks, this phone right here should be the best you've ever owned.
Samsung Galaxy S9 verdict
Last year, the Galaxy S8 set the bar for the rest of the Android phone world – and now Samsung has raised that bar even further. If not by very much.
The S9 fixes old annoyances like the awkwardly-placed fingerprint sensor, adds more power, and streamlines Samsung's already excellent take on Android. The dual aperture camera upgrade gives a welcome low-light boost, too, even if it can't make it the outright best phone for snapping pics with.
Does all that make the S9 a particularly exciting upgrade? No, not really – but then it didn't need to be. There are phones with better battery life, phones with a higher screen resolution, and phones that are cheaper – but nothing else truly competes with this as the best all-round handset.
Even with the same design, same screen, and a near-identical feature set to the Galaxy S8, it's the phone to buy if you want the best of Android.
Tech specs
| | |
| --- | --- |
| Screen | 5.8in, 2960×1440 AMOLED w/ Infinity Display |
| CPU | Exynos 9810 octa-core |
| Memory | 4GB RAM |
| Cameras | 12MP, f/1.5-2.4 rear w/ Dual Pixel AF, OIS, LED flash. 8MP, f/1.7 front |
| Storage | 64GB on-board, microSD expansion |
| Operating system | Android 8.0 Oreo w/ TouchWiz |
| Battery life | 3000mAh non-removable |
| Dimensions | 148x69x8.5mm, 163g |
Stuff Says…
Easily the best all-round Android phone you can buy today
Good Stuff
Refined, stylish design with gorgeous curved screen
Improved low-light camera, excellent slo-mo video
All the features you'd want in a flagship
Bad Stuff
Improved camera still can't quite beat the best
Hard to tell the S9 apart from the S8
Fingerprint sensor still a bit close to the camera