Razer Blade 16 Automobili Lamborghini Edition review: speed demon
A monumentally fast gaming laptop with a simply stellar screen. Get one while you can.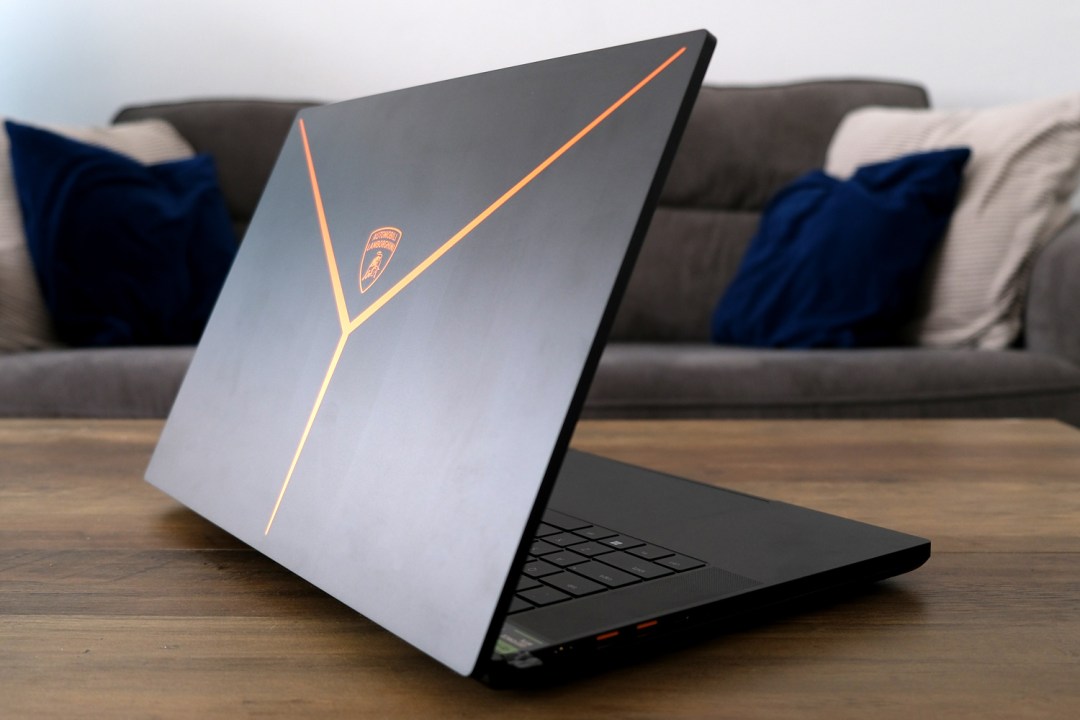 Stuff Verdict
Limited-run Blade 16 is insanely quick, with a delectable screen and streamlined styling. If you've got the budget, it's a superb gaming machine – and the regular model will please everyone else
Pros
Ridiculous 3D and desktop performance for a 16in laptop
Gorgeous 4K HDR display that can do 240Hz Full HD on demand
Stellar build with unique design elements
Cons
Limited edition means it'll be super rare
Seriously expensive
Introduction
How do you make what was already one of the most powerful yet portable gaming laptops around just that little bit more exclusive? A tie-in with a supercar company ought to do the trick. The Razer Blade 16 Automobili Lamborghini Edition is every bit as powerful as the standard Blade 16, only now it's rocking a bespoke look that wouldn't look out of place on the passenger seat of an Aventador or Urus.
That means this 16in mean machine is packing the most powerful Nvidia GPU ever squeezed inside a laptop, an overclockable Intel Core i9 processor, and a dual mode 4K mini-LED display so bright it should come with a pair of sunglasses. Might it be so fast Razer needs to have its license suspended? Or does an astronomical asking price stop it from getting out of first gear?
How we test laptops
Every laptop reviewed on Stuff is tested using industry standard benchmarks and apps to assess performance and battery life. We use our years of experience to judge display, sound and general usability. Manufacturers have no visibility on reviews before they appear online, and we never accept payment to feature products.
Find out more about how we test and rate products.
Design & connectivity: deft dimensions
No need for a double take: the Razer Blade 16 really is a gaming laptop. At 22mm thick and weighing in at 2.45kg, it's only marginally more portly than an Apple MacBook Pro 16in. Even with the chunky power brick in tow (necessary for supplying the power-hungry GPU with enough volts for 4K gaming) we had no issues carrying it around as our regular work machine.
This Automobili Lamborghini edition parks Razer's preferred green and black colour combo in favour of one pulled straight from Sant'Agata's paint catalogue: Arancio Orange. The geometric pattern on the lid is a nod to the Lamborghini Revuelto's distinctive LED running lights, and the ouroboros logo has been traded for Lamborghini's bull crest. Both are anodised aluminium, so won't fade or rub off over time. There are also colour-matched USB ports at the sides, and a serial number on the underside marking its 1-of-150 limited status.
Special edition machines tread a fine line between trendy and tacky; we reckon this is the former. Elsewhere, though, the black metal finish picks up prints like nobody's business. You'll have to keep a cleaning cloth handy if you want the Blade 16 looking its best.
There's a stellar selection of ports at the sides for a 16in machine. It has two USBs (one Type-C and one Type-A), a full-size HDMI output and an SD card reader on the right, and two more USB Type-As, one USB Type-C and a 3.5mm headphone port on the left. That's also where you'll find the proprietary charging port; the laptop can accept a charge over USB-C, but not at a high enough wattage to be any good for gaming.
Performance: lap record
If CPUs were motor blocks, the Intel Core i9-13950HX inside the Blade 16 would be a nitrous-injected, twin-turbocharged V12. It's a 24-core beast that can hit 5.5GHz on boost, and there's enough headroom in the vapour chamber cooling system that you can overclock it even further if you fancy. There's a generous 32GB of DDR5 memory and a 2TB NVMe SSD, too. It's so fast to reach the Windows desktop you might not even notice the custom Lamborghini boot sequence.
GPU grunt comes courtesy of an Nvidia RTX 4090 with 16GB of dedicated video memory. While other 16in laptops including the Asus ROG Zephyrus M16 have to work within a restricted 145W thermal window (TDP), Razer can achieve the chip's maximum 175W. In practice, that makes it a gaming monster that can wipe the floor with desktop PCs running RTX 3090s, despite using a fraction of the power draw.
Let's talk numbers, shall we? At native 4K resolution and without any sort of upscaling, Doom Eternal managed 180fps at Ultra Nightmare quality. Counter Strike 2 averaged 90fps with every setting cranked, and Lies of P nudged north of 70fps. Ghostwire: Tokyo hit 80fps with ray tracing enabled.
Starfield is a lot more demanding, averaging 45-50fps at native resolution, and Cyberpunk 2077 was an even bigger ask. On the Psycho detail preset without any kind of ray tracing, native 4K performance topped out at 22fps. Nvidia's DLSS tech makes all the difference here, delivering an impressive 90fps. The visual differences are so minor you'd be stupid not to use DLSS just about everywhere that supports it.
Cyberpunk's path-based ray tracing mode is about as punishing as present-day gaming gets. Even with DLSS, we had to drop to a lower resolution in order to breach 60fps – but that's also true on larger 17in gaming laptops such as the MSI Titan GT77. That the slim Razer Blade 16 can keep pace is mighty impressive stuff.
The internal fans have to get mighty loud to keep everything cool while under load, but performance was always consistent. They can't stop the top of the chassis from getting toasty after an extended play session, though. You're not going to want to touch above the keyboard tray for a while afterwards.
Nvidia's Optimus graphics switching is quick to throw things back to Intel's integrated GPU when you're back on the Windows desktop, but don't go thinking that means epic battery life. We averaged three to four hours away from the mains, with a mix of web browsing, working and video playback. That's about right for a gaming laptop, but not enough to leave the charger at home when travelling.
Screen & sound: geared for speed
From games to streaming shows, everything that appears on the Razer Blade 16's display looks absolutely gorgeous. The mini-LED panel produces astonishingly high contrast, and the more than 1000 dimming zones put it up there with OLED in terms of depth and black levels. Even in tricky scenes, like fireworks against a night sky, we struggled to spot any backlight blocking or blooming. Slim bezels and a 16:10 aspect ratio also help you get lost in whatever's onscreen.
Colours are brilliantly vibrant, and accurate enough for creative pros. The HDR-capable panel can also reach a whopping 1000 nits peak brightness. Seriously, it hurts your eyes when standing close to bright light sources in certain games. And that's not even this laptop's main party trick.
The native 4K panel usually tops out at 120Hz, which is a fast enough refresh rate for smooth single player gaming – but Razer knows serious multiplayer gamers want even quicker response times. So there's a second mode available through the Synapse utility software, which drops the resolution down to 1920×1200, but doubles the refresh rate to 240Hz. The Blade 16 has to reboot to swap modes, but it takes less than a minute before you're back on the desktop and ready to play.
No, it doesn't look as sharp as a native 1200p display, and only FPS die-hards will truly appreciate the difference 240Hz gaming makes, but if you mainly play competitive shooters it's nice to have the option. Maybe your Counter Strike K/D ratio will thank you for the extra frames – which the GPU has no problem delivering.
There's a decent level of clarity on show from the stereo speakers, which easily make themselves heard over the internal fans. There's not a huge amount of bass though, even as far as laptops go, which can leave music and videos sounding a little anaemic. Fully crank the volume and the high-end gets shrill, too. Gamers should reach for a headset before booting up their favourite title.
Keyboard & touchpad: the write stuff
It'll hardly come as a shock that the Blade 16 has per-key backlighting. Razer does, after all, love a bit of RGB. The Automobili Lamborghini Edition lights up bright orange, but the Synapse software lets you fully customise every key. Certain games have pre-set colour schemes that kick in when you run them, too. The laser-etched keys are uniformly lit, with zero bleed between each one.
Razer hasn't tried to squeeze in a numerical keypad, preferring to leave room either side of the keyboard tray for upward-firing speakers. There's still space for a full size QWERTY 'board, with only the up and down arrows needing half-height keys. You can pick whether the function keys default to their multimedia shortcuts, and there's also a keyboard combo for disabling the touchpad while using a mouse, though it's not labelled.
The keyboard doesn't use mechanical switches like some gaming laptops, but we had no trouble typing at full speed. Key travel is pretty short, but each one quickly springs back into place after it's released.
We're also big fans of the glass touchpad, which is simply massive. The smooth surface allows for friction-free scrolling and sensitivity is well judged for getting around the desktop at 4K resolution. Physical clicks provide good feedback that can be missing from some haptic-based touchpads.
Razer Blade 16 Automobili Lamborghini Edition verdict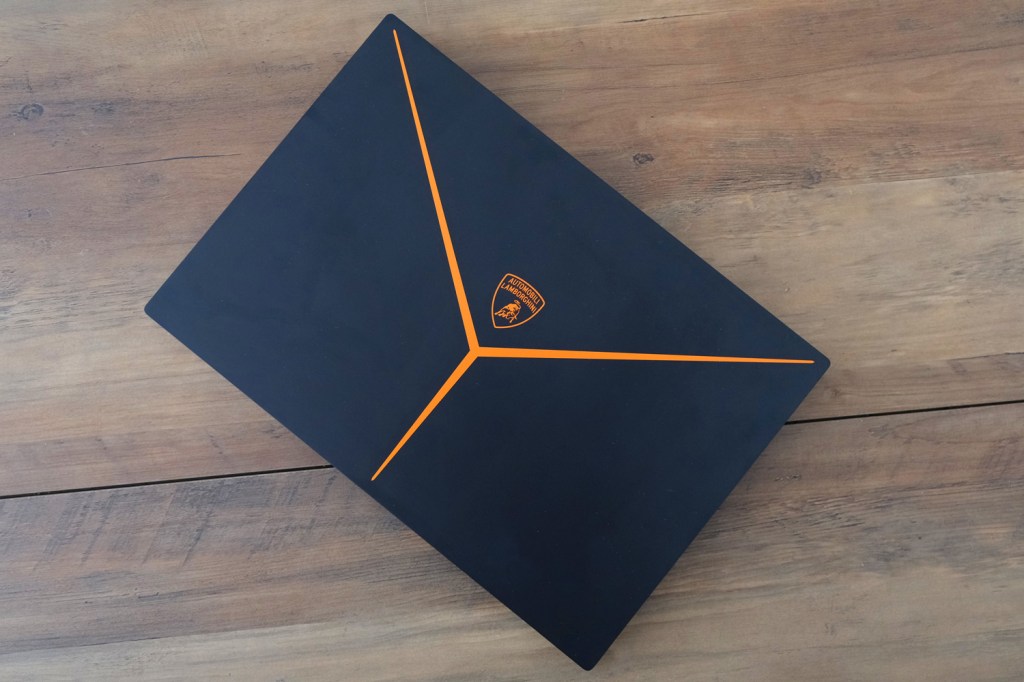 No-one needs a Lamborghini in their garage. A humble hatchback will get to from A to B perfectly well – but if you can afford one, it's an undeniably cool way to get around. This limited-run Razer Blade 16 is a similar deal: at a penny under $5000 it's one of the priciest gaming laptops out there, but the performance on tap is monstrous, and the display puts many top-tier gaming monitors to shame.
The bad news? Only 150 are being made, and they'll all be sold in the US. But that's the price you pay for pace-setting hardware and extreme exclusivity.
Happily the regular Blade 16 has just as much oomph, and is also a little easier on the wallet, at $4300/£4400 when you buy direct from Razer. We've also spotted it for as low as £3800 from third-party retailers. You really can't get faster while also staying so portable, and for some that'll be absolutely worth the price of admission.
Stuff Says…
Limited-run Blade 16 is insanely quick, with a delectable screen and streamlined styling. If you've got the budget, it's a superb gaming machine – and the regular model will please everyone else
Pros
Ridiculous 3D and desktop performance for a 16in laptop
Gorgeous 4K HDR display that can do 240Hz Full HD on demand
Stellar build with unique design elements
Cons
Limited edition means it'll be super rare
Seriously expensive
Razer Blade 16 Automobili Lamborghini Edition technical specifications
Screen
16in, switchable 3840×2400 120Hz / 1920×1200 240Hz mini-LED
Processor
Intel Core i9-13950HX 24-core
Memory
32GB RAM
Graphics
Nvidia GeForce RTX 4090 w/ 16GB VRAM
Storage
2TB PCIe NVMe SSD
Operating system
Windows 11
Connectivity
1x Thunderbolt 4, 1x USB-C 3.2 Gen 2, 3x USB 3.2 Gen 2
HDMI 2.1, SD card reader, 3.5mm audio
Battery
95.2wHr
Dimensions
355x244x22mm, 2.45kg