Philips 65OLED+936 review: cracking sound, cracking picture quality
Perfect Natural Reality? Don't mind if I do
We're all spoiled for choice when it comes to choosing a new TV. Doesn't matter if you want 'small and affordable' or 'big and premium', doesn't matter if you want to use it for next-gen gaming, for streaming state-of-the-art content or just for 'watching television', the selection of high-performance, value-for-money options is huge.
And yet somehow Philips manages to stand out. The company's been on a heck of a roll lately, and with the OLED+936 it wants to cover every base (apart, admittedly, from 'small and affordable'). If you're after cutting-edge picture quality, cinematic sound, console gaming thrills or simply want to, yes, 'watch television', Philips reckons the OLED+936 has you covered.
So we're testing the biggest (65in) version to find out if it can possibly be true.
Design and build: upstanding
No matter if you choose the 48in (£1799), 55in (£2099) or this £2999 65in version, you can be sure your money is buying you a good-looking, well made and flawlessly finished TV with more than one unique selling point.
Like most OLED TVs, seen in profile the OLED+936 is almost supernaturally slim – except for the area where it keeps its electronic necessities. This means that in practice the 65OLED+936 is a slightly unglamorous 5cm deep, and if it's wall-mounted then it's effectively a touch over 15cm deep. But the Philips has a couple of quite compelling reasons why this should be the case, as the 'features' section explains.  
Otherwise, though, this is exactly what a big, premium TV should be in terms of design, build and finish. The metal bezel surrounding the screen is minimal and tactile. The Bowers & Wilkins sound system that's a major part of the overall package is not only handsome in a purposeful sort of way, but is also sturdy enough to function as a stand if you're not wall-mounting your OLED+936. All the plastics that make up the rear of the screen look and feel up-market.
Basically, there's no chance you'll feel short-changed where any of this stuff is concerned.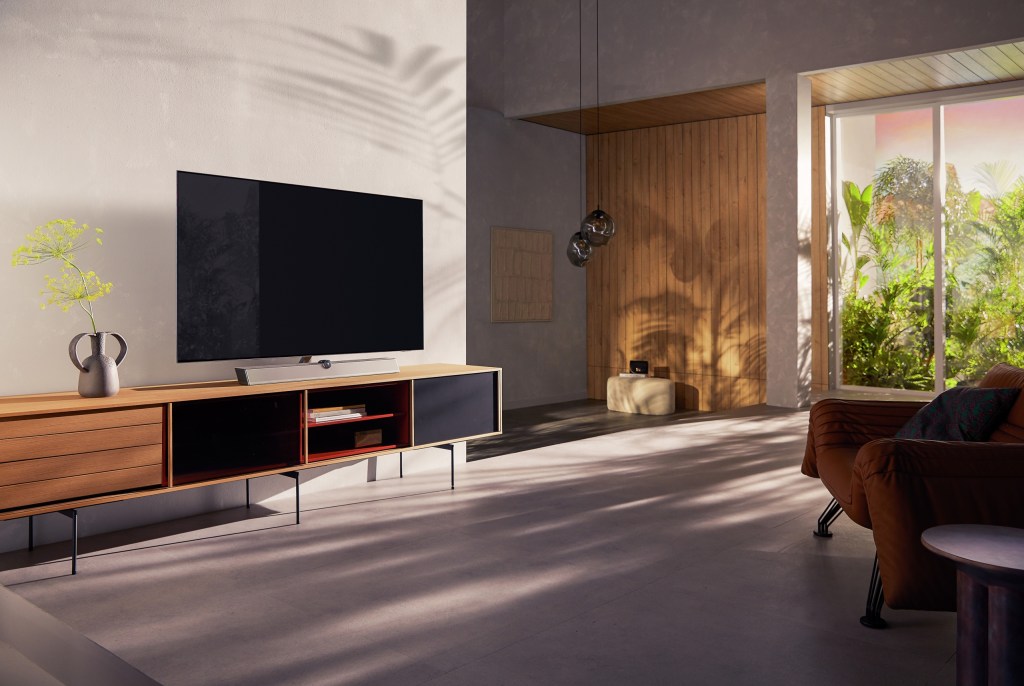 Features: and more again
Not for the first time where a Philips TV is concerned, the feature-count is both generous and comprehensive. If the 65OLED+936 doesn't have it, that's because it's not worth having.
As far as the headlines go, this is a 4K UHD screen with support for every worthwhile HDR standard, including HDR10+ Adaptive and Dolby Vision in its 'bright', 'dark' and 'vivid' varieties. The panel itself is one of LG's swanky new 'evo' designs that promises greater brightness and colour fidelity than has previously been available.
Inside, it's top-of-the-line Philips business as usual – which means an intimidating number of clever processing engines and algorithms, all working their socks off to bring you the most lifelike and realistic, most natural and vibrant, most convincing pictures possible. The overall boss is the latest version of Philips' P5 processor, and it's powerful enough to deliver so many worthwhile subroutines there's hardly space here to discuss them all. We'll give it a go, though.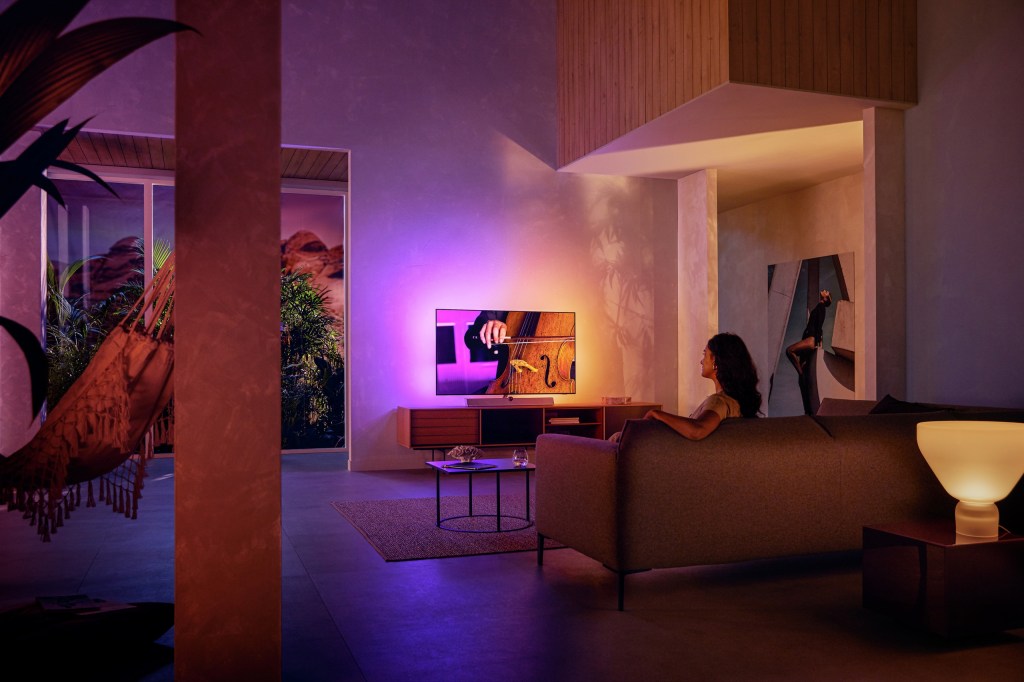 'Ambient Intelligence' adjusts brightness and brightness on the fly, according to ambient conditions. 'Perfect Natural Reality' brings greater sharpness than was previously possible. 'Anti screen-burn' mode is at its most accurate here, the OLED+936 able to identify (and dim) static images with real precision in order to guard against image-burn. 'Filmmaker Mode', which seemingly intends to make the viewer aware of what it's like to live with cataracts, is supplemented by Philips' proprietary (and infinitely preferable) 'Home Cinema' algorithm – which actually gives a cinematic feel to images. There's more, obviously, because there always is with Philips, but that should do for going on with…
Two of the OLED+936's four HDMI inputs are full-fat HDMI 2.1-compliant – so next-gen gamers can enjoy all the clever features their consoles are packing, including Auto Low Latency Mode, HGiG HDR, 4K@120Hz and Variable Refresh Rate (including FreeSync Premium).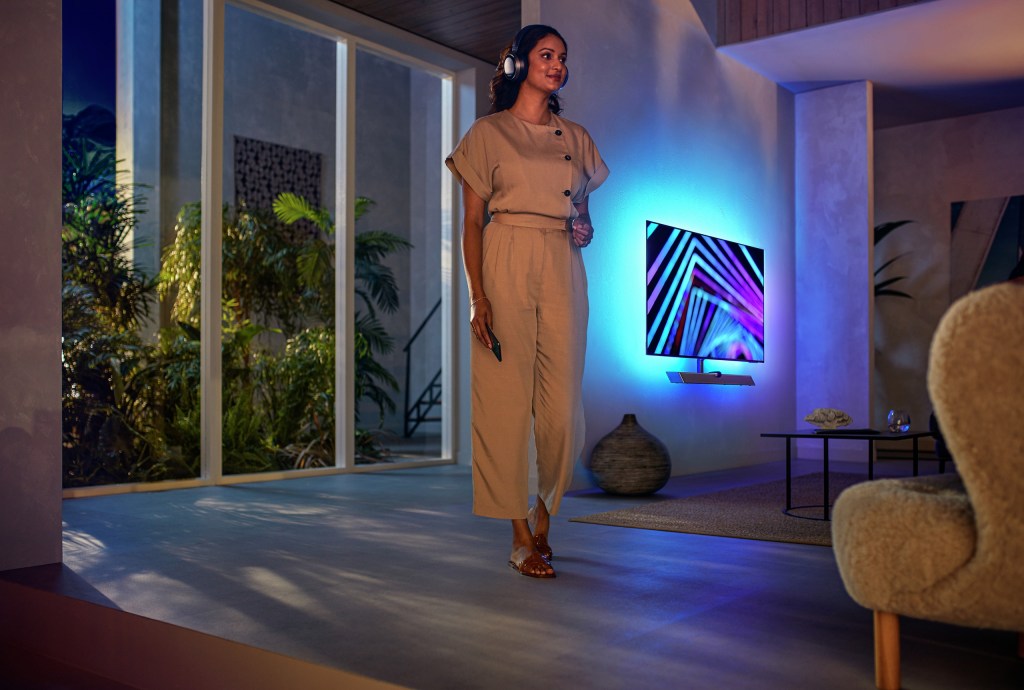 And a Philips TV just wouldn't be a Philips TV without Ambilight – here, it's across all four sides or the rear of the screen. It goes some way to explaining the relative depth of the chassis, but it goes much further in offering a more immersive, and yet more restful, viewing experience. We can only assume Philips has the most watertight patent here, because otherwise, we can't think of any reason why every other TV brand wouldn't want to do something similar – that's how effective a feature it is.
Input from Bowers & Wilkins has lately become another of Philips' Great Differentiators – and here, the sound-system-cum-soundbar-cum-pedestal-stand is a tweeter-on-top, Dolby Atmos-capable tour de force. Three tweeters, three mid/bass drivers and a subwoofer are augmented by two upward-firing drivers intended to create the height necessary for a truly 'spatial audio' experience – and the OLED+936's DTS Play-Fi functionality means the TV can be part of a multi-room audio system too.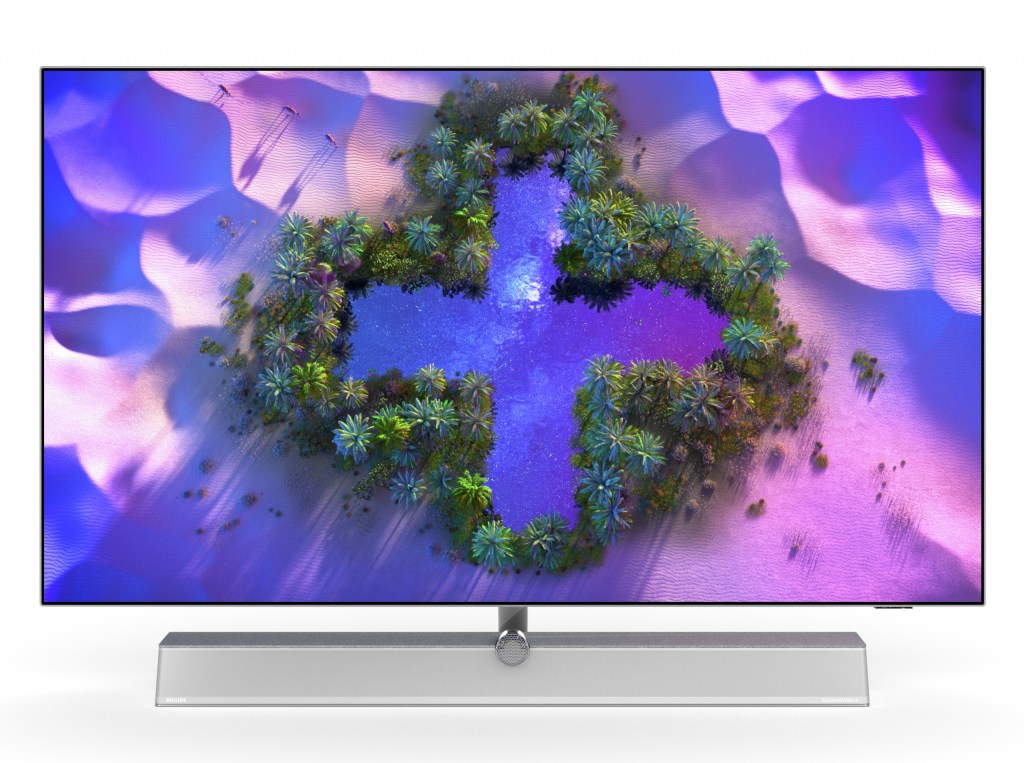 Interface: ends justify the means
The remote control that ships with the OLED+936 is not the most logical in terms of its layout, but it's comprehensive. And, thanks to a slice of Muirhead sustainable leather on the back, it feels considerably nicer in the hand than pretty much any alternative.
The handset puts you in charge of the (predictably labyrinthine) Philips set-up menus. Want to while away many an hour fussing with and finessing the picture performance of your TV? Good, because set-up is unlikely to be either swift or painless here. Thankfully, the time invested will be apparent in the images that result. Just don't expect 'out of the box' performance here, because you won't get it. Perseverance is key.
The user interface is provided by Android 10, which is as bold and pleased with itself here as in all its other implementations. It hogs the entire screen shamelessly, but in its defence it's packed with streaming options from all the biggest hitters. The appearance of Freeview Play is very welcome, too.
Performance: deeply impressive
Fundamentally, you'll be hard-pressed to make the OLED+936 look anything short of deeply impressive. It's not impossible, but neither is it all that easy.
Perhaps you're a sucker for reruns of 80s cop dramas on ITV4. This kind of viewing behaviour is really the only way to provoke the Philips into looking a bit rough – its upscaling chops are not to be sniffed at, but neither are they miraculous. Antique content like this looks soft, edgy and altogether vague. Just like it does on most other premium OLED screens.
Give the OLED+936 just a little more to work with, though, and it's a straightforward pleasure to sit in front of. It has a remarkable facility with non-HDR content, and can upscale 1920 x 1080 Full HD content to a point it bears comparison with native 4K stuff.
But it's with native 4K content, of course, that the Philips does its best work – and if there's an HDR aspect to it, that's all to the good. The deep, lustrous and well-differentiated black tones are expected, sort of, from OLED panels – but there's no denying the inkiness, the consistency and the fine detail of the blacks the +936 generates. And thanks to equally clean, equally detailed white tones, and also to the LG 'evo' panel and the Philips processing that controls it, whites are bright and clean – which means contrasts are wide and convincing.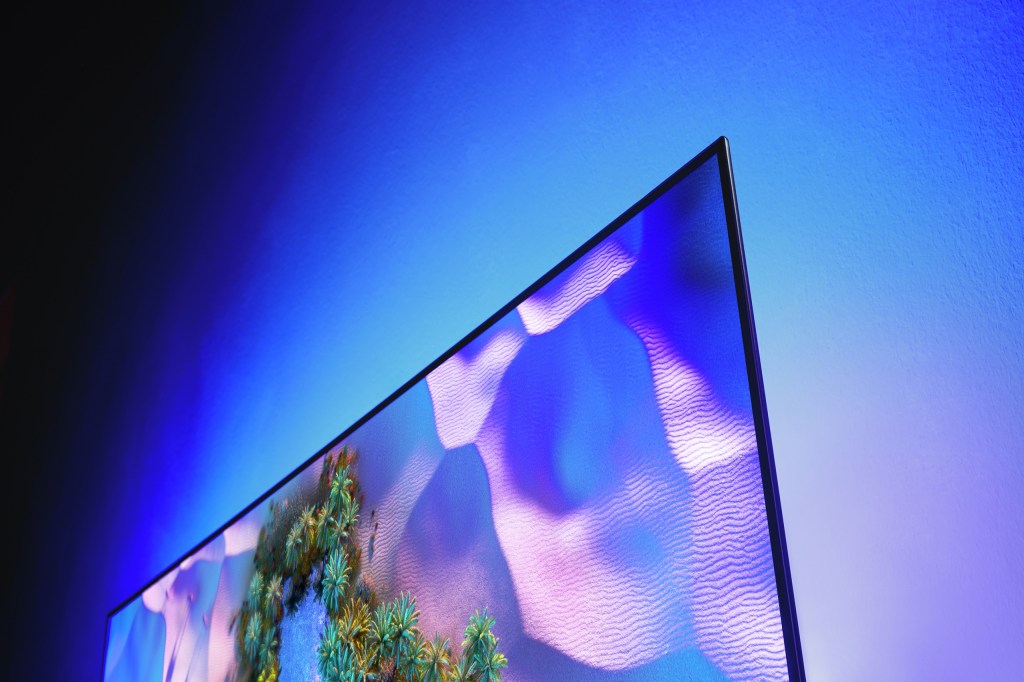 The colour palette is extensive in the extreme, edge definition is rigorously controlled and (as long as you've put a shift in during the initial set-up process) motion is both smooth and very low-noise. In fact, the entire presentation is very low-noise all the time, in any circumstance – even when describing tight and/or complex patterns. Filmmaker Mode is its usual festival of uncertainty, but better by far is the 'Home Cinema' setting, which balances the usual 'cinematic' tropes of picture warmth and mellowness with a more vigorous approach to lighting and overall punch.
With a Playstation 5 attached, all of the picture performance positives are carried over. The Philips is decently, rather than spectacularly, low-lag – all but the most committed gamers will find it a very agreeable monitor, especially with Ambilight engaged. And the most committed gamers will have a dedicated monitor anyway, obviously.
This is all very good, but – Ambilight aside – it doesn't really put the OLED+936 especially far ahead of competing screens from the likes of LG, Samsung and Sony. It's the Bowers & Wilkins audio system that turns a strong case into a compelling case.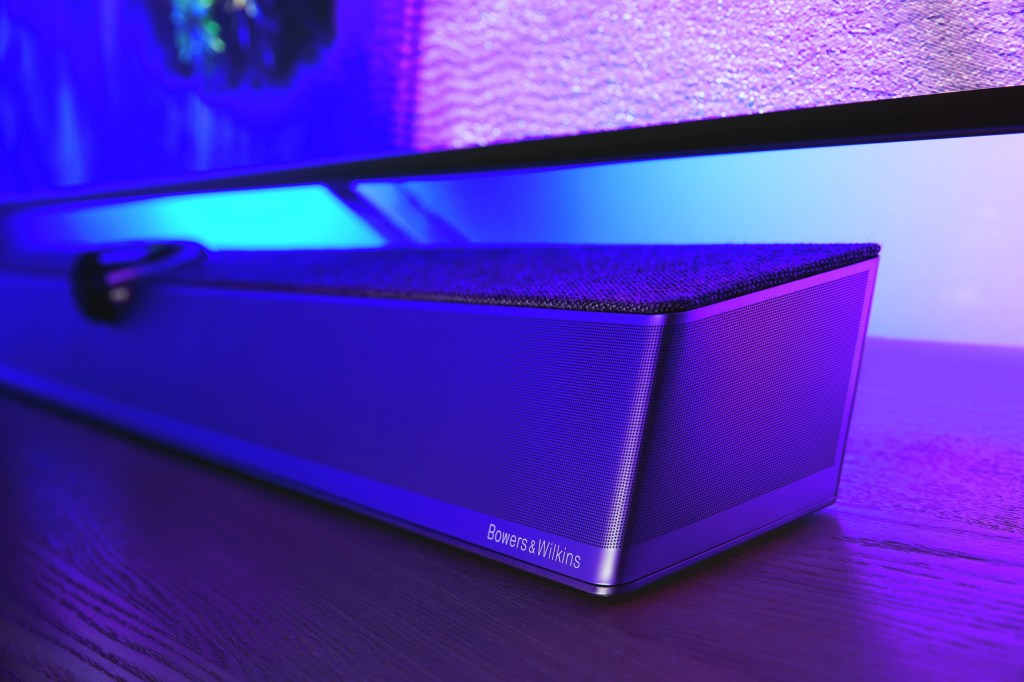 The presentation from the integrated speaker array is articulate and expressive, with plenty of low-end presence and an absolute stack of tonal detail revealed in the midrange. The top end is crisp and attacking, and despite the numerousness of the drivers the entire frequency range hangs together as a whole. 70 watts proves more than enough power to give the biggest moments in the biggest soundtracks proper expression. And when fed a Dolby Atmos soundtrack, there's a more convincing sense of height and space than is available from the likes of the Beam Gen 2 soundbar from Sonos. The OLED+936 is eARC-equipped, but in all honesty you'd need to spend quite a lot of money to make a worthwhile improvement of the audio quality on offer here.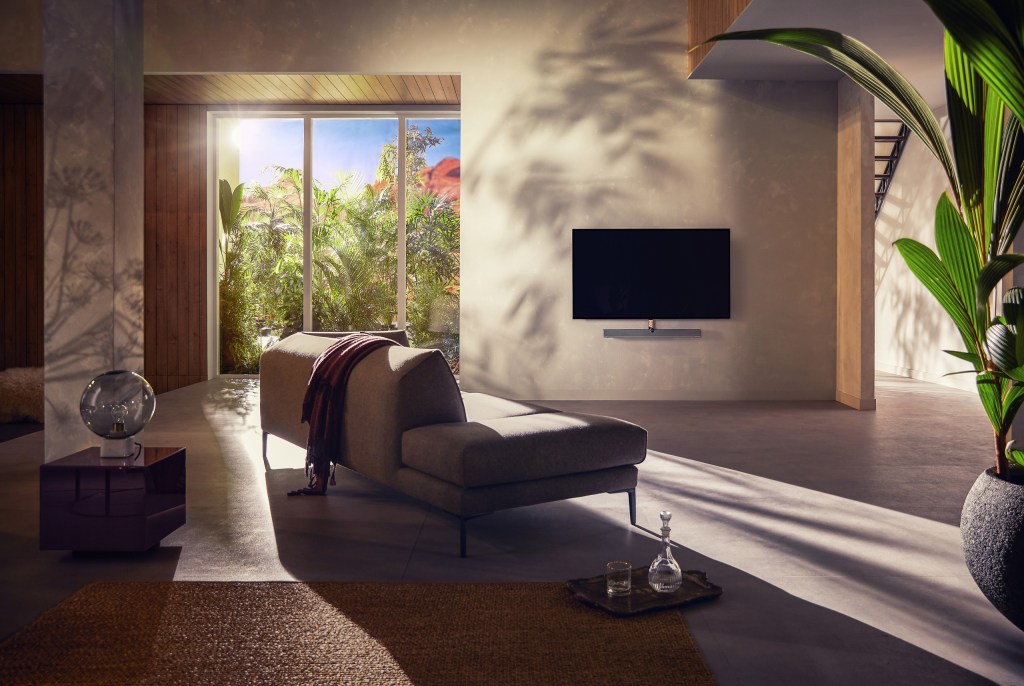 Verdict
You're entitled to expect a lot when shelling out three grand for a new TV – but, if anything, the Philips OLED+936 overdelivers. Picture quality is easily a match for any comparably priced alternative, Ambilight is a unique feature that keeps on giving and, in collaboration with Bowers & Wilkins, Philips has produced the best-sounding TV you can buy.   
Stuff Says…
Right now there's no better, more effective or more satisfying way to drop this amount of cash on a new television
Good Stuff
Cracking picture quality, helped no end by Ambilight
Cracking sound quality, helped no end by Bowers & Wilkins
Extensive specification
Bad Stuff
Android 10 is a bit up itself
Not the wall-hangingest TV you ever saw
Remote control is stylish but not especially intuitive