Philips 55OLED806 review
Ambilight up your life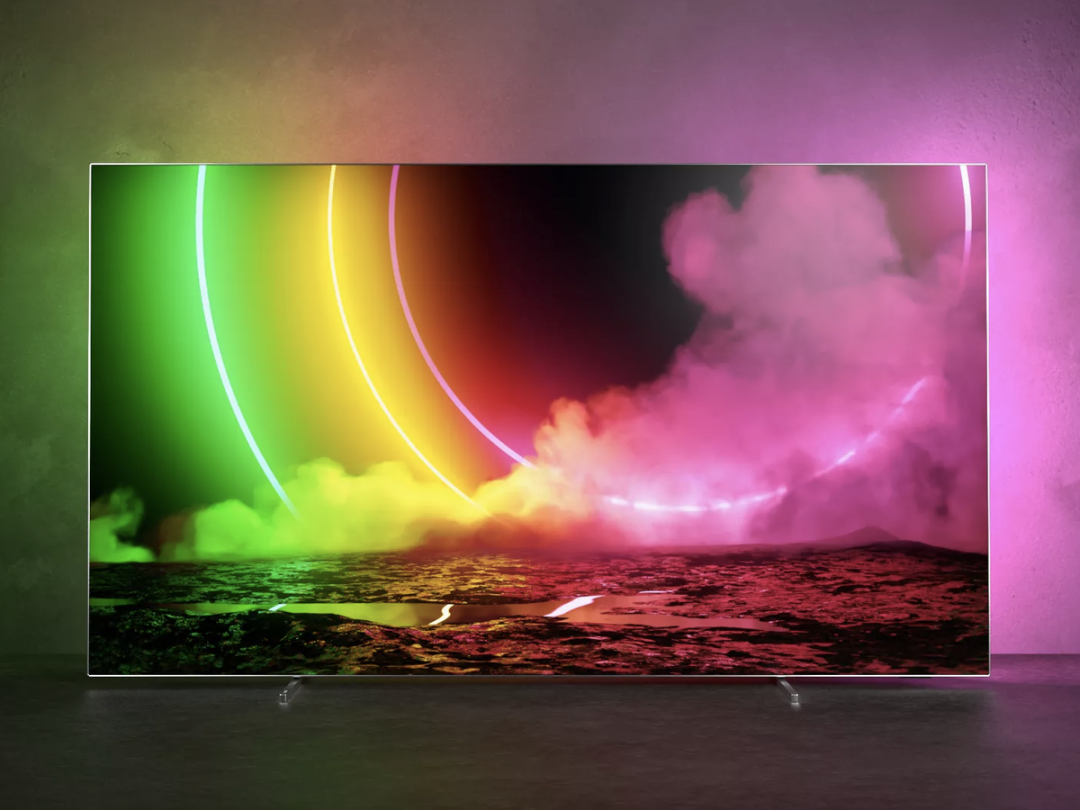 A comeback is all you can call it: from the company everyone considered before buying an LG, Samsung or Sony, to a brand with justifiable designs on your cash – Philips has revitalised its TV fortunes.
On paper, the OLED806 appears to do everything it needs to maintain that upward trend. The specs are right, the looks are right and the screen sizes (48in, 65in and 77in, as well as the 55in unit we're looking at) are right. Even the price is right.
If Philips can nail the performance too, the new OLED806 could be a TV to be reckoned with. So how does it fare?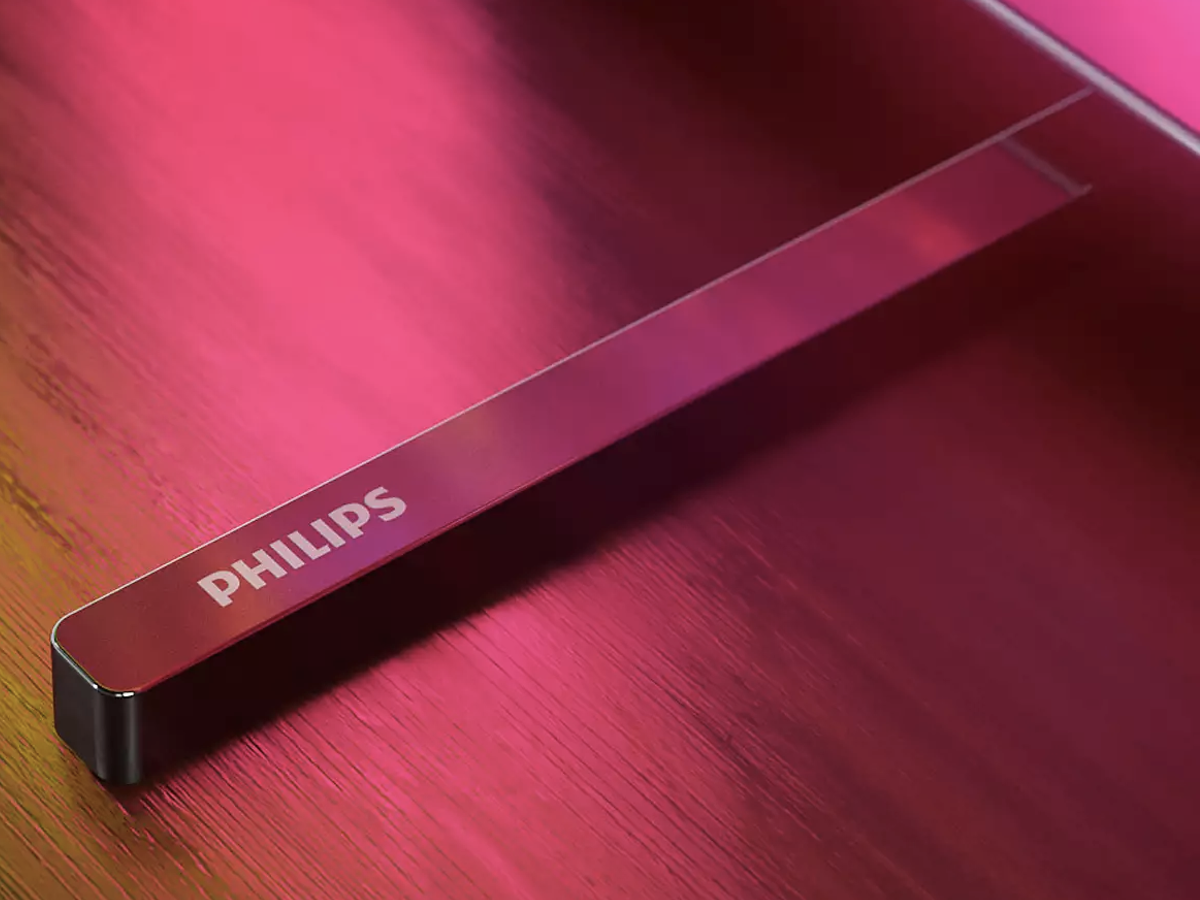 Bloat is an issue for many OLED TVs. As surely as night follows day, many mainstream sets swell in the area where they keen their electronic hardware – and the OLED806 is no different. To be fair to the Philips, it features a bigger area of OLED super-skinniness than quite a few rivals. But where it isn't slim, it's very nearly 7cm deep, which could be problematic if you're keen to hang it off your wall.
But don't strike the OLED806 off your shortlist just yet: it's much better looking from straight ahead. In other words, when you're watching it. Face-on, the Philips is basically all screen. The bezels that surround it are skinny in the extreme (even the one across the bottom). So slim, in fact, that there's no space for any branding. The only place the word 'Philips' appears is on one of the extremely slender feet the screen stands on.
In fact, the feet are a design feature on their own. They're reversible, so you can either have a bright shiny metal finish on display, or a darker, smokier alternative to suit your decor. The screen itself sits very close to the feet, which means it's very low to the surface on which the TV is standing. Which means, in turn, there's absolutely zero space for a soundbar.
Features: Everything (and a bit more)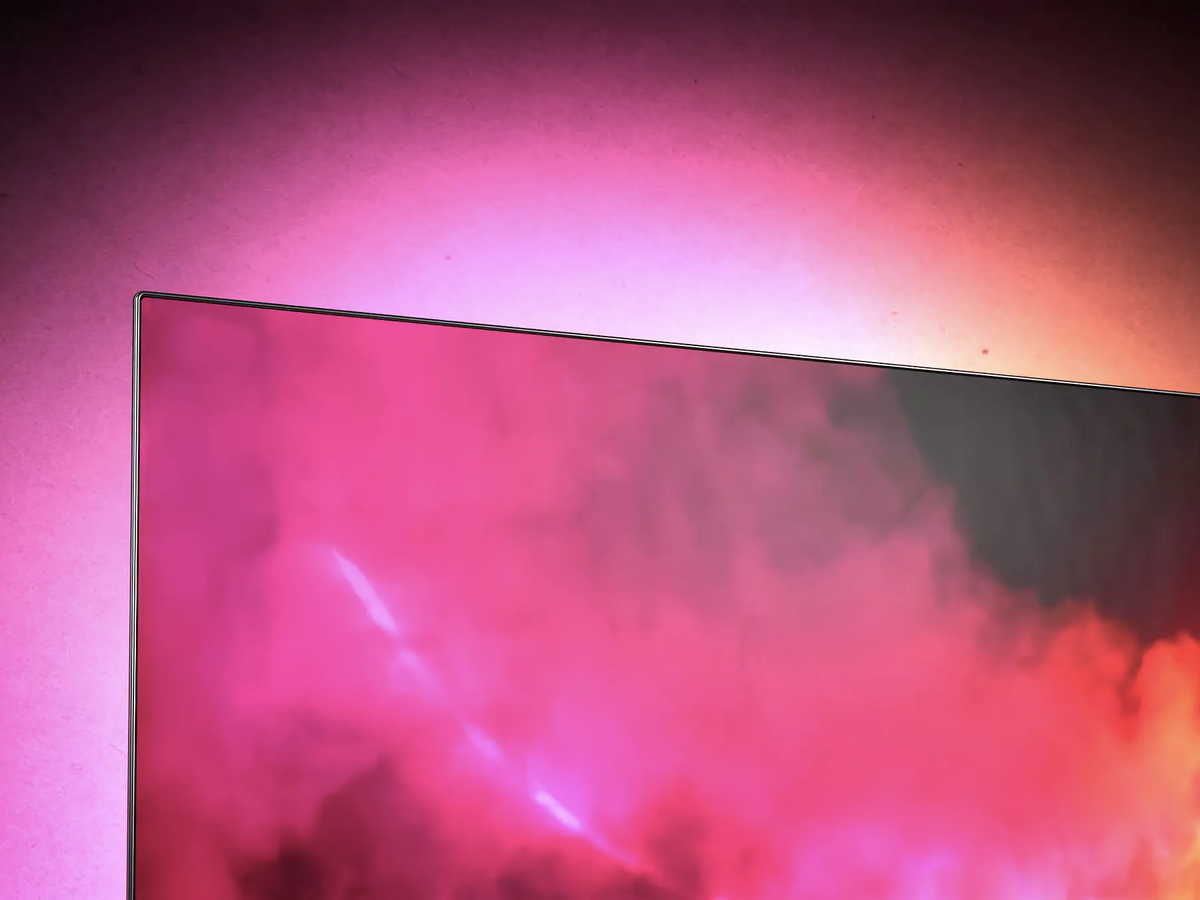 You have to hand it to Philips: it knows how to spec a television. Some brands get side-tracked by political in-fighting and points-scoring, but Philips just gets on with the job of giving customers everything they need. And then a little bit more on top.
HDR is a great example. Only Philips and Panasonic TVs are compatible with every worthwhile HDR standard. For the OLED806, that includes HDR10+ Adaptive and Dolby Vision IQ, along with HLG, HDR10, HDR10+ and Dolby Vision. Good luck getting anything close to that variety from LG, Samsung or Sony.
And with the OLED806 Philips has caught up with next-gen gamers, too. Two of the screen's four HDMI inputs are fully 2.1-compliant, which means they support every clever feature of your Xbox Series X or Playstation 5: 4K at 120Hz, VRR, HGiG tone-mapping, the lot. And there's ARC and eARC compatibility on those sockets as well.
In addition, you've got three USB inputs, dual-band Wi-Fi (along with an Ethernet socket), Bluetooth 5.0 and a couple of legacy inputs for good measure. So you should have no problem with external sources.
The latest and most complicated version of Philips' already pretty complicated P5 picture processing takes care of quality. It's AI-assisted and, quite apart from the fearsome amount of processing it gets through, it brings Philips' cutting-edge anti burn-in technology down from the flagship models and into the mainstream.
Because this is Philips, the OLED806 also features the company's proprietary Ambilight technology. Here it's on all four sides of the rear of the chassis (which goes some way to explaining its relative depth). If you've seen Ambilight in action, you'll know it really works – and if you haven't, take our word for it. Images seem larger and more immersive, while eye-strain is reduced. As unique selling points go, this one's a beauty.
Interface: adieu, Android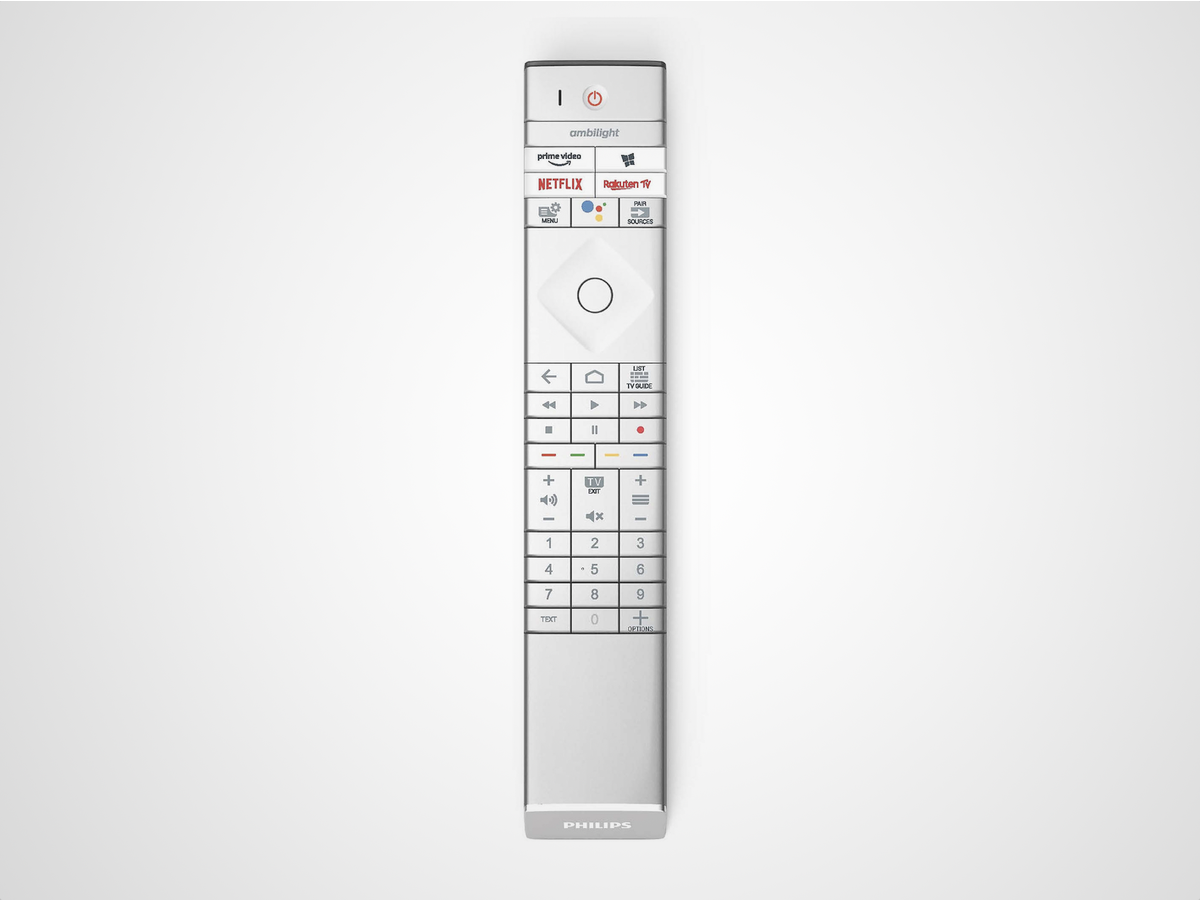 The 10th version of Android TV is the best Android smart TV interface so far. But that's the faintest of praise. Happily, Philips is all set to follow Sony's lead and bin the system in favour of Google TV soon. So your OLED806 won't be hamstrung by a tricky interface forever. Which is good, given the number of bugs being reported online.
In the mean time, at least Philips has combined Android TV with Freeview Play. Together with a fairly impressive selection of streaming apps (there's no Apple TV, but at least you do get Disney+), you should never be short of something to watch. Twin TV tuners help on that score, too.
Navigating the smart TV interface, as well as the TV's endless and labyrinthine setup menus, is done using a large, leather-backed and backlit remote control. Philips has been making the most of its partnership with Muirhead leather (as quite a few of its recent headphones demonstrate) and there's no arguing with the tactility of the handset.
There's certainly less arguing than with the button layout, anyway, which seems a bit arbitrary. There's a mic on the remote, plus a button with which to summon Google Assistant. Controlling the OLED806 using just your voice is simple and straightforward – just as long as you don't attempt anything too tricky (like entering those setup menus).
Performance: Smooth moves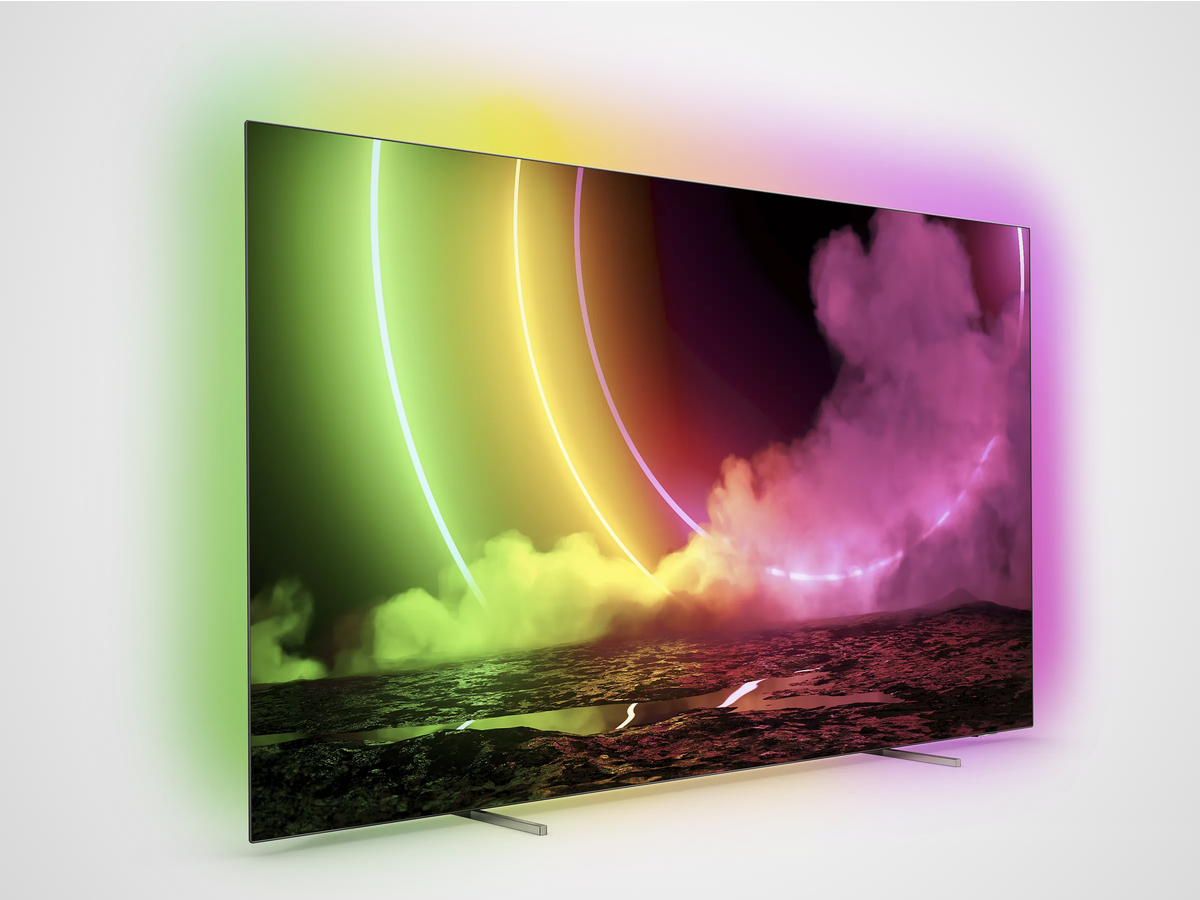 Investigating every single one of the OLED806's setup options requires a few hours. Once you're finished, though, it's time to sit back and let the Philips do its thing. And its thing turns out to be across-the-board virtuosity.
Fed with a 4K Dolby Vision Blu-ray disc of Ari Aster's Midsommar, the OLED806 barely puts a foot wrong. The deep, lustrous blacks we expect from OLED technology are here, but they're also loaded with detail and variation – so even when the scene is almost entirely dark, it's possible to discern subtle shading differences.
White tones are equally clean, equally detailed and equally nuanced – so it follows that contrasts are strong and convincing. When you consider the Philips doesn't utilise one of the super-bright OLED panels LG has been using for its range-topping screens (and also flogging to Sony), that contrast performance is even more impressive.
Colours, too, are convincing. For once where Philips is concerned, they're not all up in your face. The OLED806 will let tones pop if required, but it does subtle and understated far better than we're used to. Perhaps most strikingly, the OLED806 can do both in the same scene, combining natural and vivid very effectively. This TV can identify and deliver even the most minor variations in tone or shading, and it can do so without getting unnatural about it.
Textures in general – and skin tones in particular – are fully expressed and absolutely alive with fine detail. Edges are smooth and steadily drawn, plus there's convincing depth of field available when the content demands it. As far as motion control goes, what has often been Philips' Achilles' heel previously is dealt with confidently here. Sure, you'll need to spend more than a wee while in the setup menus to get everything sorted – but once that's done, you can enjoy on-screen movement that's as unforced as can be.
Upscaling & sound: under control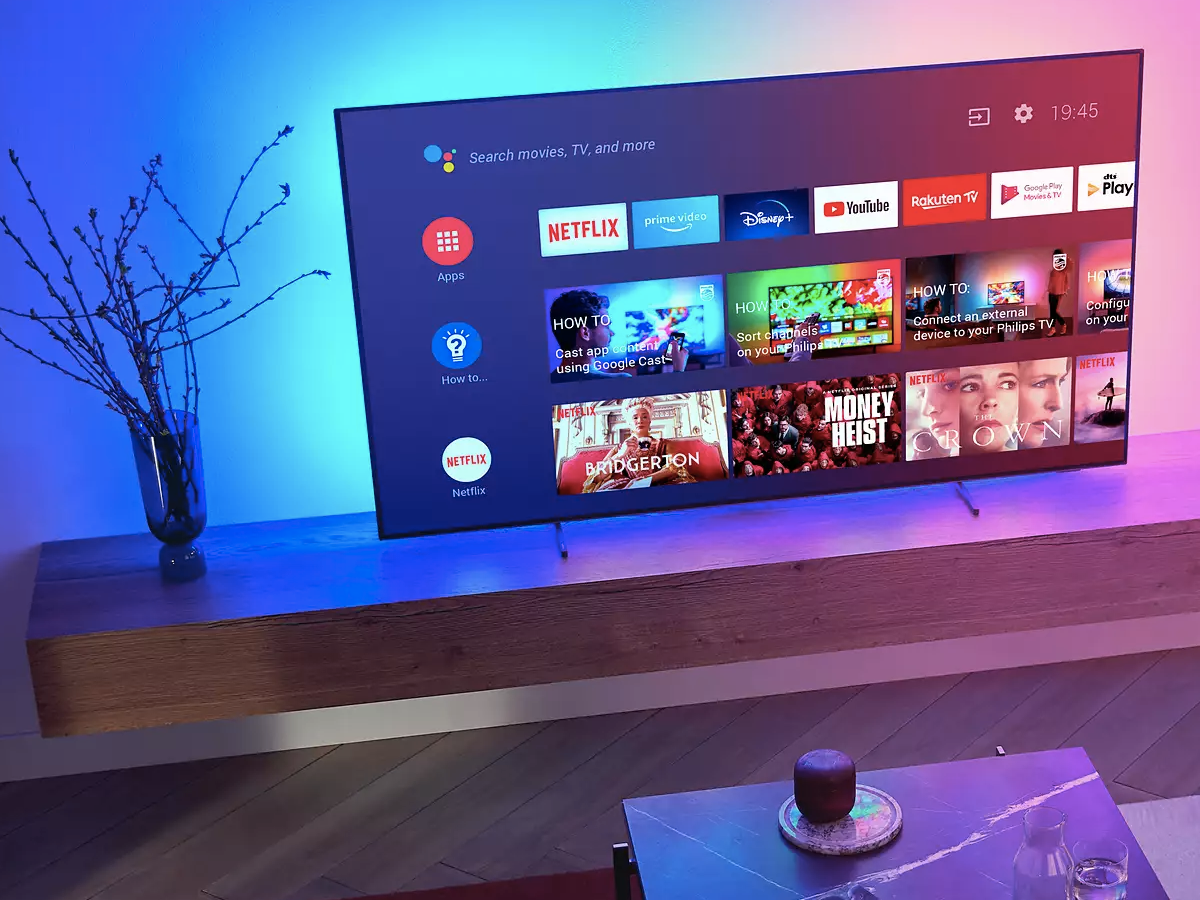 Lower resolution content isn't dismissed by the OLED806 either. 1080p footage looks almost as good as native 4K content, with only a slight coarsening of fine detail to give the game away – and a little less positivity where edge definition is concerned. Even bog-standard TV broadcasts remain watchable, though they're a bit soft and noisy by comparison.
Switch to something with properly testing on-screen motion (Match of the Day on iPlayer is always good for this, what with its constant motion, a lot of which is in opposition to the movement of the camera) and you'll find yourself back in the depths of the setup menus sharpish. But it doesn't take all that long to bring movement back under control.
As far as sound goes, the Philips is again an overachiever. The three-driver array on the rear panel is powered by a total of 50W, and it sounds quite open and distinct. By the standards of flat-screen TVs, it generates a pretty impressive amount of bass. Bass that's rather lacking in any kind of tonal variation, sure, but it's definitely bass. Which is more than most similarly priced alternatives can claim to deliver.
Philips 55OLED806 verdict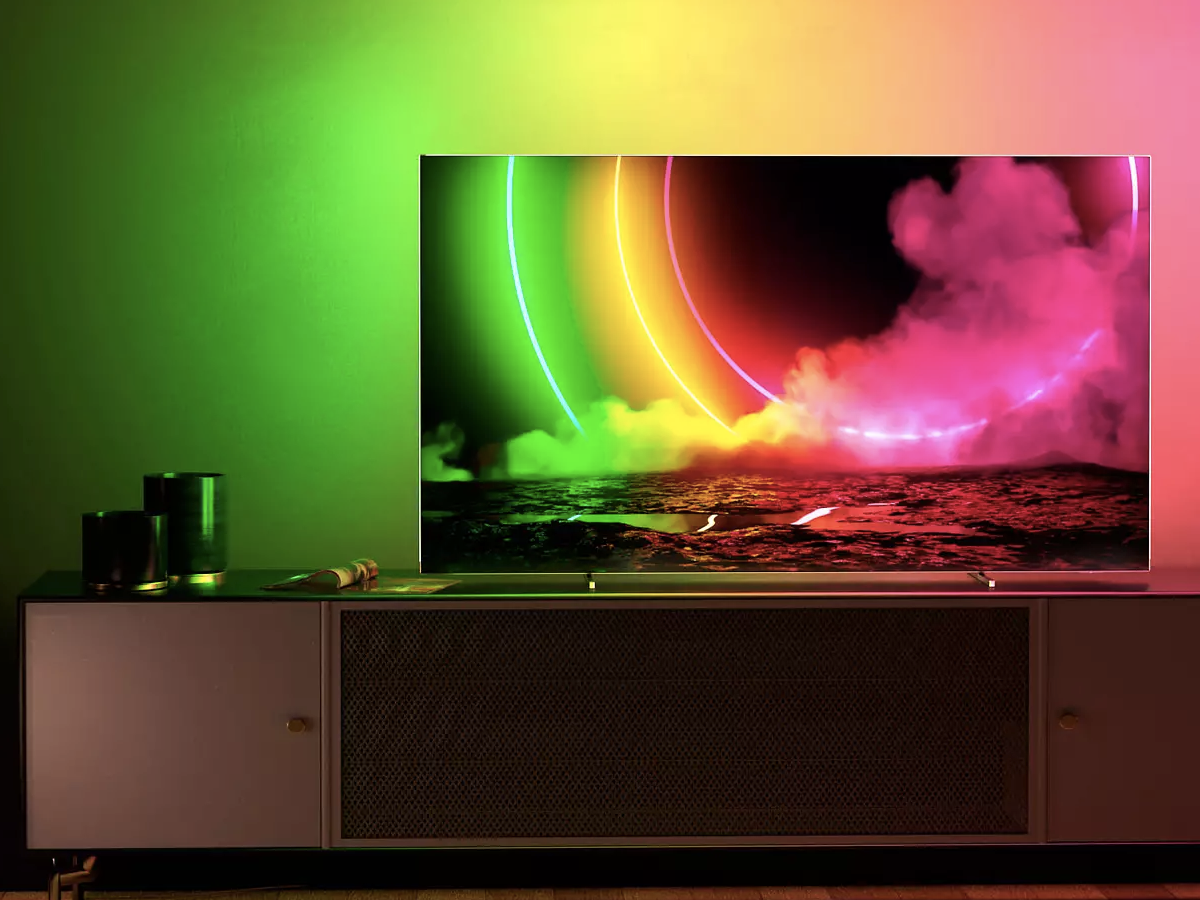 You'll have to commit some time to setting up the OLED806 to your satisfaction. And you'll have to wait a little while before Philips finally ditches Android TV in favour of Google's superior system. As far as downsides go, that's just about it.
This is a well-specified, well-made, high-performance TV at a completely mainstream price. When you take Ambilight into account too, it becomes a pretty compelling package. Like we said at the top, Philips wants your money. And it's doing everything to get it.
Tech specs
| | |
| --- | --- |
| Display | 4K UltraHD OLED |
| Screen size | 48/55/65/77in |
| HDR | HDR10, HDR10+, HLG, Dolby Vision |
| Connectivity | 4x HDMI, 3x USB, Wi-Fi, Bluetooth 5.0, CI+, Optical, Ethernet, Headphone, Satellite |
| System | Android TV 10 |
Stuff Says…
Movies, games, TV…this Philips set has all the specs to make it a genuine contender
Good Stuff
Bright, detailed and believable pictures
Decent sound by current standards
Spec sheet includes all HDR standards and Ambilight
Bad Stuff
Endless setup menus
Illogical remote control layout
Not exactly slim