Philips 50PUS6272 review
Perhaps the finest sub-£500 telly you can currently buy...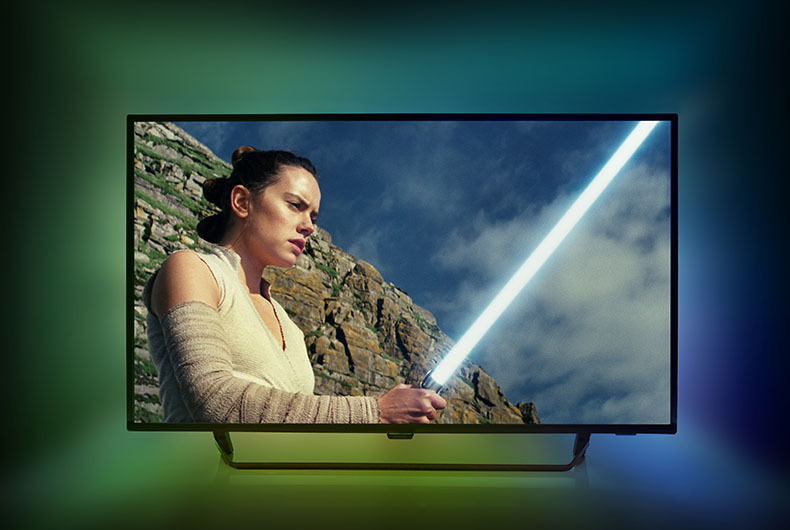 You spend less, you get less. That's a fundamental rule of consumerism, right? And by that rule, spending less than £500 on a TV is going to involve all sorts of compromise.
And yet, if you spend that £500 on the Philips 50PUS6272, that compromise is hard to find.
This is a 50in TV with both 4K and HDR. Not to mention Ambilight, which is ace. What's more, it's an astounding performer for the money.
Setting up: making you work for it
You're not going to be immediately blown away by this Philips, though, because it's out-of-the-box settings are downright horrible.
The main culprits are an eco contrast setting that's hidden away from the other eco settings, and a Noise Reduction feature that turns complicated noise into green moss.
The latter is something I don't recall ever seeing before and hope to never see again. Turn both of those 'features' off and you're a long way towards getting the 50PUS6272 looking as it should – but you're not actually there.
The TV's built-in picture enhancement features generally don't work well for normal viewing, so selecting the Movie preset, which disables most of the processing, is a good place to start.
From here we'd recommend that you up the Colour and Sharpness settings a bit and take a few points off Contrast, Video Contrast (yes, that's a separate setting) and Brightness. We also like the Colour Enhancement on Minimum, Colour Temperature at Normal, and the Contrast Mode on Optimised for Picture.
You'll now have a picture that works well with standard dynamic range content (SDR), but feed the telly some HDR and it will switch to a whole other set of presets. It's annoying, but the norm for modern TVs and necessary because making the most of an HDR signal requires a very different approach in terms of processing.
In fact, for HDR you're best off using the HDR Vivid mode, which enables most of the picture enhancement features that work so badly with SDR content. With HDR, though, you only need to take some points off Colour and turn off Noise Reduction, MPEG Artefact Reduction and Motion Styles to get the Vivid mode producing stunning images.
Performance: HDR extraordinaire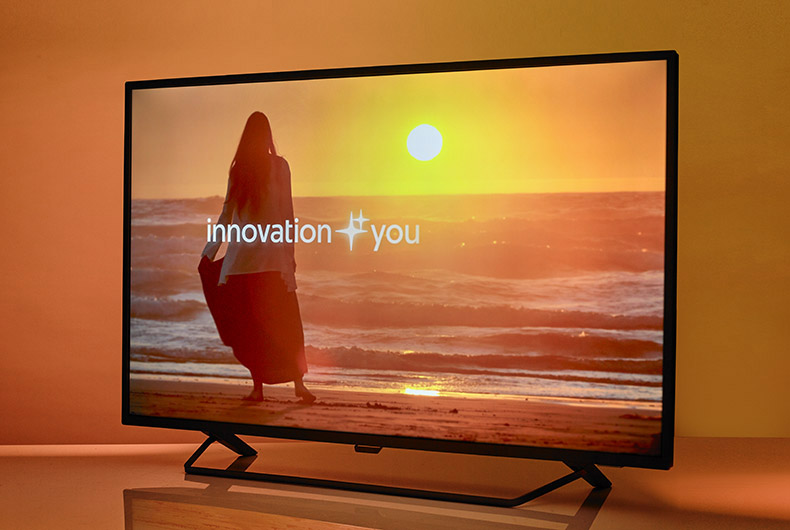 And the images really are stunning, particularly for a TV costing so little.
We're used to TVs at this sort of price handing in a lifeless, lacklustre HDR performance, but this Philips is punchy, bright and vibrant. It's a great TV for the vivid colours of the Guardians of the Galaxy films, but it's also got a surprising degree of subtlety and nuance to it, reproducing skin tones in a lovely, natural way, and ensuring the scenery and denizens of Planet Earth 2 are at once resplendent and realistic.
For detail and sharpness the 50PUS6272 is unbeatable at this price: characters and objects are so crisply defined that they stand out from their surroundings in solid, three-dimensional fashion. In short, this is a brilliantly dynamic and exciting deliverer of 4K HDR content, but you're obviously going to be watching lots of SDR, too, at least in the short term.
The good news is that, while the Philips takes a very different approach with SDR (particularly with our chosen settings), it still produces a very good picture. This is, obviously, a less bright image than the one you get from HDR, but it's also less bright than some rivals at the same sort of price.
The trade-off is a really natural colour balance, strong black depth and some really impressive subtlety in the brighter parts of the image. Here, a light in a dim apartment is a bright bulb that emanates ever decreasing shades and reflects off the surfaces around it, while many rivals reproduce the same light as a simple, large ball of white light. This sort of bright contrast also gets you nicer, more clearly defined clouds.
All content also benefits from good handling of motion. As mentioned above, our preference is to turn the motion processing off entirely, as the Philips is lacking a Sony-like Goldilocks setting that firms up motion without making everything look a bit weird, and the result is perfectly natural fast action and pans with just a little bit of easily ignored judder and blur.
The 50PUS6272 is a great choice for gamers on a budget, too. Not only does the telly's punchy HDR performance make it a great fit for a PS4 Pro or Xbox One X, its natural balance with all content means your always seeing the game as was intended. What's more, an input lag of just 27ms means it's never going to let you down for responsiveness.
Whatever you're watching or playing will, if you stick with the TV's own speakers, be accompanied by fairly clear but decidedly unspectacular sound. There's a surprising amount of punch to the delivery and voices are projected quite effectively, but there's not much in the way of bass weight or depth. As ever, we'd recommend you budget for a soundbar or soundbase to accompany your new telly.
One other thing to be aware of is that the Philips has pretty poor viewing angles, with colours and contrast washing out rather a lot when you're watching off-axis. This won't be a problem for everyone, but if your TV if often watched by people sitting in all corners of the room it could be an issue. Or you could just claim the sweet spot for yourself and pretend you never read this.
Features: apps, Ambilight and an awkward OS
Unlike Philips' high-end TVs, which run on Android TV, the 50PUS6272 has a Linux-based operating system that is, to be blunt, a bit naff.
Android TV isn't great by any means, but this system is significantly more humdrum in appearance and more ponderous in use, whether you're flicking through the grid of apps or trying to find something to watch using the rudimentary EPG.
The generally unsatisfying user experience isn't helped by a remote control that's rather cluttered with spongy buttons. There is, at least, a dedicated Netflix button, giving quick access to the app you're likely to be using the most.
Talking of Netflix, it's present on the Philips in full, 4K HDR form, and it heads-up a very good overall app selection. Amazon Video is on board in 4K (but not HDR), and the four main UK catch-up apps are present and correct. There's Rakuten, too, should you fancy some pay-as-you-go blockbuster action.
But the 50PUS6272's best feature is, as is ever the case with a Philips TV, Ambilight. For the uninitiated, Ambilight uses rows of LEDs around the edge of the screen to extend the onscreen colours onto the wall behind and around the TV.
Not only does it look spectacular, it also has the effect of drawing the eye in and making the actual screen seem bigger. We're huge fans over here, and we think you will be too.
Philips 50PUS6272 verdict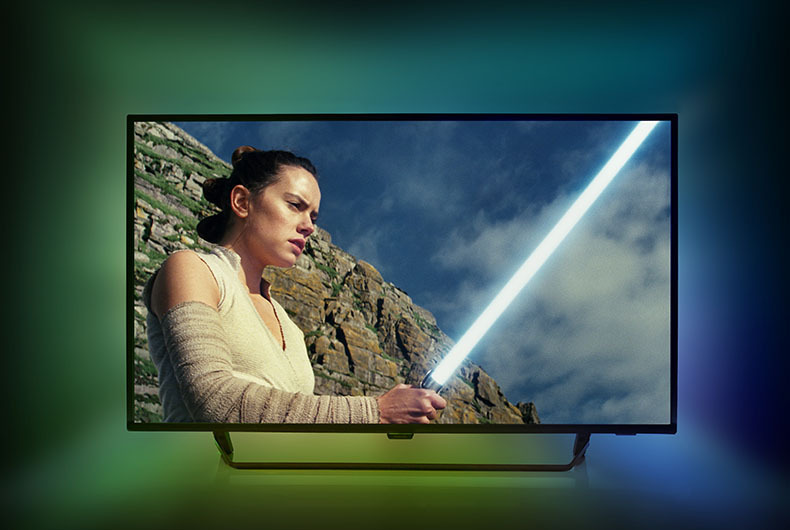 In short, the Philips is an absolutely fantastic TV for the money.
Yes, it's got a few issues – poor viewing angles, a messy OS and awful out-of-the-box settings – but these are minor flaws in the face of an extraordinarily good picture at a price that practically anyone can afford.
Between this and the 55POS9002 it seems Philips is on something of a roll.
Stuff Says…
The Philips 50PUS6272 is so good, it redefines what you should expect from a £500 TV
Good Stuff
Punchy, vibrant and dynamic with HDR
But also subtle, balanced and natural
Sweet, sweet Ambilight
Decent selection of apps
Bad Stuff
Looks terrible out-of-the-box and is a pig to calibrate
Operating system is a bit bland and sluggish
Pretty poor viewing angles