Panasonic SC-BTT755 review
Make room for the Panasonic SC-BTT755 – it's one of the best Blu-ray box systems we've ever had in our testing rooms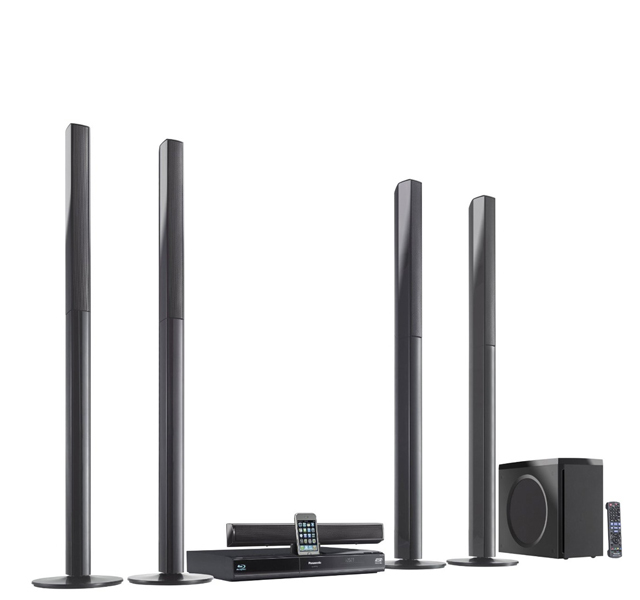 Invariably some products are more involving than others when it comes to setting them up ready to review. The Panasonic SC-BTT755 home cinema in a box system is a case in point.
There's a wealth of features and functions under the shell of the slim main unit but you will need to use some elbow grease before you can sit back and enjoy it.
The four tallboy speakers come in three parts. There are two parts to the speaker itself and a separate base upon which the speaker sits, once you've screwed the thing together.
The speaker cable requires threading through the base and the lower part of the stand, which while a little fiddly, makes for an ultimately neat and tidy solution. Similarly, unlike other products we've seen, it's solid on its feet once built.
A smaller centre channel and a subwoofer complete the package – and it wouldn't be a review of a Panasonic home cinema in a box system if we didn't mention that one side of the sub is left unfinished.
That's not to say the panel's missing – just that the company hasn't deemed the chipboard rear of the sub worthy of covering. Hey ho, at least it should be tucked away out of sight.
Full HD 3D playback
In terms of spec, you'll find Full HD 3D Blu-ray playback supported, Viera Cast internet TV functions – wired or wireless, with an optional dongle – DLNA media streaming, an integrated iPod/iPhone dock, a USB input that supports DivX video among other content, HD audio decoding, an FM tuner … the list goes on. All that we might say is missing are some HDMI inputs.
Nothing wrong with the functionality, then, but does the performance live up to its side of the bargain? Thankfully, yes.
Picture performance is excellent, delivering pictures that hold their own against the best budget Blu-ray decks about. Colours are bright and punchy, with a good sense of depth, while black levels are deep and dark but not without detail. Upscaled DVD is similarly enjoyable, with no sign of any instability being introduced.
Dynamic, full-bodied sound
The floorstanding speakers keep their end up as well, delivering dynamic, full-bodied sound that avoids the typical bright and harsh sound heard on all-in-one systems, without losing the excitement that crisp treble sounds bring.
There's plenty of bass, too, without suffering any adverse effect on dialogue.
Add the on-screen control for docked iPods and easy-to-use media streaming, and the SC-BTT755 is well worth a little screwdriver action…