Oppo Watch review
An impressive debut effort that works WearOS wonders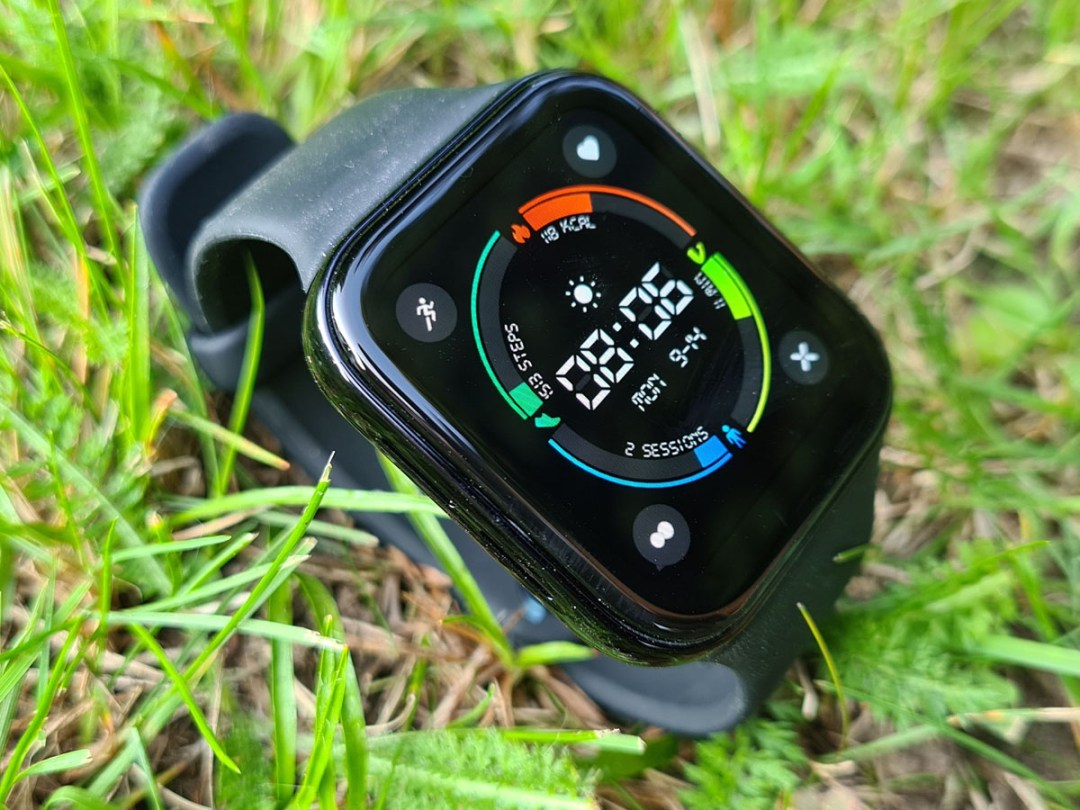 Haven't I seen you somewhere before?
Sure, Oppo's debut wearable might give Apple Watch owners a bit of deja vu, but there's lots to like for those sat on the Android side of the fence.
The Oppo Watch takes WearOS and gently massages it with helpful software tweaks and some clever battery-saving tech. Then it wraps everything up with the kind of build quality we'd expect from a brand that's been trotting out watches for years.
If you had doubts about buying a wearable made by a first-timer, let us put your mind at rest: Oppo just shot to the top end of our Google-powered smartwatch shortlist.
DESIGN & FEATURES: FUNCTION BEFORE FASHION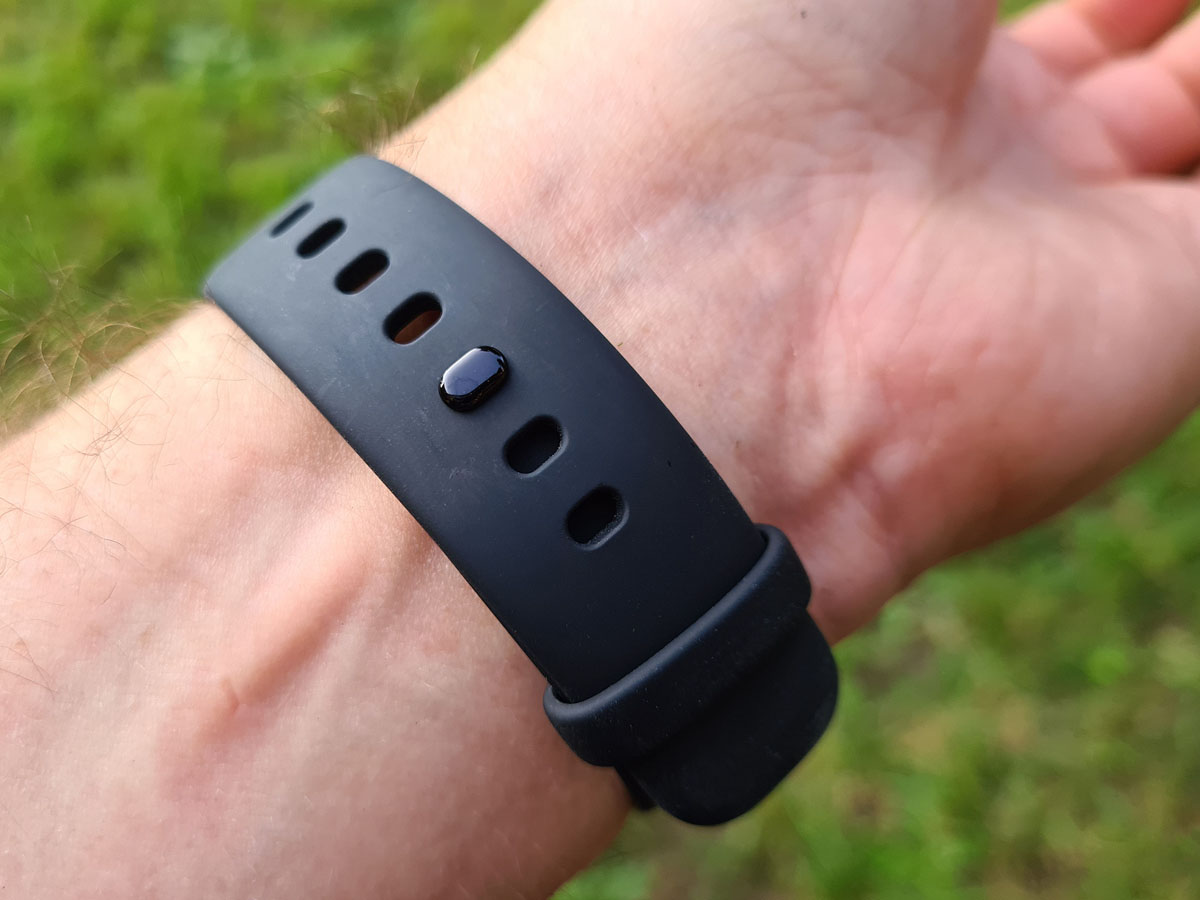 Let's not sugarcoat it: wear one of these on your wrist and almost everyone is going to think you've bought an Apple Watch.
Oppo has clearly not strayed far from Apple's design, with a similar shape, straps and even watch faces. Looks are subjective, but Fossil, Skagen and even Samsung's smartwatches are much more style-led.
The only visual flair is the emerald green side button, which defaults to a fitness shortcut but can be programmed to launch just about any app.
Oppo hasn't skimped on materials, though, with a metal frame that feels impressively robust and a fascia made with scratch-resistant Corning glass. The whole thing is 3ATM water-resistant, meaning you'll be able to take it swimming as well as into the shower.
Only the underside is made from plastic, but you won't notice once you strap it on. The band is just as hardy, and can be detached with a quick button press on the back of the watch, but proprietary lugs mean buying replacements won't be as easy as other WearOS watches that use industry-standard pins.
The bundled strap has plenty of adjustment, at least, so everyone should be able to get a comfortable fit. Oppo hasn't skimped on useful additions like NFC, letting you go contactless with Google Pay, but if you're into phone-free exercise only the larger 46mm Watch gets built-in LTE – and then only in certain territories.
DISPLAY & SOUND: EYE CANDY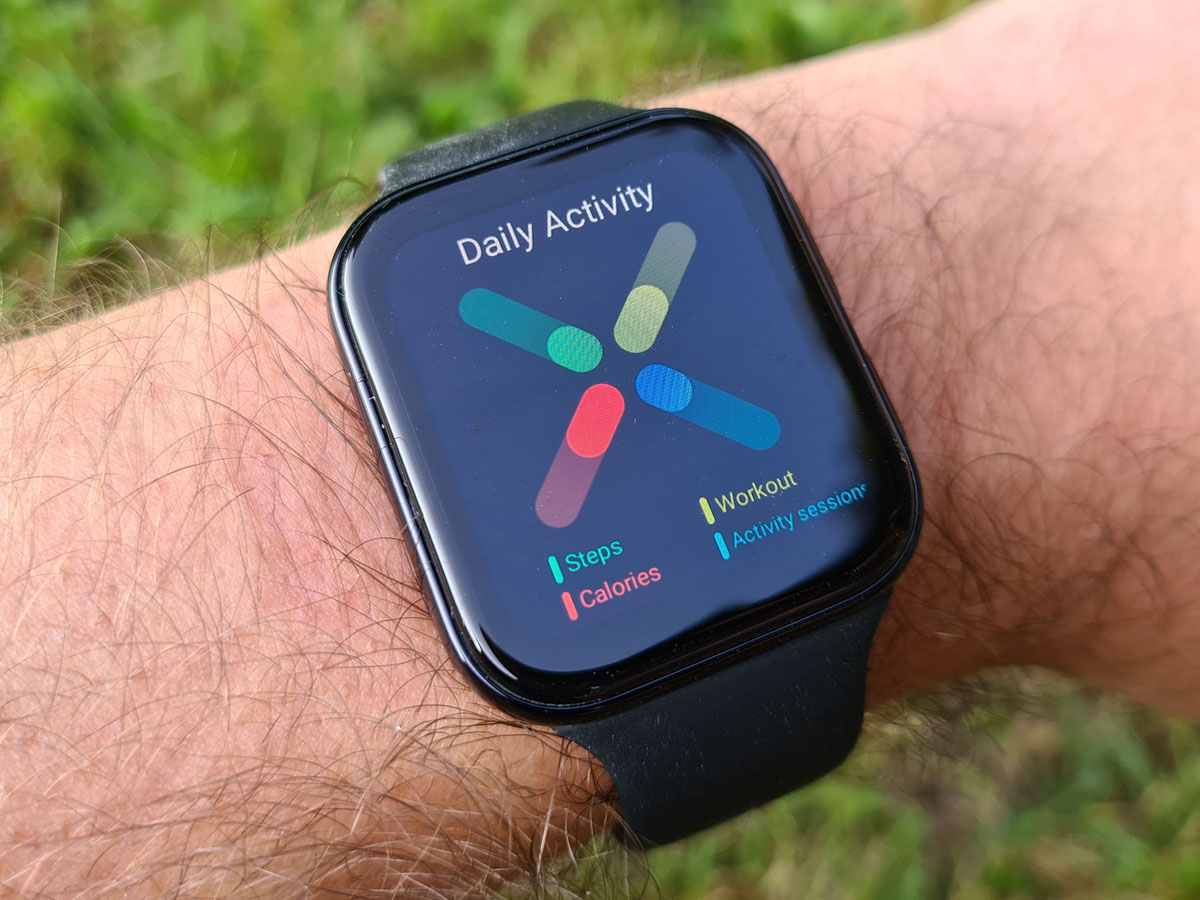 The 41mm Oppo Watch doesn't have the dramatic curved display edges of its bigger brother, but its AMOLED panel still makes quite the impression.
Colours are so rich and vibrant they seem to leap off the screen, and brightness is impeccable. Step outside and the ambient light sensor really cranks things up, so you'll have no trouble seeing what's on your wrist.
Most apps and menus have been cleverly designed with all-black backgrounds, which helps the screen edges blend seamlessly into the bezels.
The 320×360 resolution is perfectly sharp at arm's length, too – although some apps try to squeeze in lots of onscreen text at once, which can be tricky to read at a glance.
Still, for sheer clarity it easily trades blows with the best WearOS watches. The built-in speaker lets you receive calls on your wrist, but it sounds pretty tinny and is easily drowned out by background noise.
Better to use it for Google Assistant requests, or so the various fitness features can bark orders at you while you sweat.
PERFORMANCE & OS: SMOOTH OPERATOR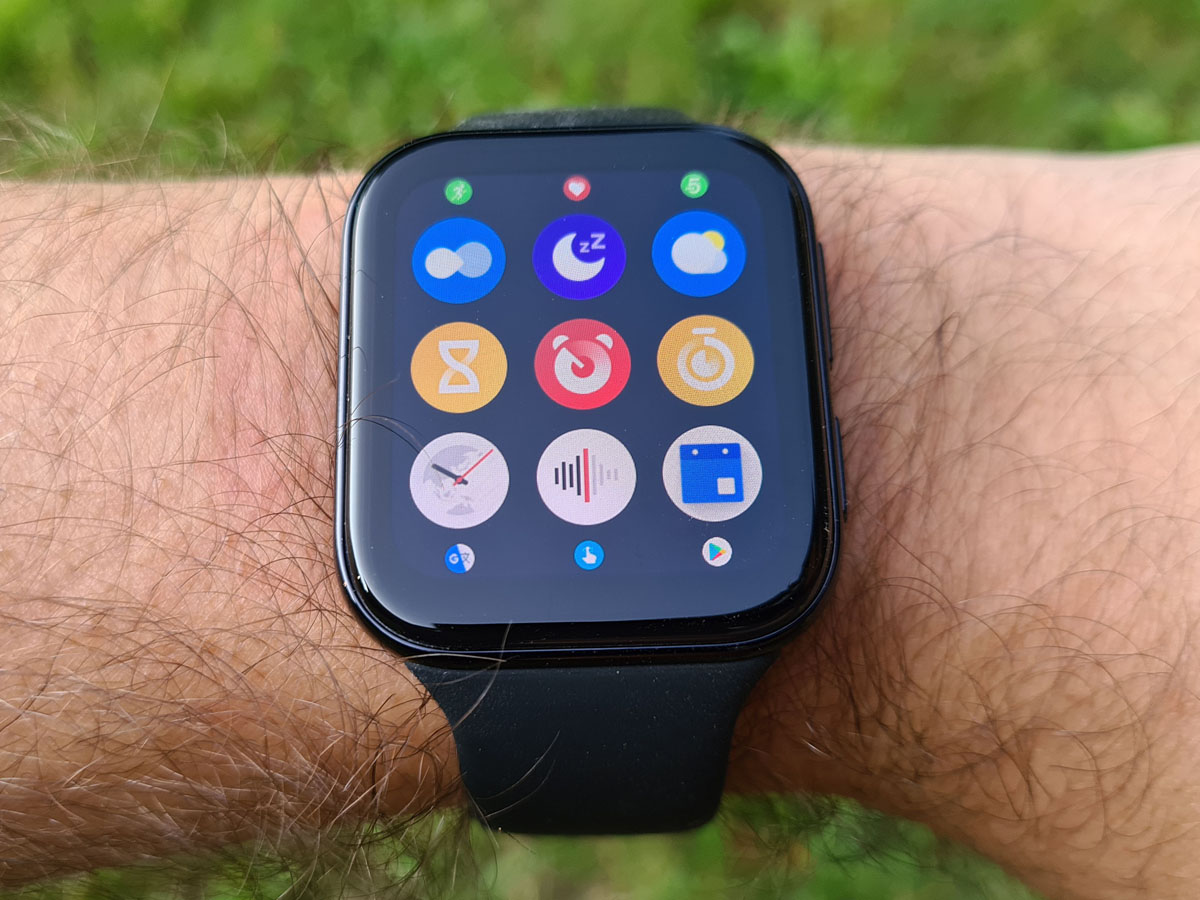 You'll find the Snapdragon Wear 3100 chipset in plenty of other smartwatches, and yet few can run WearOS anywhere near as smoothly as the Oppo Watch. It wakes up from sleep almost instantly, doesn't take an eternity to open apps, and shows no sign of stuttering or slowdown when swiping away notifications or scrolling through watch faces.
Only the Apple Watch and Samsung's Galaxy Watch feel smoother – but then you'd expect as much, given their custom hardware and operating systems. 1GB of RAM really helps smooth things out compared to other WearOS watches, and there's also a secondary processor that handles sleep monitoring and other low-power jobs.
Oppo's subtle software tweaks help things feel snappy, too. Apps and shortcuts have been shuffled into grids that better suits the square screen, and icons have been recoloured to match Oppo's smartphone skin.
It all feels unobtrusive, and makes things easier to navigate than Google's stock OS. The handful of different watch faces are largely focused around fitness, but can be customised through the companion app – including colour-matching with your outfit using your phone's camera. Neat. And of course, if you can't find one you like, there are tons of alternatives on the Google Play store.
FITNESS TRACKING: FIVE ALIVE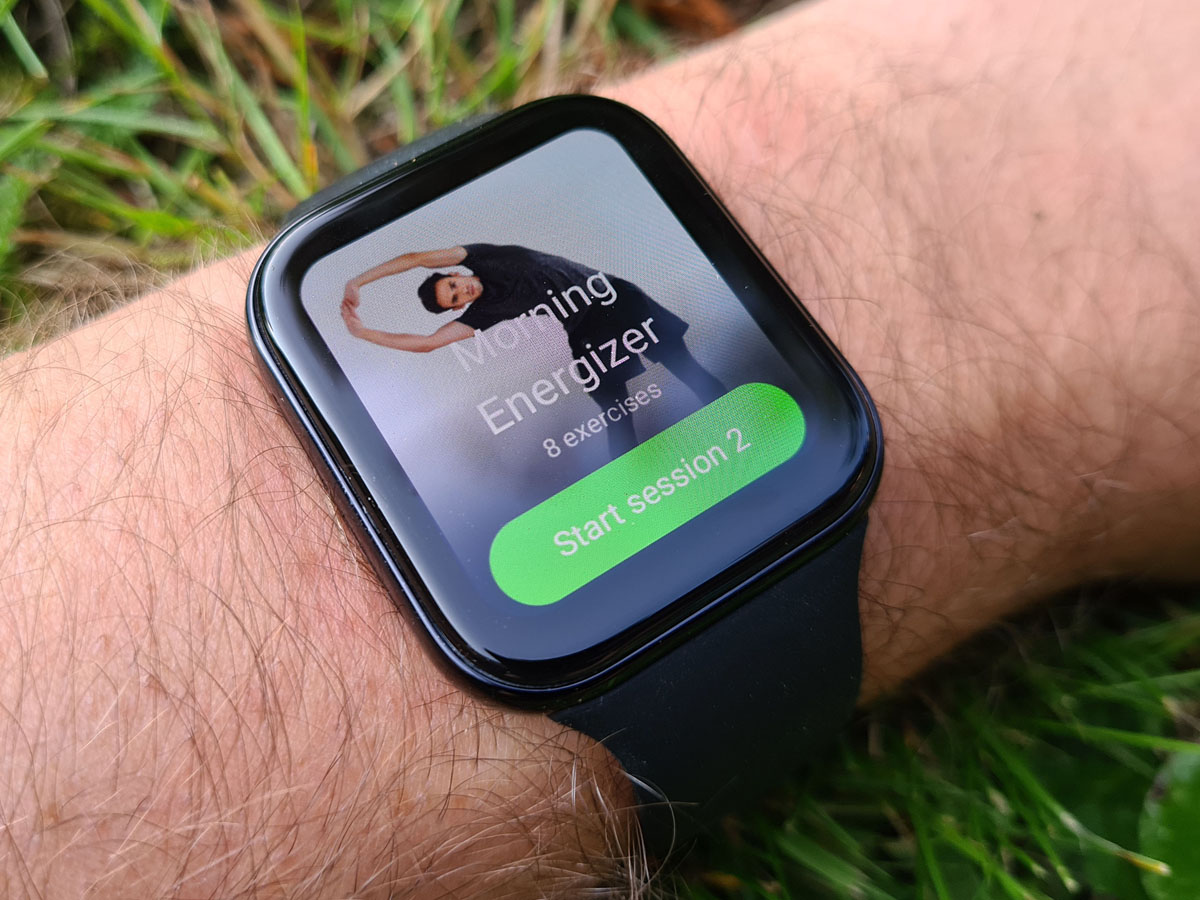 It doesn't look especially fitness-focused, but the Oppo Watch is all about knocking you into shape – just a little at a time, not through marathon gym sessions.
There's a library of built-in five minute workouts, ranging from bedtime stretches to all-out fat burners. Exercises are shown onscreen and the integrated speaker counts you through each one, so there's no need to reach for your phone first. It's a fun little addition we wish more wearables came with.
Like a lot of wearables it will remind you to get off your backside every hour, and again talks you through a handful of stretches before letting you get back to work.
For a more extended workout there are five modes: fitness run, fat burn run, outdoor walk, outdoor cycling and swimming. All rely on the heart rate sensor and pedometer to record your effort, with tracking largely in line with both an Apple Watch and Samsung Galaxy Watch Active 2. Only serious athletes will want the greater accuracy of a chest strap or foot pod.
Oppo's smartphone companion app does a pretty good job of breaking down metrics like cadence, elevation and real-time heart rate for anyone looking to improve their fitness, but given this is a WearOS device you can stick to Google Fit if you prefer.
There's nearly 100 other sport and exercise variants, so your fave is sure to be listed, but stationary tracking like exercise bikes and elliptical machines can be a little flakey – one morning session measured heartrate consistently, but lost track of steps and calories burned mid-way through.
The Watch has built-in sleep tracking, but it failed to pick up the times I woke up during the night, claiming I'd slept the entire way through. Samsung and Apple are more accurate here, detecting even small stirring.
BATTERY LIFE: FAST AS VOOC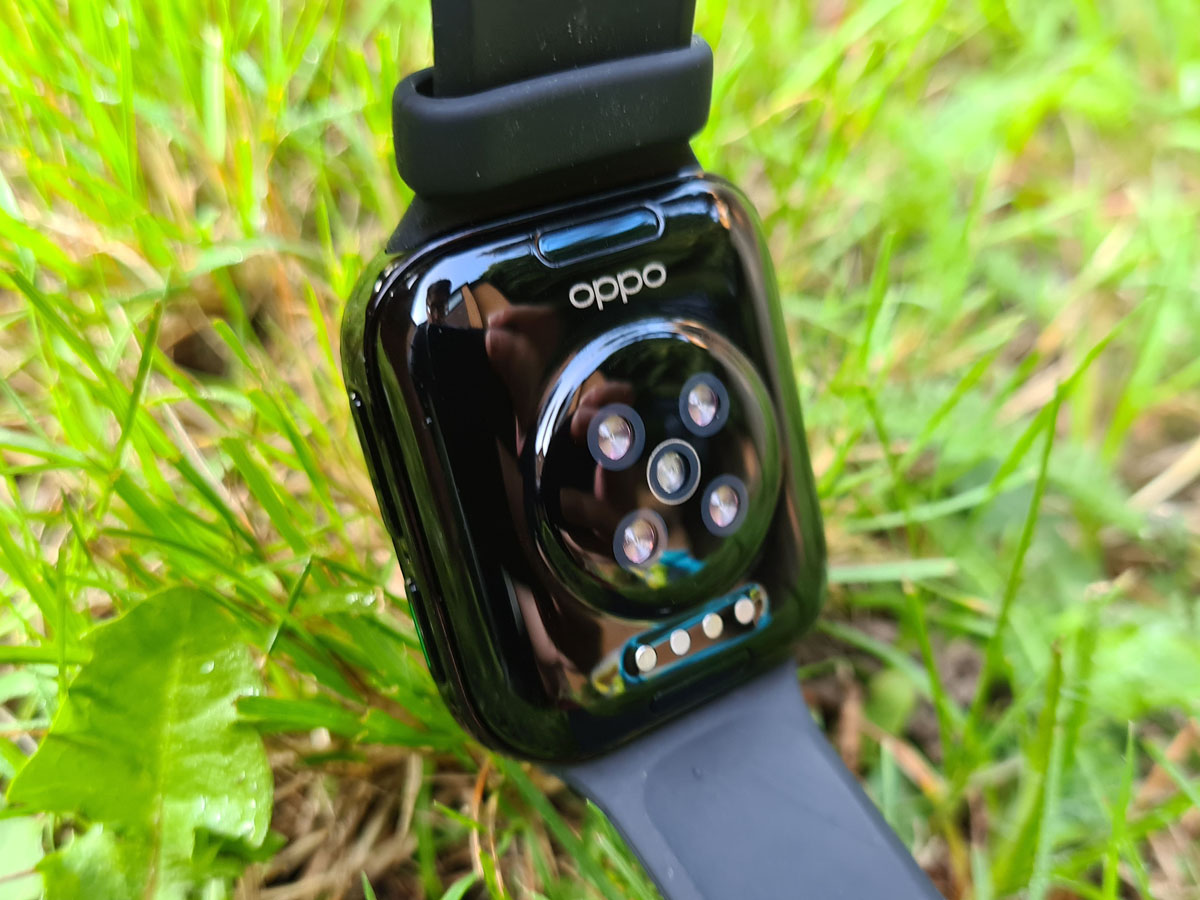 Go about your day and the Oppo Watch should comfortably see you through to bedtime, if not the next morning – but usually only just.
Fitness fanatics can expect much less, with GPS dragging things down to around the ten hour mark. And installing a bunch of apps or firmware updates should be done near a plug socket, as this hammers the 300mAh battery.
Avoid power drains like the always-on screen mode and a full 24 hours might be possible, but there's no way to manage a weekend away without at least one top-up. A neat power saver mode is supposed to manage up to 14 days between charges, while still recording heart rate and step count. It certainly made the smallest of dents during our testing.
Notifications continue to be beamed from your phone, too – but once activated you'll need to reboot the watch (or plonk it onto the charger) to head back to WearOS. The real winner here is VOOC charging, which uses tiny contacts built into the underside of the watch and on the proprietary charger. It refills a quarter of a charge in under 15 minutes, so top up while getting ready for bed and you'll have plenty of juice for a night of sleep tracking. A full charge is done in about an hour – comfortably faster than an Apple Watch Series 5.
OPPO WATCH VERDICT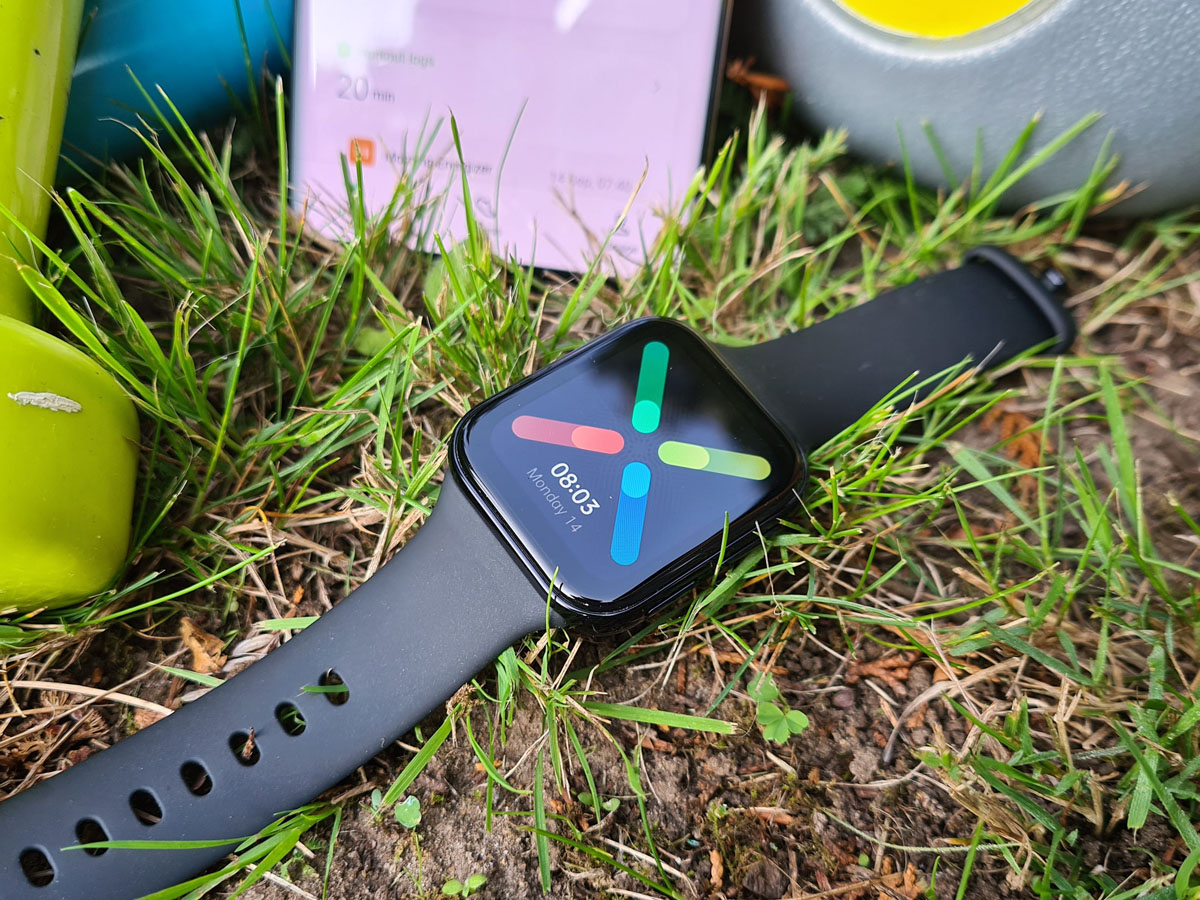 As WearOS watches go, few are quite as well-rounded as the Oppo Watch.
It has a gorgeous display and looks the part, even if it owes a design debt to Apple. Software tweaks have helped even out performance, and the twin-CPU approach means rarely being caught with a flat battery – as long as you don't mind a reduced feature set until you next reach a plug socket.
Casual fitness fans are sure to like the bitesize approach to exercise, and it comfortably undercuts both Apple and Samsung on price. Those more interested in stand-out styling or more serious sports tracking will probably want to look elsewhere, but in terms of features Oppo has the edge over the WearOS competition.
Tech specs
| | |
| --- | --- |
| SCREEN | 1.6in, 320×360 AMOLED (1.9in 402 x 476 AMOLED flexible) |
| CPU | Qualcomm Snapdragon Wear 3100 |
| MEMORY | 1GB RAM |
| STORAGE | 8GB on-board |
| OPERATING SYSTEM | WearOS |
| SENSORS | Accelerometer, heart rate, gyroscope, compass, barometer, NFC |
| BATTERY | 300mAh non-removable |
| DIMENSIONS | 49x39x11.4mm, 40g |
Stuff Says…
Ignore the Apple Watch copycat looks: Oppo's debut smartwatch handily streamlines WearOS in ways that put it ahead of many Google-powered rivals. A tasty-looking display, decent battery life and sensible price could earn it a place on your wrist.
Good Stuff
Gorgeous display
Tweaks WearOS in useful ways
Versatile fitness modes
Bad Stuff
Proprietary lugs limit strap choice
Apple-esque design not very original
Active battery life could be better