Oppo Find X review
The future of phones, today - if you don't mind a few compromises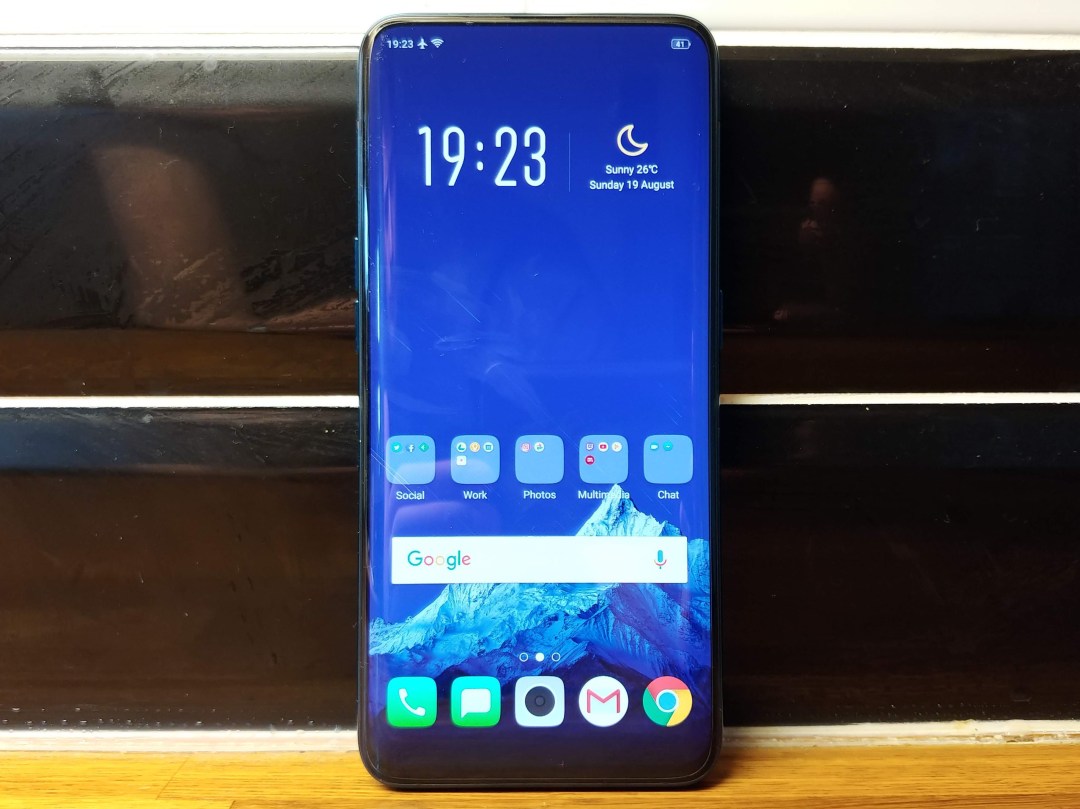 Whipping the Find X out of your pocket in public is all but guaranteed to draw attention.
It's not because of a gorgeous design (although it has one, natch) and isn't because of its size (even if, at 6.4in, it makes just about all other phones look like Tonka toys). 
No, it's because every time you swipe past the lock screen, a stealthily hidden camera slides up from inside the belly of the phone to scan your face, then goes back into hiding once you're staring at the home screen.
If that's not the coolest bit of tech you'll find on a smartphone in 2018, I don't know what is.
When the rest of the tech world seems happy to "do an Apple" and slap a notch on everything, Oppo has done something truly different. Does the Oppo Find X have just one, (admittedly very cool) party trick… or is it the full package?
OPPO FIND X DESIGN & BUILD: NOW YOU SEE ME
It might not be a household name here in the UK, but don't discount that big Oppo logo on the back of the Find X. Its sister brand OnePlus knows a thing or two about kick-ass phones – and on first glance, Oppo seems to have delivered the goods.
The Find X is a beautiful slab of glass and metal, with curved edges like you'd find on a Galaxy S9 and light-catching colour schemes that wouldn't look out of place on an HTC phone. The way it catches the light to reveal a subtle blue hue at the sides? Stunning.
Fingerprints and smudges do show up all too frequently, though, so you'll want to have a cleaning cloth handy to keep it looking its best.
At 6.4in, there's no denying the Find X is a beast of a phone. Unless you've got particularly deep pockets, it'll stick out of your jeans, but the 19.5:1 aspect ratio means it's slim enough to hold comfortably in one hand. With almost imperceptible borders at all four sides, it really feels like the entire front of the phone is made up of screen.
You'll find a USB-C charging port and the SIM card tray on the bottom of the phone, alongside the single speaker grille. Don't go looking for a 3.5mm headphone jack, though – you won't find one. Luckily there's a dongle in the box, but we'd still prefer the ease of having a socket on the phone itself.
There's no fingerprint sensor, so it's face unlocking or the old PIN/password system – but when facial recognition means popping out that super-slick camera, you'll hear no complaints from us.
Go to take a photo, unlock the phone, or open any other app that needs to use the cameras, and the whole top of the phone slides up with a soft mechanical whir. Facial recognition isn't quite as lightning-fast as an iPhone X, but we reckon it has the edge over a Galaxy S9, and is smart enough not to unlock when you aren't actually looking at the phone.
Downsides of the slide-out camera? It's a bit of a dust magnet, and cleaning it can be fiddly. The Find X isn't waterproof, either – something that's practically standard on flagship phones at this price. We reckon it's worth the trade-off, though.
How well will it stand up to daily use? Oppo reckons it has tested the mechanism for 300,000 uses, but we'd need to spend a lot more time with a handset before passing judgment on durability.
OPPO FIND X CAMERA: HERO HARDWARE, PASSABLE PROCESSING
It's not just a funky mechanism that makes the Find X cameras stand out. They're also packing seriously high pixel counts.
On the back, you get a twin-cam setup, with a 16MP main snapper with f/2.0 lens, optical image stabilisation and phase-detect autofocus. The secondary 20MP sensor acts as a 2x zoom, with the same f/2.0 aperture. Up front, there's a 25MP, f/2.0 selfie cam. OK, the likes of Samsung and LG might have managed f/1.7 and even f/1.6 aperture glass in their smartphones, but on paper, the Find X has a competent set of cams.
There's no waiting around for the mechanism to catch up – by the time the camera app has opened, the cameras have appeared and are ready to shoot. Feed them enough light and you'll be able to snap clear, detailed photos, with vibrant colours and plenty of contrast.
Automatic HDR does a great job of pulling out highlights and shadows from scenes, without taking ages between presses of the shutter button. A shot with dramatically different light levels can still lead to blown-out highlights, though.
Scene recognition (not AI, as Oppo optimistically labels it) then adapts the processing to suit particular scenarios. You can turn it off, but the setting is buried in the main Settings screen, rather than the camera app itself. The effects it makes to your shots will vary, but to our eyes the "landscape" mode was barely any different.
Zoom closely and you'll spot the phone's limitations, with less definition than you might find from a Google Pixel 2 or Galaxy S9+. At least Oppo doesn't overdo things with the sharpening, like LG and Sony.
It's when the light gets low that the sensors start to suffer, with noise levels shooting up and shutter speed slowing down so much as to introduce blur. You'll need very steady hands for snarp nighttime shots, or will have to rely on the LED flash. Even overcast days can give the sensors trouble, leading to muted shots.
We'd give it the edge over the LG G7 and OnePlus 6, but Samsung, Apple, Google and Huawei are still our top picks for best smartphone camera.
The camera app is packed full of extra modes, like an iPhone-mimicking self-portrait mode with different lighting settings, bokeh-blurring portrait mode for the rear cameras, and animated 3D avatars that are more like Samsung's AR emoji than Apple's animals-only Animoji.
If you're a fan of these gimmicks, there are plenty of stickers, settings and overlays to play around with, but serious photo fans will be happy with the expert mode that gives control over shutter speed, ISO, white balance, exposure and manual focus.
OPPO FIND X DISPLAY & SOUND: BIG AND BOLD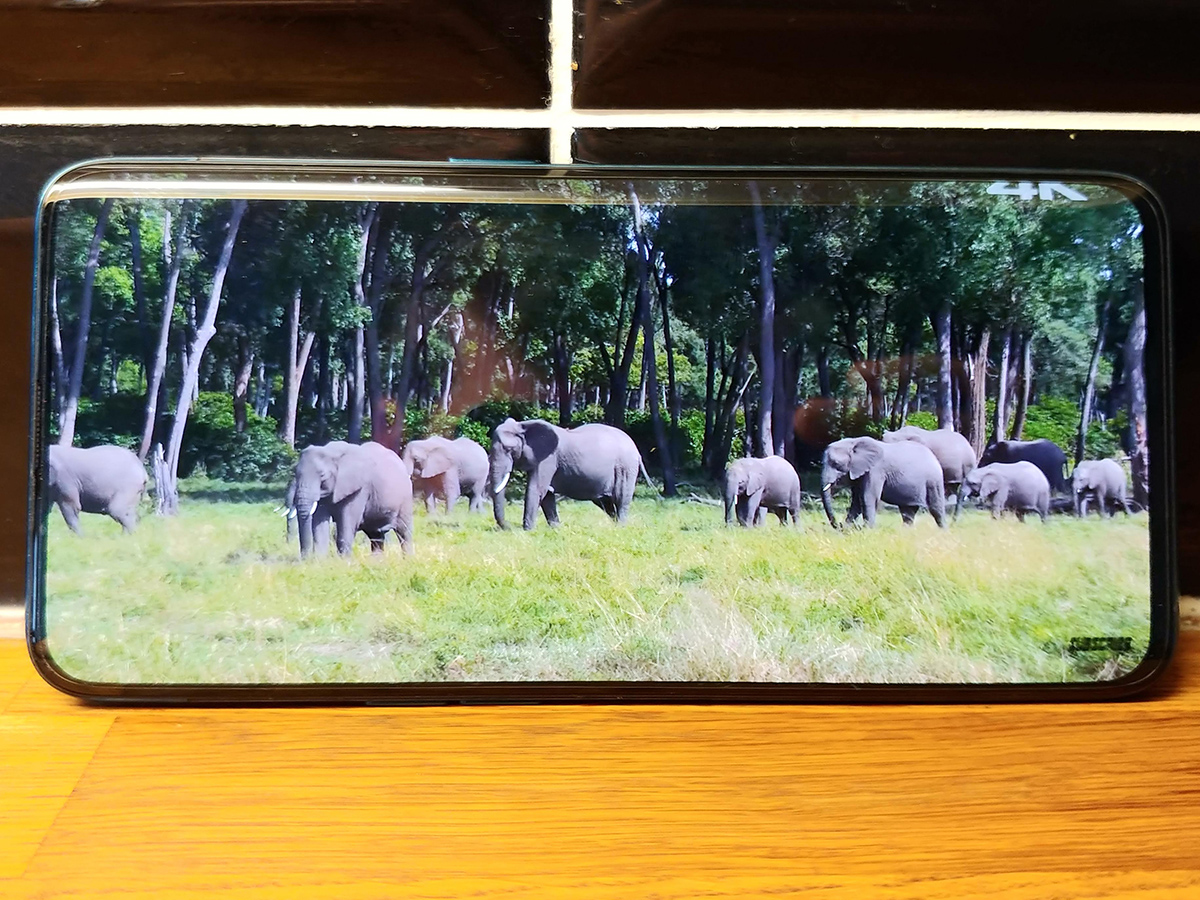 Just about everything you open on the Find X looks bright and colourful, thanks to the 6.4in AMOLED display. It has the clarity and vibrance you'd expect, with impeccable contrast that makes darker images and video clips really pop. Viewing angles are excellent, and the screen gets plenty bright enough to see clearly when you're out in direct sunlight. But seeing how the panel is apparently produced by Samsung, none of that should come as a surprise. With no notch or chunky bezels to distract from what's happening onscreen, movies feel about as immersive as it gets for a smartphone. It isn't quite up to par with the flagship competition, though. The slightly odd 2340×1080 resolution might be higher than most of the 18:9 aspect competition, but it isn't as crisp as the 2960×1440 Galaxy S9. You'd only notice the difference with both phones side-by-side, but it's still a black mark for a handset this pricey. There's also no HDR here, which means specially formatted YouTube videos, Netflix streams and Amazon Prime movies won't look quite as spiffy as they do on competing hardware. With only one speaker at the bottom of the handset, the Find X was never going to get the party started in the same way as something like the Razer Phone – but it can still crank up the volume when called upon. There's enough oomph here for YouTube videos and podcasts, and sound quality is pretty decent too, but you'll want a proper pair of headphones or a Bluetooth speaker for any serious listening.
OPPO FIND X PERFORMANCE: X-TREME SPEED
Oppo usually slaps a mid-range Snapdragon or MediaTek chip in its phones and calls it a day, but the Find X has been given the true flagship treatment. Beneath the glass exterior, you'll find a top-spec Qualcomm Snapdragon 845 CPU, with four cores ticking along at 2.8GHz and another four low-power ones running at 1.7GHz. Paired with 8GB of RAM, that puts it on par with Samsung's Galaxy Note 9 (well, the Snapdragon-equipped international version, anyway). That translates to exceptional performance in just about everything, from the homescreen to multimedia playback, apps and even GPU-intensive games. Multitasking? Not a problem either. You won't spot any signs of stuttering or slowdown in simple stuff like scrolling through social media, and demanding apps appear silky-smooth, too. Slapping down cards in Hearthstone's latest expansion has rarely felt as responsive as this. PUBG Mobile runs perfectly on High settings – and that expansive screen should mean you're well on your way to a Chicken Dinner or two. There's a massive 256GB of storage to hold all your apps, games and files, although you won't find a MicroSD card slot for adding more capacity once you've filled the on-board memory. You'd think a big-money flagship would have all the bells and whistles – and for the most part, the Find X does, with 802.11ac Wi-Fi, Bluetooth 5.0, and all the GPS modes you'd want. The one thing missing? NFC. That's annoying for us here in the UK, as it means no Android Pay for contactless payments.
OPPO FIND X BATTERY LIFE: KEEPS GOING AND GOING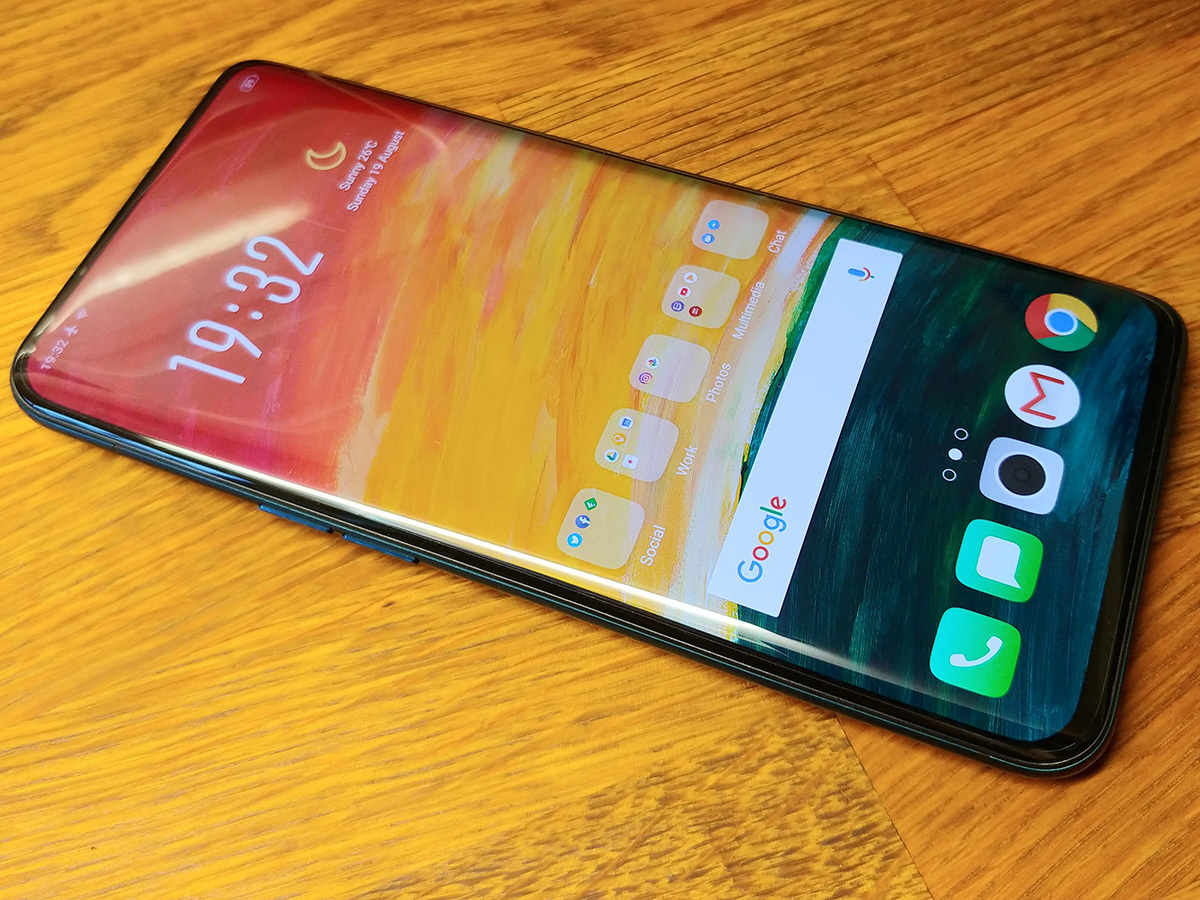 With such meaty hardware and a giant screen to power, there was every chance the Find X would suffer when it comes to battery life. Guess what? It bucks the trend here, too.
The 3,730mAh cell might not be as big as the 4,000mAh wedge you'll find in a Huawei Mate 10 Pro, but it comfortably lasts an entire day away from the mains, even if you're playing games and watching videos. Stick to less demanding apps, web browsing and music streaming, and you'll still have juice well into a second morning as well.
Oppo's VOOC fast charging, which is identical to OnePlus Dash Charging in all but name, helps you get back to full in under an hour, so you're not sat around for ages while you wait to refuel. Wireless charging would have been the icing on the cake, but sadly doesn't make the cut here. Maybe one for the sequel?
OPPO FIND X OS & SOFTWARE: THE LIVING COLOR
The Find X is running Android 8.1 Oreo, which is still as current as Google's mobile OS gets out of the box right now (at the time of writing, we're still waiting for the first retail-ready Android Pie handsets). That's all well and good, but the ColorOS custom skin sat on top is very fussy. There's no app drawer, and no option to add one back in through the Settings screen. Open apps are shown as a carousel of cards in Multitasking view. So far, so Apple. Other irritations, like having to tap to confirm when swiping away notifications, and not seeing a preview of your homescreen widgets before applying them show Oppo still has a way to go before it has a truly competent alternative to Google's default UI. The onscreen navigation keys also default to a backwards, Samsung-style layout, but you can swap 'em back in the Settings menus, or ditch buttons altogether for gestures. There are plenty of options here, so there's sure to be a setup that'll work for you. There's a fair amount of bloatware, and the phone is oddly insistent you use its default apps rather than ones you download from the Play Store, which can be annoying. On the other hand, Game Space, which silences notifications and puts background apps to sleep to give more demanding apps the memory and CPU resources to run at their best, is a welcome inclusion. A mixed bag, then, but far from the worst version of Android we've seen. If you can handle the quirks, there's still plenty here to like.
OPPO FIND X VERDICT
Tech specs
| | |
| --- | --- |
| SCREEN | 6.4in, 2340×1080 OLED |
| CPU | Qualcomm Snapdragon 845 |
| MEMORY | 8GB RAM |
| CAMERA | Pop up 16MP, f/2.0 rear w/ phase detect AF & OIS + 20MP, f/2.0 rear w/ LED flash. Pop-up 25MP, f/2.0 front |
| STORAGE | 256GB onboard |
| OPERATING SYSTEM | Android 8.1 Oreo w/ ColorOS |
| BATTERY | 3730mAh non-removable |
| DIMENSIONS | 157x74x9.4mm, 186 g |
Stuff Says…
A smart way of ditching the notch makes Oppo's flagship feel like something from 2040. You pay a premium for the fancy features, but it'll make you grin every time that camera pops out to say hello
Good Stuff
Pop-up camera is as slick as you like
Performance and storage on tap
Great battery keeps going
Bad Stuff
Software a bit on the shonky side
Camera isn't up there with the best flagships
It'll leave a serious dent in your wallet