Oppo Find N2 hands-on review: a fine second-gen foldable
With the Find N2, Oppo has refined things to such an extent you'd be forgiven for thinking it was many versions later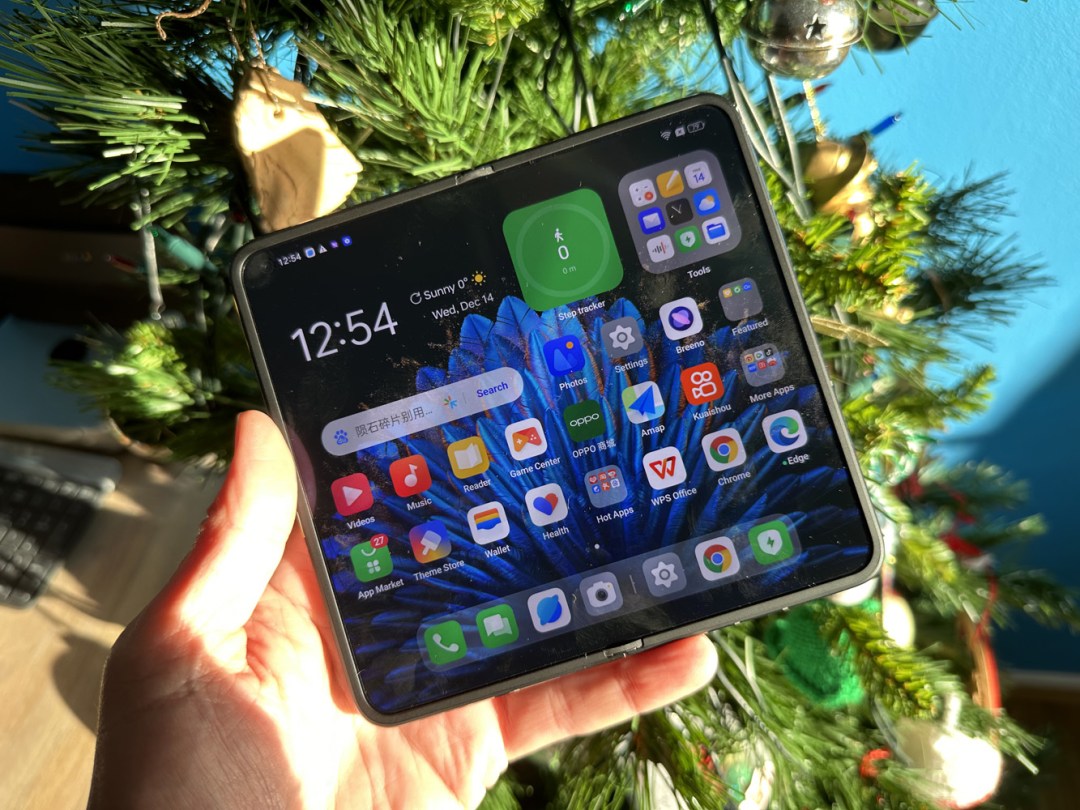 Oppo has done a foldable phone before, but it was very much a first attempt. With this second version, the Oppo Find N2, it has refined things to such an extent you'd be forgiven for thinking it was many versions later. It opens satisfyingly.
The crease isn't too pronounced and, crucially, it weighs 30g less than a Samsung Z Fold 4. It's even lighter than the 240g iPhone 14 Pro Max and indeed the lack of weight is instantly noticeable having used other foldables – however, it's of course quite important to say that the Samsung is bigger since the internal display is half an inch bigger.
Now, it's worth saying that while the rather interesting sister phone, the Find N2 Flip will be making its way out of China to be sold in Europe, no such global sale is yet planned of the Find N2 – it's set to stay China only for now so we might have to wait until the Find N3 to see it elsewhere. The Chinese price works out around $1,100 in the US or £900 in the UK (it would never actually retail for £900 though surely).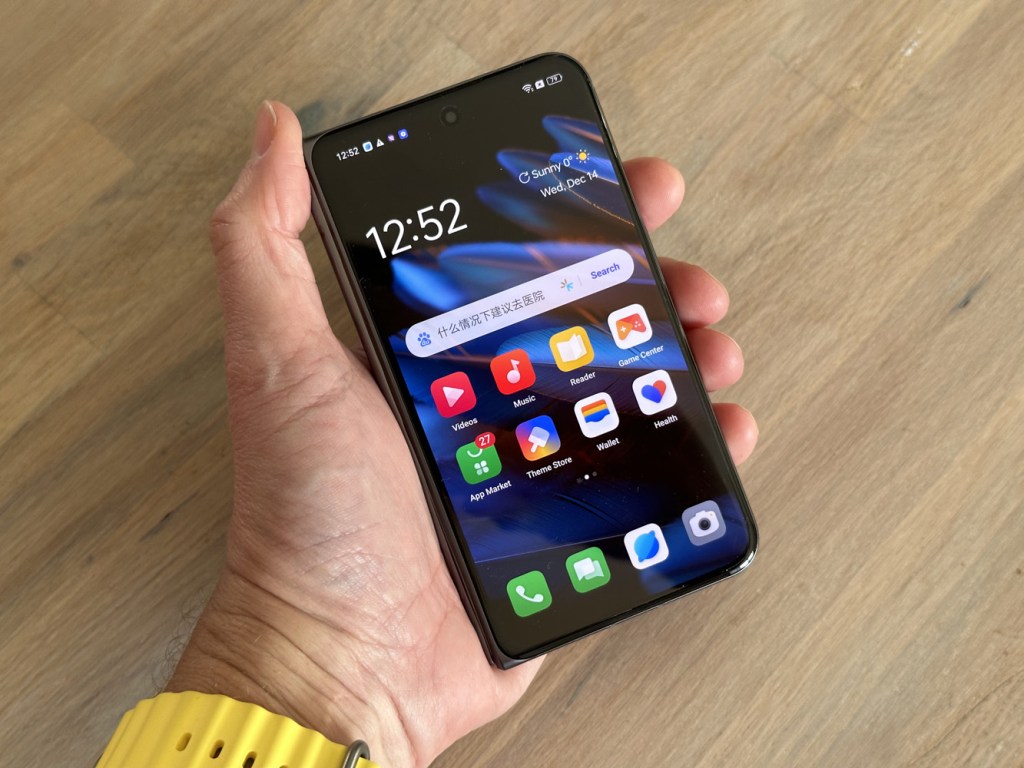 Design and display
While the design is similar to the original Find N in terms of size and general feel, things have moved on a big step internally, because the Find N2 is 42g lighter than its predecessor.
The phone boasts a 7.1-inch 1920 × 1792 unfolded internal display and 5.54in 2120 × 1080 external display – both are variable refresh rate screens up to 120Hz. The external display seems small compared to many phones these days but in reality is more than enough for calls and texts and, if you're browsing, you'll probably pop the phone open for a bigger screen experience. Some will find the external display smaller than is ideal, though but there are other foldable choices with larger external displays of course. Because of the shorter size of this device, the internal screen is a rectangle that's longer on the horizontal compared to say the square screen of the Samsung.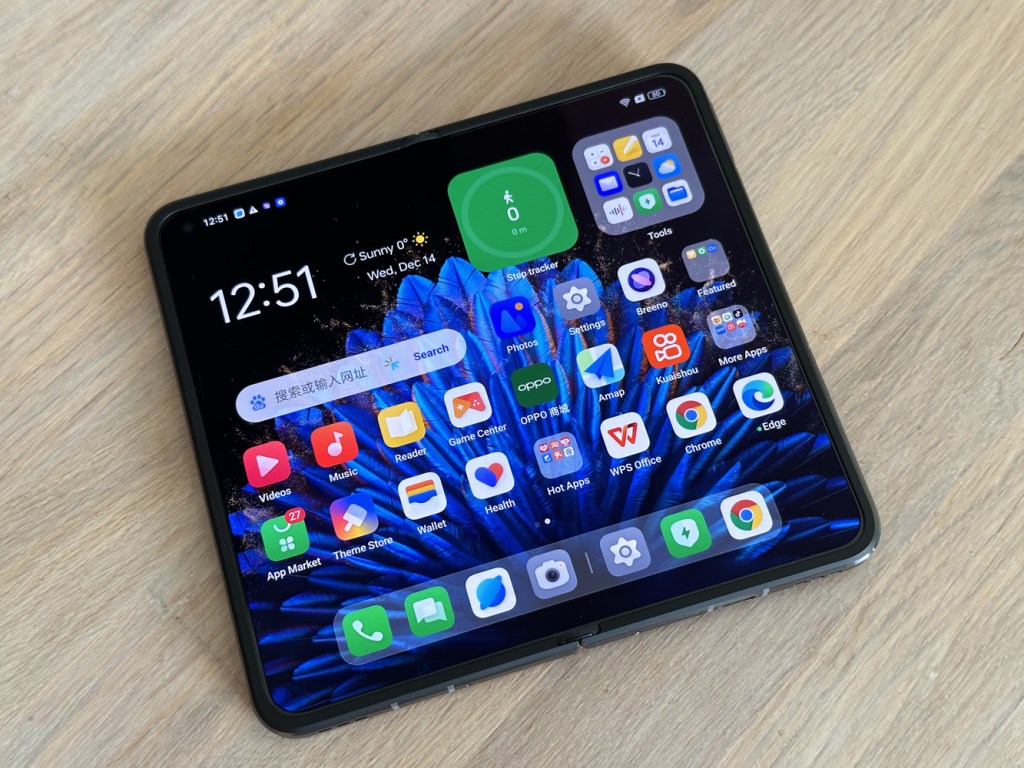 The bezel of the outer display has been reduced by nearly half compared to the Find N, which we looked at early this year.
We mentioned the weight already – the thickness has also been reduced slightly to 14.6mm (7.4mm unfolded), which is comparable to the Samsung but can't hold a candle to the Xiaomi Mix Fold 2's thinner design.
The key change here is with the new Flexion hinge used in both the Find N2 and Find N2 Flip. Oppo says it's more robust guaranteed for 400,000 opens and closures (like the Honor Magic Vs). It's made from 100 different components but uses fewer of them before while lighter materials are utilised such as carbon fibre and aerospace-level alloys.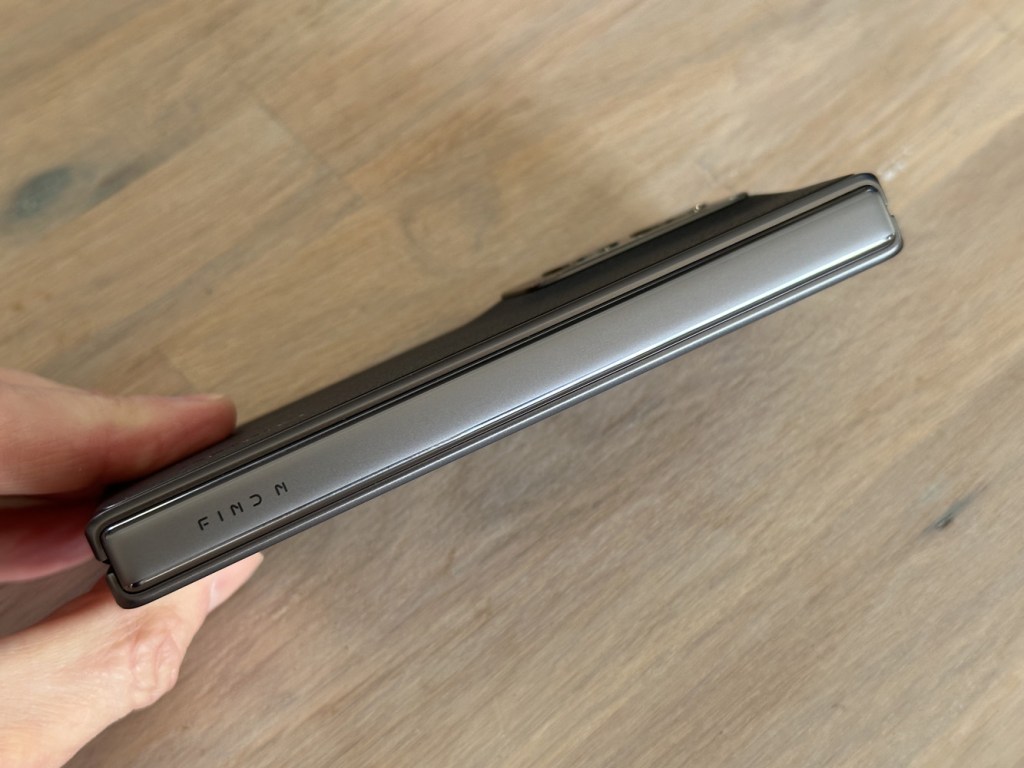 The new hinge means the display's crease is 67 percent narrower which is obviously a welcome change. Once you have the phone unfolded the crease in the display isn't that obvious unless you run your finger over it. It certainly doesn't detract from the full-screen experience though. There's no gap between the two halves of the device when it's closed. The two halves close with a satisfying slap, but the action of opening and closing the phone is smooth – you certainly don't feel it's clunky in any way. You can part open the device and use it but in practice you probably won't do this.
The Find N2 doesn't have any kind of water resistance rating and presumably this is due to the hinge – Samsung's Z Fold 4 is water-resistant. There are three colour options available in China, white and green backed with Gorilla Glass. The unit we have is black as you can see, with vegan leather used as a backing.
Specs and camera
As you'd expect, there's an impressive array of tech on offer here backed with Qualcomm's Snapdragon 8+ Gen 1 chip from the middle of last year – presumably this was designed way too early for the recently-announced 8 Gen 2. Elsewhere there's 12GB of RAM and 256/512GB of storage, too. 67W fast charging is also offered though as with other foldables there is no wireless charging.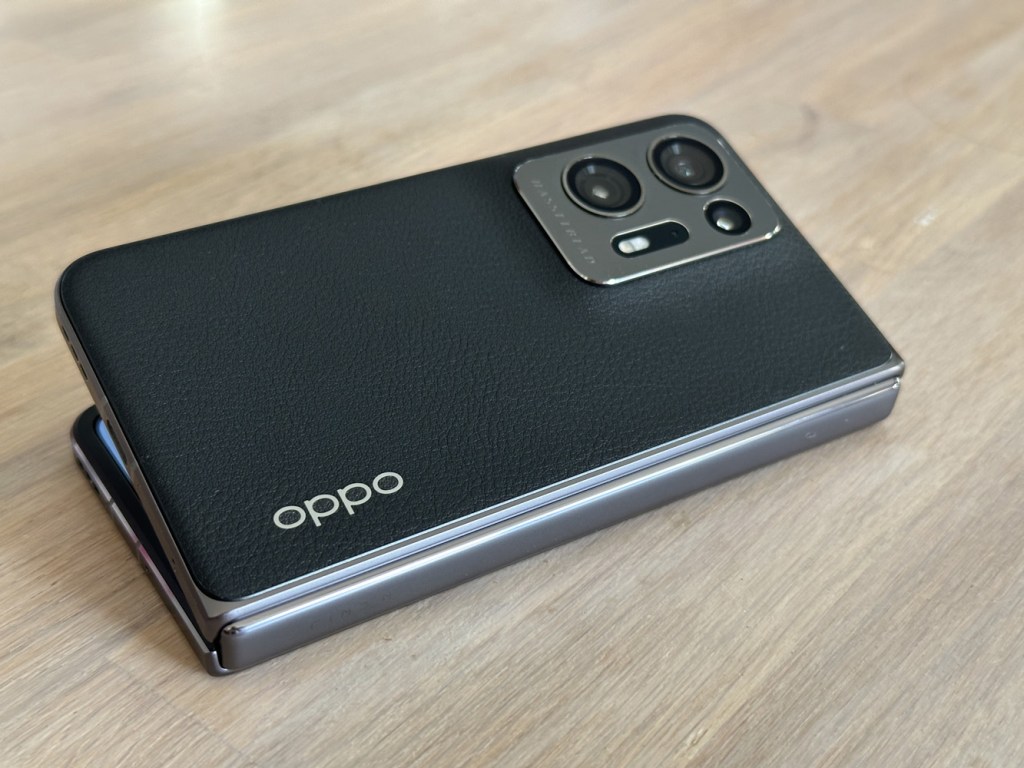 Thankfully there are also some powerful Hasselblad-tweaked cameras on board with a 50MP Sony IMX890 wide sensor, a 48MP ultra-wide camera (also for macro shots) and a 32MP RGBW 2x telephoto camera that reduces noise for better portraits and zoom. For most people, this system would be terrific – it's fast and the pics are excellent.
The two selfie cameras for each display are both 32GB, the images from which are very good. Unsurprisingly Oppo's own MariSilicon X image processor is on board. Like the Snapdragon chip used, this isn't the best you can get, probably due to the lead times needed to produce such a device. Presumably as foldable demand increases, so will the resources spent on developing them.
Software
Our test model is – unsurprisingly for a Chinese phone – running a Chinese version of Android 13-based Color OS without Google apps around. You can install whatever you want on it though. However, the software still isn't good enough for primetime as not all apps appear correctly if you try and place them side-by-side. Although in full screen everything works excellently and looks great, too.
Presumably, issues like this will just work out with time and we presume a lot of it is that they can't split screen horizontally very well. It's difficult to say how much this is down to the software being the Chinese rather than the global version.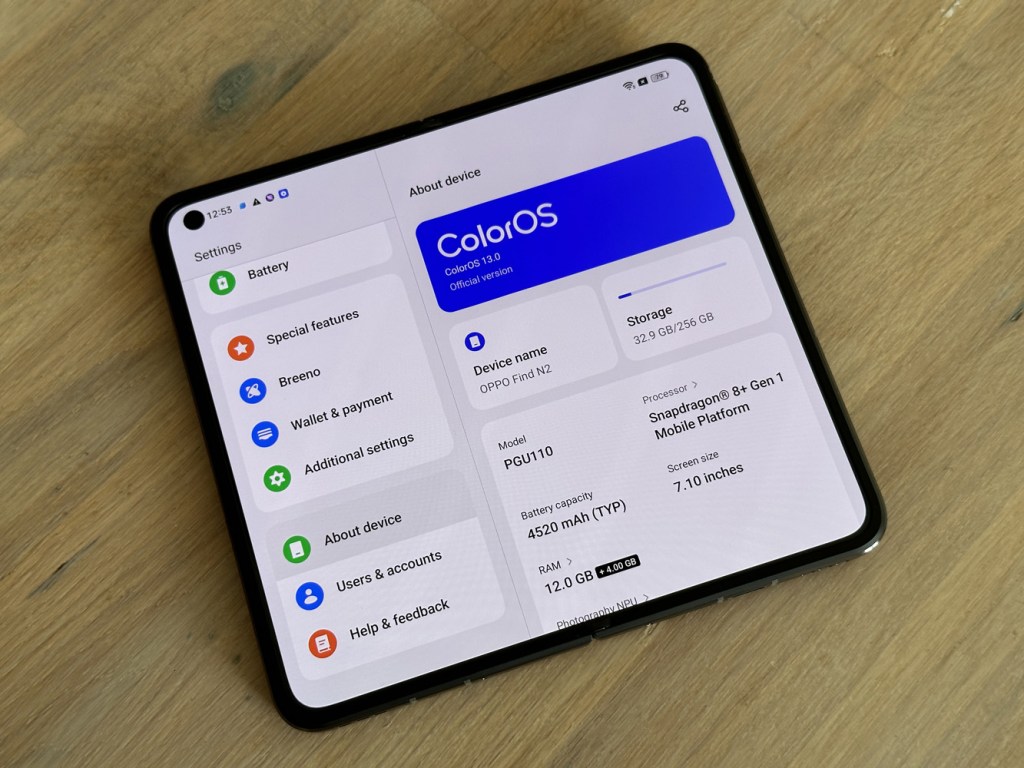 Oppo Find N2 initial verdict
While there's a big question mark over how much this device would actually cost if it was launched outside of China – plus some reservations about the software, there's no doubt that the hardware on show here is brilliant and defies the 'difficult follow-up' tag. The price chat is probably moot since we don't think this will be launched globally but it means that future Oppo foldables are a mouth-watering prospect.
Oppo Find N2 tech specs
| | |
| --- | --- |
| Platform | Qualcomm Snapdragon 8+ Gen 1 |
| Displays | 5.54-inch AMOLED (cover) 7.1-inch LTPO AMOLED (main), both 120Hz |
| Cameras | 50MP, f/1.8, 1/1.56-inch (wide), 48MP, f/2.2, 1/2-inch (ultrawide), 32MP, f/2.0 (2x telephoto), 32MP front-facing camera x2 (each screen) |
| Memory | 12GB LPDDR5 |
| Storage | 256 or 512 GB |
| Battery | 4,520 mAh |
| Charging | 67W wired |
| Software | ColorOS 13 (Android 13) |
| Dimensions | 132.2mm × 140.5mm × 7.4mm Folded: 132.2mm × 72.6mm × 14.6mm |