OnePlus 5T review
UPDATE: Sandstone white model tested - Bigger screen. Better camera. Same price. Need we say any more?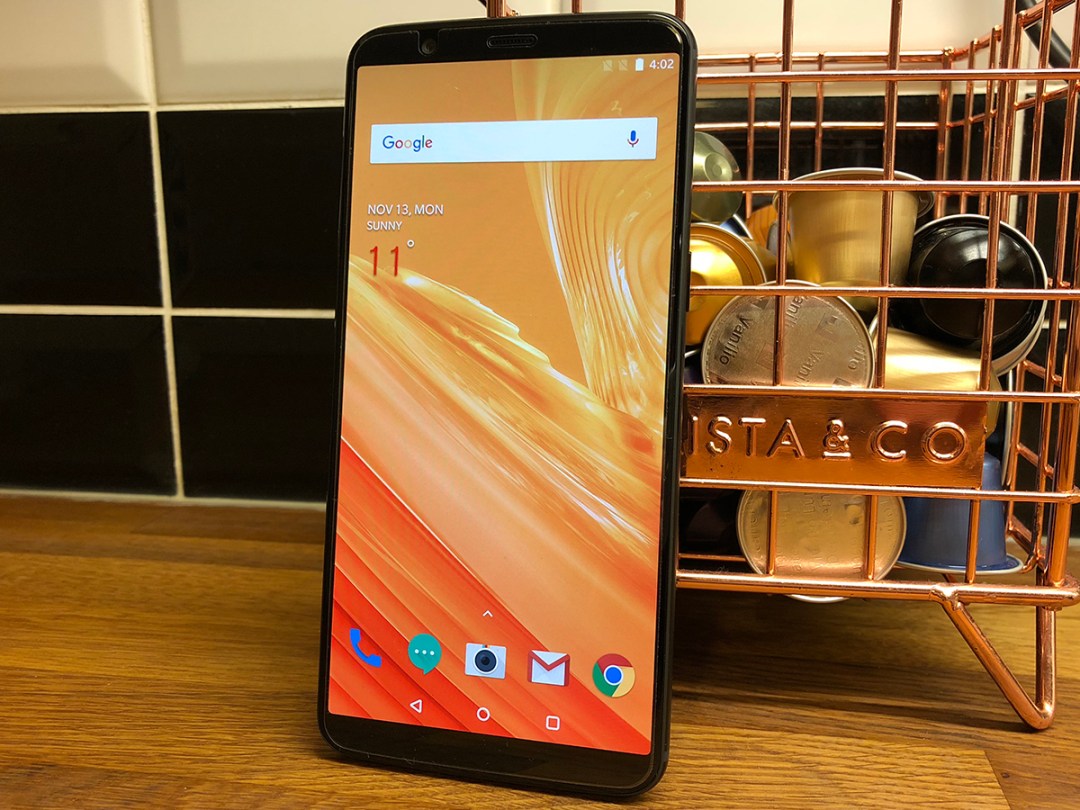 OnePlus has held the smartphone value crown for years now, with top-spec blowers that don't deplete your bank balance.
This year's phone might not have been quite so bargain-tastic, but the OnePlus 5 was still a bit of a steal – and now the 5T looks like an even better bargain.
It takes the same hardware and design as the 5, but updates it with skinny screen bezels, an uprated camera, and that feature du jour, facial recognition.
Those changes are enough to help it compete with big-name rivals, and with the same price, your wallet will be happy too.
DESIGN & BUILD: THAT FAMILIAR FEELING
Considering the rest of the phone world is experimenting with fancy yet fragile glass, it's great to see OnePlus stick to its guns.
There's none of that brittle, breakable clear stuff here – at least on the back, anyway; just strong, sturdy aluminium. Drop one of these and you've only got to worry about the screen shattering into a million pieces, not both sides. Although it does mean there's no wireless charging.
It's difficult to avoid that 18:9 aspect screen, which dominates the front of the phone and forces the fingerprint reader to the back. The bezels are much skinnier to make room for the panel, but the phone isn't all that bigger than the OnePlus 5 it replaces.
In fact, screen aside, the 5T is nearly identical to the 5, complete with the same angular horizon line adding a bit of flair to the Midnight Black metal. There are no other colours on offer this time, so you either go black or go elsewhere.
The USB-C port, speaker grilles and yes, the 3.5mm headphone socket all make a reappearance, as does the volume slider for muting or flipping into Do Not Disturb without digging through menus first.
The whole feels premium, and looks the part thanks to those skinny screen bezels, but this is now one of the least flashy phones around. If you like the incognito approach, you'll feel right at home with one of these in your pocket.
There's still no waterproofing here though – there's just not enough room on the budget to give you such high specs and also protect against the wet stuff.
ONEPLUS 5T SANDSTONE WHITE: NEW DUDS
Well here's a blast from the past. OnePlus has brought back its signature sandstone white finish for the 5T, four years after it first appeared on the OnePlus One.
The metal back panel is gone, replaced with a grippier alternative that feels granular and textured to the touch. It wasn't actually carved from stone, despite what the name might suggest, but the whole process takes a heck of a lot of priming, masking and sandblasting.
It's essentially the same texture as the India-only Star Wars special Edition 5T, only without the whacking great logo etched into the back – or the funky Stormtrooper wallpaper. The red alert slider sticks around, though, and is a great splash of colour.
It really stands out, and feels great to hold – you don't worry about it slipping through your fingers at any moment, like you can with metal or glass handsets. The texture is wipe-clean, with the few marks we picked up in a week of testing washing away with a wet cloth.
Specs-wise, the phone is identical to the existing high-end model, meaning 8GB of RAM and 128GB of storage. The price stays the same, too, so you can pick one up for £499 – if you move quick, anyway. It's a limited edition, meaning once they're gone, they're gone.
SCREEN & SOUND: STRETCH IT OUT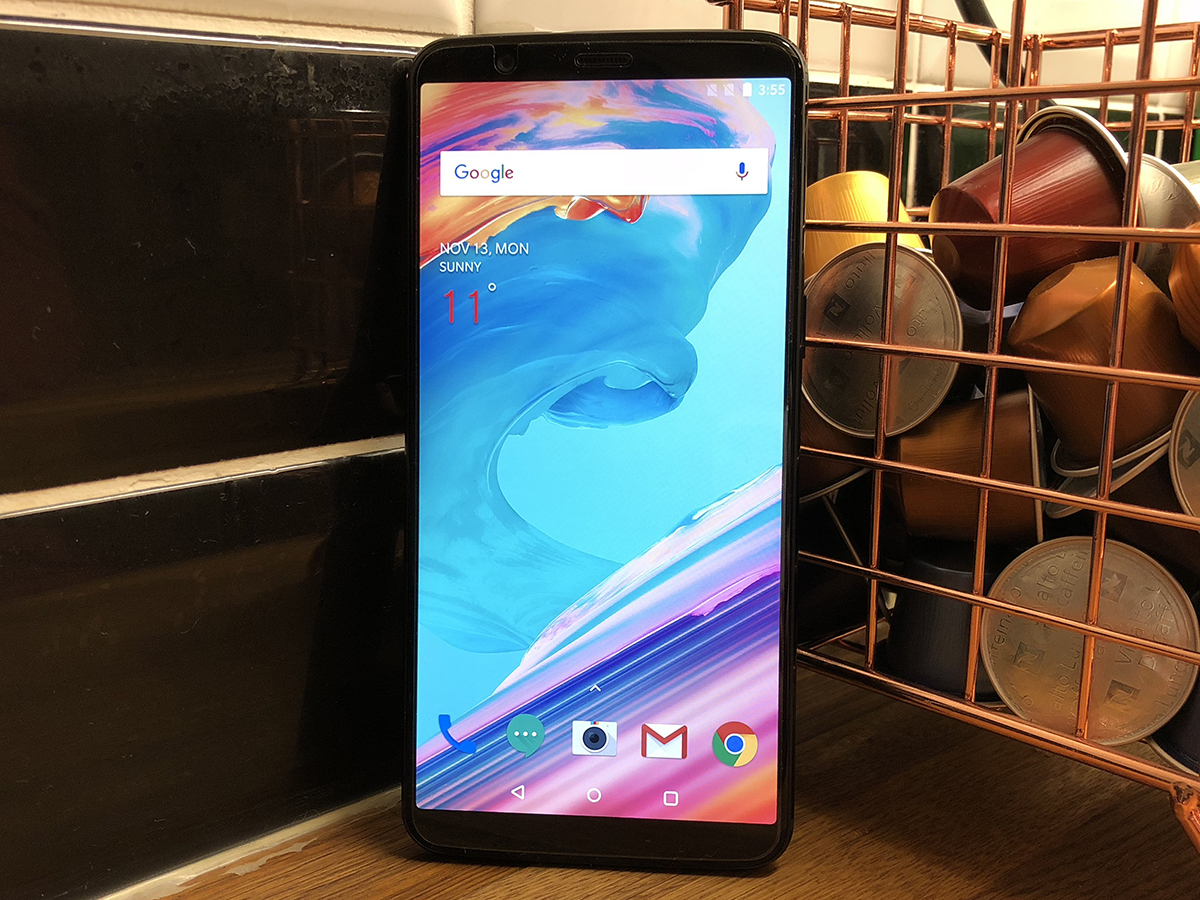 The new 18:9 aspect screen tops out at 6.01 inches on the diagonal, giving you plenty of extra height to play with – but a little less width than the outgoing phone.
OnePlus was never really in the resolution race, preferring to stick to 1080p to keep the internal hardware at peak performance, but the switch to 18:9 means the 5T acquires a few extra pixels: the panel now tops out at 1080×2160.
This helps keep your photos and videos looking as sharp as they did on the old phone, without making the CPU sweat too much.
Colours are vibrant and contrast is fantastic, thanks to the AMOLED panel. Things aren't quite as vivid as Samsung's Galaxy S8, but they aren't as washed out as the Pixel 2 XL, either – it's a great balance that should keep most people happy.
Viewing angles are on point, and brightness is impressive, too – especially when the new Sunlight display mode kicks in. It only works with specific apps, like the camera, photo gallery or games, but can crank up the brightness to very high levels. Heading outdoors shouldn't stop you from seeing what's onscreen.
It might not be as flashy or HDR-friendly as more expensive rivals lke the iPhone X or Samsung's Galaxy S8, but it's a mighty fine panel for the price.
It's a similar story with audio. The speakers pump out decent, if not deafening sound, with a focus on mids and trebles instead of bass. Pretty much what you'd expect from a phone, really. 

You'll be fine without headphones for a quick YouTube catchup, but for serious listening you'll want to plug in a pair of buds.
CAMERA: LET THERE BE LIGHT
Let's be honest: the OnePlus 5 wasn't great when it came to snapping shots in low light. The 5T looks to change that, with some very welcome upgrades to the dual rear camera. And it mostly succeeds.
The 16MP wide-angle sensor returns, but this time the secondary 20MP telephoto cam gets an improved Sony sensor and matching f/1.7 aperture. Darker scenes aren't always a grainy mess any more, making the 5T a great step up.
This change also means portrait mode shots don't crop in quite so aggressively, letting you get closer to your subject before you press the shutter.
OnePlus doesn't appear to have changed its picture processing all that much, with daytime shots from the 5T looking essentially on par with the 5. That means decent, if not spectacular shots, with natural colours, mainly accurate exposure, and a good level of detail.
Bright sunlight can sometimes lead to overexposed skies, even with HDR switched on, and zooming in reveals the sensor's limitations when it comes to minute details, but don't forget that this is a camera that costs half the price of its rivals.
Darker scenes are an improvement over the OnePlus 5, though, with more of our test shots looking usable and showing less image blur than the outgoing model.
Whatever environments you're shooting in, the 5T's camera is a lot easier to use now: the app has been overhauled with a new design and rearranged shortcut menu that's easier to tap with one hand.
PERFORMANCE & BATTERY LIFE: JUST A SNAP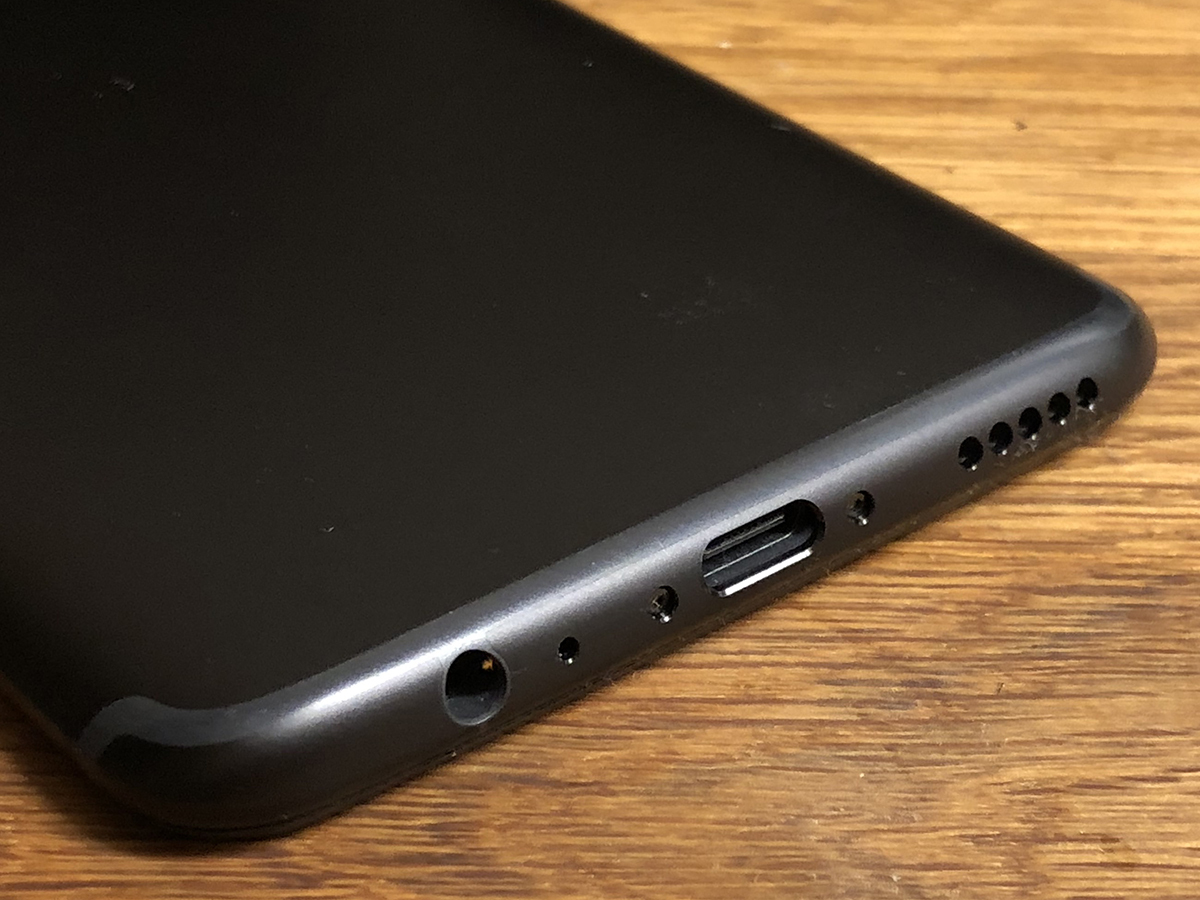 Underneath the hood, little has changed: the 5T keeps the Snapdragon 835 CPU, which was the quickest of Qualcomm's smartphone chips when the OnePlus 5 arrived, and that's still the case now.
You can pick between 6GB of RAM and 64GB of on-board storage, or splash a little more cash and get 8GB of RAM and 128GB of space for music, photos, games and apps. We tested the latter, but whichever one you go for, you're getting an absolute powerhouse of a phone.
With apps and games running at an only slightly higher resolution than before, they run just as smoothly, with no lag or hiccups – even when multitasking. High quality console port XCOM: Enemy Within looked great and showed no signs of stuttering, meaning almost everything in the Play Store will work well on this phone.
Battery life is pretty much on par with the OnePlus 5, with the 3300mAh cell comfortably lasting an entire day away from the mains. The older handset has a smaller screen, admittedly, so has a slight edge if you're using the display regularly, but for day-to-day use (where the phone spends a lot of its time in your pocket with the screen off) the difference isn't big enough to force you to carry a cable around with you everywhere.
If you do, though, make sure it's the official OnePlus adapter – that's the only way you'll get Dash Charge top-ups, which can refuel you to 60% in about thirty minutes.
OS AND APPS  – BREATHE IT IN
Think of the OnePlus take on Google's mobile operating system as vanilla Android, but with sprinkles.
Small tweaks like gesture controls and the night-friendly Dark mode sit in the background, there to use if you want 'em, but easy enough to ignore if you don't.
Software buttons are new for the 5T, seeing how the hardware buttons of older phones have been squeezed out by the big screen. You can hide them from view if they get in the way, then swipe up to reveal them again, which is a nice touch for anyone used to the old OnePlus way of doing things.
The major new addition is facial recognition, letting you unlock the phone with a glance, instead of tapping in a code or laying a finger on the rear sensor.
It's more of a bonus than an essential add-on like Apple's FaceID, as you can't use it for Apple Pay or anything more complex than getting past the lock screen, but it works surprisingly well for something that just uses a 2D photo of your mug. With no IR shenanigans going on, though, low light can be its kryptonite.
The 5T arrives with Android 7, which is a bit disappointing now that Oreo is shipping on a handful of phones from other manufacturers. An update is on the way (and has already launched for the previous-gen OnePlus 3 and 3T) but it would have been nice to have the update ready at launch.
ONEPLUS 5T VERDICT
The 5T is a slick improvement on an already slick phone, with useful extras in addition to that eye-catching screen.
It's still very much a handset made to a budget, which becomes clear when you stick it next to a more expensive rival – there's no waterproofing, wireless charging, or expandable storage, and as much as we prefer metal for its sturdiness, glass is most definitely in right now.
The mere six month turnover between phones might sting a bit if you recently sprung for a OnePlus 5, too. We've been criticising Sony for doing the same for years, so it's only fair to give OnePlus some stick too.
Really though, the price is what should make the 5T a winner. You're getting a more modern screen, slicker camera and smart bonuses like facial recognition, for the same price as the old phone – that's half the price of an Apple or Google handset.
Tech specs
| | |
| --- | --- |
| SCREEN | 6.01in, 2060×1080 AMOLED |
| CPU | Qualcomm Snapdragon 835 octa-core |
| MEMORY | 6GB / 8GB |
| STORAGE | 64GB/128GB non-expandable |
| CAMERA | Dual 16MP, f/1.7 + 20MP, f/1.7 rear w/ PDAF, LED flash. 16MP, f/2.0 front |
| BATTERY | 3300mAh non-removable |
| OPERATING SYSTEM | Android 7.1 w/ OxygenOS |
| DIMENSIONS | 156x75x7.3mm, 162g |
Stuff Says…
The latest phone to super-size its screen keeps the price right, making it a great value choice
Good Stuff
18:9 aspect screen brings it bang up to date
Slight camera improvements
Same great performance & battery life
Bad Stuff
No waterproofing, wireless charging
Camera quality still middle of the pack
A bit too soon?