Nokia E90 review
Nokia's latest suit-wearing smartphone looks the business, but can it back it up with multimedia muscle?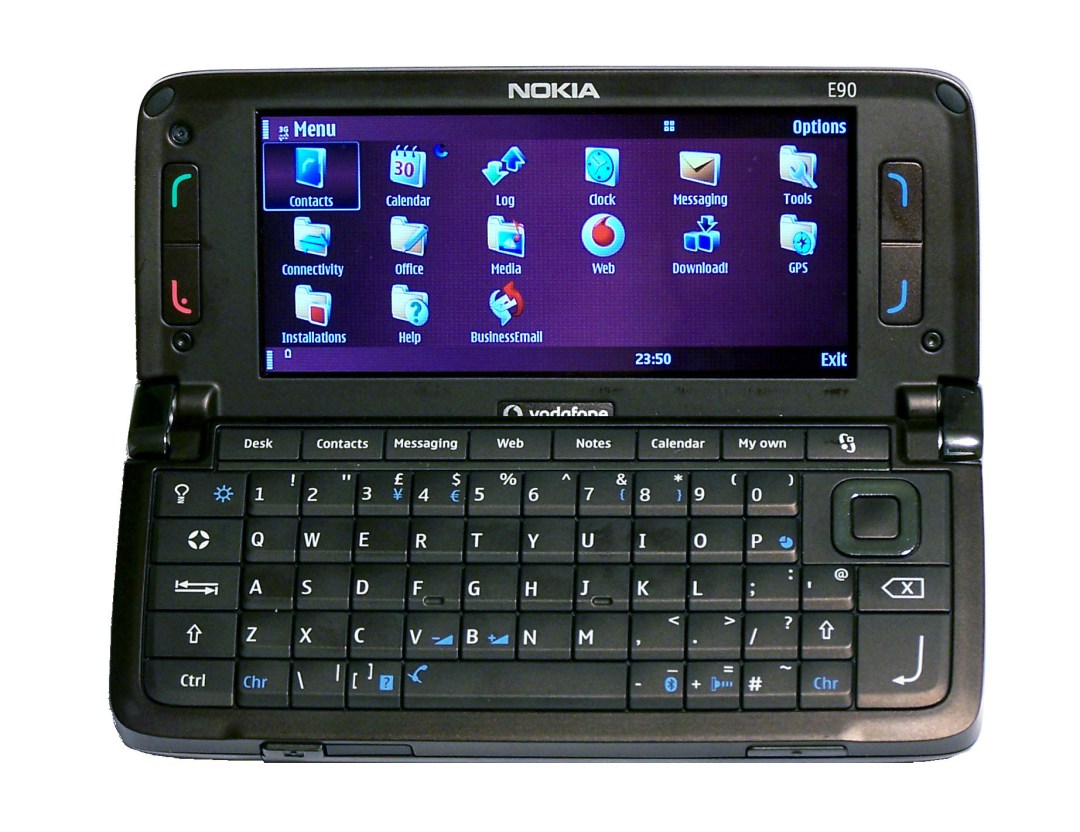 The E90 is the latest in a short, and considerably maligned, range of Nokia Communicators. Despite having a redesigned clamshell hinge, no one is going to be amazed when you 'reveal' that it has a hidden QWERTY keyboard. Especially given competitive smartphones, like the HTC S710, which is thicker, yet appears more compact to the naked consumer eye.
Suits you, sir
But size and weight isn't necessarily the first concern for the target audience for the E90. Those of you who are au fait with Nokia's naming conventions will know that the 'E' prefix makes this a business phone.
Your man in a suit has impeccably tailored pockets or a briefcase in which to keep his E90, and what he wants from it is messaging ability, connectivity and document handling. All of which it has, but so powerfully realised that it has raised the eyebrows of us non-suit-wearing Stuff geeks.
Widescreen wonder
Folded, the E90 is a Series 60 smartphone with a 16million-colour, 320×240 screen, a 3.2MP AF camera and the power of say, the best-selling Nokia N95.
It has HSDPA, Wi-Fi and GPS, like the N95. But, unlike the N95, you have the option to unfold – at which point the actions cuts near-instantly to the 800×352, 16m-colour widescreen – and let the E90 really fly.
Suddenly you're full-screen browsing on the move, with the near-broadband speed of HSDPA.
Scrolling through your Facebook galleries adding abusive comments. Reading emails in their entirety, instead of the eye-straining, constant scrolling of standard phone-based messaging. Battering out a reply on the keyboard, either handheld using your thumbs, or on the deck and stabbing away with your fingers. Watching a video, editing a Technicolor spreadsheet – the E90 is an unashamed powerhouse.
Review continues after the break…
Hip to be square?But, there are a number of things that the E90 isn't. It isn't touchscreen, so all on-screen manipulation is handled by the five-way cursor to the top right of the keyboard, to varying levels of satisfaction in the various applications. 
It isn't impervious to rough-and-tumble use. The bigger screen, in particular, picks up greasy finger-marks that are difficult to remove. Given it's not a touchscreen, no, we don't know where those fingerprints came from either.
And, occasionally, the E90 steps over its processor's mark, and stumbles a bit.
But more crucially than any of these gripes, the E90 isn't cool. No matter how strongly you underline the power, fun and productivity, regardless of how underpowered it makes the iPhone look, people laugh at the E90's bulk, and its oversized, folded appearance.
We estimate that three-quarters of you are agreeing, and each of your 'it's-the-iPhone-for-me' nods is a nail in the E90's coffin.
But, in the meantime, there'll be a hardcore of HSDPA-happy geeks, multimedia blogging their way through life on an E90. Oh, and possibly some of them wearing suits, too.