Nike ACG Wild Edge GTX review
A bit more stylish than your average all-weather footwear, Nike's Wild Edges would be hardy enough to last even the Krypton Factor's assault course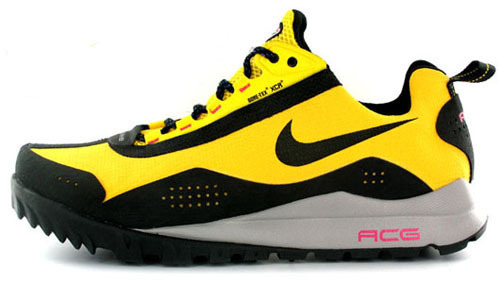 All-weather footwear tends to carry a certain beardy stigma and being told by a Ray Mears type that 'those things wouldn't last a minute' can boil the blood. But here to prove that off-road shoes needn't have the chic of your uncle's walking boots is this intelligent update on the Nike Wildwood, a design classic from 1989.  
By treading in its forefather's grubby footprints the ACG Wild Edge GTX, unlike so many re-imaginings of classic sporting shoes, lives up to its predecessor by being riddled with performance appeal.
Gore-Tex Specs
This design's summer 2007 debut appealed to everyone from casual walkers and Nike ACG zealots. But now it's also added Gore-Tex XCR lining, which harks back to the golden age of Nike off-road shoes with its breathable and weatherproof fabric.
So it staves off the rain, but what else has been tweaked? A stealthier lacing system should reduce pratfalls, and a full-length Air midsole gives responsive shock absorbency, making these so comfortable they practically bounce through the bushes.
The Wild Edge's also take a green approach by including a recycled rubber outsole and a minimum of separate panelling on the upper to reduce waste. This means you can not only conquer the moral high ground, but do so wearing some vintage ACG trainers that have all the hallmarks of an affordable future classic.