NeoGeo MVSX Home Arcade review
A new arcade cab? That's fightin' talk!
SNK's NeoGeo was always a strange beast. It was originally launched as a coin-op arcade machine that let operators load up to six different cartridge-based games. But in 1991 a home version arrived, for the princely sum of £399. And if you think that's expensive, the games cost north of £200 each.
The MVSX aims to replicate the experience of the arcade cab, although fortunately without you having to fork out ten grand for the 50 games that come with the unit. The bright red cabinet is designed to be a bartop, although you can instead opt to buy a matching riser/stool combo – that'll set you back another 100 quid.
Speaking of combos, that's most of what you'll be doing in the games. SNK was very keen on titles where you repeatedly punched people in the face. But is this cabinet a knockout, or should it be punched back to the 1990s itself?
Thanks to Liberty Games for the review unit loan.
Game on
Screen time: The display is excellent – a good size, vibrant and bright. Whether blasting soldiers in Metal Slug or carving up opponents in Last Blade 2, you'll have no problem spotting what's going on. We were also impressed with the wide range of scaling options, which go a long way to mimicking old-school CRTs.
Outside the box: The cab design is a mixed bag. We like the red paint job and bright marquee. But it's snug in two-player mode, the speakers are oddly positioned at waist level, and the riser will leave you stooping if you've the audacity to be taller than 5ft 6in (that's about 168cm, metric fans).
Bash your buttons: The joysticks are fine – responsive but with long travel. You'll get used to them. But the buttons trigger at the slightest touch, are positioned too close to the edge of the cab, and there are six rather than four. They didn't ruin our enjoyment, but buyer beware.
Game on: 50 built-in games! That sounds great, but you'd better like fighters – they make up over 60% of what's installed. Beyond King of Fighters, Last Blade 2 remains gorgeous, and Kazuna Encounter Super Tag Battle is breezy and fun. When you tire of punching people, there's Metal Slug, Shock Troopers, and some duff sports titles – but no Windjammers, Blazing Star, Magical Drop or King of the Monsters. Boo.
Verdict: NeoGeo MVSX Home Arcade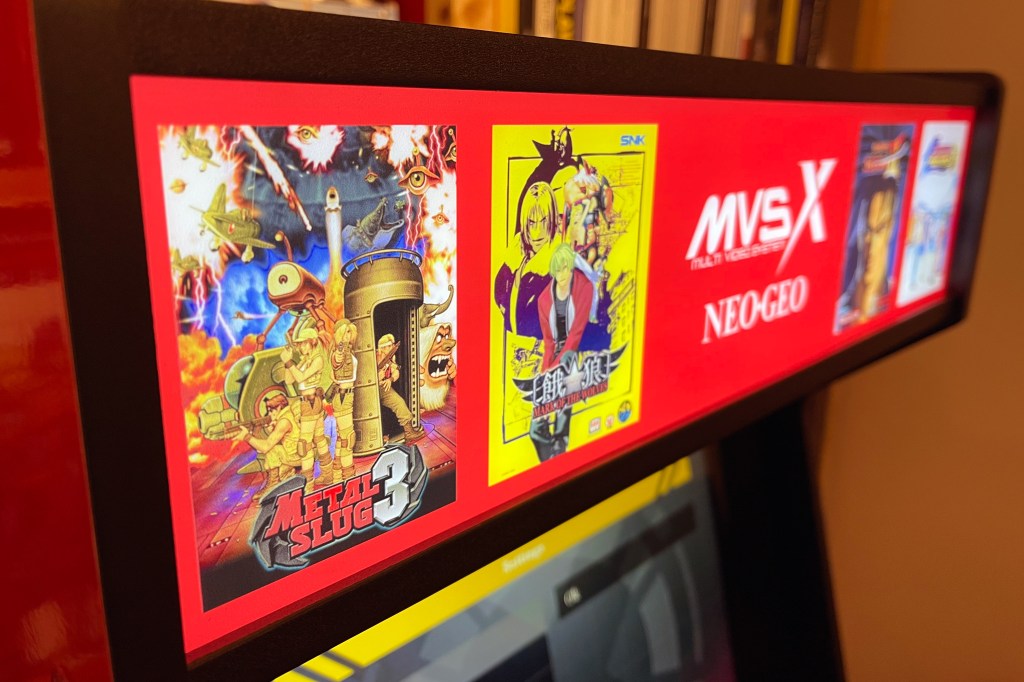 This cab gets a lot right. It looks the part, the screen is great, the emulation is responsive, there are plenty of games to choose from, and two players can play at once – a must, given the fighter-heavy games selection.
But the buttons are poor (and there are too many of them), there should have been a wider selection of games, and long sessions can be uncomfortable. This makes us question the value proposition, not least because this cab costs over £150 more than Arcade1Up's Legacy Editions (which come with a riser) and is heading towards AtGames Legends Ultimate territory.
In all, if you're a NeoGeo nut, this is a flawed but fun machine – albeit one you'll want to mod. If not, lop half a star off our score and scout around for a more suitable home arcade instead.
Stuff Says…
This love letter to SNK's past doesn't quite know what it wants to be. It's entertaining but should be more premium at this price point.
Good Stuff
Responsive emulation
Large, bright display
Excellent scaling options
Authentic visual design
Bad Stuff
Optional riser too short
Missing many NeoGeo classics
Bare-bones interface
Some odd design decisions
Tech specs
| | |
| --- | --- |
| Processor | ARM Quad-Core Cortex A7 1GHz |
| Connectivity | USB (for firmware updates) |
| Dimensions | 50x40x64cm; 17kg |
| Screen | 17in 1280×1024 |