Motorola V3x review
The V3x is loaded with functions but has lost the gloss of its younger brothers. The lack of memory card and external controls means this is hardly a music phone; just a phone that happens to play MP3s.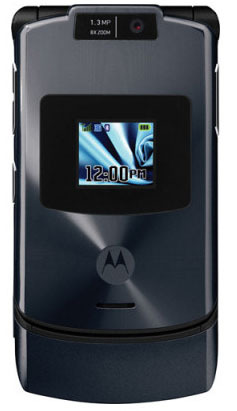 Take one iconic mobile, load it with multimedia features and try not to lose the gloss. As Meatloaf is wont to growl, two out of three ain't bad.
It's not that the 3G version of the Razr is inelegant; it's that where the V3's chassis was classy metal, here it's nasty plastic, and while the V3 was tastefully minimal, this somehow looks fussy. It seems a little bloated, too, but it is packing much more firepower.
It mightpack more features, but it needs to hit the gym
This being a 3G phone, there's a 2megapixel camera – with close-up mode – for general pics and a lo-res one on the inside for video calls. Initially you'd be forgiven for thinking this is hardly a music phone: there's no memory card bundled in the box, although there's space for a TransFlash card buried in the battery compartment.
Getting music onto the V3x is a simple case of connecting the USB cable, then dragging and dropping – there's no extra software needed.
Wireless stereo – at a price
Aside from volume, there are also no dedicated controls – you have to use the D-pad to play, pause, etc. Still, you get the luxury of A2DP for hooking up a stereo Bluetooth headset.
Motorola isn't known for having the most friendly of menu systems and this is little better than previous models, although at least the sharp screen means it all looks nice.
If you want a decent media phone that's not too tough on the eyes, this might fit your bill – but the wireless headphones option is its only killer feature. Besides, Motorola's HT820 Bluetooth headphones will relieve you of an extra £50. They're comfortable but not exactly inconspicuous and it's one more thing to charge up before you go out.