Motorola RAZR i review
Can Moto's latest Kevlar-wrapped smartphone square off against some of the fiercest mobile competitors? Only one way to find out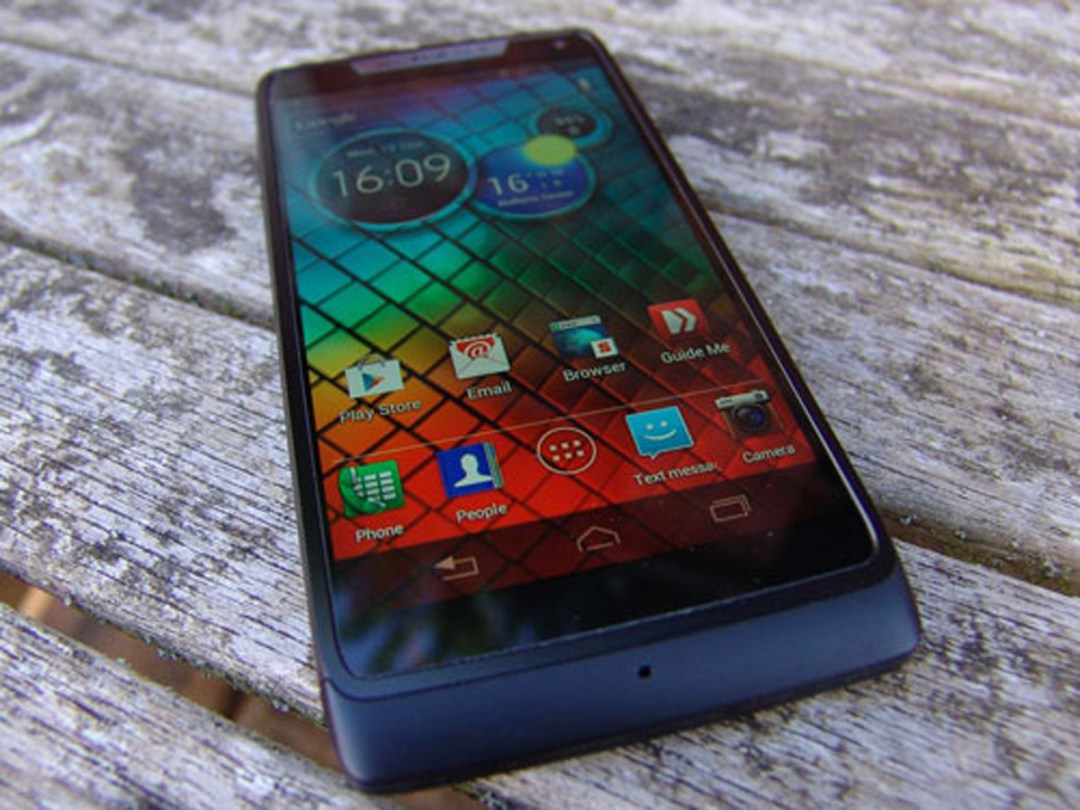 Since Motorola rebooted the RAZR series, we've had the seriously skinny Kevlar backed Motorola RAZR and the chunkier, battery-filled "it just won't die" Motorola RAZR Maxx. Does Moto's newest knight the RAZR i – armed with the highest-clocked Intel-made mobile CPU to date – have what it takes to make an impression? Let's find out.
design and build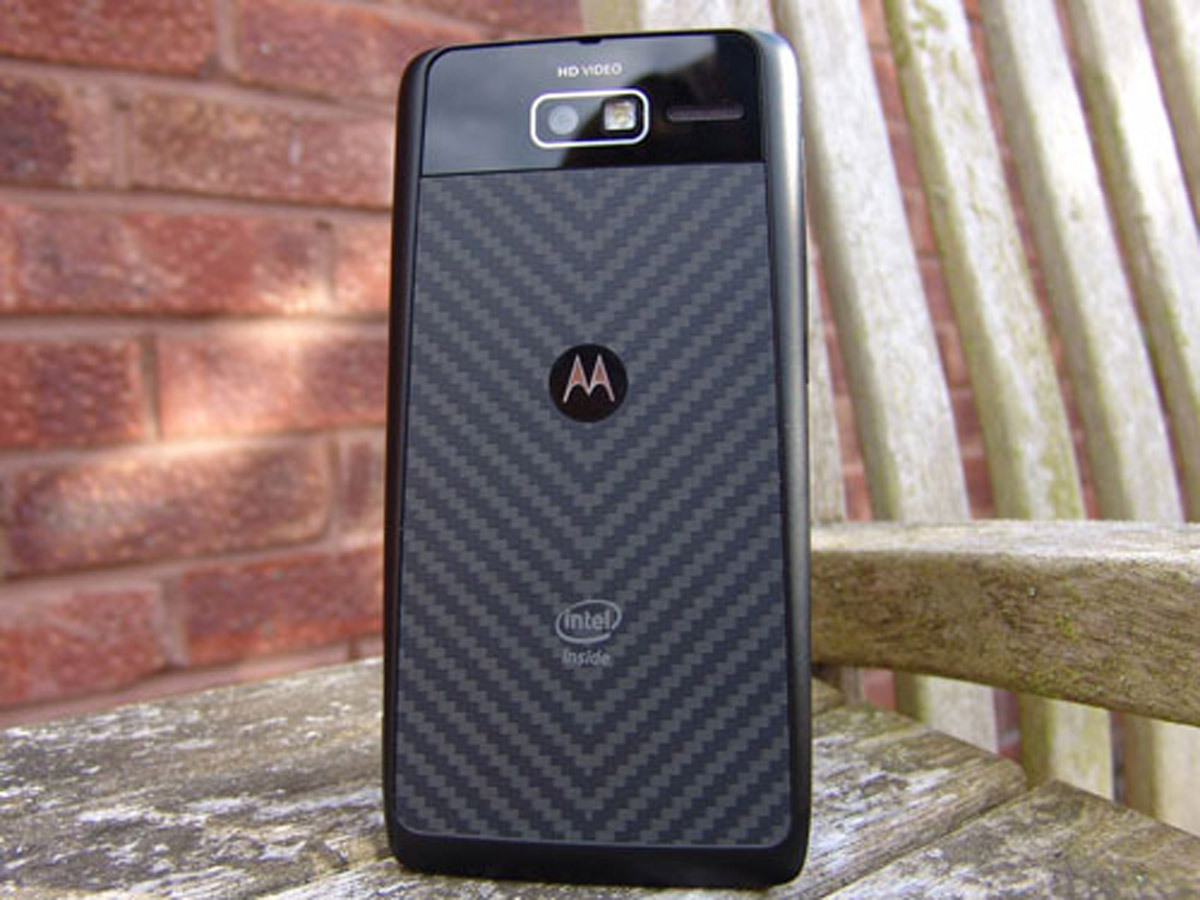 The Motorola RAZR i's splash-proof body is an impressive meld of weighty diamond cut aircraft-grade aluminium and woven Kevlar fibre, resulting in a handset that should survive all but the nastiest of drops. The RAZR i's side profile reveals a subtle wedge shape thinning towards the bottom while its tapered rear gives it the same sophisticated look as the original RAZR.
Motorola's attention to detail has paid off too, as the phone feels sturdy enough to stop a bullet – and you'd think so too given its Kevlar DNA. Metal projectiles or not, the RAZR i should certainly survive a two year contract relatively unscathed. Three tiny screws grace each side of the RAZR i, echoing its tight industrial design.
The RAZR i's body has roughly the same footprint as the Apple iPhone 5 but manages to squeeze in a larger 4.3in screen. And although it's not the sleekest of handsets at 8.3mm thin, it does pack in a 2,000mAh battery. Impressive – especially as the considerably larger Samsung Galaxy S3 holds a 2,100mAh battery of its own.
screen
Moto has pushed the RAZR i's 'edge to edge' display from the moment it was announced, and although there are clearly bezels surrounding the 4.3in screen, they are minimal and still equal a small pocket footprint.
The 4.3in 960×540 qHD Super AMOLED display will be familiar to RAZR users and unsurprisingly excels at displaying the deep blacks favoured by AMOLED fans. Colours are punchy and vibrant without being too over-saturated, although a few extra pixels would have been a welcome upgrade. The 256ppi count makes text pixellation easy to spot if you're looking for it and makes browsing websites a bit of a chore in portrait mode.
power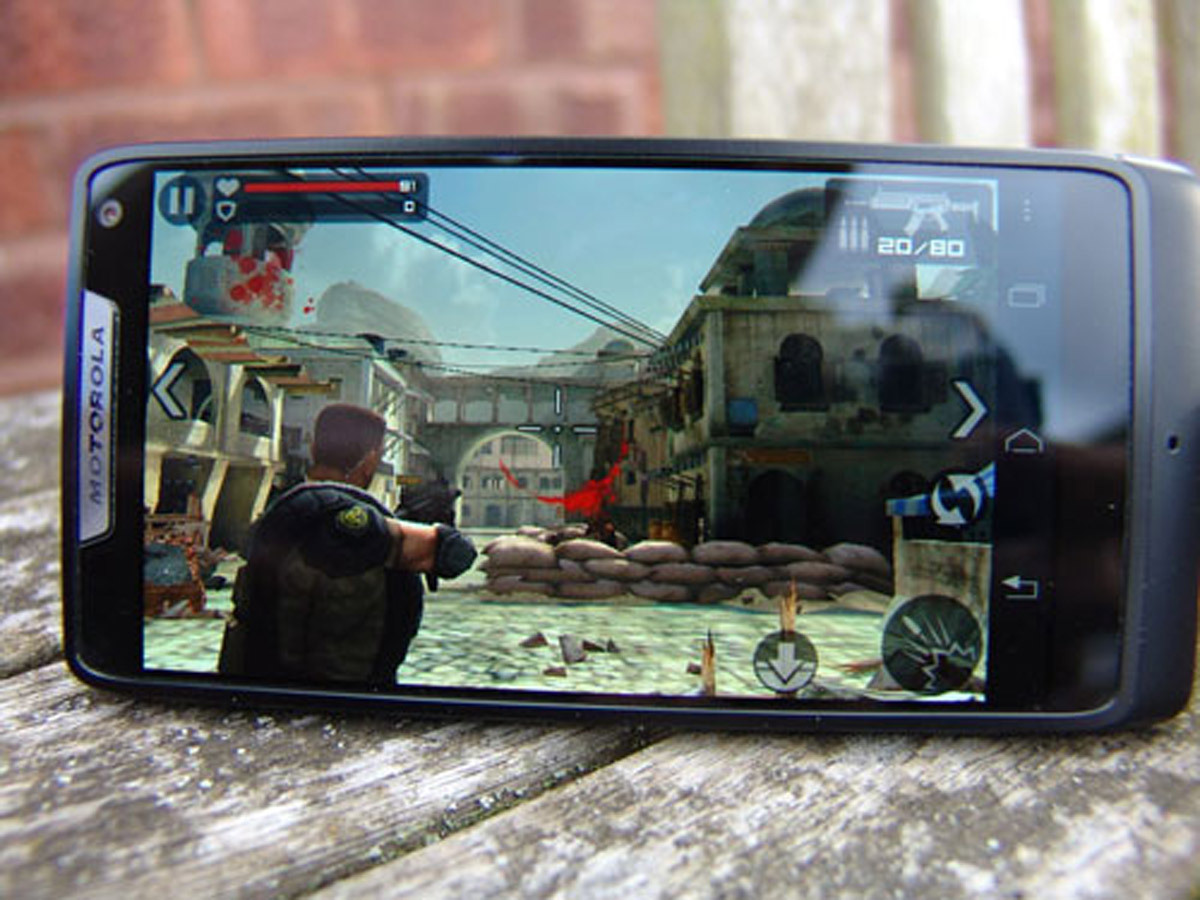 Hitting just over 1000 in Geekbench, the RAZR i lags behind multi-core processors in the numbers department but the fact that it breaks the 1,000 barrier with its 2GHz single-core Atom processor is an impressive feat alone, according to our source at Geekbench.
As for real-world use, we were able to delve in and out of apps and games running in the background without any bumps along the way. Browsing was also snappy, thanks to Intel's Atom CPU optimisation, offering smooth scrolling action and quick page loads times – an area the previous RAZR fell short in.
Apart from the very occasional stutter in Frontline Commando, gaming on the RAZR i was also a smooth experience, with the Intel processor powering GTA III's cutscenes and our terrible driving with no complaints. But compared to the likes of Samsung's Galaxy S3 (which can run a 3D game and a picture-in-picture movie at the same time) the RAZR i does fall a little short.
NFC is also packed within the RAZR i 's innards and you'll have no problem pairing up the RAZR i with NFC-enabled Bluetooth headphones – a simple tap is all it takes to get them talking nicely to each other.
camera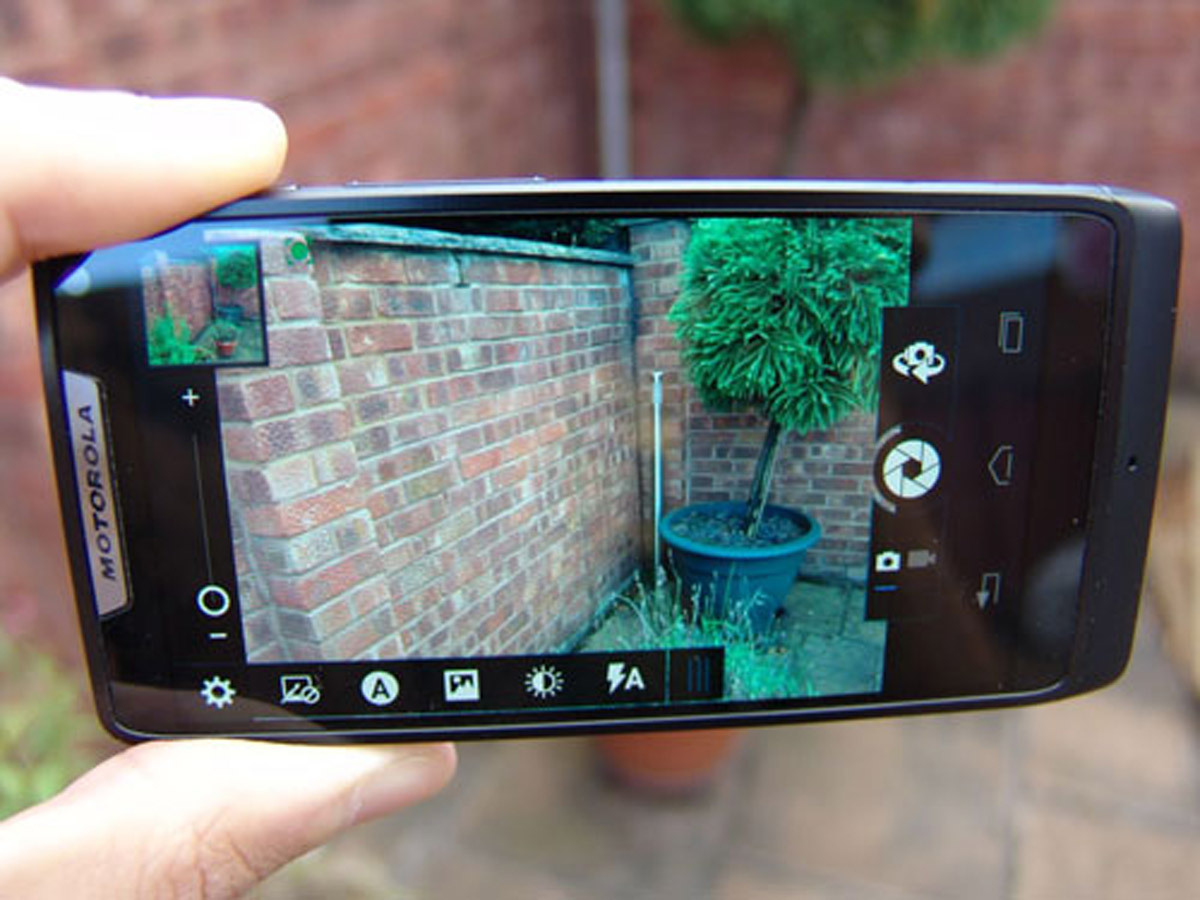 The best feature of the RAZR's 8MP camera is the dedicated shutter button which fires up the camera app instantly, even when the screen is off. We were very impressed at the quick-draw speed we achieved and though it takes a while to get used to the button's stiffness, it's still a godsend for snap-happy gadgeteers.
Photos taken with the 8MP sensor are more than acceptable by 2012 smartphone standards (if a little disappointing in lower light) but we feel that the likes of the S3, One X and iPhone 5 offer sharper shots with more detail overall.
Two features that stand out in Moto's camera app are the HDR and burst modes. HDR serves up an improvement in lower light situations by providing more detail, even though in well-lit scenarios some objects might be appear a little too bright and overexposed. And burst mode allows you to take a very impressive 10 shots a second, firing off the shutter with machine gun-like sounds – ideal for capturing hyperactive pets and children alike.
OS
The RAZR i lacks Android 4.1 Jelly Bean out of the box with nothing but a promised future update available at the time of reviewing and although disappointing, you could do a lot worse than Ice Cream Sandwich in the interim.
Motorola's Android skin is pleasantly non-intrusive (unlike Samsung's Touch Wiz interface) and we were rather taken with the quick settings menu and flippable circular homescreen widgets which let you set alarms, check the weather and monitor your battery and notifications.
Motorola has added a few additions software-wise too, including an email app which allows to you swipe over emails to delete them or mark them as read.
Motorola's Smart Actions also return, allowing you to set up existing or customised conditions which allot the RAZR i to automate certain settings. Entering the office for example will automatically switch the RAZR i to silent before turning off mobile data and turning on Wi-Fi to connect to the internet.
One negative is that the on-screen Android navigation bar doesn't auto-hide itself during certain games or apps, shrinking the effective usage of the 4.3in screen down somewhat but hopefully this can be ironed out in a future update.
Motorola RAZR i vs HTC One S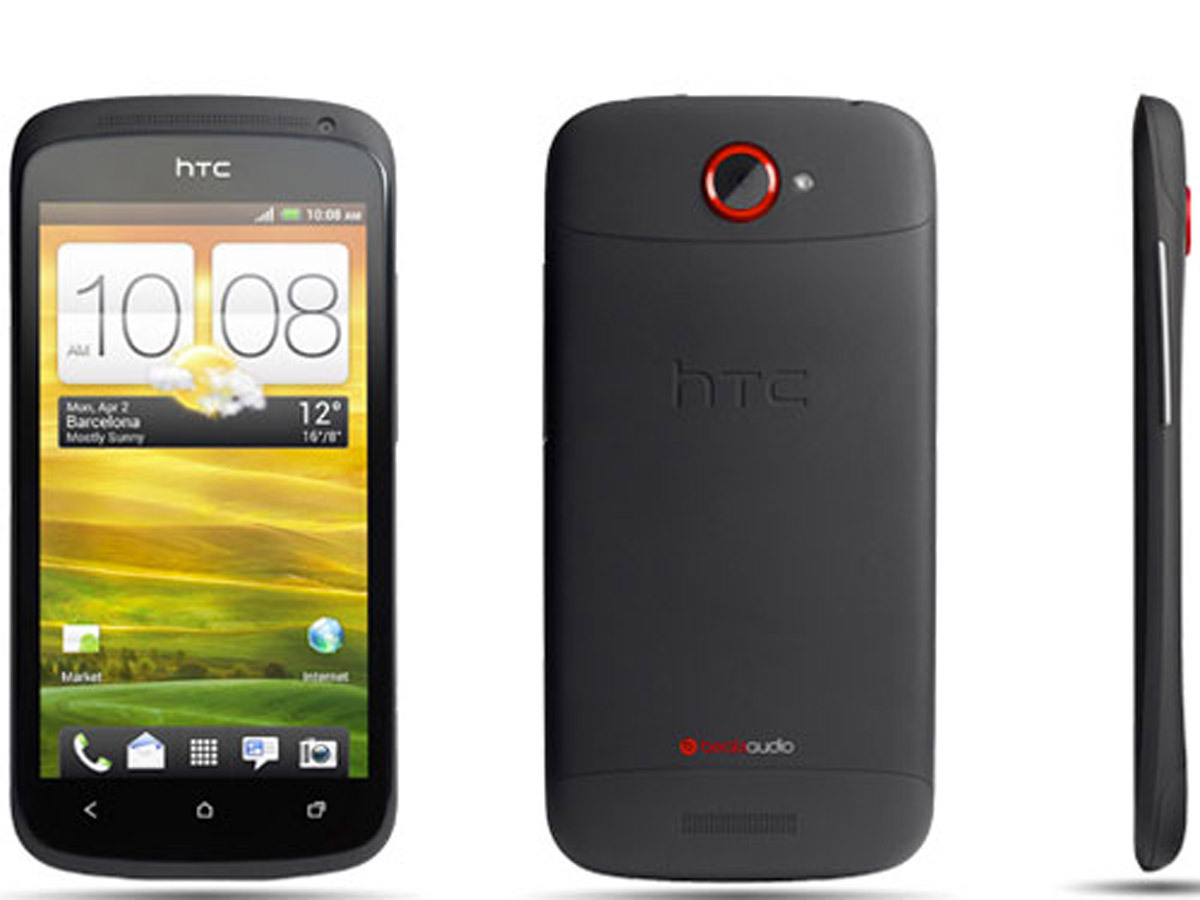 HTC's mid-range One S can be snapped up for around the same price as the RAZR i and offers a thinner solid anodised aluminium build, a very solid 8MP camera, identical 4.3in qHD screen and is powered by Qualcomm's powerful 1.5GHz dual-core Snapdragon processor. With a larger battery and NFC tech however, the RAZR i is the way to go for road warriors and fans of its Kevlar-infused design.
verdict
The previous RAZR was let down by its large bezel and slightly choppy browsing experience, and Motorola has done a superb job at addressing both issues with an impeccably built easily-pocketable handset whose 2GHz single-core Intel processor keeps up with the demands of multi-tasking.
At £350 it's also substantially cheaper than the iPhone 5, Samsung Galaxy S3 and HTC One X and still offers NFC, a snappy camera and a big battery, making it a worthy contender for your next Android smartphone without draining your wallet.
UPDATE: Star rating changed to reflect new rivals.
Stuff.tv's Top Ten Smartphones
Review by Esat Dedezade
Stuff Says…
A very solid handset offering top-notch build quality, a snappy camera and Intel power to boot
Good Stuff
Unique looks
Almost untouched Android
Decent battery life
Bad Stuff
No Android Jelly Bean (yet)
Display could do with a tad more detail