Microsoft Surface Pro 8 review: more of the (super) same
The hybrid laptop institution returns with meaningful improvements.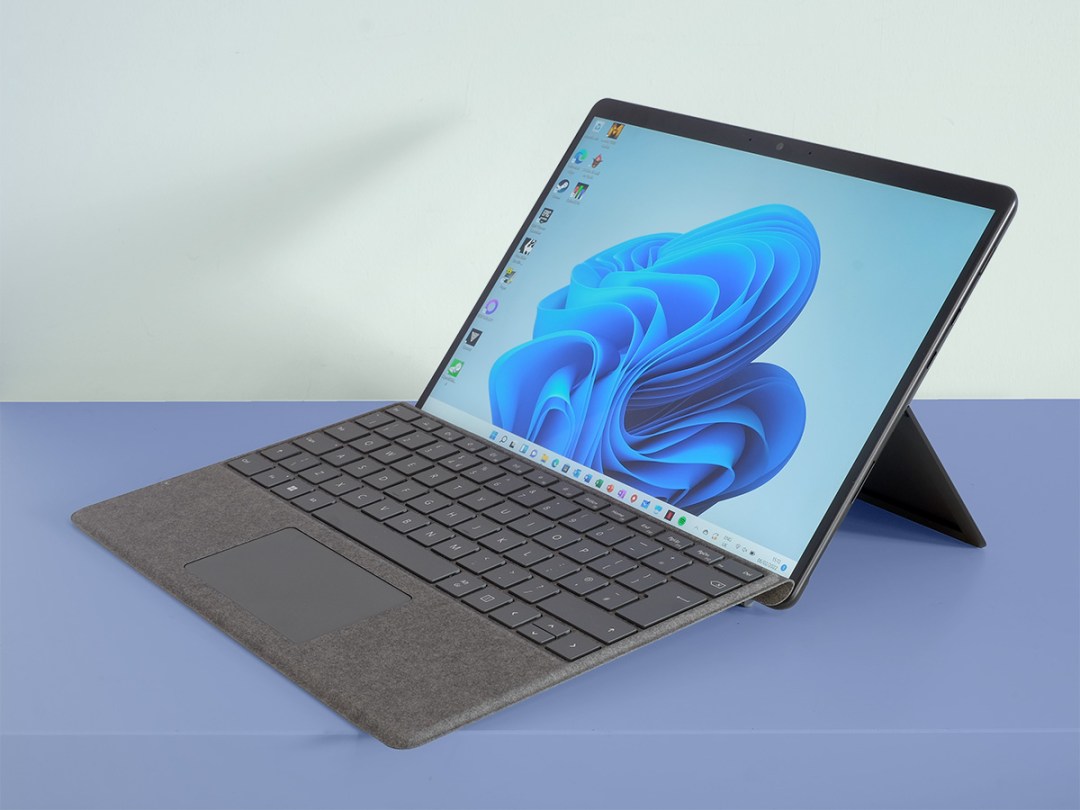 The Microsoft Surface Pro is a hybrid laptop institution. It was, and is, one of the few successful attempts to make a Windows PC that is also a tablet. 
This eighth-generation Microsoft Surface Pro 8 does not mess with the formula too much from the previous Surface Pro 7. As with previous Surfaces, we see design refinements and performance bumps in-line with whatever Intel has done with its latest chipsets. However, the changes this time are pretty significant for real-world use. 
The Microsoft Surface Pro is finally a pretty decent little gaming machine, if you keep your expectations realistic, we get a slightly larger display without an increase in bulk and the stylus is slicker than ever before. 
You have to pay for it, though. The Microsoft Surface Pro 8 starts at $899/£899, but the cheapest one you should actually buy costs more – A 128GB SSD won't cut it. The keyboard and stylus add a chunk to that, and upgrades to the RAM and storage do not come cheap. Our review setup is almost double the starting price. For this money, you want it to be the only PC you need, so make sure you're OK with a battery that probably won't last all day. 
The original version of this review was published on 21 March 2022
Design
Already know about the Surface Pro line? You can skip the next few lines of this review, but let's not assume everyone is clued up on the Microsoft line-up.
The Surface Pro 8 is a tablet that can turn into a laptop. Microsoft was doing this stuff convincingly long before Apple got up to speed with its iPad Pro line and keyboard add-on.
Its keyboard base is a must-have, but does not come with the tablet part as standard. It hooks up to the main part using magnets. The Surface Pro 8 stylus is more of an optional extra, but this time there's a slot in the keyboard for the pen. When the keyboard is bumped up to provide a better typing angle, this little cubby hole it totally hidden too. It's slick design in action.
The kickstand is what you don't see in other hybrids of this type. It's a sturdy plate of metal that pulls out from the back of the screen and will hold at just about any angle – the perfect compromise of strength and the ease with which it adjusts.
Microsoft uses, as ever, a magnesium-aluminium alloy for the Surface Pro 8's casing. This keeps the weight at a fairly low 890g while delivering good strength and an expensive feel. The sides are a little curvier this time, though, softening out the screen surround contours.
It's not a dramatic change, but Microsoft has also got on board with the screen bezel improvements seen in "normal" laptops, to squeeze in a larger display. The last generation Surface Pro 7 had a 12in screen, this one has a 12.3in screen.
It doesn't bump the Surface Pro 8 into a new category, but that's the whole point. This thing is the size it is for a specific reason, to provide incredible portability while still being just about large enough to let the keyboard accessory have well-spaced full-size keys.
Screen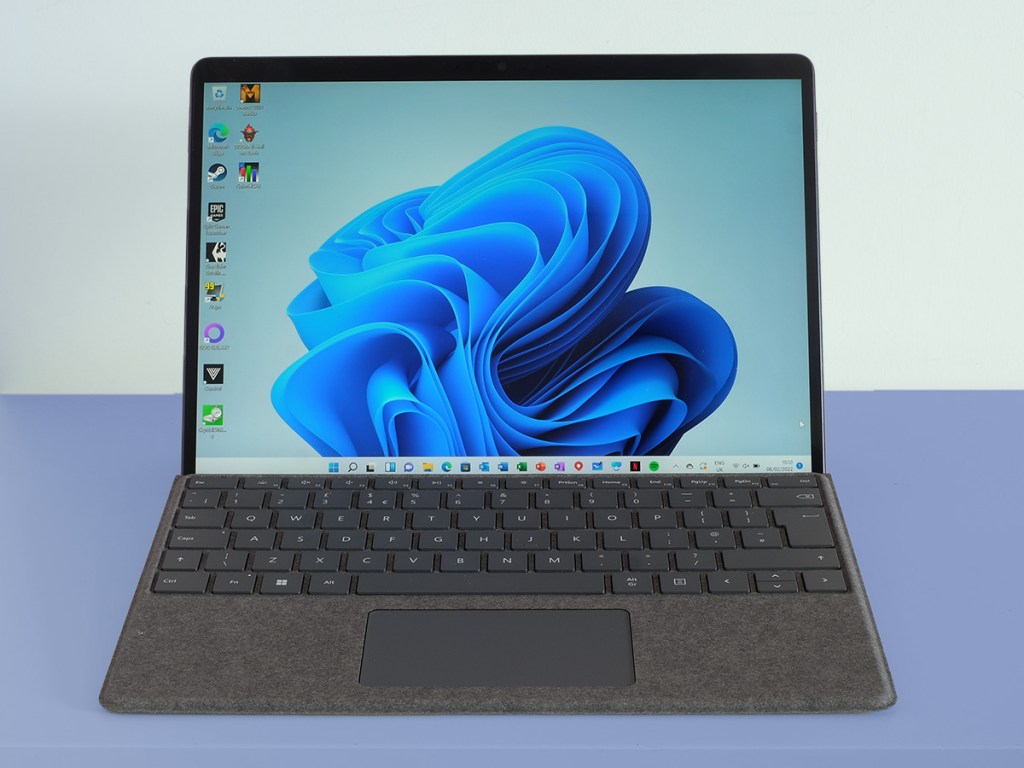 Display size aside, the Surface Pro 8 screen seems familiar. The actual display panel has squared-off corners, not the cutesy rounded ones of a Samsung Galaxy Tab S7. It is a reminder that while this is a lifestyle gadget par excellence, it can also be a work PC if that's what you need.
The panel has well-saturated, well-calibrated colour, but doesn't dive into the kind of next-generation mini LED tech seen in the priciest iPad Pros.
Maximum brightness of 450 nits — bang on Microsoft's claim — is bright enough to let you work comfortably outside on a bright day, which we did try, even though the Surface Pro 8 has a glossy glass display surface.
Contrast is typical for an IPS LCD, at around 1000:1, making blacks look a little raised if you play a game at night. But we think the ability to deal with outdoors use is more important here than getting close to the punch of an OLED TV image in a dark, dark room.
The Surface Pro 8's resolution is high too, at 2736 x 1828 pixels, making pixellation a non-issue until you get uncomfortably close to the screen surface.
This resolution gives the Surface Pro 8 a 3:2 aspect ratio, seen in older generations of the series. Microsoft calls it a PixelSense screen, and it's one made more for apps than media. Play a widescreen video here and you'll be left with big black bars on the top and bottom, but the sense of having a good space to work with versus the actual size of the tablet is impressive.
It's a 120Hz panel too, but we'd suggest using it at 60Hz almost all of the time. The panel doesn't have the fastest-reacting pixels, which you need to make the most of a high refresh rate. Motion handling is still just decent even at 120Hz, and its impact on battery life is very significant. We'll cover that later.
We'll probably get a mini LED Surface Pro one day that delivers far higher brightness and even deeper colour. But we're not at a place where the Surface Pro 8 seems bereft without one. It's a great screen.
Keyboard and touchpad
The Surface Pro 8 gets a new stylus, called the Slim Pen 2. It has a rounded rectangular barrel, a button at its top used to quick-launch an app of your choice, and it connects to the tablet wirelessly. This means you don't have to be floating just off the screen surface for this button to do its thing.
It needs a battery as a result, and this charges wirelessly whenever you place it in the divot in the keyboard base. Smart and painless.
Tactile feedback is also new for this generation. A little haptic motor inside the stylus fires when you "ink" using the pen, to emulate the feel of a real pen being drawn across paper. While it's not going to trick your brain into thinking you have a real paintbrush or marker between your fingers, it does add something to the experience, and the pen has the usual 4096 levels of pressure sensitivity and supports tilt recognition for more refined input in art apps.
The keyboard base, which we have already said is a must-have accessory, is mostly just as we remember it last time around. While our wonderment that Microsoft managed to make a tablet keyboard that feels just as good to type on as many laptop keyboards has dissipated, typing on this thing is still largely a joy.
There's a reasonable amount of travel, typing feels fast, and the sheer quality of the action is just ridiculously nice considering we're looking at something not much thicker than some tablet screen protector cases.
Even the touchpad is impressive. While not huge, the pad's surface is ultra-smooth textured glass, and the easy-to-press but quality feel of the clicker shames many a laptop.
The keyboard keys are backlit too and, like last time, the keyboard has an Alcantara finish. This is a synthetic suede, hard-wearing and soft to the touch.
We always have to have a little moan about how you need to buy a keyboard separately when you get a Surface Pro, unless you find a bundle. And that these keyboards are always a little more expensive than you'd like. However, Microsoft does mostly justify the price with the quality and breadth of features here.
It's worth bearing in mind what working with the Surface Pro 8 is like, though. If you have a solid surface to work on, it can feel much like working on a laptop. As we write this, though, the keyboard is perched on our legs with the kickstand sort of resting over the kneecaps. In certain situations it's just not as comfortable to use as a normal slim and light laptop. But hey, it still works.
Ready to game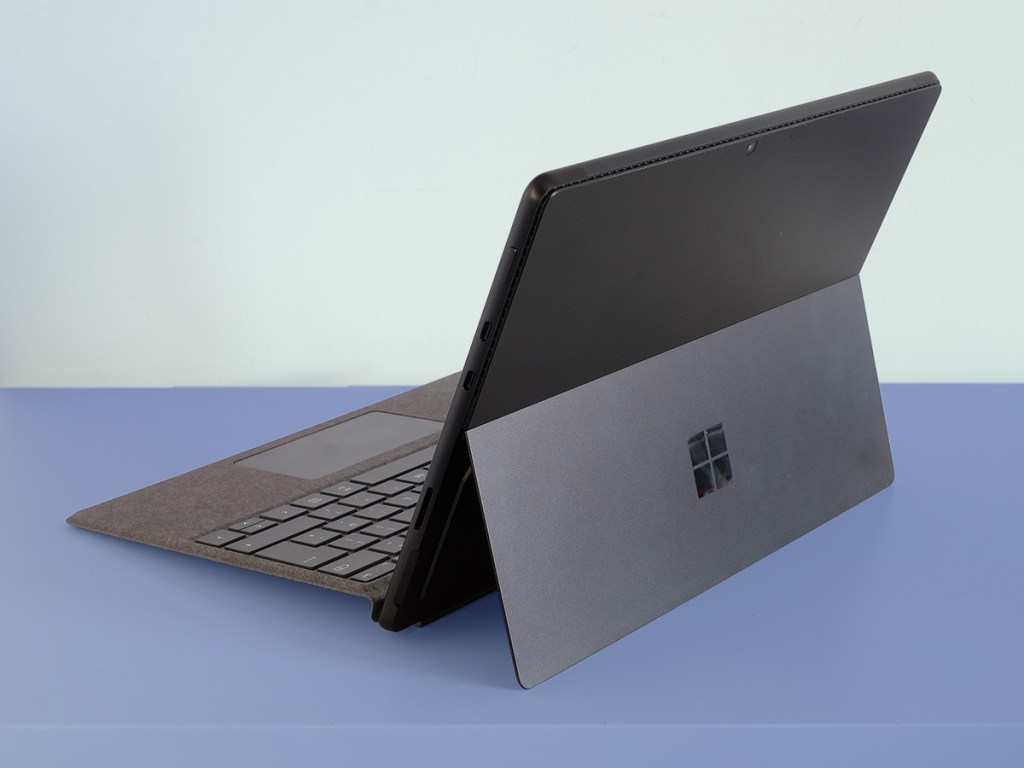 If the iPad Pro with M1 CPU hadn't come along and ruined Microsoft's fun, we could say the Surface Pro 8 was almost unreasonably powerful considering how small and portable it is. Like plenty of laptops twice times its weight and thickness, it uses 11th Generation Intel Core i5 and i7 CPUs.
The Dell XPS 13 uses the same chipset family, for example.
Intel Xe graphics is the biggest change for this generation. And the Surface Pro 8 even gets an extra boost in this area, because it has the upgraded Intel Core i7-1185G7 rather than the more common Core i7-1165G7. It has a slightly punchier version of the graphics chipset.
What you can draw out of this little thing with liberal use of the latest upscaling technologies is quite something. Control plays at up to 50fps, dipping to the mid-30s when there are lots of particle effects on-screen. And while that means running at Low graphics with the render resolution set to 1280 x 800 pixels, in-game upscaling does such a good job parts of the image almost look as though they are rendered at the much higher native resolution.
Play Metro 2033 Redux at 1620 x 1080 resolution and it runs between the low-30fps and 70fps at Very High. Or up to a blistering 120fps at Low, subject to lots of dips significantly below 100fps, because that's what the game is like. Redux'd as it is, Metro 2033 is still a wobbly old dear.
Skyrim Special Edition runs in the mid-high 30s at 1080p, Medium graphics too. You'd see much higher figures in the original version. Skyrim does highlight an issue you may have with a few games, though. It doesn't seem to like the display resolution, refusing to let you select a resolution in the full-screen mode, but it shouldn't affect too many titles. Fingers crossed
The Surface Pro 8 also offers this sort of performance whether you are plugged into the mains or not. You don't see this in gaming laptops with discrete graphics cards. Who needs a Steam Deck if you have a Surface Pro 8 and a wireless controller to hand?
OK, we still want a Steam Deck, but performance is still far better than that of the Surface Pro 7.
Its speakers dramatically enhance the experience too. The Surface Pro 8 sounds a lot better than most laptops, despite being smaller. There's a small amount of actual bass, a rare commodity in laptop speakers, and the maximum volume is great. The stereo image is great too, making movies and games seem actually immersive.
This isn't the only way the Surface Pro 8 gets one up on a lot of other conventional portable laptops. Its webcam is also miles better. Almost every single laptop webcam is dreadful. There's just no room to fit a good camera in the surround of an ultra-thin display. The Surface Pro 8's screen part is far more built-up, letting it use a half-decent 5-megapixel camera instead of a 1080p one. 
Sure, it still turns soft in a dim room but clarity is simply miles better than the norm, and it holds onto its colour saturation in poorly-lit spaces more successfully too. The Surface Pro 8 is going to be a huge Zoom upgrade over whatever laptop you use at the moment. Unless it's a Surface Pro 7.
There's also a 10-megapixel camera on the back, complete with an autofocus lens. But we're much keener on the front camera in this case. We'll take actual photos with our phones, thanks.
Battery life
With mounds of praise out of the way, it's time to look at one of the Surface Pro 8's main compromises. Its battery life is just OK. This series has never had great battery life, and it sticks out because iPads and Samsung tablets you might be tempted to compare it to last ages.
In an initial simple video streaming run-down, it lasted four hours 56 minutes. This seemed very disappointing, but we realised it was because the screen was set to its 120Hz mode. Switching back to 60Hz, it lasted a much more respectable eight hours four minutes.
Don't use 120Hz unless you're plugged in. It's just not worth the battery drain. And you're likely to see slightly less run time with mixed-use in either case, as web browsers can be surprising battery hogs at times.
Using it outdoors as a fancy typewriter with the screen maxed out it lasts around four hours 20 minutes, but again this was at 120Hz, suggesting it may last up to seven hours at 60Hz. Play a demanding game like Control and it will last around 90 minutes.
If you need a hybrid tablet/laptop that will reliably last a full day of work, this probably isn't the best option. And it makes Microsoft claim of 16-hour battery life seem pure fantasy. It's the price you pay for the Surface Pro 8's serious power and slim, light design. But, sure, the situation could still be much worse.
The tablet uses a magnetic charger, similar to Apple's classic MagSafe design. Accidentally snag the cable and it will fall out rather than making the Surface Pro 8 topple off a table. It also has two USB-C ports, both of which support the ultra-fast Thunderbolt 4.0 standard.
This means you can use a Thunderbolt dock to supply all the ports the Surface Pro 8 lacks. More connectors would have been nice, but we already knew we weren't going to get them here.
Verdict
The Surface Pro 8 is easily the most fun Surface Pro made to date. This series was already a top contender for those after a tablet-laptop combo that can do serious work, but Intel's Xe graphics makes it feel like a miniature game console. Yes, the "real" gamers may laugh at that idea, but imagine how hyped everyone would be if iPads could suddenly play games like Control and Skyrim, without simply streaming them over a network. It does cost a lot, though. And it just won't be suitable for some of you, with battery life that does not quite last a full day of work.
Stuff Says…
The best Windows tablet hybrid returns with small but meaningful hardware improvements, and a major boost to gaming.
Good Stuff
Much better for gaming than the last version
Good display colour, brightness and sharpness
As ever, the keyboard is great considering its dimensions
Great built-in speakers
Bad Stuff
Costs a packet for a higher-end version with stylus and keyboard
Battery won't reliably last through a full day of work
120Hz mode is too much of a battery batterer to be that useful
Tech specs
| | |
| --- | --- |
| CPU | Up to Intel Core i7-1185G7 |
| RAM | Up to 32GB |
| Storage | Up to 1TB removable SSD |
| GPU | Intel Iris Xe (i5 and i7 options) |
| Connectivity | 2x Thunderbolt 4, 1x Surface Connect, 3.5mm headphones, Surface Type cover port |
| Wireless | Wi-Fi 6, Bluetooth 5.1 |
| Screen | 13in 2880 x 1920, up to 120Hz |
| Cameras | 5MP front-facing and 10mp rear-facing |
| Dimensions | 287mm x 208mm x 9.3mm (11.3 in x 8.2 in x 0.37 in) |
| Weight | 891g (1.96lb) |