Microsoft Surface Laptop 4 review
As bold as ice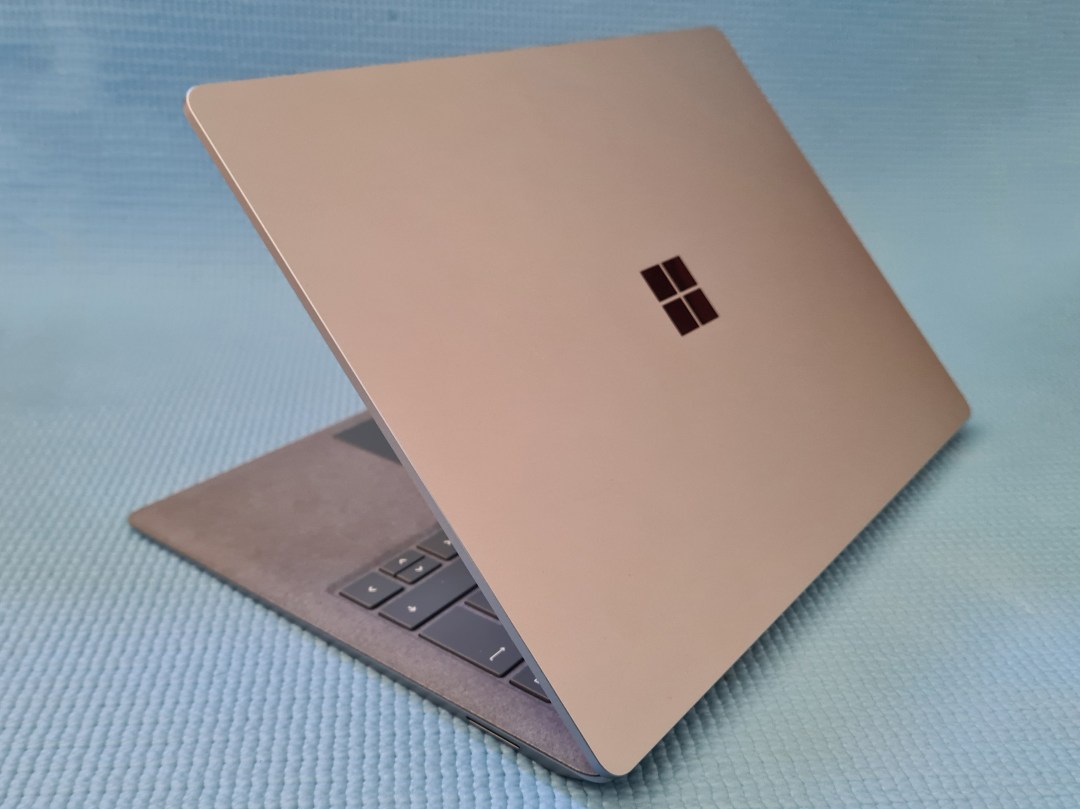 When it comes to skinny yet powerful laptops, Intel has ruled the roost for years – but AMD's recent return to form means customers now have a genuine choice as to which silicon powers their ultraportable.
That's why the latest Microsoft Surface Laptop looks similar to the old one, but actually has a lot more going on inside than a snazzy new Ice Blue colour scheme. Uprated internals promise big performance gains and significantly better battery life, whether you're a true blue or prefer team red.
Given how much we liked the previous model, will that be all it takes for a slam-dunk score – or has the rest of the laptop world moved on?
The original version of this review was published on 14 June 2021
DESIGN & FEATURES: A SOFT TOUCH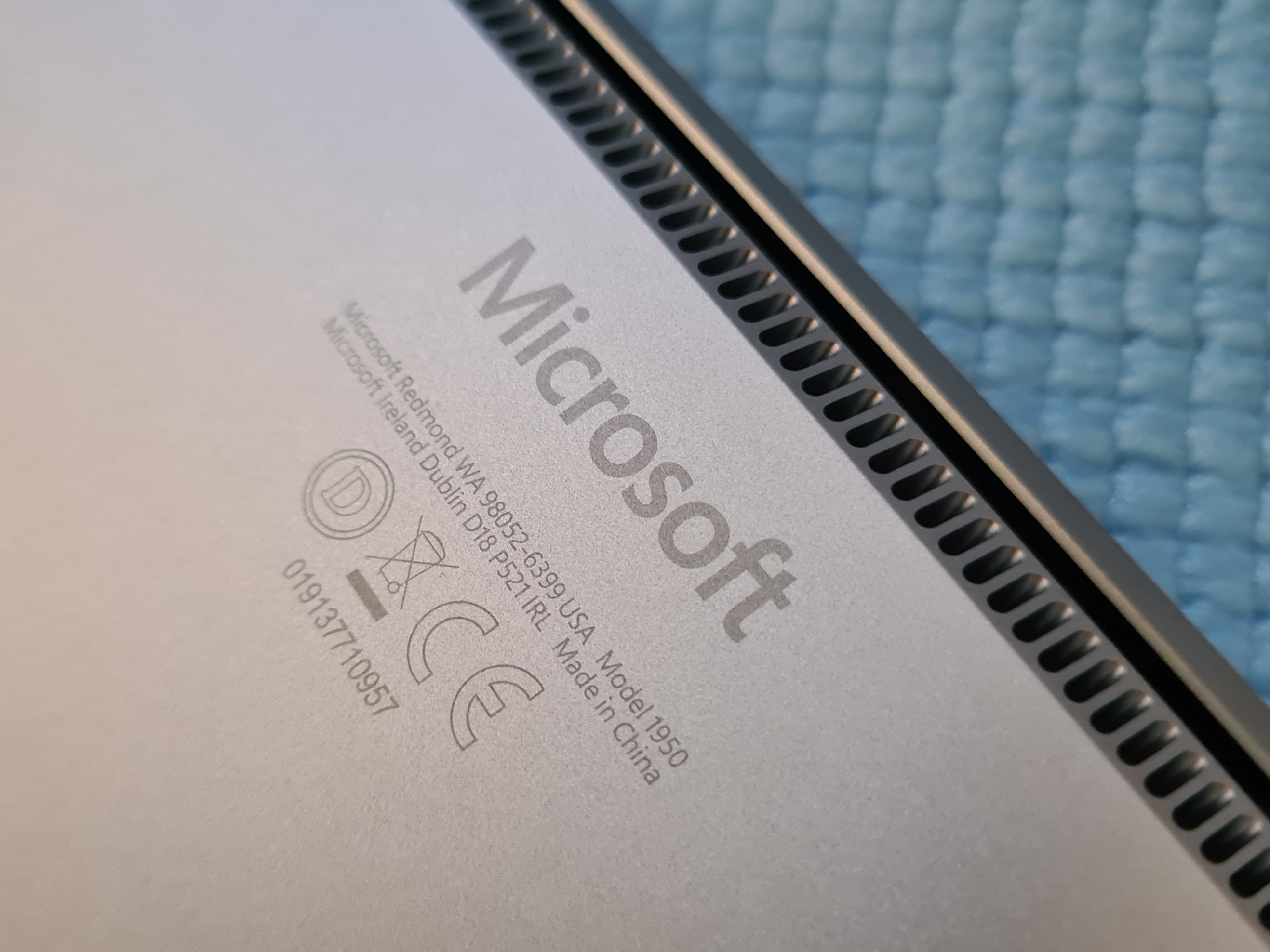 The outgoing Surface Laptop was a gorgeous thin-and-light, but one that didn't scream "look at me!". It didn't look out of place in an office or classroom, and you wouldn't be embarrassed to use one in public. Sensibly, Microsoft hasn't messed with that universal appeal for the successor.
You get the same slice of aluminium-and-alcantara, which weighs a shoulder-friendly 1.26kg and balances skinniness with sensible cooling so its fans don't have to work overtime to keep the internals from cooking themselves.
There's a new Ice Blue colour option now, with three others completing the line-up, although the matte black and sandstone versions ditch the alcantara for more metal. All four are subtle hues that won't cause a wardrobe colour clash (we're looking at you, new Apple iMac).
Connectivity isn't the best, with just one USB-A, one USB-C and a 3.5mm headphone port. Thunderbolt is absent, too, even on the Intel-powered machines. Only the larger 15in models get an SD card reader.
Microsoft's multi-purpose Surface Connector handles charging (although you can top up over USB-C if you have a compatible power brick), and supports the optional Surface Dock. This adds plenty of extra ports and plays nicely with external monitors, but will set you back an additional £260.
Windows Hello face recognition speeds up login, but the built-in webcam remains at 720p. That's a bit of a bummer, given how crucial video calls have become to everyday work life, but seemingly the rest of the laptop world hasn't moved up to 1080p either, so it's hard to be too critical here.
DISPLAY & SOUND: HIP TO BE SQUARE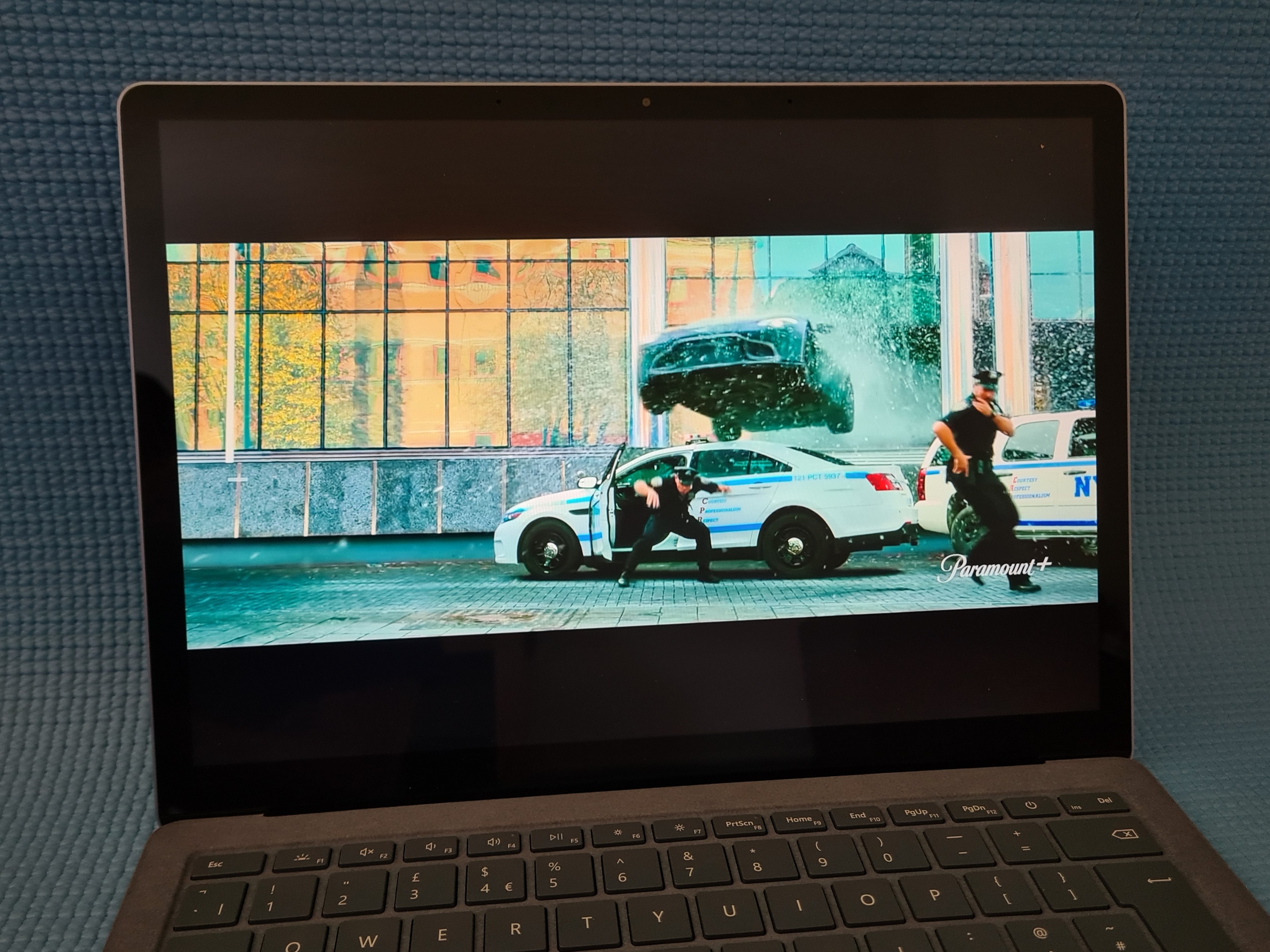 Microsoft's fondness for 3:2 aspect ratio screens shows no sign of fading, but given how productivity-friendly they can be, we're not surprised. The Surface Laptop 4 will comfortably sit two documents side-by-side, with the extra vertical space needing less scrolling than the 16:9 competition.
It'll mean thicker black bars when watching movies, of course, but the vibrant colours and great contrast will have you absorbing the content instead of bemoaning the letterbox. Just make sure to do it indoors, as brightness is only average, and the glossy finish can make reflections a real pain.
The 2256×1504 resolution means you're getting a lot more pixels than a typical Full HD panel, giving a real edge over lots of similarly-priced machines. The IPS panel delivers impressive clarity, whether you're scrolling through spreadsheets or streaming blockbusters in bed.
It's a great match to the punchy speakers, which fire upwards through the keyboard tray and have been optimised for Dolby Atmos this time around. There's no distortion when you crank up the volume, and the tonal balance is really rather good. We certainly didn't need to reach for a pair of headphones for background tunes while tapping out this review.
Could the bezels around the screen be thinner? Most definitely, but it'll only irritate if you've also got access to a modern MacBook or Dell XPS with super-skinny borders. One-laptop owners with no direct comparison probably won't even notice.
KEYBOARD AND TOUCHPAD: TAP-HAPPY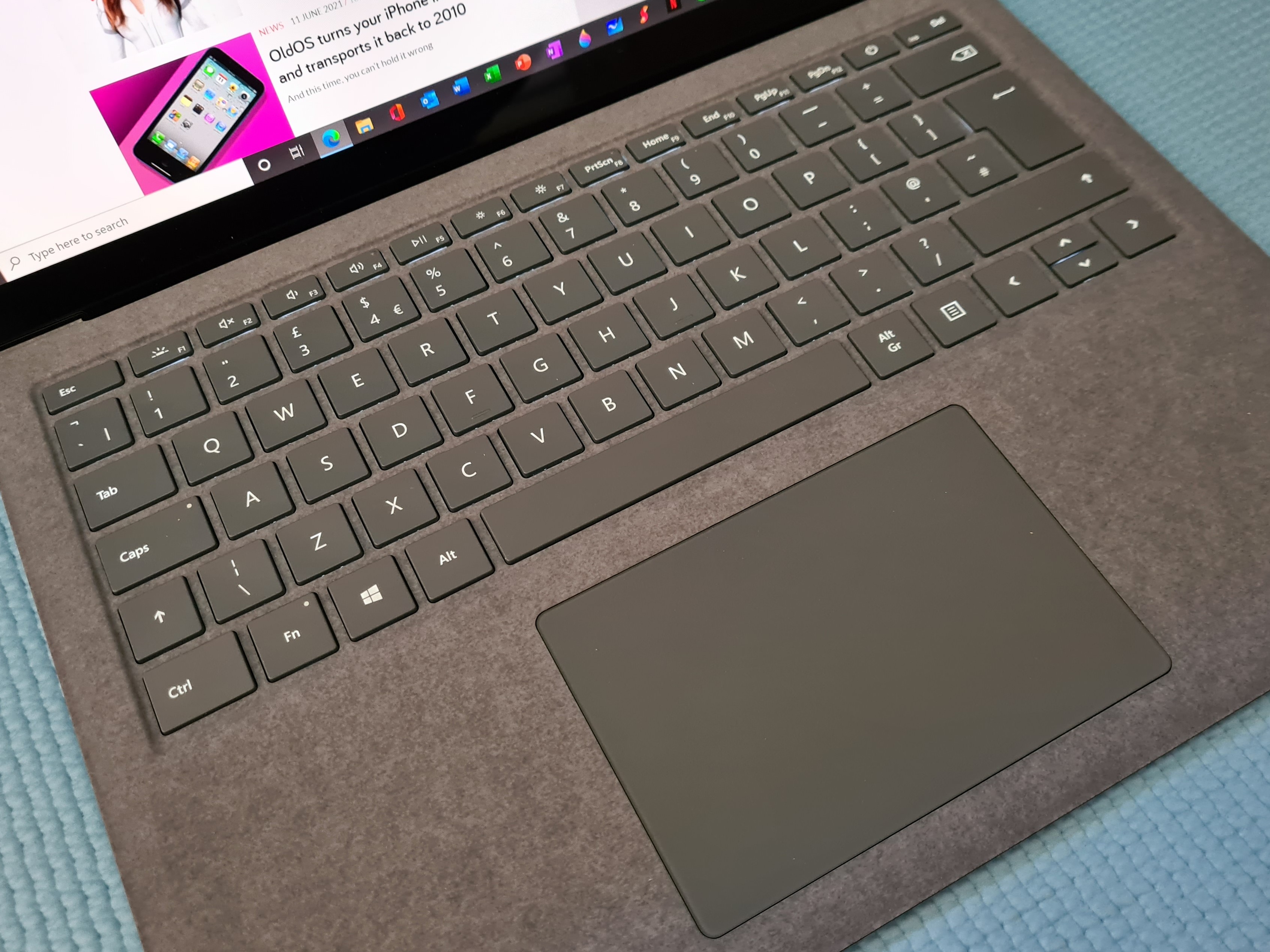 Opt for a version slathered in alcantara and the Surface Laptop 4 is one of the most comfortable typing experiences you'll find on a notebook. Unlike metal, it won't give you frostbite on cold days, or singe your palms on balmy ones. The spill-resistant coating should stop it getting grubby over time, too.
The keys themselves are delightfully springy, and the tray's slight flexing gives the impression of more key travel than there actually is. It means you aren't constantly bottoming out with every press – unless you type like you're hammering nails, anyway.
The spacious layout doesn't make many compromises on shrunken down function and punctuation keys, and the three-stage backlight is slick. It's far quieter than Apple's latest effort, if not quite as precise.
It's a similar deal with the oversized touchpad. It might not have the same degree of precision and feedback of a MacBook's Force Touch trackpad, but is perfectly matched to the 3:2 screen and responds near-perfectly to multi-touch gestures.
PERFORMANCE AND BATTERY LIFE: AIN'T NO STOPPIN' ME NOW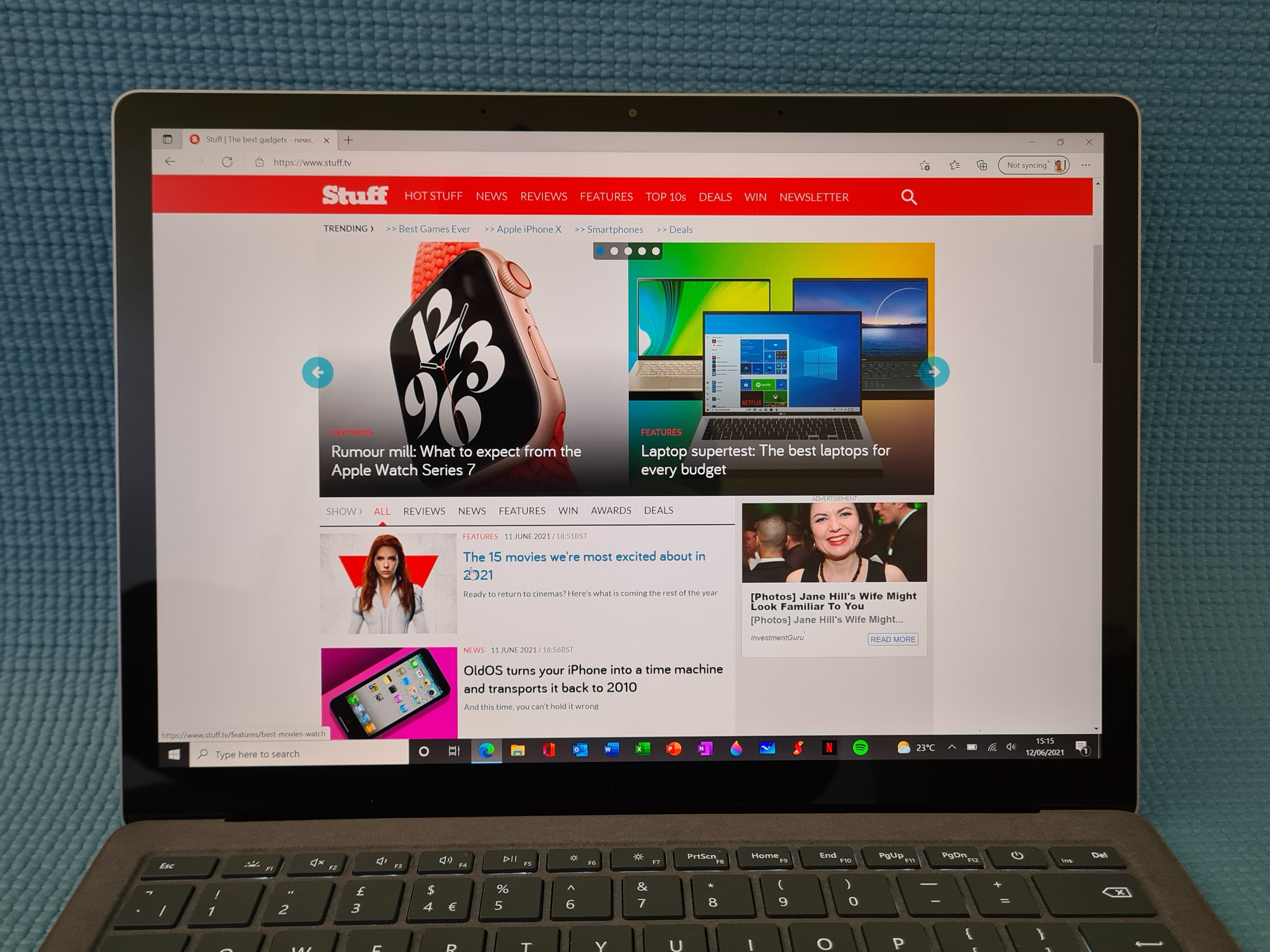 Both sides of the Surface Laptop 4 coin promise plenty of CPU grunt for an ultraportable machine, but there are some differences. AMD-powered models should do better in multi-threaded jobs and deliver better battery life, while Intel has the edge in single-threaded tasks and offers a beefier GPU.
Our entry-level Intel machine was rocking an 11th-gen Intel Core i5-1135G7, which has a max turbo speed of 4.2GHz, paired with 8GB of RAM and a generous 512GB of SSD storage. That's more than enough for document multitasking, or a browser filled to bursting with open tabs, with no visible signs of strain with a handful of work-related apps like Word, Outlook, Microsoft Teams running simultaneously (plus Spotify for background jams).
Is it as blazing fast as Apple's M1 chip, though? Nope. Sorry, Microsoft fans. For 4K video encoding and other heavy lifting, the MacBook has the Surface licked. It's still up to the job, but will take considerably longer to spit out finished files.
Gaming was fairly typical of laptops with integrated GPUs, with the built-in Iris Xe graphics handling simple 2D titles and older releases comfortably. Space accuse-em-up Among Us and retro rogue-like Enter the Gungeon were flawless, but you'll want to dial back the details and drop the resolution to play newer (but still fairly lightweight) games like Fortnite. Modern titles are largely out of the question. Stick to the desktop and you can expect as much as 17 hours of battery life from an Intel-powered Surface Laptop 4, or 19 from one with AMD internals. That puts it slightly behind the latest M1-powered MacBooks, but still brings a six hour improvement over the Surface Laptop 3, depending on workload.
We experienced closer to twelve hours during testing with some video streaming, music playback and lots of web browsing, but there's still enough juice here to get you through a full day of work without reaching for the power brick. An 80% charge takes about an hour, so you don't have to stay tethered for long.
MICROSOFT SURFACE LAPTOP 4 VERDICT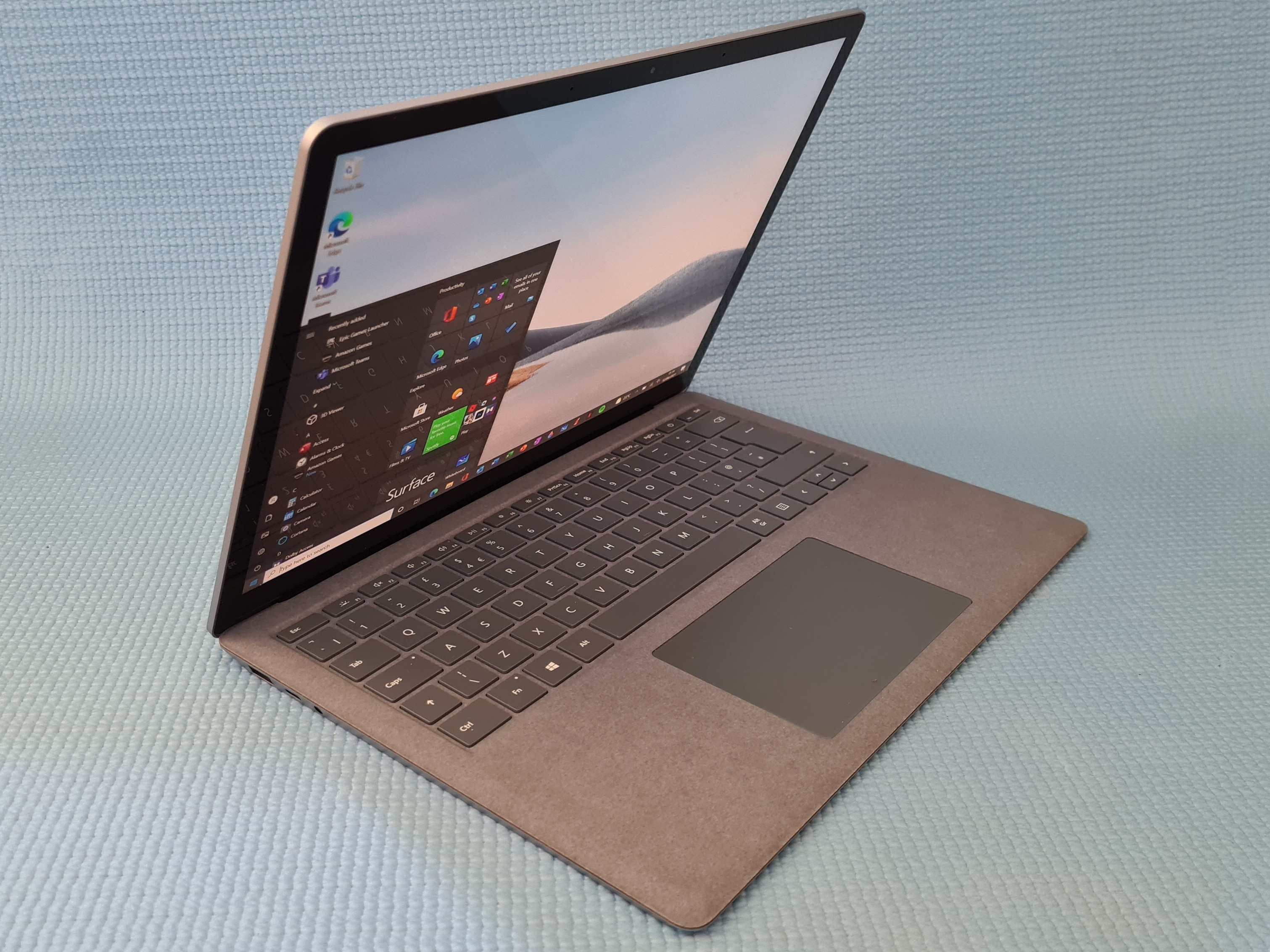 It might be more of a refresh than an all-new model, but the Surface Laptop 4 remains one of the most well-rounded Windows notebooks out there.
The 3:2 screen, comfy keyboard and unique alcantara finish are well-suited to all kinds of work tasks, and boosts to performance and battery life means it can tackle heavier workloads, or an entire work day away from the mains – with some juice left over to wind down with a Netflix binge afterwards.
We'd still like to see those screen bezels trimmed a bit, and the top-spec options are eye-wateringly pricey – but the mainstream version seen here can happily go toe-to-toe with a MacBook air for premium looks and do-anything potential.
Tech specs
| | |
| --- | --- |
| SCREEN | 13.5in, 2256×1502 LCD touchscreen display w/ 3:2 aspect ratio |
| CPU | 11th-gen Intel Core i5-1135G7 quad-core, |
| MEMORY | 8GB RAM |
| GRAPHICS | Intel Iris Xe integrated |
| STORAGE | 512GB SSD |
| OPERATING SYSTEM | Windows 10 |
| CONNECTIVITY | 1x USB-C, 1x USB-A, 3.5mm headphone port, Surface Connect port |
| Battery | Up to 17hrs |
| Dimensions | 308x223x14.5mm, 1.26kg |
Stuff Says…
New silicon gives Microsoft's ultraportable even better battery life and a healthy performance boost. It's still not perfect, but can continue to trade blows with the MacBook Air.
Good Stuff
Distinctive yet understated looks
Day-long battery life
Comfy keyboard
Bad Stuff
Screen bezels still chunky
Limited ports
Webcam only average